Antique Jewels Shine at Bonhams London
A rare Chaumet necklace and 20th-century sapphire ring sold for double their estimates.
London—A rare Chaumet diamond necklace, circa 1900, stole the show at a recent Bonhams jewelry auction, selling for double its top estimate. 

The necklace appeared alongside several other antique pieces at the New Bond Street London Jewels sale on Sept. 21, where it sold for £305,200, or $371,458 at current exchange rates. 

The chain, pavé-set with old brilliant- and rose-cut diamonds, features a fringe of seven drops, each suspended from loops in the ribbon-style chain by the stems of laurel-leaf surmounts. 

Each drop pendant, dangling below a duo of pear-shaped diamonds, is pavé-set with old brilliant-cut, rose-cut, table-cut, cushion-cut and pear-shaped diamonds. 

The necklace features silver and gold mountings and contains an estimated 32 carats of diamonds.  

Chaumet's first iteration of this style dates to 1896 when the Archduchess Maria Dorothea of Austria (1867-1932) commissioned the French jewelry house to make a tiara for her wedding to Philippe, Duke of Orléans. 

The piece she wore featured inverted arches interspersed with laurel-leaf elements supporting large diamonds in tapered openwork mounts and could be converted to a necklace. 



The design was so popular that Chaumet crafted other, slightly different versions of it, making the recently sold necklace a lone and rare survivor of its time, the auction house said.
Also notable at the jewelry auction was a sapphire and diamond platinum ring, circa 1920. 
The Art Deco piece features a 7.12-carat fancy-cut sugarloaf cabochon Kashmir sapphire within an undulating single-cut diamond surround and flanked by two smaller pear-shaped cabochon sapphires.
It sold for more than double its pre-sale estimate as well, going for £248,050 ($301,554).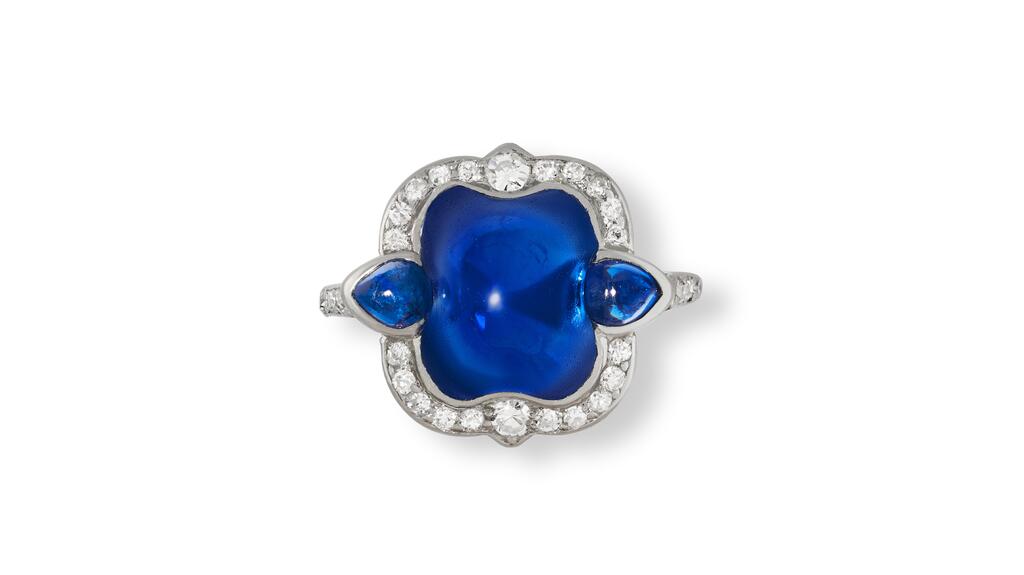 "The selection of jewels represented best-in-class examples of jewelry design from the 19th and 20th centuries," said Bonhams Head of Jewellery, UK, Emily Barber. 
"There was fierce competition from international buyers for rare antique and period jewelry including the Chaumet necklace, which is an exquisite survivor from the glamorous Belle Époque era, and an Art Deco ring set with a 7.12-carat sugarloaf sapphire of Kashmir origin."
In other highlights of the sale, more antique diamond jewelry outdid pre-sale estimates.
A late 19th-century cluster necklace went for more than double its estimate, selling for £127,400 ($154,880).
Featuring approximately 50 carats of diamonds, the necklace is comprised of 16 diamond clusters, each a collet-set old brilliant-cut diamond inside a target surround of old brilliant-cut diamonds.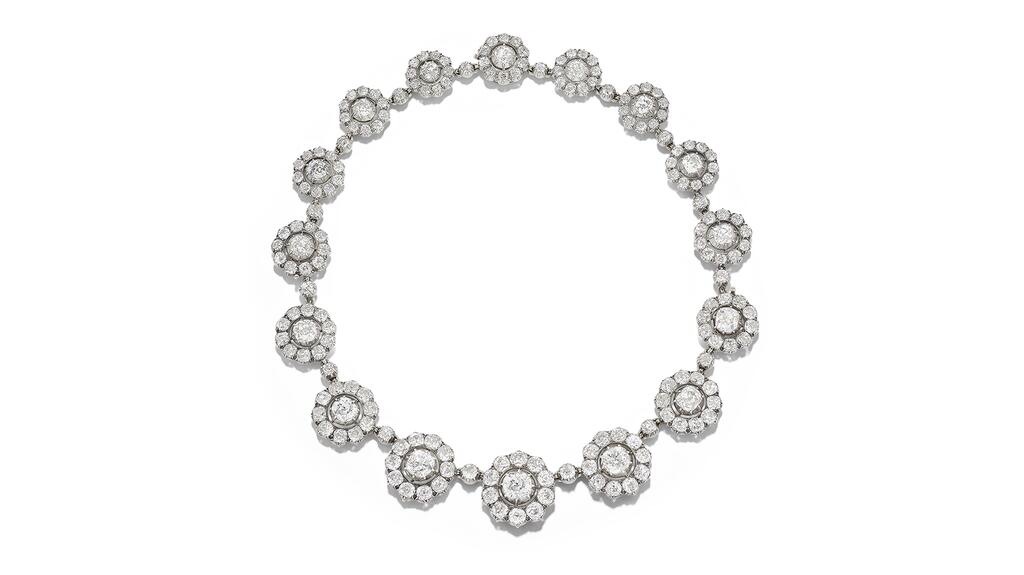 A pair of Van Cleef & Arpels diamond earrings, circa 1935, sold above their pre-sale estimate as well, garnering £51,200 ($62,243).
The diamond "Disques" platinum ear clips feature spiraling pavé-set brilliant and old brilliant-cut diamonds in a detached halo around an inner baguette-cut diamond circle.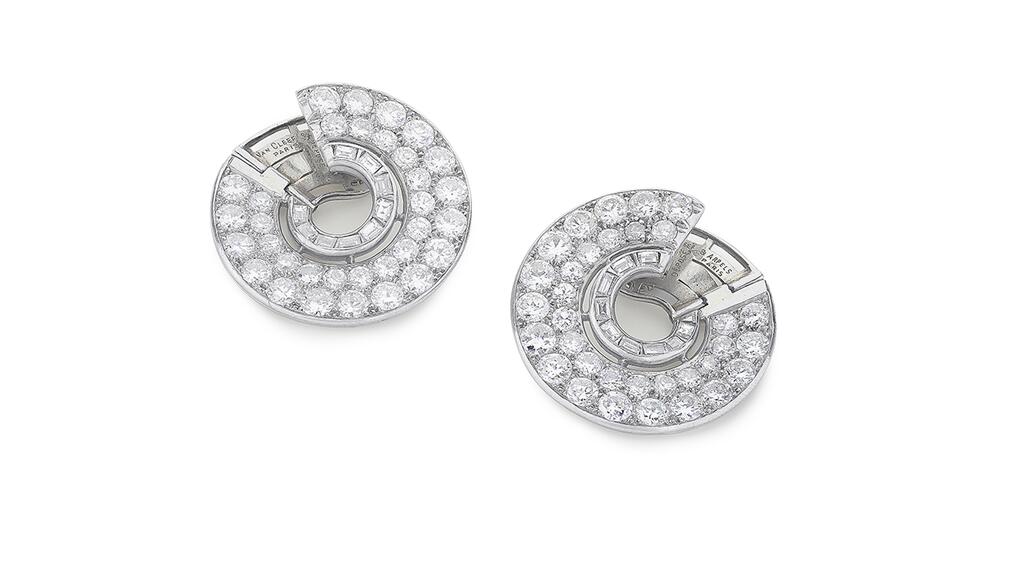 Related stories will be right here … 
Two emerald and diamond rings shone in the Bonhams London sale. 
The first, a Garrard ring, features a step-cut Colombian emerald center stone surrounded by tapered baguette and triangular-cut diamonds between baguette and calibré-cut diamond shoulders. It sold for four times its pre-sale estimate, going for £203,600 ($247,516).
The second ring again features a step-cut Colombian emerald, this time set between tapered baguette-cut diamonds. It sold for £70,250 ($85,402), more than three times its pre-sale estimate.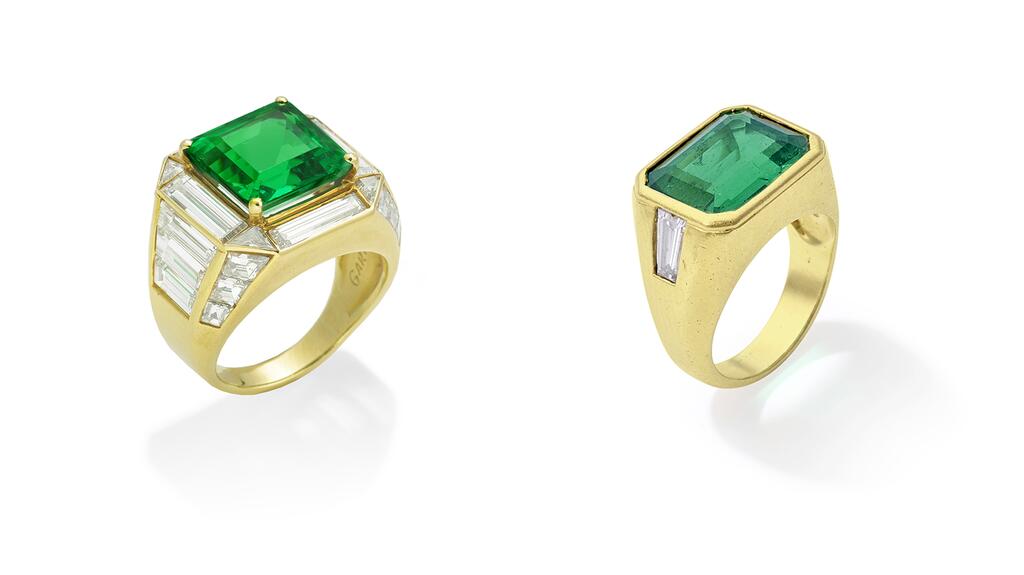 Two charming garnet and gem-set turtle brooches mounted in gold, circa 1860, also sold at the jewelry auction.  
The first turtle's shell is a carved central garnet cabochon, surrounded by garnet cabochons, all outlined in cushion-shaped and old brilliant-cut diamonds. Its head, feet and tail are set with circular-cut ruby accents. The brooch outdid its pre-sale estimate, going for £15,360 ($18,654). 
The other turtle also has a carved garnet shell. It is surrounded by cushion-shaped and old brilliant-cut diamonds and green guilloché enamel decoration. The turtle's head is accented by step-cut emeralds.  
This brooch also topped its pre-sale estimate, selling for £17,920 ($21,763). 
Four items that belonged to British-born American actress Jean Simmons, all gifts from fellow actor Stewart Granger during their courtship, appeared at the London Jewels sale as well.  

The two wed in 1950 and were married for 10 years. They share a daughter, film editor Tracy Granger, who is selling this collection, which includes two unique animal pieces.  

The first is a Cartier opal, ruby and diamond "Love Bird" brooch from 1948. 

It features a pair of different-sized birds with black opal bodies, buff-top calibré-cut ruby feathers, buff-top marquise-cut ruby eyes, and single-cut diamond crests. The birds sit facing each other, perched on a branch that features a brilliant-cut diamond on the side. 

The Love Bird brooch did not sell, but the other animal piece owned by Simmons, a dog brooch by Boucheron, went for £19,200 ($23,312). 

The dog's body is composed of two polished spheres, its neck, tail and legs are made of articulated gas-pipe linking, and its geometric head features ruby bead eyes and an engraved nose. The dog is one of three versions Boucheron created of this brooch in 1947; a cat and a horse also were made. 

 
Granger and Simmons starred opposite some of the biggest names during the "Golden Age" of Hollywood.
More antique jewelry is hitting the auction block this November, as Sotheby's Geneva will offer the
"Vienna 1900: An Imperial and Royal Collection"
in two dedicated auctions on Nov. 6 and 7.  
More on Auctions