'Exceptional' Collection of Royal Jewels Coming to Auction This Fall
The single-owner collection features jewels with ties to Austria's Habsburg dynasty.
Geneva—A private collection of jewelry from royal houses linked to Austria's Habsburg dynasty not seen for nearly a century is coming to auction. 
Sotheby's Geneva will offer "Vienna 1900: An Imperial and Royal Collection" in two dedicated auctions on Nov. 6 and 7, preceding its Nov. 8 "Magnificent Jewels" sale.  
The collection is comprised of more than 200 jewels that were recently rediscovered tucked away in a bank vault.  
Sotheby's said the assortment represents the most impressive representation of Viennese royal jewelry ever offered at auction. 
"This collection is arguably the most important 'Noble Jewels' auction since the landmark sale of the 'Royal Jewels from the Bourbon-Parma Family' held by Sotheby's in Geneva four years ago," remarked Sotheby's Deputy Chairman and Jewelry Senior Director Andres White Correal. 
"The collection is truly exceptional, boasting a unique combination of magnificent ceremonial court jewels worn by the women of Europe's elite and royal families, as well as important assemblage of men's dress accessories, watches, cigarette cases and objets de vertu." 
After the French Revolution, royal families from all over Europe flocked to Vienna's thriving royal and imperial court, which therefore experienced arguably its most glamorous era during the 19th and early 20th centuries.  
The Sotheby's collection illustrates this era and the jewelry trends and styles embodied by the Houses of Habsburg, Bourbon-Parma, Bourbon-Two Sicilies, and Saxe-Coburg-Gotha. 
 Related stories will be right here … 
Among the more than 200 pieces being offered at auction are jewels from the collections of Archduchess Margarete Sophie of Austria (1870-1902), Archduchess Maria Immaculata of Austria-Tuscany (1878-1968), Archduchess Marie Therese of Austria-Teschen (1845-1927), Tsar Ferdinand I of Bulgaria (1861-1948), and Princess Marie Louise of Bourbon-Parma (1870-1899).  
Leading the Nov. 6 and 7 auctions are three pearl and diamond jewels.  
The first is what Sotheby's calls "the most significant" 19th century jewel to come to auction in recent memory.  


The corsage ornament featuring "exceptional" natural pearls and diamonds (pictured above and at top of article) was presented to Archduchess Marie Therese of Austria-Teschen (1845-1927) as a wedding gift in 1865. 
Its pre-sale estimate is $302,000-$504,000, per current exchange rates. 
Estimated to sell for the same amount is the below button-shaped pearl, drop-shaped pearl, and diamond brooch.  
The jewel is reminiscent of a similar diamond and pearl pendant that once belonged to Queen Marie Antoinette, which
garnered $36.2 million
at Sotheby's Geneva in 2018. 
The final top lot, with a $302,000 to $504,000 pre-sale estimate, is the natural pearl and diamond tiara, seen below, created by Viennese court jeweler Köchert. 
According to Sotheby's, Emperor Franz Joseph (1830-1916) and his consort Empress Elisabeth (1837-1898), known as "Sissi," largely dictated court fashion of the day.  
An 1865 portrait of Sissi by Franz Xaver Winterhalter portrayed star-shaped diamond jewelry adorning her elaborate updo, which fueled a taste for diamond stars for the rest of the century. 
Included in the royal collection is a suite of three diamond stars (seen below) that can be worn as brooches, hairpins, or on a tiara frame.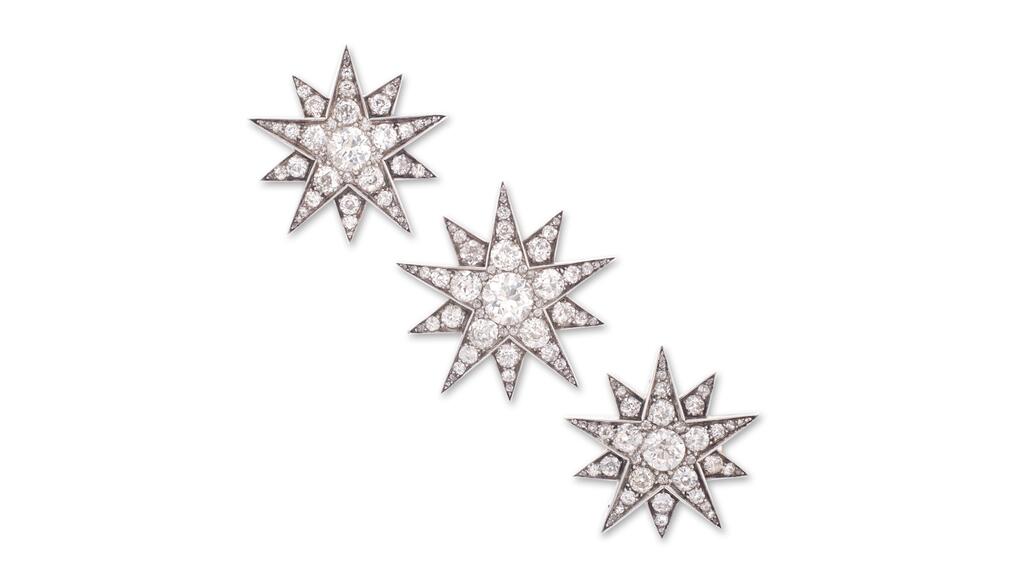 The lot is expected to sell for approximately $10,000 to $14,550. 
In the 1870s, Joseph charged Köchert with the redesign of the famous Habsburg ruby and diamond parure in a natural floral style reflective of the Art Nouveau movement of the day.  
Further illustrating the emperor's influence on the era, Köchert created a transformable ruby and diamond necklace for Joseph's niece, the Archduchess Margarete Sophie of Austria, which is expected to fetch between $123,000-$179,000. 
The accompanying ruby and diamond brooch, pictured below, has a $101,000 -$145,000 pre-sale estimate. 
Another sale highlight is the five-strand natural pearl necklace, below, estimated to sell for between $157,000 and 246,000.
In all, the Viennese royal collection is expected to garner between $3.3 million and $5.6 million.  
Full details are available
online
.  
More on Auctions
Auctions
Sep 27, 2023