Marie Antoinette's Pearl and Diamond Pendant Sells for $36M
It was part of Sotheby's "Royal Jewels from the Bourbon-Parma Family" jewelry auction, a white-glove sale that exceeded expectations.
Geneva—Not surprisingly, the recent auction of jewelry and other items from the collection of the Bourbon-Parma family proved to be quite a hit.

"Royal Jewels from the Bourbon-Parma Family," held Wednesday at Sotheby's Geneva, featured lots once owned by Queen Marie Antoinette, King Charles X of France, the archdukes of Austria and the dukes of Parma.

The sale totaled $53.1 million, which was more than seven times the pre-sale high estimate of $7 million and a record for any sale of royal jewels, according to Sotheby's. It topped the $50.3 million garnered when Sotheby's sold Duchess of Windsor's jewelry in 1987.

The 100-lot jewelry auction was also a white-glove sale, meaning not a single lot went unsold.

Many, in fact, blew away their pre-sale estimates, including the highlight: Marie Antoinette's pearl and diamond pendant.

The piece went for $36.2 million, smashing its pre-sale estimate of $1-$2 million and setting a new auction record for a natural pearl.

The pendant was one of 10 pieces in the sale that once belonged to Marie Antoinette.

Armed with a fascinating backstory, the French queen's jewels went for a combined $42.7 million, about 15 times the highest pre-sale estimate of $2.9 million.

Before she was taken into captivity, Marie Antoinette wrapped her pearls, diamonds and rubies in cotton, placed them in a wooden chest and sent them to Brussels.

From there, they were taken to Vienna to go into the safekeeping of her nephew, the Austrian Emperor, and were given to Marie Antoinette's daughter, Madame Royale, following her release in 1795.

The jewels were then passed on to the Bourbon-Parma family, where they remained for the next two centuries.

Other highlights from the queen's jewelry collection included the three-strand necklace strung with pearls from her personal collection seen below, which Sotheby's said saw "intense bidding" before going for $2.3 million (pre-sale estimate was $200,000 to $300,000).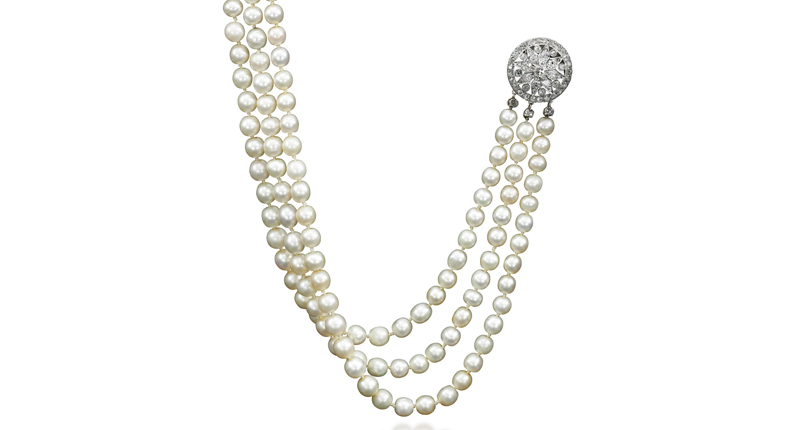 There also was a diamond brooch with a yellow diamond that garnered $2.1 million, and a monogrammed diamond ring bearing the initials "MA" and containing a lock of her hair that sold for more than 50 times its pre-sale estimate when it garnered $443,786 Wednesday.

The collection also included jewels belonging to later generations of the Bourbon-Parma family with connections to the royal families of France, Italy, Spain and Austria.

Highlights included a diamond tiara made by Austrian jeweler Hübner for Maria Anna of Austria in 1912 that went for
$967,990, almost twice its pre-sale high estimate of $550,000.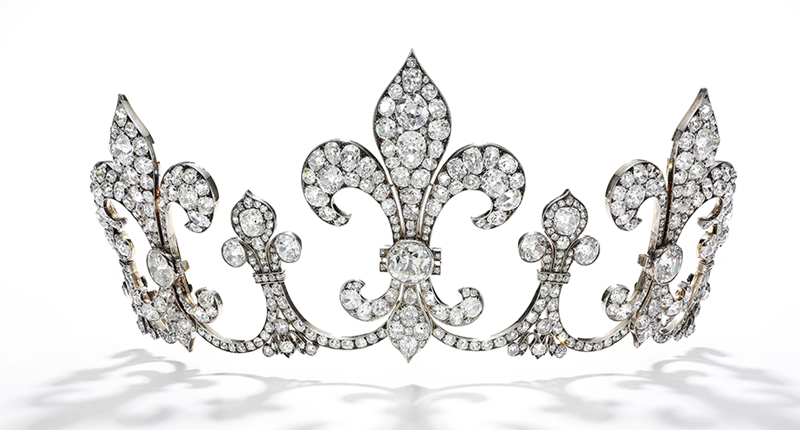 Jeweled badges of the Order of the Holy Spirit and the Order of the Golden Fleece, both owned by the Duke of Angoulême and the latter of which is seen below, sold for $1.6 million and $1.7 million, respectively.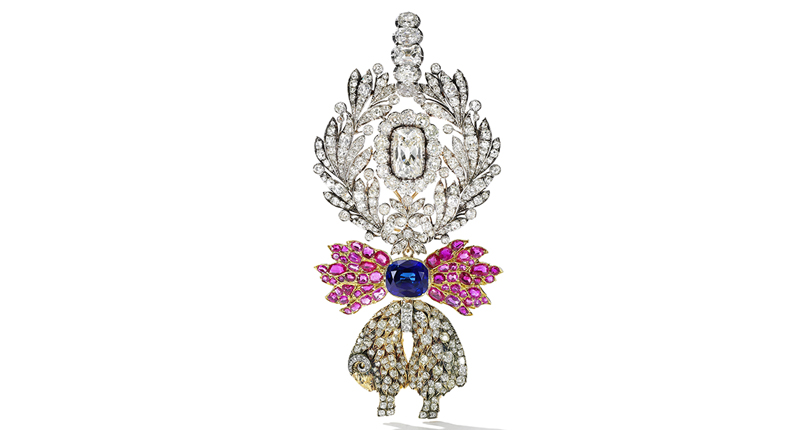 Meanwhile, a diamond parure set with old-cut diamonds with a detachable pendant made for Louise of France and including five diamonds that belonged to Marie Antoinette's daughter sold for $848,853, and a pair of diamond girandole earrings once belonging to the Duchess of Parma sold for almost three times their highest pre-sale estimate, garnering $729,715.
There also was a ring set with a 2.44-carat fancy orangey-pink diamond that sold for $574,837.
For a full list of results, visit
Sothebys.com
.
More on Auctions