KIL NYC's Jewelry Is Ancient Art Made Portable
Plus, a look into the life of jewelry designer Konstantinos Leoussis.
New York—Jewelry designer Konstantinos Leoussis of
KIL N.Y.C.
loves the classics.
Whether he's pouring over ancient Greek mythology or scouring the world's antique shops for jewelry, what's old becomes new again in his hands.
As the son of two New York City attorneys, Leoussis didn't inherit his creative skill, but he found his inspiration not too far from home.
His maternal aunt, a jeweler, and his "aunt" Irene, a dear friend of his grandmother turned family, were two of his biggest inspirations.
Aunt Irene was
Irene Zevon
, a Brooklyn-born artist who was raised by Ukrainian immigrants and later traveled in art circles with contemporaries like Mark Rothko and David Burliak.
Her work is in the permanent collections of the Library of Congress, the Butler Institute of American Art, and other private and museum collections.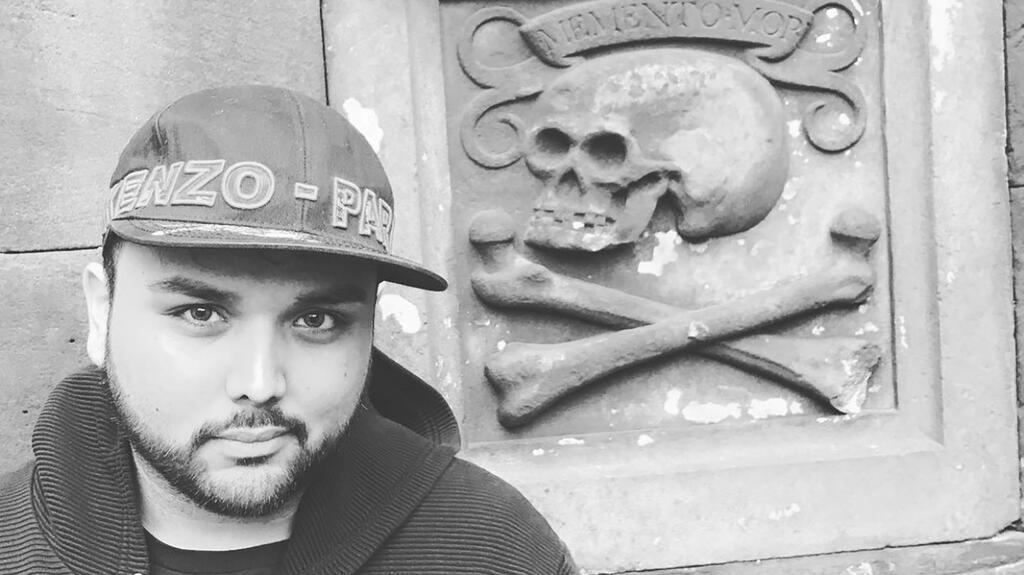 Leoussis followed in her artistic footsteps, studying classical painting at Pratt and Parsons, and later studying to be a metalsmith.
In his early 20s, he worked in an antique store, honing his skills as a jewelry historian, eventually accepting apprenticeships to learn jewelry design and fabrication.
Though he creates his own original pieces, Leoussis also sources antique jewelry, specifically from the late Stuart to the Edwardian era, traveling to Europe once a month to browse through shops for the perfect pieces.
His specialty is mourning and sentimental jewelry from the Georgian era, a topic he has spoken about at lectures and other educational presentations.
"You know, I've always been obsessed with things like that. I used to collect things as a child and make pretend museums in my bedroom. I always wanted to have a museum. So now, I really have one."
 Related stories will be right here … 

Following his apprenticeships, he bounced around in the jewelry world, dabbling in wholesale for antique jewelry companies and working for a few others. But he wanted a company of his own.

"I took the plunge, and it was my 30th birthday present to myself," Leoussis said. 

As for the name, "KIL" are his initials, which became his nickname in boarding school and followed him to college.

"I mean, I've been called worse things," he joked.

"The idea behind it was that it was going to just be this kind of edgy jewelry company, and we still are that way."

His latest collection, "Teras," which is Greek for "monster," channels the greatest figures of ancient Greek mythology, from Hercules and Medusa to harpies and chimeras.


Leoussis once dreamed of being a bard, traveling across the world telling age-old stories to eager crowds, and now he's telling them through his jewelry.
This collection tells the story of the ubiquitousness of beauty.
"The inspiration was showing that even scary things can be really beautiful. And there's beauty in everything, right?" he said.
Leouissis was what one might call a goth kid, dressed in all black and frequenting Hot Topic.
His father was supportive of his alternative style, gifting him designer, hand-tailored gothic-inspired clothing.
Leoussis is more of a grown-up goth now, usually opting to wear all-black attire.
"I was never demonized or looked at like a monster, but I think because I had issues as a child with acting out and drugs, I think my family considered me to be a little bit monstrous," he said.
Like Leoussis, many of these ancient monsters were, perhaps, just misunderstood, and this collection is his chance to give a voice to their stories.
The story of Medusa, for instance, seen in the pendant and ring below, has been told a few different ways, but most tellings depict her as a villain, while Leoussis sees her as a victim.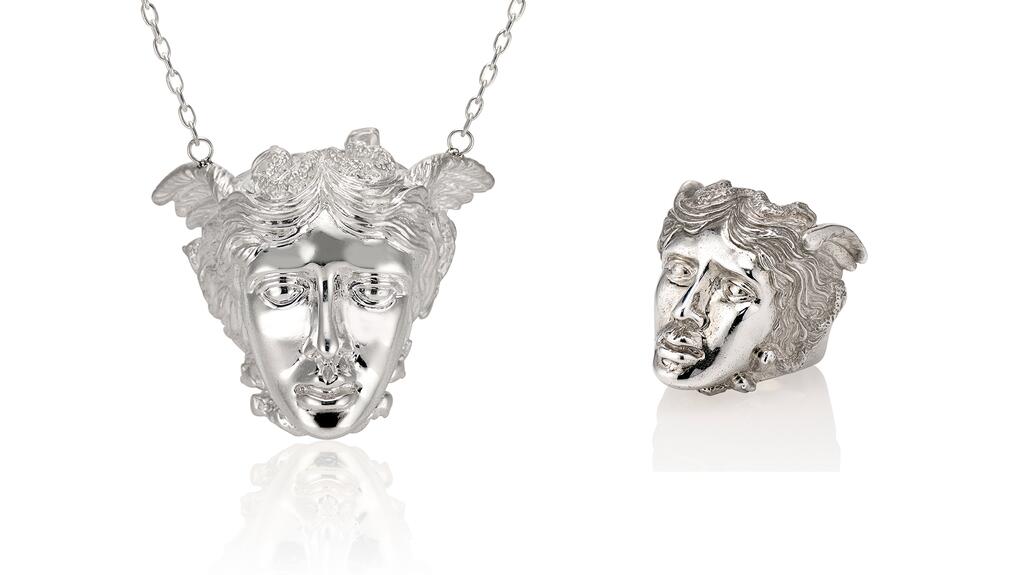 His jewelry rewrites her story, turning her into a fierce protector.
"Medusa's face is the perfect talisman against the evils in this world, and we hope it gives you the strength to tackle life head on," reads the website's description of the pieces.
To create these mythology-inspired pieces, he channeled his Greek heritage, his love of history, and some good old-fashioned elbow grease.
"All of those pieces are hand carved out of wax. I did not render anything," he said.
"I really wanted to create things that were inspired by antiquity but also felt like I just reached into the ground and took them out of the earth."
The pieces are designed to be unisex, an important element to Leoussis.
"My biggest pet peeve in this industry is when we gender things that just shouldn't be gendered. And [the jewelry] is really made for everybody."
The Chimera cuff, seen below, was the first piece of the collection sculpted by Leoussis, a "substantial cuff" inspired by the fire-breathing, two-headed mythical animal hybrid.

Initially designed for men, a female client wore the cuff on her forearm and changed his perspective.

His clientele includes men, women, and those outside of the traditional gender binary, and Leoussis said he designs with everyone in mind.

Leoussis creates the initial designs, but he has a team of about 10 employees who help to bring the creations to life, including three bench jewelers, an operations assistant, a graphic designer, and an accountant.

His mother uses her attorney skills to help her son handle business contracts and other legalese documents that come his way.

He's on the hunt for another operations assistant to handle only Japanese inquiries, as the brand branches out into the country.

Though heading to other markets, KIL N.Y.C is not expanding into physical retail at the moment, currently only stocked in one store in New Zealand.

Both antique and original items are listed on his website, but most sell on social media—mainly Instagram—quicker than he can upload them to the site.


Consumers, particularly younger shoppers, are on the lookout for companies with a conscience, a box KIL N.Y.C. ticks.
The company's charitable givings are on theme with its jewelry. For instance, proceeds from sales of its Harpy collection, based on a bird-human mythological figure, go to
the American Bird Conservancy
.
Proceeds from sales of its jewelry also go to charitable organizations like
the African Wildlife Foundation
,
Visions: Services for the Blind and Visually Impaired
, and
22 Until None
.
A growing number of consumers also value sustainability, a trend-turned-requirement for many jewelers, and KIL N.Y.C is also ready to meet that demand.
"We really do try to be as sustainable as possible," said Leoussis, opting to use recycled metal sourced from New York City and carbon conscious shipping boxes, printed using algae ink.
The eco-friendliness carries over to his packaging.
"The box card, the care card, the wrapping tissue paper, everything is either recyclable or biodegradable."
In another sustainability push, the company is also planning to partner with One Tree Planted, a charity that promotes global reforestation efforts. For every piece of jewelry sold, the company will donate $1.
In addition to cutting down on his carbon footprint, Leoussis is wary that outsourcing could bring copies of his designs to the market.
The designs are special to him, particularly the chimera cuff, his first piece of the collection.
Designed while he was recovering from the COVID-19, his work was the only thing that kept him going, he said.
"This was the only thing that was keeping me somewhat sane, while everything was starting to fall apart."
Now recovered, it's full speed ahead for KIL N.Y.C, with travel plans and new collections in the works.
Though a frequenter of trade shows for past jobs, this year is the first time he's attending shows on behalf of his own company. He'll be heading to the Miami Beach Antique Show this January.
For his next collection, set to debut for the spring/summer season, Leoussis is taking on the ocean, using nautical themes to explore nature, gender, and other cerebral topics.
"It's kind of like if you were to stick your arm into a sunken ship and plucked out some things that are sitting in the bottom," he said, describing the upcoming collection.
In January, he'll be unveiling a collaboration with a well-known ceramics artist, following previous collaborations with female-focused ceramics company
Female Alchemy
.
He also has some pieces in the works inspired by his recent trip to Tbilisi, Georgia, where he traveled to learn more about ancient techniques, to which he'll add his own spin.
For more information about KIL N.Y.C, visit the company's
website
.
More on Collections