Greenwich St. Jewelers' New Constellation Jewels Are Totally Enchanting
They're a sophisticated take on the zodiac trend.
New York—Greenwich St. Jewelers is adding to its in-house offerings.
The second-generation Manhattan jewelry store helmed by sisters Jennifer Gandia and Cristina Gandia Gambale has launched its own take on zodiac jewelry, a trend that has gained renewed steam in recent seasons.
The "Astra" collection is the result of Jennifer Gandia's lifelong love of astrology.
"I've been interested in astrology since I was a kid," she said. "I'd read the horoscopes on the back of the newspaper every day. I got a copy of Susan Miller's 'Sun Signs' when I was in high school, and it revealed information and clues about myself and other people's personalities."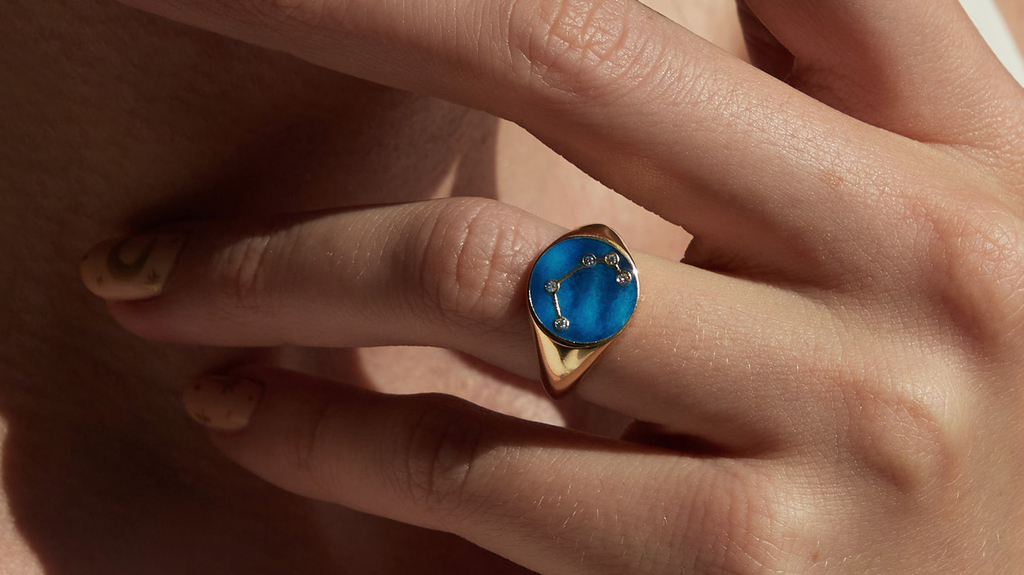 Naturally, there's a piece to honor every sign—at launch, there are pendants and signet rings depicting each of the twelve astrological signs.
Diamonds and gold depict each of the constellations against deep blue, hand-painted enamel representing the night sky. Each enamel is slightly different due to its unique handiwork.
Handmade in New York City in 18-karat recycled gold, signet rings are priced at $1,850 and pendants at $2,900.
The latter is reversible, with the other side featuring an engraved zodiac sign and its corresponding element symbol: air, fire, water, or earth.
The collection fulfills a lifelong dream of Gandia's.
"I moved upstate during the pandemic," she said of her inspiration for the look of the collection, "and one of my favorite things to do was to look up at the ever-changing night sky. The special enameling technique we used for 'Astra' reminds me of those nights. When deciding the [pendant] shape, my mother's pocket watch spoke to me—it was the perfect vessel to represent the measure of time."
Like the pocket watch, the pendants' tops swivel to easily show the designs on each side. They also come with removable bales to connect with any chains or connectors.
The collection has launched with two specific chains, priced at $455 and $1,200.
Greenwich St. Jewelers plans to add more shapes and enamel colors to the collection in the future.
The entire collection is on the jeweler's
website
and is available now.
 Related stories will be right here …