Ashley Zhang Is Making Mourning Jewelry for the Modern Woman
It's inspired by antique jewelry from the Georgian and Victorian eras.
New York—Ashley Zhang's jewelry is steeped in tradition.
In addition to her own collection, the New York City-based designer sells antique jewelry, and often uses antique diamonds in her bespoke bridal pieces.
Despite her immersion in antique and vintage pieces, Zhang wasn't well-versed in mourning jewelry, until recently.
"I think it was a topic I had unintentionally ignored," she said.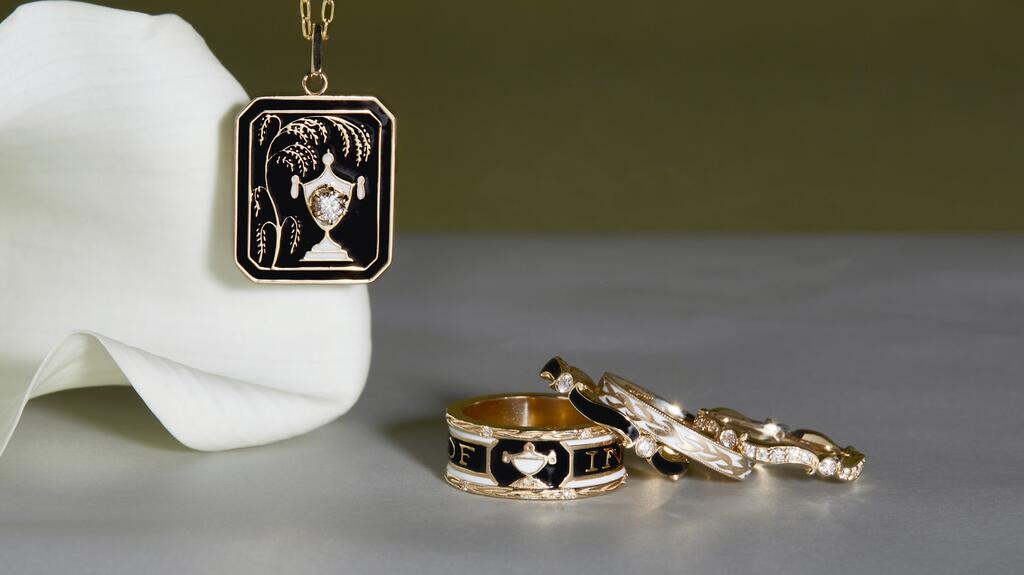 Mourning jewelry, or jewelry paying tribute to a deceased relative or loved one, was common in the Georgian era. It gained popularity in the Victorian era when Queen Victoria wore jewelry to commemorate her late husband, Prince Albert. 
Custom design projects are a large part of Zhang's business and they introduced her to the idea of commemorating a loved one through jewelry.
"Anyone who works in jewelry eventually gets commissioned to make a piece to honor someone who has passed," she said.  
"We have done it many times over the years, mostly by engraving or personalizing pieces from our regular collection, so I knew this collection was needed for so many people. Unfortunately, it is the human experience to deal with loss, whether it's a beloved pet, friend, or family member."
Zhang found herself in need of a personal totem to help grieve her father when he died last summer. 
She began researching antique mourning jewelry in earnest, finding lots of inspiration in the process.
"I felt that this is a topic and style that has really not been touched on much in modern jewelry design," said Zhang. 
"Once I decided to do this collection and began researching there were hundreds of pieces that I could easily take inspiration from. The use of mourning jewelry was so much more popular than I had ever realized."
Launching today, the collection features black and white enamel and motifs like urns, lily of the valley, and willows. 
Zhang also incorporated romantic scrolls and wavy lines, as rings and hoop earrings. The collection is meant to seamlessly weave into a person's daily jewelry look. 
Zhang finds herself gravitating most toward the black and white enamel "Mourning Pendant."
"It is a nice solid gold weight and it's so beautifully hand enameled," Zhang explained.
"I made one for myself and one for my grandmother that is hand engraved. Sadly, she has lost two of her three sons in her lifetime, so while this collection is to honor my dad, it is also for her."
Zhang offers hand engraving on the entire collection, which can be seen on her
website
.
 Related stories will be right here … 
More on Collections
Collections
Nov 27, 2023