Retail In Depth: The Perfect Present
Fifth-generation jewelry retailer Marc Bridge and business partner Monica Chambers unwrap their new digital venture.
Editor's Note: This story first appeared in the print edition of the 2021 Retailer Hall of Fame. Click
here
to see the full issue.
Seattle—The industry is full of people who have a long family history in jewelry, their introductions to the business often coming at an early age.
This was exactly the case for Marc Bridge, who comes from arguably one of the best-known families in the retail jewelry world.
Ben Bridge Jeweler, after all, has served fine jewelry customers since 1912, eventually getting the attention of Warren Buffett's Berkshire Hathaway, which added the family-owned jeweler to its stable of retailers in 2000.
And its leadership ranks include two National Jeweler Retailer Hall of Famers—Ed Bridge, who was inducted in 2003, and Jon Bridge, class of 2010. (The full list of past inductees can be seen
here
.)
There are now five generations of Bridge family members in jewelry, including Marc and his sister, Lisa, who was named CEO of Ben Bridge in late 2018.
And, just as the story usually goes, Marc got tossed into the deep end early on.
From the moment he was tall enough to reach the top of the cases at Ben Bridge, he says, he was handed a rag and a squirt bottle and told to clean them.
The family also spent spring breaks traveling to stores and malls across the country.
By his early teens, Bridge was selling.
"Starting really at the age of 14, my parents threw me in an oversized suit and put me out on the sales floor and said, 'Go sell.' Nobody ever told me it was strange to buy an engagement ring or a Rolex watch from a 14 year old. In retrospect, who in their right mind would? But that's what I did."
Every summer or holiday break, he'd work at the retail chain's store in downtown Seattle, putting in the hours on the salesfloor through college, graduate school, and law school.
After he finished law school, jewelry called again and he answered, spending the first decade of his career working at Ben Bridge, handling marketing, e-commerce, customer service, and visual merchandising.
"Whether it's nature or nurture, I have been deeply inculcated in the jewelry business, and I love it. It's such a wonderful and exciting business."
A few years ago, however, this fifth-generation jeweler made the decision to strike out on his own, launching e-commerce jewelry site At Present with partner Monica Chambers.
Bridge took some lessons from the family business along with him, as did Chambers from her history in startups, and they've both learned a few new ones, too.
Getting Started

While he found his experience at the family business invaluable and treasures the connections he made, Bridge says he always had the idea of starting his own business in the back of his mind.
"Shortly after my wife and I had our son, we were talking about what was important to us and what we wanted to model to our child, our children—we now (also) have a daughter," he says.
"One of the things that came out of those conversations was, if there's something that you want to do, you actually have to do it. Having a child was one of those inflection points where you're like, I'm getting older and if I don't do this at some point, it's just not going to happen."
With changes to both the business side of Ben Bridge and its leadership and the way consumers were searching for and shopping for jewelry, it seemed like as good a time as any to make the leap, Bridge says.
He and Chambers, who were introduced by a mutual friend, started jewelry e-commerce site
At Present
in November 2019 after months of conversations.
Chambers had plenty of startup and entrepreneurial experience to bring to the partnership.
Her first job out of college was at a record label, which helped her see firsthand "how radically an industry was being disrupted by digital change," she tells National Jeweler, a time she describes as formative for her career.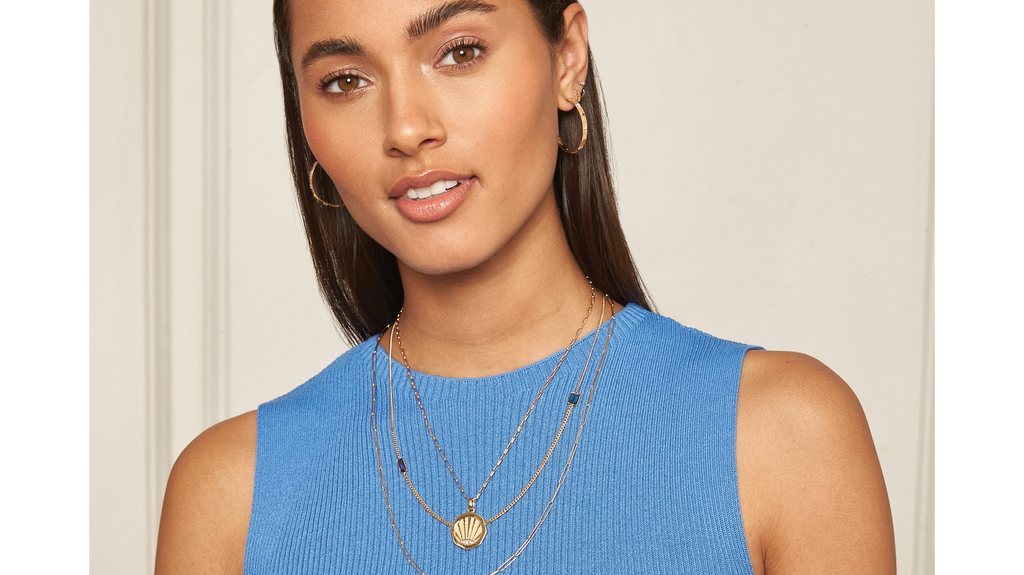 Chambers, a graduate of Harvard Business School, also gained experience helping early-stage startups scale their businesses. She aided communications company WPP in growing the technology-focused parts of the business and worked with two New York-based design firms that gave her insight into the struggles of designers and creatives.
At Present also makes her a second-time co-founder; she was behind the launch of venture capital firm Work-Bench.
For this new company, Chambers and Bridge spent the first half of 2020 adding to the team and building the business amid the lockdown before launching on Aug. 1.
They predicated At Present on three macro-trends they saw in the market.
Number one was the fact that more women are buying jewelry for themselves, a trend that's evidenced in myriad industry surveys, acquisitions and advertising campaigns.
The second trend was the continuing increase in the number of consumers looking for distinctive items.
How the public consumes media and marketing today has led to what the pair refers to as the "flattening of luxury," Chambers says.
Luxury used to be about access. Now one can see, for example, a Cartier bracelet multiple times when scrolling on social media, walking around New York and/or seeing friends, making it ubiquitous.
"I think the way that you sell a luxury object now has to do a lot more with, 'Does it speak to me? What's the story behind it? And how does it connect to me, so I can style it my own way?' as opposed to, 'This is made by a luxury brand that everyone covets,'" Chambers says.
The third macro-trend playing into their business was jewelry buying slowly migrating more online.
Bridge says that while they could see it was on an upward trajectory, when they were first building At Present, they thought it would be another five years before people were really comfortable buying jewelry online in any great amount.
"And then March of last year hit, and that attitude changed over the course of five weeks," Bridge says.
Online shopping shifted from being just about necessities—like toilet paper and cleaning supplies—and items it's not necessary to see in person—like books—to discretionary items and higher-ticket goods because consumers had no alternative under nationwide shelter-in-place orders.
The timing for launching an online-only jewelry seller proved to be perfect, aligning with a massive change in consumer behavior.
Standing Out in a Saturated Market

Bridge and Chambers designed At Present to be a curated jewelry marketplace that connects emerging designers with customers who are looking for "unique things as a means of self-expression," Bridge says.
"We distinguish ourselves by finding what we think is the most exciting jewelry across a variety of price points. It's not about the traditional notions of, 'this is fine,' or 'this is fashion,' or 'this is high jewelry.' We believe those boundaries are really fuzzy and customers play in a lot of different sandboxes."
At press time, the At Present site had, for example, a sterling silver "Faye" bracelet from Mandy Reid for $50, as well as a 22-karat gold "Horus Will Be King" cuff from Loren Nicole for $46,700.
Bridge says they are also building their business by focusing on buying occasions outside of the traditional jewelry gifting experiences.
"We've really leaned into these other events and marking moments in your life that are not necessarily the high points along the way."
A wedding, an anniversary, a "round number" birthday—those are obvious occasions to mark with a nice piece of jewelry.
But At Present customers are also buying themselves jewelry to mark, for example, finalizing divorces and starting new chapters in their lives, which often means closing the book on tough times.
At Present had a customer who bought herself and her daughters matching gold pendants to celebrate making it through 2020, a gift everyone deserves.
"I really think [jewelry] has a much smaller share of the consumer's wallet than it should, based on the nature of the product and the meaning that it has to people," Bridge says. "How do we grow the pie? How do we give people permission to play in our space for events that are not just the kind of check-the-box events?"
It also helps explain the site's name, so chosen to help emphasize the partners' belief that life isn't just about the highs, but also about celebrating where you are right now.
"If you're constantly waiting for the perfect moment, you're going to be disappointed. At Present is really grounded in this notion that where you are is exactly where you're supposed to be, and it's worth celebrating," says Bridge.
Lessons: Past and Present
Even with the launch coming at a time when all eyes were on the internet, the business has still grown more quickly than the team imagined.
"Women do buy jewelry for themselves around key occasions, but they're not the traditional ones we think about." — Monica Chambers 
At Present started out with 25 designers but had close to 40 at press time, and its team has grown from two to six, having just added Rachel Goldberger, former vice president at Neiman Marcus, to build sales and styling operations. (It also has two advisors: Karen Katz, former CEO of Neiman Marcus, and David Rogier, founder and CEO of Masterclass.)
The partners are constantly moving their sales' "goalposts" as they expand, Bridge says, adding that one of the most rewarding parts of the site's growth and development has been finding customers who appreciate not only what they're doing, but also what their designer partners are creating.
"The best feedback that we've gotten thus far from any of our customers is, 'you have found all of the things that I wish I knew how to find but didn't know existed.'"
This is just the space the duo wants to fill with At Present.
Chambers says one of the most interesting things she's learned so far about the jewelry category goes back to that conversation about buying occasions: "Women … do buy jewelry for themselves around key occasions, but they're not the traditional ones we think about; they're sentimental and emotional, about some sort of achievement or some sort of transition."
To help create the kind of digital shopping experience jewelry consumers deserve when it comes to a personal, emotional purchase, she says they love being able to use their platform for storytelling, whether it's the story of their designers or the stories of consumers and why they're buying.
And they also, of course, want to help make it the right experience for their designer partners.
There are many makers in the market who have a unique design aesthetic, but not the resources or know-how to develop methods for finding the right buyers.
That's where At Present comes in, aiming to help designers spend more time on creating and less on business aspects, like customer acquisition and digital marketing, Bridge says.
For At Present, social media, unsurprisingly, has been a powerful tool for attracting customers, but so has word of mouth. In today's world, where consumers demand a story, At Present is not only inviting conversation with its customers through its selections but creating it among them as well.
In fact, as an online-only player, the site's biggest advantage is being able to curate very specific items, Bridge says.
Whereas physical retailers need inventory on hand that mostly appeals to local buyers, a virtual inventory model means At Present can have unique pieces and still be able to find that narrow subset of potential customers because it has a wider geographic reach.
The e-commerce site curates an assortment from each designer, some of which the designers have in their inventory and some made to order. The initial plan, Bridge says, was to have the designers send jewelry directly to customers and share proceeds.
But for several of At Present's designer partners, business has grown so quickly they need help scaling operations. The online retailer has stepped in and is presently testing manufacturing and warehousing solutions for those designers so more pieces can be kept in stock.
Building a digital platform has also helped highlight the role of technology, Chambers says.
Initially, they were going to have a firm design the website. When the pandemic hit, they were still betting on the resiliency of the jewelry category throughout that time, they "just needed to be really thoughtful about it," Chambers says, so she ended up putting together the site herself from WordPress and Shopify.
"Oftentimes, when people understand that you need to move online or that technology needs to empower, it's kind of a reflexive thinking. But it really comes down to understanding your consumer and understanding what she wants, and then using technology to enable that."
With the bonuses of being digital-only, however, a few downsides come along, Bridge muses, including missing out on the frisson of excitement that comes with trying on a piece of jewelry.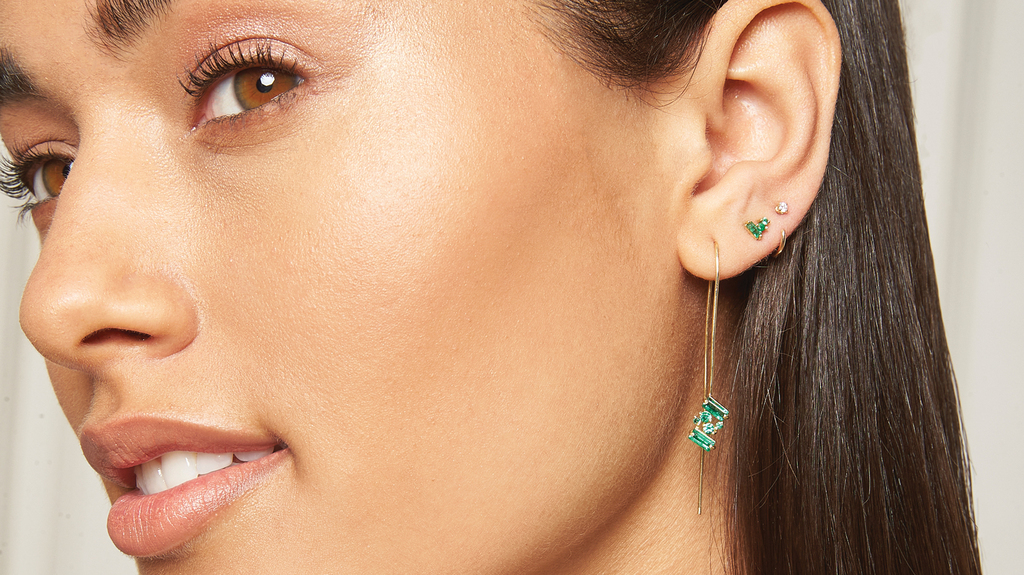 "We have enormous confidence that once you have a beautiful piece of jewelry, you are going to love it. The question is, how do we bridge that gap?"
The answer includes services like fast and free shipping and a longer grace period for returns—things that will build confidence and make the process more seamless.
To help it find its way, At Present studied many of the large online players already doing it right.
"One of the benefits of jewelry finally coming to the e-commerce revolution is we can take the things that have been learned in soft goods and fashion … to give people confidence in buying. It's about photography, it's about video, it's about return policies that are generous. And it's about providing a very high level of customer service."
Bridge also, of course, incorporates lessons acquired at Ben Bridge and applies them to the digital world.
After learning how to create an in-person, trusting relationship at the jewelry counter, he transitions it to the digital world by building consumer confidence in the brand.
"You have to offer quality products," Bridge says. "You have to stand by them. And consumers need to feel there's a person behind [the brand]."
The 'O' Word
The boundary between online and offline retail no longer exists, and most players find a way to blend the two with an omnichannel strategy.
At Present chose to start in the digital space, where Bridge and Chambers thought they might be best able to find customers. And the online retailer has brought virtual events to its customers as well.
For example, it offered a virtual studio visit with Los Angeles-based Loren N. Teetelli, the designer behind Loren Nicole, where several dozen women watched via Zoom as she made a pair of earrings from scratch.
But as the business grows, At Present will continue to search for opportunities, including events that bring jewelry, designers, and customers together in real life.
"It's way more fun to play with jewelry in person, so I do hope that we have the opportunity to bring people to live events, where they can experience the thrill of working with these designers," Bridge says.
Though the DNA of At Present is solidly digital, its aspiration to create events in real life shows that for Bridge at least, the apple didn't fall far from the tree.