The Smart Lab: 3 Competitive Advantages of Paid Search
It's a key element to securing the attention of shoppers online, Smart Age Solutions CEO Emmanuel Raheb writes.
As a jeweler in 2019, you want to make sure you have a solid digital marketing strategy to gain the attention of online shoppers in your area.


Any good digital marketing strategy will include a mix of different forms of marketing, but most of your budget likely will be allocated to paid search. Here are three reasons why paid search is so important.
Reason #1: Competitors Can Buy Your Name Online
Paid search is one of the best ways to direct traffic to your website. You can make sure your site appears at the top of the search results on Google by bidding on specific keywords.
When people search for things online, Google divides what the person typed in the search bar into different "keywords." Advertisers can then bid money on these different keywords and the amount of money (combined with several other factors, such as brand reputation quality) determines which advertiser's ad gets served to the person searching.
The game to win the attention of shoppers online is fiercely competitive. One strategy your competitors might use is buying your company's name so that their company appears ahead of, or right under, yours when someone searches, as we see below with Rare Carat and Blue Nile.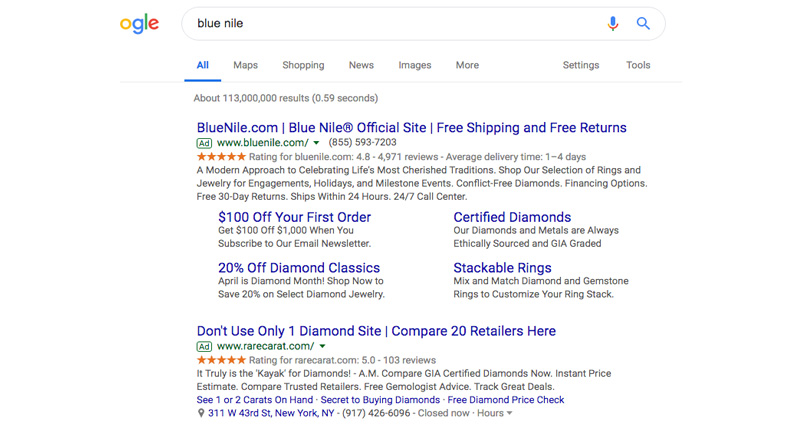 Imagine having someone search for your jewelry store only to end up on your competitor's website! (Editor's note: While it is legal to bid on your competitor's name so that your ad appears, you are not allowed to use your competitor's name in the ad copy; Jensen Jewelers accused Signet Jewelers-owned chain Zalesof engaging in this practice and sued the company in federal court last January.)
To avoid this nightmare scenario, make sure you have a paid search strategy in place.
Reason #2: You Can Ensure Top Placement For "High-Intent" Searches
The words people type into Google's search bar can be used to determine their intent for the search.
High-intent searches include keywords like "buy" or "near me." When companies bid for these keywords and appear high in the search rankings, they are more likely to make a sale than companies that do not implement such keywords.
Reason #3: You Can Appear Before Your Competitors for the Same Searches
You might think there isn't a big difference in appearing first, second or third in a Google search. The data, however, tells us that the difference can mean a lot in terms of profit.
According to
Smart Insights
, a marketing advice platform, the first Google result receives about 30 percent of search result clicks. The second position achieves about 15 percent and the third result about 10 percent. The lower results (around nine and 10) get only about 2 percent of clicks.
When thousands of people are searching online, the difference in these numbers can mean a lot in terms of your bottom line and/or in-store traffic.
As you can see, the importance of paid search in a digital marketing strategy cannot be overstated.
According to Gartner L2, a New York-based research firm, the jewelry industry continues to lag behind other industries online. Jewelry brands and stores that invest heavily online now will have an early-mover advantage.
Emmanuel Raheb is the CEO of Smart Age Solutions, a digital ad agency and coveted Premier Google Partner. With nearly 18 years' digital marketing and e-commerce experience, Raheb is passionate about helping and strategically growing national jewelry brands and local retailers alike. Contact him at eraheb@smartagesolutions.com.
More on Technology