Designers to Watch in 2023: Boochier
Behind the playful and nostalgic brand lies deeper meaning.
It was in what felt like the first legitimate post-pandemic year—2022—that my Boochier fixation took hold. 

I was freshly back to New York, with the city as alive as it had ever been, feeling like I had wakened from some sort of fever dream after living nearly two years in Miami, when I met the brand's designer, Melinda Zeman. 

For Zeman, who lives and produces her fine jewelry line in Hong Kong, the return to travel must have been an even greater shock to the system. After three years under some of the world's most stringent COVID-19 regulations, Zeman was traveling for the first time, making a world tour of fashion capitals as Boochier made its global debut. 

And what an emergence. Boochier was even better in person than in my frequent Instagram scrolls. It drew me in with its 1990s and 2000s era sentimentality. The "Slinkee" bracelet, was, to me, reminiscent of a telephone cord, like the one my family had in the basement in the '90s in case one of our cordless phones should run out of battery.


 In Miami, I had become an internet scourer of vintage furniture and décor, sourcing laminate pieces, most likely from a 1980s teenage girl's bedroom. I collected things I would never use or had no need for, like kitschy figurines and ashtrays, and looked at vintage pictures of shopping malls in their heyday on social media. The Slinkee collection was modern and artfully designed but emitted a visceral nostalgia I couldn't get enough of during so much uncertainty.
A lot of us were glorifying the recent past during the pandemic, and still are, as we navigate unprecedented world changes. Zeman is a millennial and as a mother of four, undoubtedly has easy access to her inner child, but Boochier's playfulness is universal without belonging to one specific era.
There's joy in its many enamel and rhodium shades and an easiness in its looping, curving lines.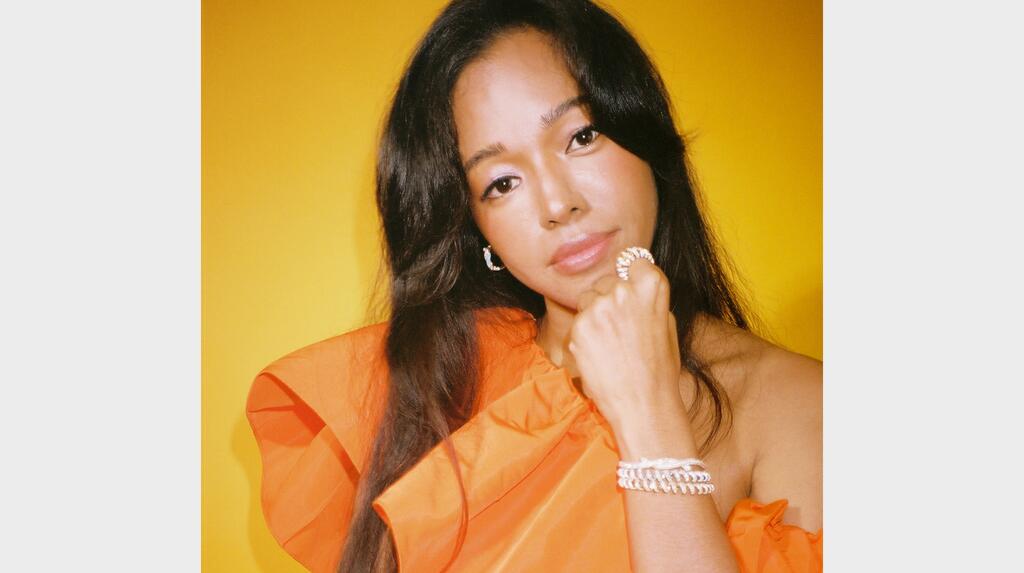 While on its face lighthearted, just as I ascribed a certain melancholic meaning to the collection, Boochier was born out of a deeper, yet empowering, message.
The first piece Zeman created, the "Ties" ring, is a representation of embracing two sides of one's identity.
Born to a Chinese mother and Ghanian father but primarily raised in China with her mother's family, Zeman's mixed-race heritage was unique among her family and peers. It was only in adulthood that she grew to appreciate her multicultural background and accept herself.
"The Ties collection is about embracing your differences, owning who you are, and celebrating it to its full extent," she said.
I caught up with the designer this year to talk about balancing fun design with classic elements, her relationship with color, and her latest pieces.
This interview has been edited for length and clarity.
Ashley Davis:
I think the "Ties" motif says a lot about your origin story as an artist. Can you explain the message behind this signature piece and what inspired it?
Melinda Zeman:
The Ties collection will always hold a special place in my heart because it is the collection that I launched the brand with and the collection that continues to be our best seller. I think it is because so many people can relate to the inspiration and the story behind it.
Boochier is very much an extension of me and I wanted a collection that told my personal story. I was born in the U.K. to a Chinese mother and a Ghanian father. My mother and I moved to Hong Kong during my childhood to be closer to her family. I then moved to the U.S. after high school.
I think my story is no longer one that is unheard of in today's world. It is a story of navigating your identity and who you are in a world where we are made up of so many interweaving "ties" or elements, be it geographical, racial, or in relation to gender or religion.
AD:
What was your professional background prior to launching Boochier?
MZ:
I worked in marketing and content creation. My job was finding people with interesting stories to tell and giving them a platform to tell those stories. My favorite interviewee was an incredibly charismatic young guy who was a flight attendant during the week and a drag queen on the weekends.
AD:
How did you decide to launch your line?
MZ:
I have always loved jewelry and have been fascinated by the way something so small can tell such a vivid story. 
Especially when you look back at the kinds of jewelry that were traditionally worn by royalty, the designs and materials used paint a picture of who they were and what they did. I love that stories and memories can transcend generations through family heirlooms. 
This love combined with my personal story and all the stories I had the pleasure of encountering through my job led me to the creation of the Ties motif. 

AD: What would you say inspires your design aesthetic?

MZ: Boochier is all about celebrating your journey, so I take a lot of inspiration from my childhood moments in the '90s and early 2000s. 

Our "Slinkee" for example is a total throwback moment. A lot of my clients tell me it reminds them of a phone cord back when teenagers didn't have cell phones and would spend hours twirling the cord while on the phone with their best friends. 


"I love that stories and memories can transcend generations through family heirlooms." –Melinda Zeman

I'm not someone who takes myself too seriously and it is so important for me to reflect this in all my designs. I want my jewelry to be something people can have fun with. I want to create jewelry that people feel comfortable wearing for all occasions.

I like to be playful with my designs yet also classic enough that they can be worn every day and passed down for generations. I hope to create something that I could pass down to my granddaughter one day that says something about me, that I'm someone who is playful, daring, and independent in her choices, but also appreciates quality and craftsmanship.

AD: Where is the collection made?

MZ: Our pieces are made in a small workshop in Hong Kong. 


 Related stories will be right here … 

AD: What are the materials you work with the most? Can you explain your relationship with color?

MZ: I work mostly with 18-karat gold and diamonds, but color has been a huge part of the brand from its inception, mostly because I am such a colorful person owing to my extremely colorful cultural background, but also because I genuinely believe that color can uplift anyone. I love being able to bring sparks of instant joy and happiness through my jewelry.

AD: Can you tell me more about the inspiration behind the "Slinkee" collection? It was the first collection that put Boochier on my radar.

MZ: The Slinkee is a tribute to childhood hopefulness, joy, and nostalgia. The collection draws inspiration from childhood objects that transport us to a carefree time, a time where nothing seems impossible, the sky is the limit, and no dream is too big.

The shape is a reminder of childhood resilience, the ability to bounce back stronger and continue to grow. It is the ultimate reminder of that childhood bravery we all possess inside us to get right back on that bike after falling off.

AD: What about the new "B-Boy" collection?

MZ: The B-Boy collection is one of our latest collections and is really my personal reinterpretation of a traditional pearl necklace. 

I grew up watching my grandmother put on her pearl necklace every day and always wondered how I could make it a bit more playful yet still luxurious. I use only the best Akoya pearls for the necklace, combined with high quality diamonds, 18-karat gold and enamel beads. 


 "I hope to create something that I could pass down to my granddaughter one day that says something about me, that I'm someone who is playful, daring, and independent in her choices." – Melinda Zeman

AD: Who do you view as the Boochier customer?

MZ: I view our customer as someone who is confident in themselves and their decisions; a leader.

Someone who is looking for something different and untraditional. It is for someone that invests in quality, craftsmanship and details because it brings them personal joy knowing the attention that went into creating their pieces. 


More on Editors