Designers to Watch in 2023: Aurelia Demark
The designer finds the modernity in classic motifs and family heirloom jewels.
If there's a connection among the 2023 "Designers to Watch," it's timing. 
Each tapped into a certain creative flow when closing one professional chapter of their career. The shift to launching their own jewelry design venture was sometimes precipitated by and always intertwined with starting a family.
For
Aurelia Demark
, the launch of her eponymous brand was quite literally inspired by motherhood. 
She designed what would be the first piece of her first collection as a one-off project to recreate a family heirloom—a charm her mother made when she was born and later gave to Demark—in honor of her own daughters.
Demark was an outsider to the insular world of fine jewelry, but she was well versed in fashion and accessories. 
She spent seven years honing her business acumen in New York City working for Tory Burch, first in sales before quickly shifting to merchandising where she found her niche, "working closely with product development."
"You really helped to create a collection that would be successful in terms of hitting all the sales targets that you needed to," she explained. "Their jewelry business was growing and becoming more important."
Demark loved her merchandising job, which covered all accessory categories, from jewelry to scarves and cold-weather items. She eventually worked solely on Tory Burch's fashion jewelry offerings.
After the birth of her first daughter, she decided it was time to, "close this chapter and figure out what's next." 
While Demark enjoyed working for a large brand and counts many of her former coworkers as friends today, she didn't miss fashion's hectic pace. 
"We would always be working on three or four collections. You would be planning ahead while doing product development and selling for current collections and doing hindsight on the collection just launched. It was constant."
When she decided to expand upon the initial charm she made to commemorate her children and create a full-fledged company, she had to decide whether to fall back on what she knew—costume fashion jewelry—or venture in the unknown of fine jewelry. 
"Costume jewelry was so familiar to me," she said, "but I knew you have to just continually produce, produce, produce. I realized a family heirloom was more the spirit of the piece that had been given to me by my mom that I wanted to carry on. 
"I love the fact that it's gold and hand engraved and a miniature treasure you will wear." 
Aurelia Demark launched quietly to family and friends in 2017, two years after the birth of her first daughter and the creation of the initial pendant. 
By the next year, Demark had a website, and the brand grew naturally from there.
Home and family span many places for the designer. She grew up around the United States and counts Sun Valley, Idaho, where her parents lives now, as home. New York City, where she long worked, lived, and still produces her jewelry, is an integral part of her brand, too.
Palm Beach, Florida, where Demark relocated in 2020 with her husband, daughters Eloise and Annabelle, and dog Scout, has opened a new chapter. Last year, she opened a private showroom there, where clients can meet her in person. 
The importance of familial connection and home can be felt throughout the Aurelia Demark brand, where classic femininity merges with whimsical, childhood-inspired motifs. 
Many pieces are designed with engraving in mind, the large pendants waiting like blank canvases for names and initials to be inscribed, just like her artist mother Martine's canvases that filled Demark's childhood home. All the jewels are intended to be heirlooms. 


Animals, hearts, and four-leaf clovers are among the sentimental touchpoints of the collection, while recent pieces have interpreted fabrics associated with childhood such as eyelet and ribbon into gold rings, cuffs, and hoop earrings. 
Supremely giftable, Aurelia Demark has a fresh way of dreaming up designs related to childhood nostalgia. 
I spoke with the designer about collaborating with her artist mother, Martine; the importance she places in producing in New York City, and how she makes sweet motifs modern. 
This interview has been edited for length and clarity.
National Jeweler: Tell me about designing your first pieces of fine jewelry. 
Aurelia Demark: It started because of a family tradition. 
My mom is an illustrator and artist. She had designed a charm to wear on her charm bracelet when my sister and I were born. She gave me the charm on my 30th birthday; it was of a little duck. 
When my sister and I started having kids, my mom said, "We should design a piece to commemorate your kids." I hadn't even realized that she had designed the pendant herself. 
She has a very whimsical hand when it comes to illustration. I realized there could be something there. 
NJ: So, that started your animal collection?
AD: Yes, it's called "Les Joujoux." It means "toys" in French, but it also means like a delicate, fine object.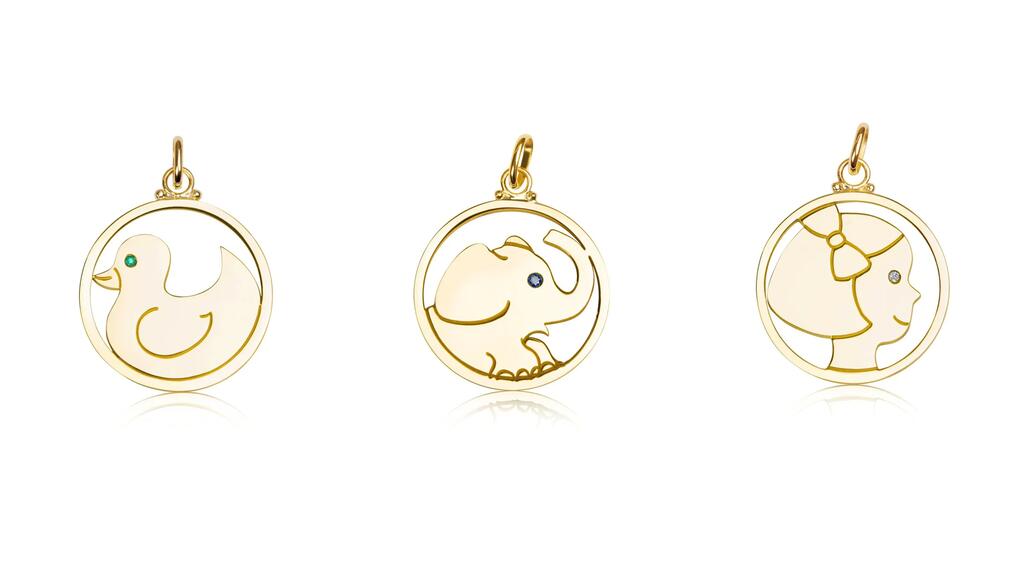 We created these playful animal pendants because I think everyone has an animal spirit in a way. Animals were always a big part of my family and when you have a baby there are so many animals when it comes to toys and decor. People loved the collection and still do. 
NJ:  How did it grow initially?
AD: We designed the boy and girl silhouettes next, for people who weren't interested in the animals. 
I introduced the collection in 2017 to friends and family to kind of test the water. I realized there was viability with this. So, I launched a website in 2018 and it's just grown organically from there. 
My mom and I designed the "Zodiac" collection in 2019 and then we did the four-leaf clover. We work on some things together and then I do some things on my own, too, like the "Eyelet" collection and the collection that just launched, "Ric Rac."
I love working with people and creating the same family tradition for them that we had, whether it's engraving an animal pendant, which is very full circle with my family story, or trying my hand at other customized pieces. 
"[My mom] has a very whimsical hand when it comes to illustration. I realized there could be something there." – Aurelia Demark
NJ: You're in Palm Beach now but I know you began the brand in New York City. What was that like?
AD: With fine jewelers, you know how a lot of it is like, your uncle is in the business or your parents are in the business? I was not a part of that.
When it came to manufacturing this idea of mine, I literally would walk around the Diamond District and figure it out. I would walk up and down 47th Street and talk to people. Even if you know someone in the jewelry business, they aren't going to share their workshop and their connections with you, necessarily. I get it. Sources are important and you protect them. That was probably the hardest part of starting out.
I found a jeweler who helped me make all my pieces and then I started getting too busy for that jeweler so I had to find another workshop and that was really hard. I'm happy I figured it out on my own. 
Everything is made in New York, which I love. Many people say you should go overseas but I like knowing who makes my jewelry. I love going back and seeing how everything is going. People need jobs in New York, just like anywhere, so I absolutely try to keep my production there.  
NJ: You started Aurelia Demark with a pretty specific concept. Now, you've expanded to other collections but there is still a continuous DNA throughout the brand. It all really goes together and tells a complete story. What has it been like to expand in a design sense?
AD: I think it's how I see things. I don't have design concepts I intentionally follow. I think it's just my aesthetic. 
I love when there is a juxtaposition of classic and modern and maybe that's the common denominator you're seeing. That feel is what I love—that it's wearable and easy—and I always come back to that. Less is more for me.
I laugh sometimes because I look at my jewelry and I'm like, "There needs to be more to it. It should be more bedazzled," but that will happen when it feels right. I love a beautiful gold piece. As I keep designing, I'm gaining confidence. That happens with everything, right? The more confident you are the more creative you'll get in a way. 
I'm lucky that my earlier collections are still resonating with clients. It allows me to develop and grow and create more.
NJ: What was the process like bringing your "Eyelet" and "Ric Rac" collections to life? I'm going to assume you were inspired by actual fabrics.
AD: I remember exactly how it happened. I was wearing a dress with eyelet embroidery, and I started playing with the hem. I thought, "Oh, this could be really interesting."
I started to think the gems could represent the eyelet holes and it just went from there. I love a scalloped edge and the patterns you see in eyelet embroidery. It's repetitive and in a way, if you just reduce it to the shapes, it becomes very modern. It's very classic and romantic but if you take it apart and just focus on certain things, it's very modern too. 
Imagining it as gold with gemstones, I thought it could be beautiful.
 Related stories will be right here … 
NJ: Are you big on sketching?
AD: I sketch but I envision it first and can see it really well. Then, I do some sketching with detailed measurements, and refine it even more during the CAD process. Often times there's another round of tweaks when reviewing a wax or when the prototype is made. 
NJ: Was the Ric Rac collection similar to Eyelet? I like that you named these collections after the inspiration because I wouldn't have made the connection otherwise. I like that you let us in on it. 
AD: All our jewelry boxes are wrapped with a ric rac ribbon. When I found the exact ribbon I knew it was perfect. 
It has a grosgrain texture and it has the curvy, scalloped edge too. The whimsy of this ribbon was perfect. It's always around and I started playing with it and realized it could be amazing as jewelry. 
Again, there aren't many gemstones, though some [gemstone-heavy designs] are coming down the pipeline. People are really loving the collection so that's exciting. 
I have so many ideas and so many things I want to do. It's just a matter of time but it will all dribble out one day. 
"That feel is what I love—that it's wearable and easy—and I always come back to that. Less is more for me." – Aurelia Demark
NJ: Do you feel pressure to release collections with any sort of timeline?
AD: We're not in any stores right now so I release collections when I'm inspired. I would love to be in stores eventually. I think with my background in merchandising I knew that I needed to be able to fill a jewelry case and have varying price points and varying categories [before considering retail]. 
When I started it was just lots of pendants and it was very niche. Now, I'm expanding the offerings more and I think we're at a point where if a store and I are a good fit then I'm ready.
More on Editors
Editors
May 24, 2023