Q&A: Moyo Gems Celebrates 3 Years and Many Milestones
In honor of the anniversary, Pact's Mines to Markets Director Cristina Villegas discusses recent expansion and where it goes from here.
Moyo Gems launched
in 2019
with the goal of providing the market with colored gemstones mined by women in East Africa and tracked all the way through the supply chain.
Moyo
helps the women work safer and mine better while also giving them financial security and creating equitable markets for the gems they mine.
The program includes market days to connect the vetted miners with traders and a blockchain component to trace the stones start to finish.
The pilot launched with women miners in Tanga, Tanzania through a partnership with the
Tanzania Women Miners Association (TAWOMA)
and has expanded quickly since then,
branching out into Kenya
earlier this year in collaboration with another local association.
As Moyo celebrates three years and more than 8,000 stones purchased from its trading partners, National Jeweler caught up with Cristina Villegas, director of mines to markets at non-governmental organization Pact, to talk about recent milestones for the program and where it goes from here.
(This interview has been edited for length and clarity.)
National Jeweler:
You were on an episode of our "My Next Question" webinar series
in April 2021
to talk about the progress Moyo had made up to that point. Tell us a little bit about Moyo's evolution since then.
Cristina Villegas:
We're nearly double where we were last year, in terms of miner numbers, through our Kenya expansion. So now we're at 700 miners. And we're going to be growing even more in Kenya because our partner there,
AWEIK (the Association for Women in Energy and Extractives in Kenya)
, just attracted a major grant from Oxfam. It's a four-year grant, and the idea is to grow Moyo across Kenya.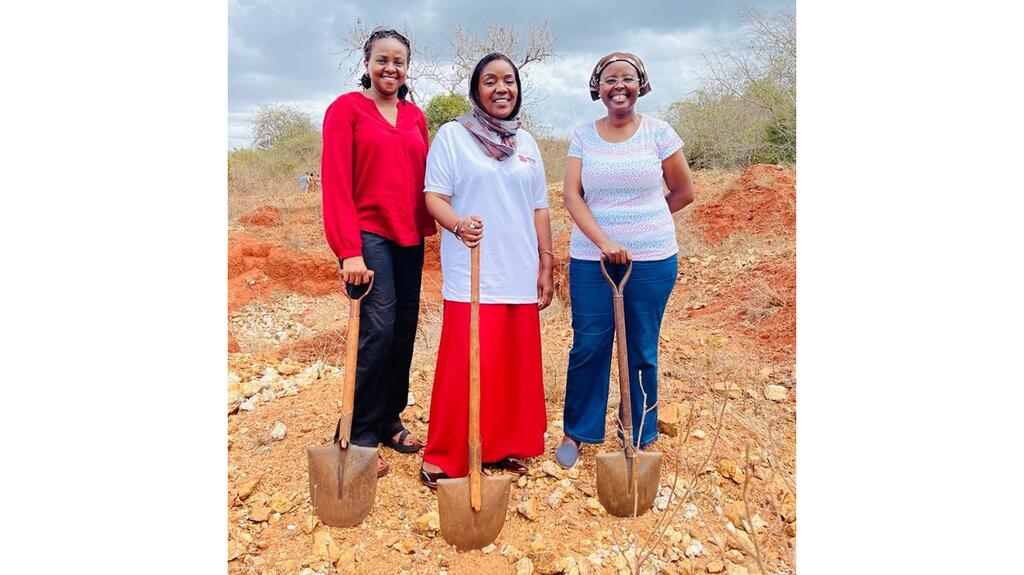 That's exciting on a number of levels. First, AWEIK will be growing and stabilizing. And then to have Moyo funding for four years, that's just amazing.
In [the non-governmental organization sphere], we're talking more about localization of aid and decolonizing aid, and that's what this is, and it's so cool. When we first partnered for the World Bank project [for Moyo], they were saying their grant history kind of limited them on how much money they could qualify for in their own direct funding. They asked us to partner as much as possible, so we've been partnering for three different grants. And now they've grown enough to attract a four-year grant directly from Oxfam. It's a side benefit of Moyo that we're stabilizing these women's mining associations and their incomes … in addition to them preparing the program for the future.
NJ:
From the start, you've said you want to make this a scalable project that could work in many places. So now that you've taken it from Tanzania to Kenya, what have you learned?
CV:
I think it'll work where there is a strong national associations of miners, so they can really own it. And then they can also visit the original site [in Tanzania]. AWEIK went down to Tanzania to observe their market day. And we had government partners from Kenya come down—local county government and national government—to see how it was working.
We also had miners from Kenya come down to see the Tanzanian side. I told them, look, we can't copy and paste. Kenya and Tanzania share a language and a border, but they're very far apart in terms of how things operate. So when you visit these sites, just think about what would work in Kenya and how you would adjust it. 
We still have to have responsible mining be a core tenant of the project, so that can't be negotiated. But what does that look like in Kenya? And how would you like things set up? The feedback was, you made it very simple for the miners to arrive and navigate market day.
Then [AWEIK and Pact Kenya] had their own workshop last December and they created their own rules for Moyo Kenya that we accepted. But the adjustments for the legal context were more difficult because Kenya has a moratorium on [mining] licenses. So we had to navigate that in a way that would honor and acknowledge that in this existing system, this moratorium exists. 
The next few months were spent registering miners and conducting the trainings. Then we held our first market day in May, ahead of the national election. The next market day will be based on the election results. If it's contested, then we'll have to push it back. If it's not contested, then we can go ahead with the next. 
 "It's a side benefit of Moyo that we're stabilizing these women's mining associations and their incomes in addition to them preparing the program for the future." 
The cool thing was that we had AWEIK and Pact Kenya staff in the Customer Service room. And over those three days they kept telling me that the feedback [from the miners] was universally, we didn't know what we had.
One woman was like, 'I was about to give up on mining because I didn't think this could be enough money for me. But today I am shocked at what I got. [The traders] told me what exactly what they want. Nobody's told us this before; we were kind of mining blind. And now I know exactly what to bring, and I'm so excited.' She realized that she could make this a livelihood for herself.
The AWEIK staff was just so thrilled that there's a real breakthrough. It's because the market is the core of it and people are motivated to go through all these steps [to be a part of Moyo] because of the market.
NJ:
Outside of Moyo's expansion, there have been some other notable developments in the past year. Tell me about those.
CV:
We were
in the Financial Times
, in a story from Vivienne Becker. We were also
in the Robb Report
. It was a story about top stones in Tucson, and we're honorable mention. But they say something like, this doesn't compare in value to a quarter-million-dollar stone but it's just as special. That was really heartwarming.
We were also at Paris Fashion Week. Repossi [an Italian jewelry brand owned by LVMH] got in touch with me in early January and said we would love to have a collection around Moyo, and we want to do it by Paris Fashion Week, which is in March.
I never thought that was going to happen in my life that we made Paris Fashion Week. And then Repossi messaged me like a month later and said, hey, we want to have this event at Selfridges in London. Will you come? We have Rachel Garrahan from British Vogue interviewing you and Gaia Repossi in conversation with like 20 journalists.
And then overall, the demand signal for [our traders], Monica (Stephenson of Anza Gems), Stuart (Pool of Nineteen48), and Emmanuel (Piat of Maison Piat) is still strong among smaller jewelers and smaller makers, and it's going really well. I really couldn't be more excited about what the future will bring.
NJ:
What have you learned along the way in terms of unexpected unforeseen benefits or challenges?
CV:
Moyo is scalable, but we do better with either custom pieces or collections.
When we first launched Moyo, I had dreams of being in major jewelers, but one thing I've realized is that in the world of colored gems, it's impossible to have 1,000 gems the exact same hue or exact same species come from artisanal mines, or even like, several hundred of them. So it's been humbling that we can't be the full supplier for Signet, for example.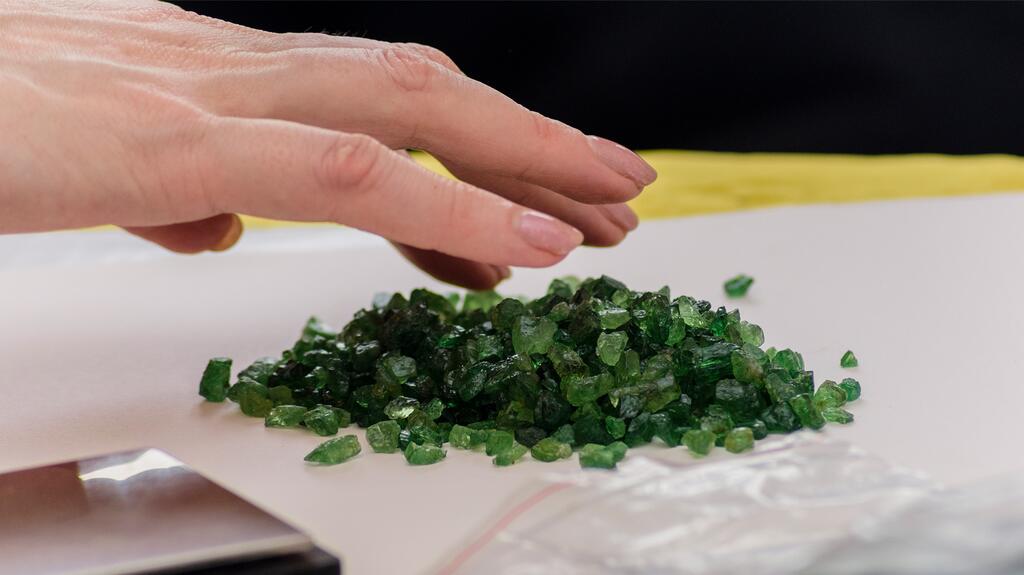 But we're perfectly made for collections. And if companies want to go through our sapphires and garnets, we have plenty of them. That's what Gaia did with Repossi—she went to Piat and saw the gems and then handpicked the ones [she wanted] and made a beautiful collection. So that's been a big learning on my side. But I think also it means that we can service as a lot of different groups.
NJ:
Is that how Brilliant Earth chose what to use for
its Moyo Gems collection
?
CV:
Their model is highly custom. Consumers go to the website and choose the stone they want and the style they want. It's perfect for us because it is so individual so if we have 10 stones, about the same color and same shape, they can provide that. And they have been increasing their Moyo buying as well, which is exciting.
That's a good reminder that another part of the story is that about a year ago, we attracted a grant from the Tiffany & Co. Foundation supporting our economic empowerment program called
WORTH (Women Organizing Resources Together)
.
Tiffany was supporting the WORTH rollout on the TAWOMA footprint, which happened to then include (Tiffany) wherever we expanded Moyo.
On the Kenya side, we just got a grant this year from Brilliant Earth, and they're not only doing WORTH on the Kenya side but they're also paying for a program manager for Moyo.
We're really getting the infrastructure. It's thanks to people who are buying the stuff but then also these companies that have stepped in with their foundations.
NJ:
Are you thinking about expanding beyond Tanzania and Kenya?
CV:
Yes. It has to be where women miners are active and in kind of critical numbers, so most likely Southern Africa or possibly Latin America. But it has to be where people ask us and then where the conditions are right and the stones are beautiful. 
 Related stories will be right here … 

Watch the space because I think we're going to grow to a new country in a couple of years. We haven't had serious discussions so far because all those things haven't come together. But I'm open to an opportunity to find new countries.

NJ: Obviously right now there's a lot of conversation about responsible souring. It seems like it can be easy for people to get lost in the weeds, and they like might look at something like Moyo and think, oh, it's beautiful, but we can't always replicate it that way. Why do you think that a project like Moyo is so important right now, especially with all these conversations?

CV: Moyo Gems has shown that traceability is indeed possible in colored gemstone supply chains. I used to get so frustrated when people would say it was impossible. Moyo shows that it is possible to know your miner, to know the community. 

We do blockchain there in rural Tanzania, and we've done it now in Kenya too. It's being done directly by the women mining associations. TAWOMA learned blockchain and now they're the ones who do it on market days. We just taught the Kenyan partner blockchain and they're running it now too. We're kind of closing the technology gap on that front.

By proving traceability is possible, it's really taken the excuse away not to act. We're starting … to get different, larger companies coming and asking, can we do a colored gem sourcing program based on our supply chains? And I'm like, well first we have to figure out where your stuff comes from. And then we could talk.

It's really shifted from the industry saying how we cannot do something to shifting toward what are the various ways we can act, which is cool.
More on Sourcing
Sourcing
Oct 03, 2023