Bulova Relaunches Computron Watch in the Metaverse
It's a marriage of nostalgia and futurism.
New York—Bulova is tapping into the current demand for all things nostalgic and anything pointing to the future of digital technology.
After
bringing back the Computron timepiece in 2019
, the Citizen-owned watch brand is now unveiling two new styles for the watch.
When it was originally launched nearly 50 years ago, the Computron was remarkable for its all-digital LED display and futuristic trapezoidal case.
While an analog aesthetic of decades past continues to permeate pop culture, it's never in lieu of the latest technological innovations.
Accordingly, Bulova is revamping its old school timepiece in a very au currant way—through an NFT drop.
The company has partnered with lifestyle metaverse marketplace D-Cave on its two new Computron watches. Their appearance was tweaked to reflect gaming culture.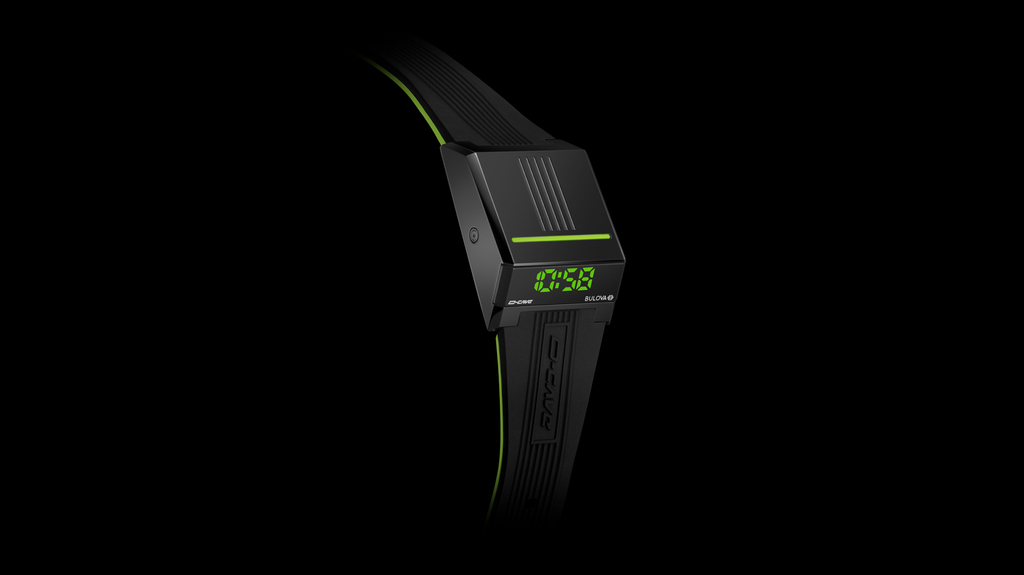 The first has a black IP stainless steel case with luminous green accents on a black silicone strap with three-piece buckle and green LED time display with dual time zone capabilities. It retails for $450 and is available now on
Bulova.com
.
The second, a special edition, has a mineral crystal case top highlighting the technology's circuit board. The side features "acid-etched" detail inspired by computer towers.
The special edition also has a black IP stainless steel case but with a matching bracelet. It also has a green LED time display with dual time zone capabilities.
It's only available via an NFT drop taking place on March 24, in a dedicated space in Decentraland, a 3-D virtual world browser-based platform.
Users who purchase the NFT will gain access to the physical watch plus other perks, like a wearable version for their Decentraland avatars and access to all future D-Cave NFT drops.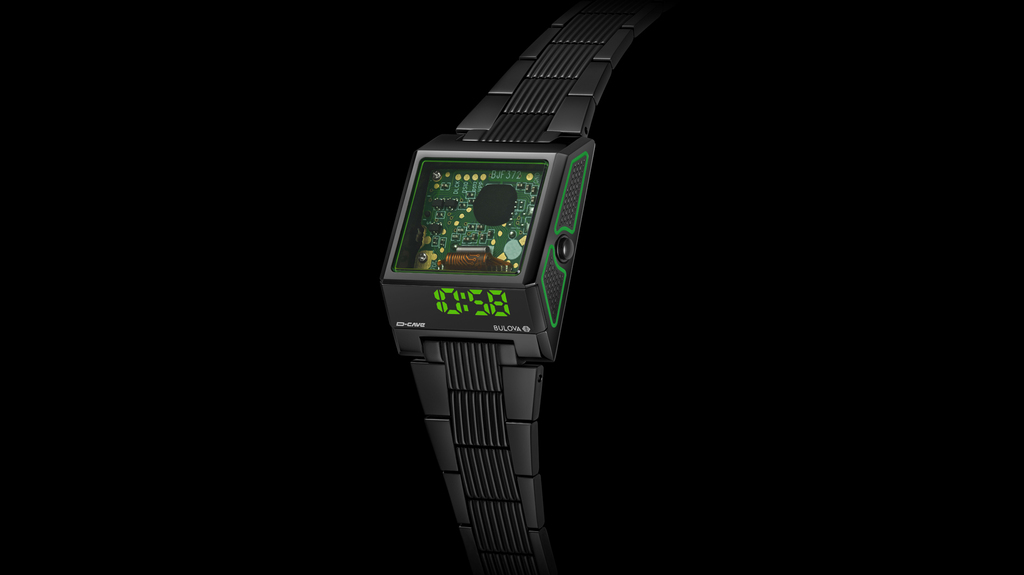 "For over 145 years, Bulova has been about innovating and exploring new worlds," President of Citizen Watch America Jeffrey Cohen said in a press release. "Through our partnership with D-Cave and the iconic Computron, Bulova interfaces with the metaverse and the gaming universe, allowing us to reach new consumers and opportunities."
D-Cave founder and CEO Stefano Rosso said: "We are very excited to have the opportunity to work on an iconic item like Bulova's Computron and re-interpret it in a futuristic way, bridging the original physical item to its new virtual version. Metaverse is not a trend; it is a new way of living. Our physical life is and will be more and more integrated with our digital life. And as in real life we want to express who we are also through the brands we love, the same will happen in the metaverse."
Both new Computron watches have a custom box with D-Cave design elements and a QR code that takes users to the dedicated Bulova-D-Cave space in Decentraland. 
 Related stories will be right here …
More on Watches