The Plumb Club's New Consumer Survey Shows What Motivates Jewelry Purchases
It gives insight into the importance of retailer websites and fine jewelry quality.
New York—A new study from The Plumb Club delves into the factors that influence consumers' fine jewelry purchases.
Executed in conjunction with trend forecaster Paola DeLuca, head of The Futurist, and survey firm Qualtrics, The Plumb Club Industry & Market Insights 2021 surveyed 1,000 men and women in 10 test markets across the United States.
Participants were aged 25 to 60, had attended at least some college, had combined household income of $75,000 or greater, and had either purchased jewelry in the past year or were intending to purchase jewelry within the next year.
Asked what influenced their jewelry purchases the most, 33 percent said retailer websites; 30 percent said family and friends; 14 percent said magazines, whether print or digital; 7 percent said influencers; and 7 percent said celebrities.
When it came to the reason for buying new jewelry, 48 percent of respondents cited occasions as their purchase reason, such as birthdays, anniversaries, and other holiday celebrations; 23 percent said no reason was needed; 12 percent said their purchase was for a personal reward like a promotion or weight loss; 8 percent said they were influenced by jewelry seen on celebrities; 8 percent by jewelry seen on friends; and 1 percent responded "Other."
The Plumb Club noted the wide array of reasons for purchases without occasion pointed to the relevance of shoppers buying for themselves. According to the organization, when shoppers were asked about jewelry purchase motivations, self-purchase was the No. 1 response, accounting for 40 percent.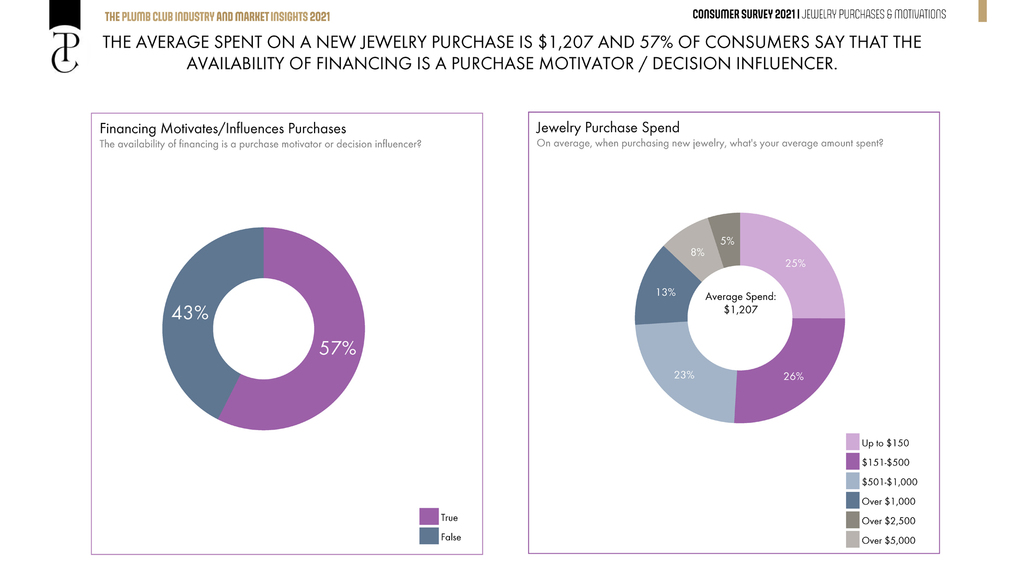 Quality (31 percent), design (23 percent), and uniqueness (17 percent) were the most important factors in a jewelry purchase. Price ranked behind those, cited by 16 percent of respondents.
For purchase location, 63 percent of survey-takers said they prefer to purchase in store, with 25 percent citing independent jewelry stores specifically. Twenty-eight percent said they prefer to purchase online. 
The survey also asked respondents to rank the importance of jewelry being responsibly sourced, sustainable, and ethical on a scale from 1-10, with 10 being most important. 
A total 20 percent said such factors were a 10 in importance, while 6.5 was the average ranking. Seventy-two percent said they would pay more for a piece that was sustainably sourced, and 26 percent said they would pay "a great deal more." 
The average dollar amount spent on a new jewelry purchase was $1,207.
Fifty-seven percent said financing availability would affect their purchase decision. 
The Plumb Club said it will release additional survey information in the coming weeks. The survey was conducted in the first half of 2021. 
 Related stories will be right here … 
More on Surveys