Monique Lhuillier Adds Lab-Grown Diamonds to Kay Jewelers Collection
The bridal gown designer is offering bigger center stones at more accessible price points.
New York—Bridal gown designer Monique Lhuillier is adding lab-grown diamonds to her engagement ring collection at Kay Jewelers.

Lhuillier is once again expanding her "Bliss" line, adding 21 new styles to the range.

The offerings include 12 engagement ring styles, six "universal," or unisex, matching bands, and three women's lab-grown diamond bands.

The engagement rings feature round, princess-cut, oval, emerald and pear-shaped lab-grown center diamonds set in 18-karat yellow, white, and rose gold.

"With this new category debut, I have showcased my signature designs with larger carat weights while remaining accessible to the Kay consumer," said Monique Lhuillier in a statement.


She debuted the collection at a private event in New York City Wednesday, sitting down for a Q&A session with Alexandra Macon, weddings editor at Vogue.com and founder of bridal e-commerce website Over the Moon.
The pair was introduced by Bill Brace, president of Kay Jewelers.
"It's been exciting to see how we together have been able to translate her fabulous designs into the world of jewelry and create what I think is the pinnacle of design for modern brides and grooms," said Brace.
During the discussion, Lhuillier spoke about her early connection to jewelry and her dream of opening a jewelry store.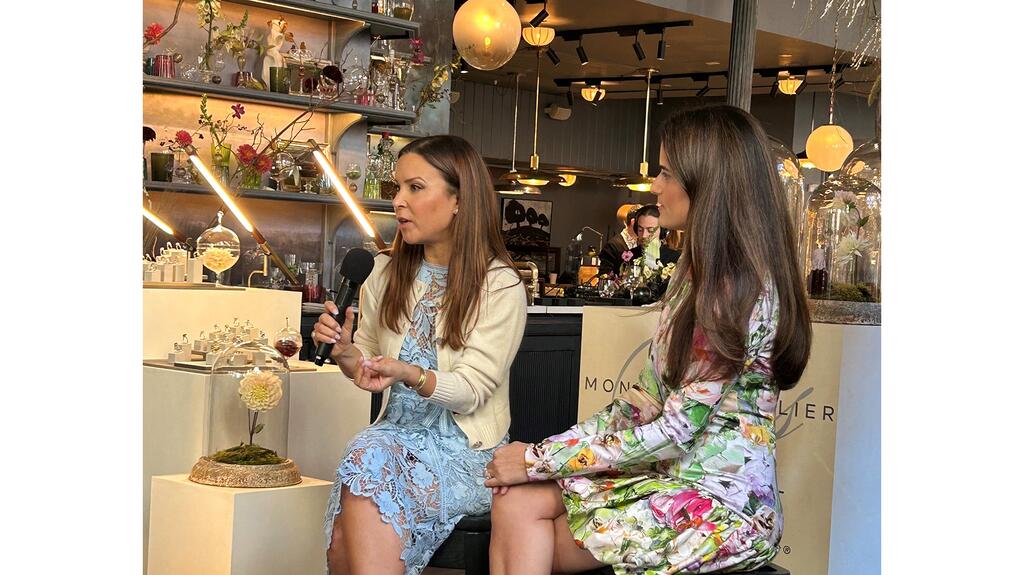 "I grew up with a very glamorous mother," she said. "She loved jewelry so much. Sometimes she would pick her jewelry first and then decide what she was going to wear, so she instilled that in me."
She recalled often receiving jewelry gifts for Christmas and Valentine's Day when she was growing up.
In her high school yearbook, she said her goal was to open fashion and jewelry stores around the world.
She began her career in fashion, elevating herself to one of best-known bridal designers, before teaming up with Kay Jewelers during the pandemic.
Her two loves go hand in hand, with her jewels mirroring the romantic, floral-inspired dress designs.
"You're only going to wear the dress once, but I wanted you to look down at your jewelry and remind yourself how special that moment was," she said.
 Related stories will be right here … 
She also spoke about why she was hesitant to incorporate lab-grown diamonds into her collection, and what changed her mind.
Around two years ago, the Kay team asked her if she'd like to use lab-grown diamonds. 
"I wasn't ready back then. I didn't know enough about the product."
After learning more about them, she was on board with the idea.
"I love how the stone looks. I love how it's colorless. I love the brilliance and how you can get an impactful design with a larger center stone," Lhuillier said.
Macon added, "The accessibility of the price points, you can't ignore it."
The jewels range in price from $1,099 for a band to $19,000 for a three-carat diamond ring.
The collection is available online at Kay Jewelers'
website
and in select Kay stores.
Lhuillier previously expanded the Bliss line earlier this year,
adding colored gemstones and black diamonds
to the mix.
More on Lab-Grown