The First LVMH Lab-Grown Diamond High Jewelry Is Here
Fred Jewelry is utilizing lab-grown colored diamonds, raising some interesting questions.
Parisian luxury brand Fred Jewelry is regarded for its exquisite and distinctive creations. 
The maison, owned by LVMH, has focused lately on a specific shade of blue, a hue reminiscent of the vibrant French Riviera.
The color was particularly special to the brand's late founder and lover of the sea, Fred Samuel.
The tone served as a warm reminder of his childhood and the palette of the Mediterranean Sea, changing and sparkling as the sun moves across the sky.
This summer, the brand unveiled the "Happy Blue Shades," a collection of pieces featuring its Riviera blue through stones such as aquamarine, blue topaz, sapphire, lapis lazuli, turquoise, and amazonite, all meant to channel the glistening waters of the sea.
The color was integrated into pieces in the "Force 10," "Chance Infinie," "Pretty Woman" and "Pain de Sucre" lines, four of the brand's well-known collections. 
Recently, Fred announced its newest offering on the theme—a lab-grown diamond in its beloved Riveria blue.
Named the "Fred Audacious Blue," the brand billed it as, "the very first blue lab-grown diamond, the first in the maison's history."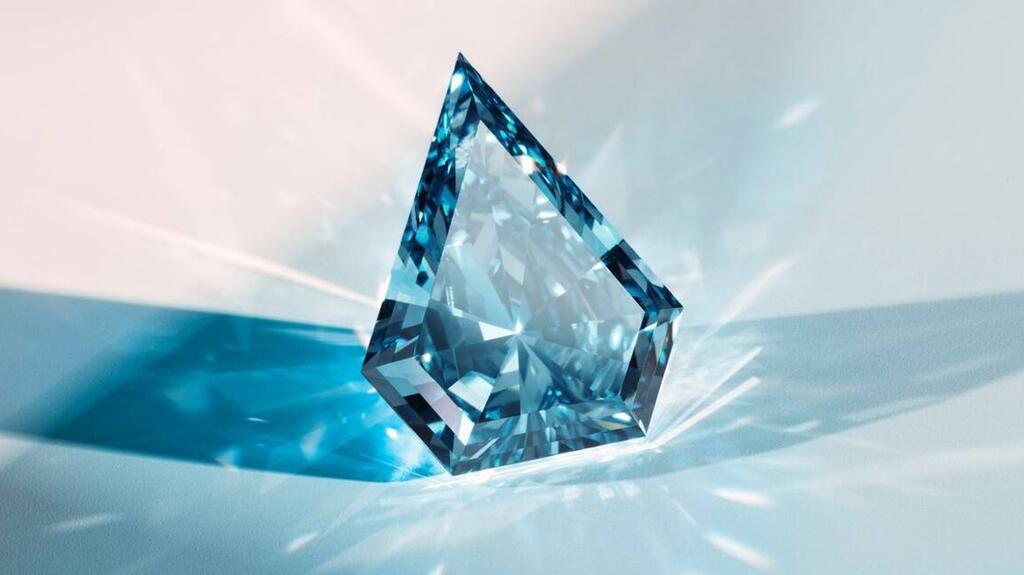 The loose diamond weighs 8.88 carats, symbolic of Samuel's birthday in August 1908 and his first store opening in the eighth arrondissement of Paris.
Fred also introduced four smaller diamonds of the same color. 
The gemstones, 0.5-carat each, are featured in four new pieces that are part of an exclusive high jewelry set, "Force 10 Duality," inspired by the brand's original Force 10 collection. 
In each piece, the blue lab-grown diamonds are set with natural white diamonds, which Fred calls a "union between tradition and technology."
Each stone was graded by the Gemological Institute of America (GIA) and cut in the brand's proprietary 36-facet "Hero Cut," first unveiled in 2022 and intentionally chosen for its appearance of a boat sail combined with a shield. It's also a symbolic callback to the company's founding year, 1936.
The Force 10 Duality set and the 8-carat Fred Audacious Blue will be showcased by appointment only at the Parisian jeweler's Rue de la Paix flagship before starting a trunk show-style tour in Seoul, South Korea, in November, according to WWD.
Making The Grade

Creating the lab-grown blue diamond required what Fred said was a "skillful blend of savoir-faire and strong technical expertise." 
The 8.88-carat final product required a sizeable rough stone, specifically one weighing about 36 carats. 
Fred CEO Charles Leung
told WWD
the diamond had taken several years of research, and that the company worked with European and American experts to produce the diamonds using the chemical vapor deposition process, or CVD. Fred also said the diamond is "fully traceable," but did not name its partners.
The company said replicating the Audacious Blue took 18 months of technique development to "perfect and stabilize" the color.
Though LVMH did not respond to a request for comment for this story by press time, it has been
widely reported
that its lab-grown blue diamonds are graded fancy vivid greenish-blue with a VS or higher clarity grade.
While GIA uses a D-to-Z grading system for white diamonds to indicate the level of colorlessness, fancy color diamonds are graded in order of increasing color strength, from faint, very light, light, fancy light and fancy to fancy intense, fancy vivid, fancy dark and fancy deep. 
Naturally occurring colored diamonds have been found in a full spectrum of colors, but GIA said only one in 10,000 natural diamonds has a fancy color, with blue diamonds among the rarest.
One GIA researcher estimated
that blue diamonds make up only 0.02 percent of mined diamonds.
Colored diamonds occur because of impurities or structural defects within the chemical composition of the gemstone. 
Some environments produce colored diamonds with a secondary color. In that case, GIA includes a modifier to indicate it. Blue diamonds can have secondary colors like gray, green or violet.
Larry West, a wholesaler specializing in natural colored diamonds and an owner of LJ West Diamonds Inc., said that generally, a grade of a single color is rarer, but factors like size and strength of color all help determine the stone's true value.
"Two colors is not as good as the straight color," said West. "In general, people pay less for the greenish-blue [than a straight blue], but once you get into the ultra, best colors, it becomes so rare, especially regarding the size. 
"Theoretically, if you have a
vivid
greenish-blue, it could be worth as much or more, in general."
The Question of Price
As is the case with all natural colored diamonds, those with fancy intense and fancy vivid grades generally command the highest prices. For blues, especially large sizes, that can mean a
price tag of millions per carat
. 
However, just like with colorless diamonds, lab-grown colored diamond prices are much lower than their natural counterparts. 
Last year at JCK
, wholesaler Green Rocks Diamonds displayed a variety of lab-grown colored diamonds, some set in jewelry, in a range of hues—including blues—and sizes of up to 13 carats. Green Rocks produced the stones in partnership with Fire Diamonds, which performed the color treatment. 
When National Jeweler reported on the partnership, the offering consisted of 15 pieces with retail price points ranging from $2,499 to $65,000. 

Leung told WWD the four pieces in the Force 10 Duality set are priced at 540,000 euros total, or $569,808, on par with the price if Fred had used white natural diamonds as center stones, according to Leung. 


 
However, he said the 8.88-carat loose lab-grown blue diamond does not yet have a price. 

When I asked West what he thought, ballpark, the Fred Audacious Blue would be priced at in comparison with a natural 8-carat fancy vivid greenish blue diamond, he said a mined stone of that size and with a color distinction of vivid, likely may never exist. 

If it did, it would be the largest of its kind, and would fetch an incredibly high price. 

Setting Itself Apart 
Colorless lab-grown diamonds today are indistinguishable from their mined counterparts, and the side-by-side comparison is a tool often used to accentuate the difference in pricing.  

However, once lab-grown colored diamonds reach a certain caliber, like the Audacious Blue, they may not have a comparable mined mate due to the rarity of these stones in nature.  

With the capability to manufacture diamonds with no mined counterpart for comparison, it not only raises the interesting question of price, but also that of new opportunities in the colored lab-grown diamond space.  


 "If you do want to sell a lab diamond as a premium product, you better do something different, and I think this is a great example." — Paul Zimnisky, industry analyst
Perhaps LVMH knows this already.
Last year, LVMH Luxury Ventures
invested
in Israel-based lab-grown producer Lusix, which uses solar energy to power its facilities. At the time of the announcement at the JCK Las Vegas show, Lusix said it was able to both control the shape of the diamond and grow them in different colors.
When LVMH-owned Fred revealed an 8.88-carat blue lab-grown diamond, industry analyst
Paul Zimnisky
was hardly surprised.
"If there was going to be one jewelry banner within the LVMH organization [using lab-grown diamonds], it seemed like it probably would be Fred," he said. "I would describe them as the most modern and the most progressive brand within LVMH. It seems to make sense."
Though Leung told WWD the Audacious Blue was not meant to be a "change in strategy" for the brand, Zimnisky said he thinks their creative approach in this one-off endeavor is a good example of extracting value from the lab-grown concept.
"Doing something that's not found in nature, I think that's where the edge is going to be and that's where the opportunity is going to be," Zimnisky said.
"If you do want to sell a lab diamond as a premium product, you better do something different, and I think this is a great example."
While Fred is the first of the LVMH brands to use lab-grown diamonds in a high jewelry collection, it isn't the group's first dealing with the stones.
In a similar one-time offering, TAG Heuer used lab-grown diamonds, both
colorless
and
pink
in its timepieces. 
The watches are yet another example of where lab-grown diamonds allowed for an opportunity that likely wouldn't otherwise be possible. 
"If you look at the TAG Heuer watch, they used polycrystalline [diamond plates], so the actual face of the watch is diamond," Zimnisky said. "Obviously, you could never do that with single-crystal natural diamond." 
 Related stories will be right here … 
More on Editors