David Yurman Alleges These Two Companies Copied Its Designs
The company has filed complaints against Royal Chain and Samuel B.
New York—David Yurman is taking legal action against Royal Chain and Samuel B., alleging the companies have been copying several of its most recognizable designs.
In separate complaints filed earlier this week in the U.S. District Court for the Southern District of New York, the companies are accused of infringing upon David Yurman's trade dress, trademarks, and copyrights, as well as engaging in unfair competition.
Royal Chain and Samuel B. called the claims baseless. Both also noted their long histories as respected members of the jewelry industry.
In a statement shared with National Jeweler, Royal Chain said, "We are currently reviewing the complaint. We know David Yurman has a history of being litigious, and we find the claims baseless. Royal Chain has been serving the industry with honesty and integrity since 1978."
Mathew Behnam, vice president of Samuel B., said, "Samuel B. has a rich legacy in the jewelry industry, known for our dedication to crafting unique and original designs, untouched by any third-party claims.
"We firmly assert that Yurman's infringement allegations in this lawsuit are baseless and unjustified. We are committed to addressing these claims through the appropriate legal channels."
In the complaint filed against Royal Chain on Sept. 18, David Yurman described its alleged copying as "calculated and systematic."
"Defendant's knock-off products seek to imitate Yurman jewelry pieces across multiple distinct collections, including by copying structure, insignia, and design flourishes that distinguish Yurman jewelry designs," the company said in court documents.
The complaint includes pictures of David Yurman jewelry from a number of collections, including "Cable Classics," "Renaissance," "X," and "Crossover," alongside allegedly infringing designs by Royal Chain and its Phillip Gavriel brand.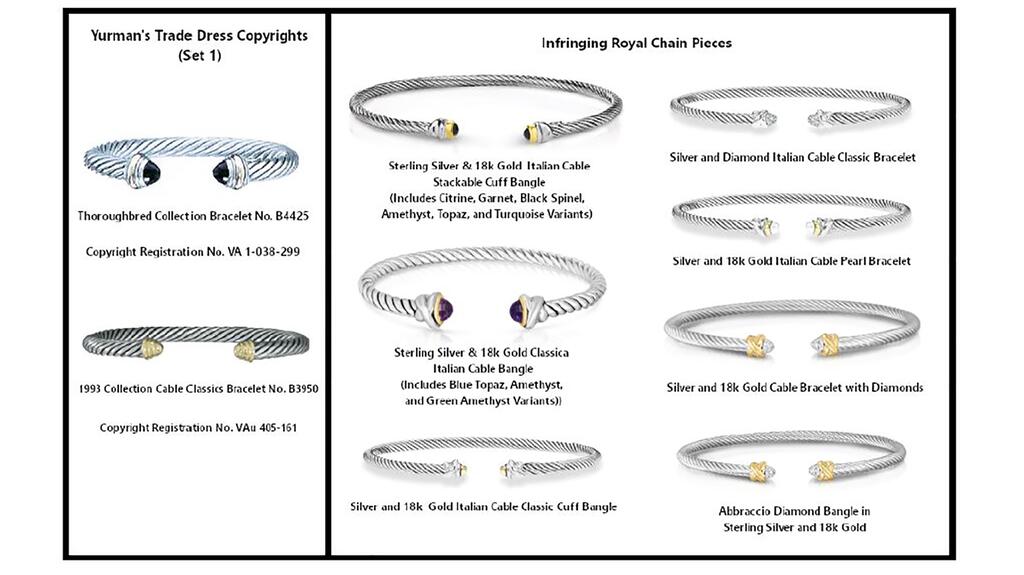 The complaint against Samuel B. also was filed on Sept. 18.
The company is accused of copying designs from several David Yurman collections, including "Cable Classics," "Albion," "Clasped Cable," and "X."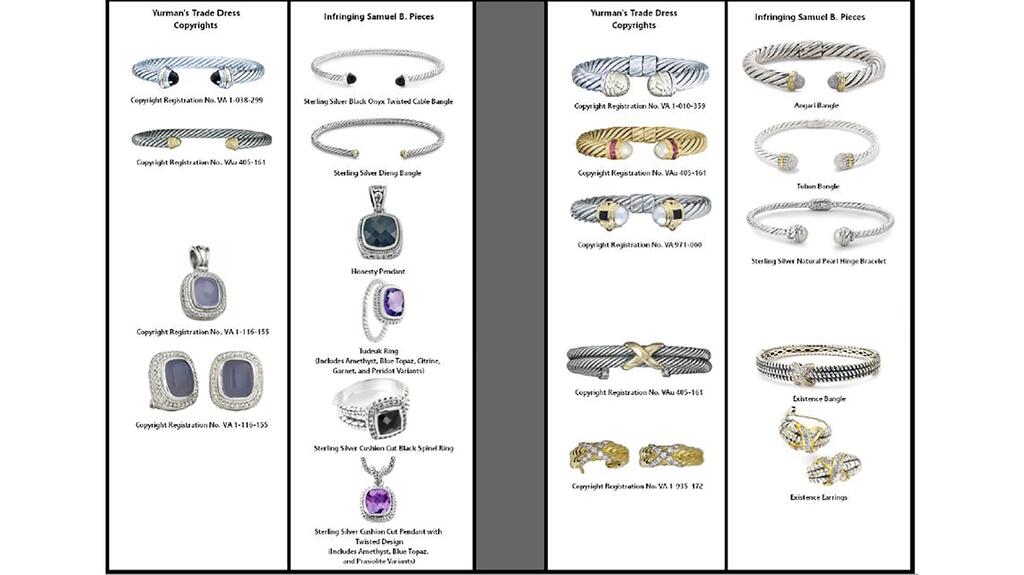 David Yurman called the similarities between its jewelry and Samuel B.'s alleged copies "immediately apparent" and "striking."
 Related stories will be right here … 
In the court documents, David Yurman included findings from an online search that it said is proof that Samuel B. is causing consumer confusion.
On a QVC online forum, a Samuel B. customer said, "I always receive compliments on his pieces. Frequently, I'm asked if they are David Yurman."
Another comment on a post titled "Wife Wants David Yurman Jewelry," reads, "Does your wife know about Samuel B. jewelry? It is solid silver with 18-karat gold accents and semi-precious stones and many of the pieces look remarkably like Yurman, (and some don't) for a fraction of the price.
"While I love my Yurman and [John] Hardy pieces, I love my Samuel B. because of the price. I have worn it in many jewelry stores and they think it is Yurman."
In both complaints, David Yurman is seeking a permanent injunction ordering Royal Chain and Samuel B. to stop making these alleged copies, as well as monetary damages.
David Yurman has previously filed lawsuits against Mejuri, in which the parties
reached a settlement
, and
Puerto Rico-based brand Zoé del Mar
. In that case, David Yurman received a permanent injunction and $1 million in statutory damages.
More on Majors