David Yurman Sues Mejuri Over Alleged IP Theft
Mejuri is also accused of falsely associating itself with David Yurman through its ads, partnerships, and more.
New York—David Yurman filed a lawsuit Friday in federal court in New York City against direct-to-consumer fine jewelry brand Mejuri, accusing the company of copying several of its iconic designs.
The lawsuit alleges Mejuri is infringing on the company's intellectual property rights by unlawfully copying its design, causing customer confusion, and damaging the reputation it took four decades to build.
The company was founded in the 1980s by husband-and-wife team David and Sybil Yurman, who went on to create iconic designs worn by celebrities like former First Lady Michelle Obama and Barbra Streisand.
Its most famous and recognizable motif is its twisted helix cable.
Mejuri is accused of copying products from David Yurman's "Pure Form" and "Sculpted Cable" collections.
The "Pure Form" collection has generated more than $35 million in sales while the "Sculpted Cable" collection brought in more than $200 million, the lawsuit states.
"At David Yurman, we celebrate the creativity of our peers in the industry who design their own jewelry, and we welcome competition from new and established designers alike," said Evan Yurman,
president of David Yurman
, in a press release about the lawsuit.
"But we believe that competition should be fair, and unlawful copying is not good for the industry or its consumers, nor is it fair to our hard-working employees."
David Yurman has
successfully taken on counterfeiters
before, and in 2019 was awarded $1.5 million after the United States District Court for the Southern District of New York ruled in the company's favor against 31 defendants operating websites selling counterfeit jewelry.
In this lawsuit, David Yurman shared several side-by-side image comparisons to illustrate its point, as seen below.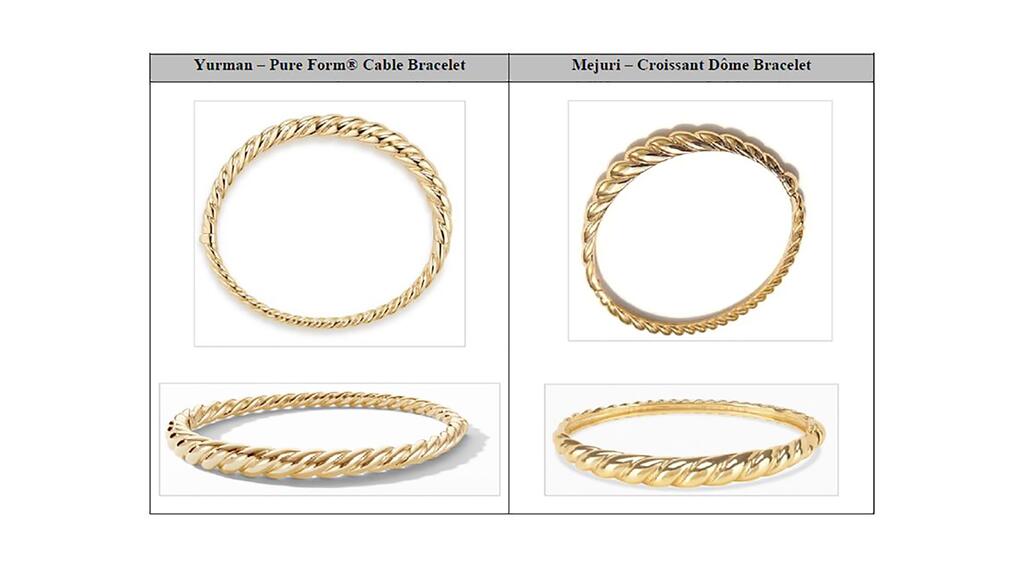 David Yurman spent time and money designing, manufacturing, and marketing its "Pure Form" cable bracelet, the lawsuit said, and Mejuri's alleged look-alike is "improperly benefitting" from the hundreds of millions of dollars David Yurman has spent on advertising.

The company also took issue with Mejuri's "often imitated, never duplicated," slogan.

"Mejuri's designs are no more original than its slogan. To the contrary, Mejuri imitates while others innovate," it said.


 Related stories will be right here … 

Additionally, the lawsuit alleged that Mejuri has copied other luxury brands, including Boucheron and Lagos, which it said shows that its business model is based on copying designs from other prominent jewelers.

It states Mejuri's "Charlotte" ring and earrings appear to be copies of Boucheron's "Quatre" ring and earrings, and Mejuri's "Caviar" ring looks to be a copy of Lagos's "Caviar" ring.

Lagos declined to comment on the lawsuit. Boucheron did not respond to a request for comment.



In addition to allegedly copying designs, Mejuri is also accused of attempting to falsely associate itself with David Yurman "through its promotional messages, advertising campaigns and artwork, and partnerships," said the lawsuit.

For example, Mejuri partnered with Goop shortly after David Yurman's partnership. And, when David Yurman hired a social media influencer to showcase its jewels, less than two weeks later, Mejuri hired the same influencer to appear in a similar social media campaign.

David Yurman also accused Mejuri of copying its founding message and ethos about female empowerment and women buying jewelry for themselves.

"These actions not only further mislead consumers into believing there is a connection between Yurman and Mejuri, but also misrepresent the nature and characteristics of Mejuri products by falsely suggesting that Mejuri's products are of the same quality as Yurman's, which they are not. These actions harm not only Yurman, but also the consumers and Yurman's partners," said the lawsuit.

David Yurman called Mejuri's alleged copying "disappointing," especially considering the company has "ample resources that could be used to make quality products with original design work."

The company is backed by several venture capital firms, including Felix Capital and Imaginary Ventures, and has recently raised more than $20 million, said the lawsuit.

"The claims made by David Yurman are categorically false, and are fundamentally at odds with what we stand for and who we are as a brand," said  a Mejuri spokesperson in a statement to National Jeweler.

"At Mejuri, we strive for a culture that lifts up creators, prioritizes transparency and empowers people and our community to proudly invest in themselves. We look forward to demonstrating that [the] accusations are entirely without merit, and believe that there is enough space in our industry for artists and jewelry designers to co-exist and thrive together without baseless attacks on one another."

Through the lawsuit, David Yurman said it hopes to stop Mejuri's "illegal actions" and receive compensation for the alleged violations as well as attorney fees.

David Yurman is also requesting Mejuri melt down and recycle its remaining inventory of the products that are alleged copies and take down and destroy the aforementioned advertising and promotional materials.

The company is requesting a trial by jury.

David Yurman Enterprises LLC v. Mejuri Inc was filed in the U.S. District Court for the Southern District of New York.

Editor's Note: This story has been updated post-publication to include comments from a Mejuri spokesperson.


More on Majors
Majors
Dec 04, 2023