Jean Dousset Lab-Grown Diamond Brand Opens First Store
The company helmed by a Cartier descendant now has a West Hollywood outpost.
West Hollywood, Calif.—The Cartier descendant behind
Paris Hilton's engagement ring
has opened the first store under his namesake line. 
The Jean Dousset flagship opened its doors Sept. 6 at 607 La Cienega Blvd. in West Hollywood, California. 
"Timing, confidence, and opportunity converged as we proudly unveil our first flagship boutique, marking the culmination of my transformative journey as a designer and a total paradigm shift in the global diamond industry," said Dousset.
"With a physical retail presence, consumers can see the perfection of designer lab diamonds firsthand while adding that experiential element in acquiring the diamond jewelry they desire."
Dousset is the great-great-grandson of Cartier founder Louis-François Cartier. Dousset cut his teeth working for other Parisian high jewelers like Chaumet, Boucheron, and Van Cleef & Arpels. 
The jeweler made the move to Los Angeles to open the Van Cleef & Arpels Beverly Hills showroom and never left, venturing out on his own in 2010 to specialize in diamond engagement rings for a celebrity clientele. 
In 2020, he
launched a lab-grown diamond jewelry company
, Oui by Jean Dousset, which has since rebranded to Jean Dousset.  
At the new store, customers can learn about the science behind lab-grown diamonds in person.   
Imagined and executed by architecture firm Design, Bitches, the 550-square-foot space is meant to reflect the meticulous process of creating a diamond, from growing the rough to polishing the final finished stone. 
The fragmented steel and glass store façade is an ode to a diamond's facets. 
The bold, angular storefront design is echoed in the interior's mirrors, custom display cases, and furnishings, like a chiseled plaster table. 
The brand's signature engagement rings are displayed throughout, while nods to Dousset's heritage are contained within one "heritage wall" that features pictures of Dousset's family, including Louis-François Cartier.
A back room facilitates private appointments for clients to design their custom treasures. 
"The first of its kind, the Jean Dousset boutique represents the spirit of the brand: no compromises and the freedom to indulge oneself through creativity," said Rebecca Rudolph, co-founder of Design, Bitches.
"Our collaboration with Jean has been liberating. We developed a new way to work, inspired by his passion for design, his quest to push the boundaries of craft, and his drive to break down the barriers surrounding luxury spaces."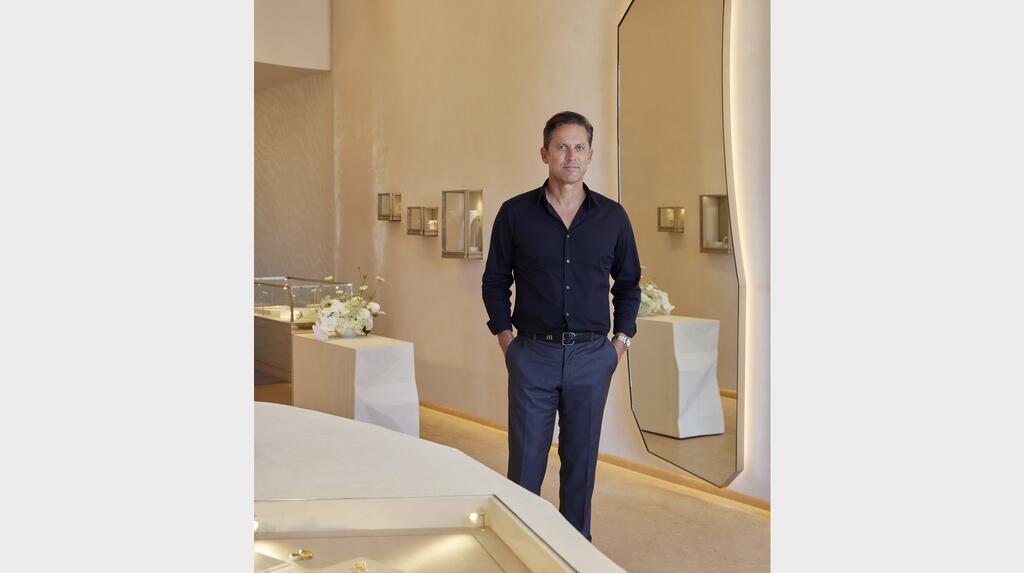 The store also showcases lab-grown diamond jewelry pieces from Dousset's many collections, including the latest, a
high jewelry assortment
of special, one-of-a-kind offerings.  
Priced between $24,800 and $168,000, the high jewelry collection's 20-plus pieces include high-wattage two-stone rings, diamond solitaires, eternity bands, and tennis necklaces.  
The Jean Dousset flagship will be open for business weekly Monday through Friday from 11 a.m. to 6 p.m. and Saturday from 10 a.m. to 6 p.m.  
 Related stories will be right here … 
More on Independents