Cartier Descendant Launches a Lab-Grown Diamond Line
Oui by Jean Dousset promises consumers better prices for bigger stones.
Los Angeles—He hails from one the world's richest jewelry legacies, but Jean Dousset is fully embracing industry innovation.
The great-great-grandson of Cartier founder Louis-François Cartier, Dousset learned the traditions of Paris' most esteemed high jewelers on Place Vendôme, working for Chaumet, Boucheron, and Van Cleef & Arpels.
His role with the latter jeweler brought him to Beverly Hills to open a company showroom.
In Los Angeles, he decided to make a name for himself, creating his own brand and specializing in custom pieces for private clients, gaining notoriety for his engagement rings for the who's who of Hollywood.
Dousset is the man behind both Amy Adams' and Eva Longoria's engagement rings, and
recently, Paris Hilton's
.
However, Dousset is also interested in what the more typical bride wants.
Last summer, he launched Oui by Jean Dousset, a line of engagement rings focused on offering consumer-friendly price points.
He became even more aware of bridal shopper pain points this year, when he conducted a survey among 400 of his email subscribers. Forty-eight percent said their ideal engagement ring center diamond carat weight is between 2 and 4 carats, while 49 percent said their budget was under $10,000.
More than half of respondents said they would consider a lab-grown diamond purchase.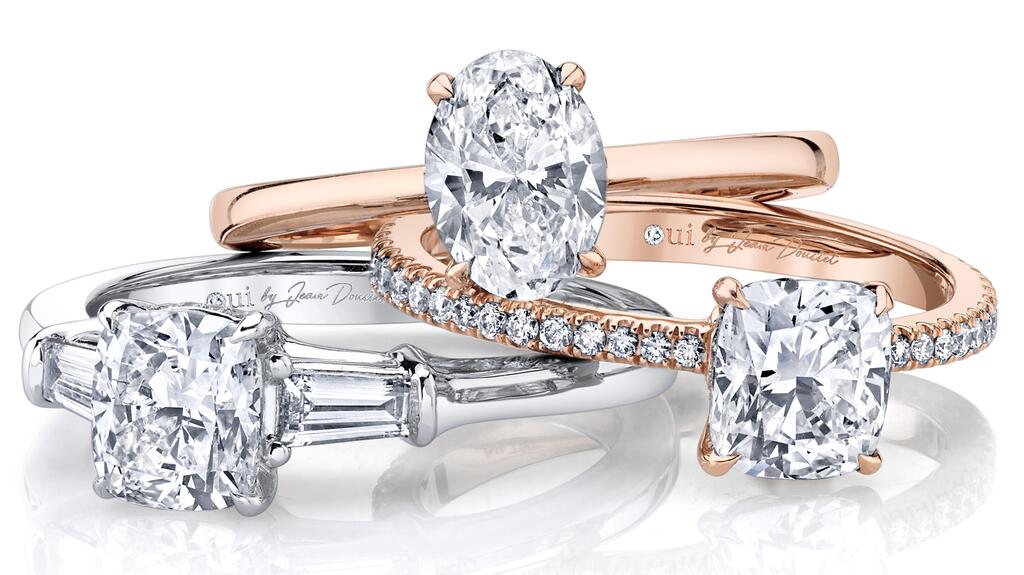 With that, Oui by Jean Dousset has pivoted to the lab-grown diamond market.
"As the technology and quality of lab-grown diamonds has vastly improved, and I saw how important lab diamonds were becoming for consumers, I realized it could be the solution to the problem I was trying to solve with Oui in the first place," Dousset said.
"The goal of Oui has always been to make high-quality jewelry more accessible."
Available exclusively at
Oui.JeanDousset.com
, customers can build the engagement ring of their choice, choosing the setting, metal, and GIA-graded lab-grown diamond from an ever-changing current selection of stones.
Diamonds weigh between 1 and 4 carats, with a 1-carat diamond engagement ring starting at $4,200. 
For comparison, a Jean Dousset 1-carat natural diamond engagement ring starts at $8,500. 
Oui by Jean Dousset is a direct-to-consumer brand, operating without a wholesale markup, per the company website. 
In addition to lab-grown diamond engagement rings, it also offers lab-grown diamond earrings and lab-grown diamond necklaces.
Dousset will continue to sell his natural diamond designs and custom creations under the Jean Dousset label. 
More on Lab-Grown