Claire's Is Giving Its Piercing Business a Trendy Makeover
The retailer also has plans to open 50 new locations across Europe.
Hoffman Estates, Ill.—Claire's, a go-to spot for ear piercings for more than 40 years, is revamping its piercing business.
The company has introduced "Pierced by Claire's," a new visual identity for the cornerstone service that exudes a "bold and inspiring attitude for this generation and the next."
The rebrand will include a new logo and colorful imagery, backed by a marketing plan that includes television ads and a digital mascot named Pierce.
Pierce is described as "a digital character who personifies the joy of getting pierced with Claire's trend-forward earring style and assortment." He will guide customers through their piercing experience and earring shopping, supported by several other characters.
"For more than 40 years, we have created a deep connection with our consumers through our industry-leading piercing business, delivering an experience they can trust, styles that excite them and a memorable visit to Claire's," said Claire's CEO Ryan Vero.
"Piercing creates a deep connection with our consumers and draws new people and returning customers to our brand and stores every year, and we are proud to build on that legacy to meet the next generation."
As an added incentive to get pierced at Claire's, stores will offer a
"free earrings for a year" promotion
, which allows customers to earn a free pair of earrings every month for a year when they get pierced in-store.
To showcase how shoppers can style their earrings, Claire's is also promoting the idea of an "EarPrint," a play on fingerprints because, it said, each person's earring style is unique.
Shoppers are encouraged to show off their EarPrint and share how they express their personal style through multiple piercings.
"EarPrint reinforces Claire's brand purpose of empowering young people to embrace and celebrate their individuality," said the company.
To inspire new EarPrints, Claire's Creative Director in Residence Nicola Formichetti used artificial intelligence (AI) to create digital images of different earring styles.
In the stores, shoppers will see new "Piercing Specialist" attire, pop-up piercing events, and new merchandise surrounding the launch.
"As we continue to transform into a global fashion brand powerhouse, we have elevated what makes Claire's special and created immersive new experiences that envelop and inspire young people," said Kristin Patrick, executive vice president and chief marketing officer. 
"Pierced by Claire's builds on our purpose of self-expression with a reimagined piercing experience and a unique point of view that continues to embed us in culture and positions the brand for its future."
 Related stories will be right here … 
The new campaign and offerings, which will coincide with back-to-school season in the U.S., also are available in the retailer's new flagship location in Paris, which opened in March, as well as other locations in the European Union.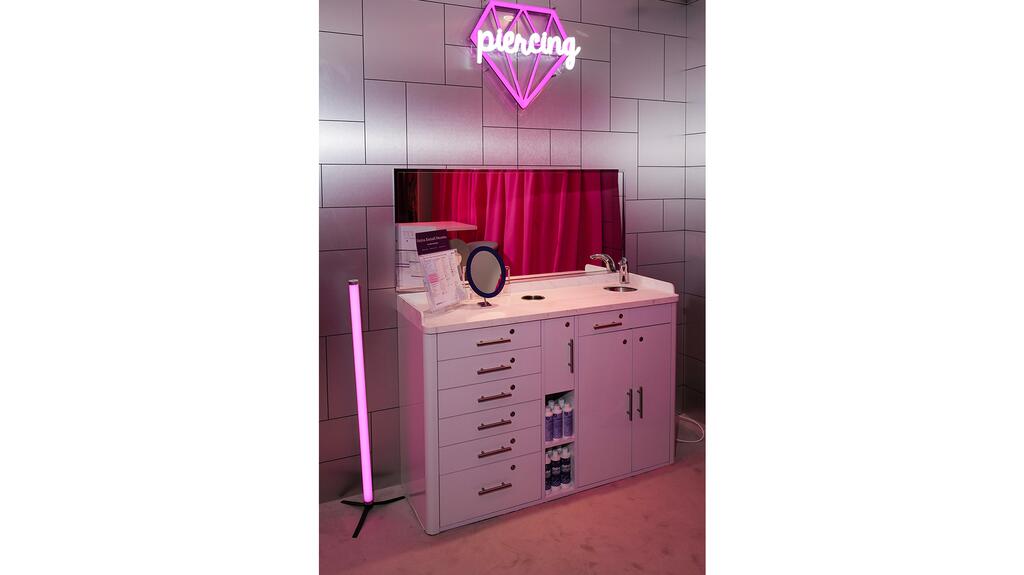 The company is expanding its presence in Europe after opening its first store in Milan in November 2012.
Claire's currently has 40 stores across Europe, with plans to open an additional 50 locations this year, including 10 in Italy.
The expansion plan includes stores in Venice, Florence, Milan and Naples, and Rome, including a recent opening on the city's high-end shopping street Via Del Corso.
"We see a strong desire for an enriched shopping experience and increased connections to our brand from our European consumers, so it was a natural next step for us to expand our presence," said Richard Flint, president of Claire's Europe.
In addition to its European expansion, Claire's has also been growing its retailer partnerships in the U.S. and Europe.
Claire's currently works with 2,100 partner stores, including
Macy's
and
Walmart
in the U.S., Asda and New Look in the U.K., and European toy retailers Smyths, King Jouet, and Maxi Kids.
By the end of the year, Claire's plans to have a presence in 3,000 retail partner stores worldwide.
Claire's
filed for Chapter 11 bankruptcy protection
in 2018 as it battled over $1 billion in debt. It
re-emerged
later that year. In 2021, the retailer
filed for an IPO
, but it never came to fruition and was
postponed
earlier this month.
More on Majors
Majors
Sep 25, 2023