Dutch Historian Discovers Medieval Jewels
The 1,000-year-old find is now on display in the Dutch National Museum of Antiquities.
Leiden, Netherlands—In 2021, Dutch historian Lorenzo Ruijter was exploring Hoogwoud, a small city in northern Holland, with a metal detector in hand, when he discovered something extraordinary.

Ruijter found a treasure trove of medieval jewelry and coins dating back more than 1,000 years.

He reported his find to Archeology West Friesland, and his discovery is now on display in the Dutch National Museum of Antiquities.

"Gold jewelry from the high Middle Ages is extremely rare in the Netherlands," said the museum.

The treasure trove included four gold earrings in a crescent moon shape, two gold leaf pieces that fit together, and 39 small silver coins.


 Related stories will be right here … 

The coins helped the museum to piece together how old the treasure was and shape the story of why, perhaps, it was found buried in the ground.

The coins, believed to be from 1200 to 1250, were from the Diocese of Utrecht, which included several counties, and from the German empire, with the youngest copies made around 1248 when King William II ruled the Holy Roman Empire. Small pieces of textiles indicate they were wrapped in a cloth or bag.

This would mean the jewelry was already nearly two centuries old when it was likely hidden in the ground, said the museum.

This was an important and troubled time in the country's history, when there were wars between West Friesland and the county of Holland. Count Willem II died during these wars, not far from where the jewelry was found.

The museum's theory is that these jewels and coins were likely among someone's cherished possessions, buried out of sight during the wars.

"This makes the treasure find of great significance for the archaeology and history of North Holland and West Friesland, and even of national and international importance," said the museum.

SEE: The Medieval Jewelry and Coins Discovered in the Netherlands


The most important objects, according to the museum, are the earrings. The first pair feature engraved scenes, including one depicting a man with rays surrounding his head, believed to be a portrait of Jesus Christ, also known as "Sol Invictus," or the "unconquered sun."
The other pair has intricate filigree decorations. One earring is badly damaged, likely due to being hidden under plowed soil for centuries.
"The jewelry is decorated on one side and has fragile suspension brackets. This suggests that they were probably not pierced through ears, but were worn on a hood or a headband," said the museum, noting German images from the same time period show a similar style.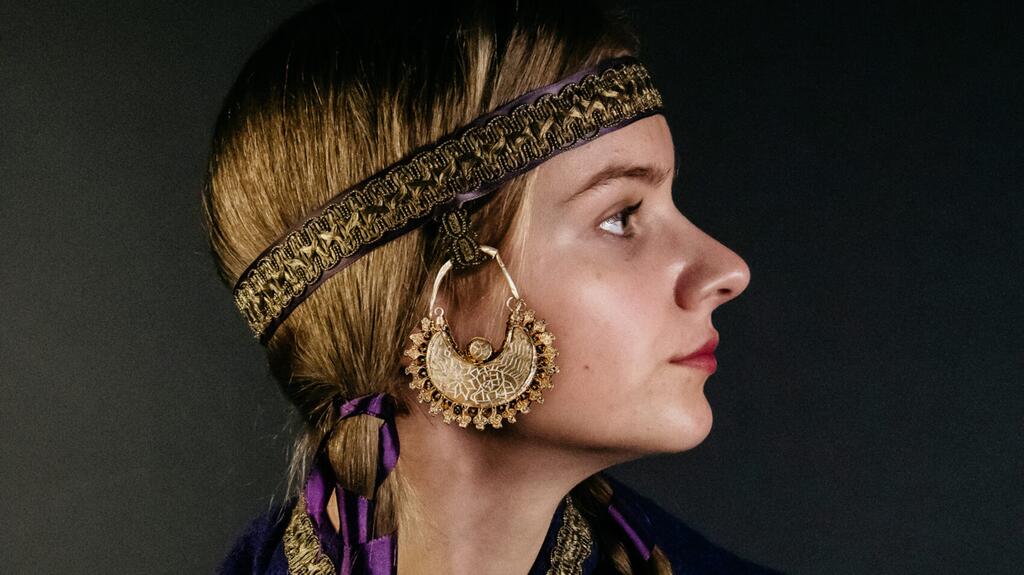 The two gold leaf-shaped pieces fit together, and are believed to have been worn attached to clothing due to the small textile fibers that were found.  
The jewelry and coins belong to the finder, Ruijter, but are temporarily on loan to the museum.
They will be on display in the Temple Hall of the museum until mid-June. Beginning Oct. 13, the find will be part of a new temporary exhibition, titled "The Year 1000."
More on Majors
Majors
Sep 28, 2023