Pantone's 2023 Color of the Year Is A Lot Like Rubellite, Spinel, Ruby
"Viva Magenta" easily finds its colored gemstone counterparts.
Carlstadt, N.J.—The year is quickly drawing to a close and 2023 predictions are kicking off.
That means it's time for Pantone to crown the shade that will influence design in the year ahead.
The color institute has named "Pantone 18-1750 Viva Magenta" its color of the year, 2023.
Pantone called the shade an "animated red" that strikes a balance between warm and cool tones. 
Metaphorically, the company described it as "brave and fearless," signaling a grounded strength that naturally commands respect, rather than gaining it through aggression.
Pantone said Viva Magenta is an optimistic color that represents inclusion. 
"The last few years were transformative in many ways in terms of people's sense of self, and the way well-being, priorities and identity are being thought about," said Laurie Pressman, vice president of Pantone Color Institute.
SEE: Jewels That Match 'Viva Magenta'
"As a result, space has been created where we are free to explore and be accepted for exactly who we feel we are, whether it be in a cybernetic universe, a conventional space, or a magical blend of both."
This year, Pantone is emphasizing Viva's Magenta role not only in the physical world, but in the digital, releasing graphics crafted with the help of artificial intelligence. 
The color institute also highlighted the shade IRL, announcing the 2023 color with an immersive installation at just-concluded Art Basel Miami dubbed the "Magentaverse."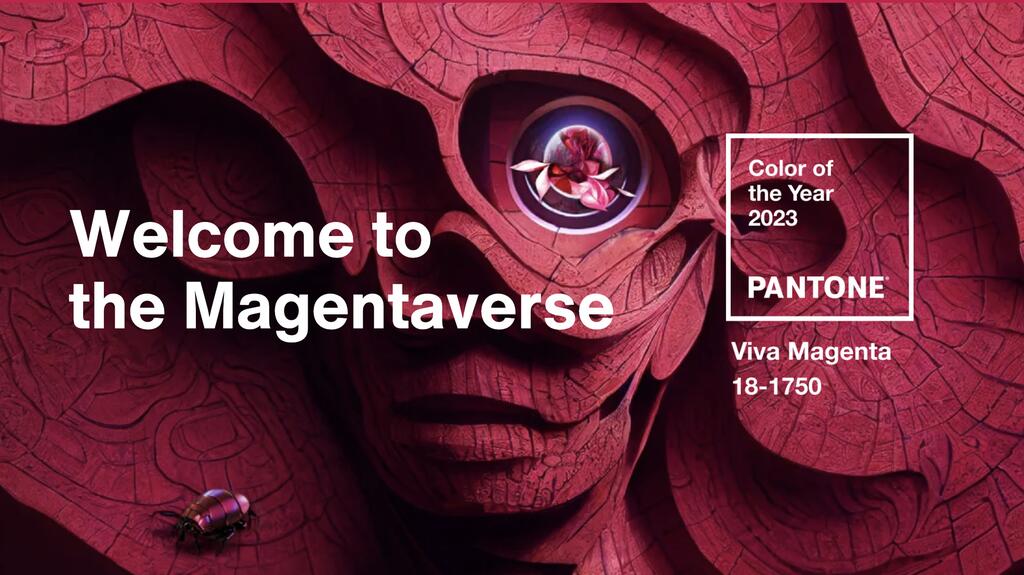 The Pantone x Artechouse exhibition featured rooms providing visual, auditory, and tactile experiences that explore design, space, and technology, Pantone said. 
"As virtual worlds become a more prominent part of our daily lives, we look to draw inspiration from nature and what is real," Leatrice Eiseman, executive director of the Pantone Color Institute, explained.
Viva Magenta, she said, was inspired by the cochineal insect that provides the natural dye carmine. 
"Rooted in the primordial, Pantone 18-1750 Viva Magenta reconnects us to original matter. Invoking the forces of nature, it galvanizes our spirit, helping us to build our inner strength."
 Related stories will be right here … 
More on Trends