Out & About: The Designer With a Gumball Machine at Bergdorf
It's Marla Aaron, who previously had a jewelry vending machine in the Brooklyn Museum.
When my parents first started dating more than five decades ago, my mom broke it off after a couple months.
She had just started college in Clarion, Pennsylvania, and wanted to be free to enjoy it, not be tied down in a relationship with a guy who lived 90 miles away in Pittsburgh.
So, she wrote him a Dear John letter telling him so—the '60s equivalent of a sliding out of the DMs.
Years later, as she was about to graduate, she ran into my dad again, at an establishment called the After Dark Lounge in Hopewell Township, Pennsylvania. He was drunk but had the wherewithal to reintroduce himself and give my mother a plastic skull ring out of a toy vending machine, along with a promise that he'd call.
When my mother left After Dark with her friend that night, she said something along the lines of, "That guy's not going to call me. He was drunk; he's not going to remember even seeing me."  
Fifty-two years later (and luckily for me), my mom was wrong.
I've been thinking a lot about that vending machine ring, the power of jewelry as totem, and the joy of the unexpected after visiting with a designer and her jewelry vending machine in a setting slightly more upscale than the After Dark Lounge.
A couple Fridays ago, I trudged uptown through yet another miserable bout of winter weather to meet with Marla Aaron and her company's head of marketing, Sarah Daniel, at Bergdorf Goodman on Fifth Avenue in Manhattan.
Aaron currently has a temporary presence inside the iconic department store in the form of what I've heard referred to as both a "residency" and a "takeover."
What it is, basically, is a shop-in-shop occupying a small space that serves as a passageway between the main jewelry show floor and the elevators. And it is, for now at least, all Marla Aaron and all masterminded by Daniel.
The space is decorated with the same detailed wallpaper, custom-made by
Timorous Beasties
, Aaron has in her New York City showroom.
The ceiling is made to look like
fordite
—a material Aaron utilizes quite a bit—and the case displays, like Aaron's jewelry, are utilitarian and beautiful at the same time.
I love the peg boards mixed in among the traditional neck forms; they remind of me my dad's workbench in the basement of my childhood home. 
Also included among the jewelry are large-scale, decorative versions of the various pieces of hardware that make Aaron's jewelry function. The large spirals, for example, mirror the threading in her signature locks. 
The centerpiece of this mini showroom is the jewelry-dispensing gumball machine.
"Automated retail," Aaron said, "is something I feel very strongly about."
It's also something the designer has experimented with in the past, as Aaron is the one who had the
jewelry vending machine
I went to see in the Brooklyn Museum a few years ago.
This gumball machine is not a device that needs a great amount of introduction; it works like the basic gumball- or toy-dispensing machine you'd hit up on your way out of Kmart.
But instead of sticking a quarter in the slot and turning, customers must buy a $110 token (this is Bergdorf, after all) from one of the sales associates in order to make it work. 
Then they simply insert the token, turn the knob and, voila, a tiny, clear plastic egg emerges with a sterling silver "Babylock," the smallest version of Aaron's signature style and the piece she considers the "gateway" to her entire collection.
Now, here is where the unexpected joy comes into play. 
Mixed in among the small silver locks at first was a rose gold and diamond "Baby Heartlock," which someone got, and now there's a yellow gold and diamond Babylock. Insert that token, and you might be the lucky one who ends up with a little something extra. 
 Related stories will be right here … 
While I was interviewing Aaron and Daniel at Bergdorf, I got the chance to see the machine in action.
A young woman wearing a few Marla Aaron pieces and proclaiming herself to have an "obsession" with the brand came in and bought a token.
An Alabama native who now lives in Washington, D.C., she was in New York City for the weekend with her boyfriend and said she just had to come in after seeing the gumball machine on Instagram.
The air was heavy with excitement while Aaron and I filmed her attempt for social media. Will she get the yellow gold and diamond lock?!? I was genuinely rooting for this person I'd never met before.
Ultimately, she did not, but it was fun anyway, just like Aaron and her jewelry.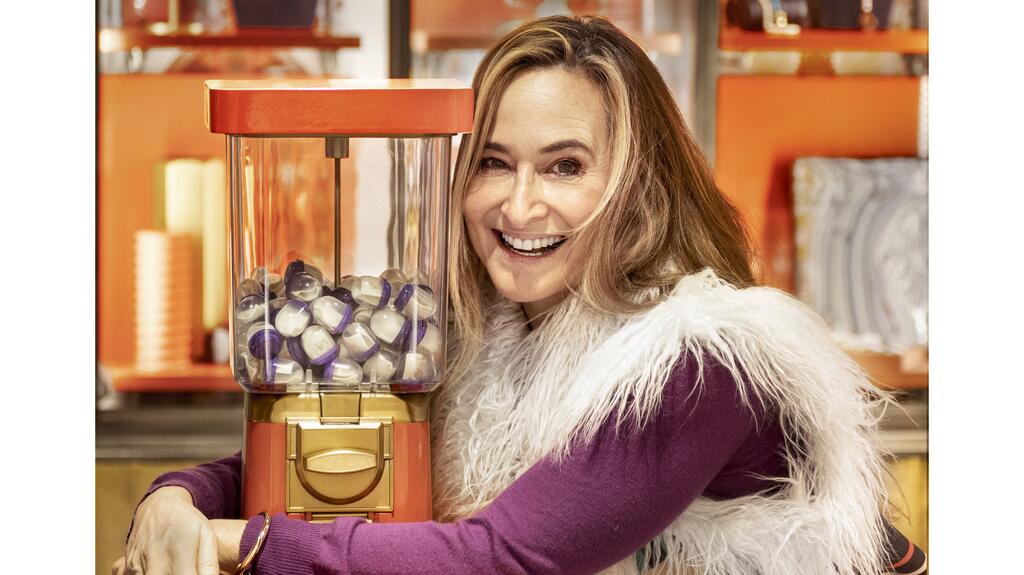 This space in Bergdorf, Aaron told me, is her brand's U.S. department store debut, with the designer admitting she was initially resistant to the idea of a department store because she doesn't feel they fit the way her jewelry is sold.
She likes to take out a bunch of locks and let her customers play, see how the pieces they already own are going to work with new pieces. It brings out creativity in the wearer and is a big part of what has made Aaron such a collectible success story.
Yet in most department stores in America, "it's this idea of the case," Aaron said, of things being locked away and displayed on neck forms. 
At Bergdorf, though, there is a private room that allows for a more Marla Aaron-like appointment. 

And the brand was able inject a bit of its DNA into the display cases, mixing in the large-scale hardware elements, the peg boards, and pieces of "raw" fordite among the traditional jewelry display forms. 

So, will she stay after her shop-in-shop's time is up? 

"There's always an opportunity," Aaron said. 

Marla Aaron's Bergdorf Goodman residency, including her gumball machine, continues through March 30.


More on Editors