The Jewelry ABCs with Marla Aaron
The designer discusses her new collection and her epic London Fashion Week collaboration.
If, as common industry discourse dictates, the jewelry sector is hopelessly stuck in its ways, averse to change,
doesn't understand millennials
or is
engaged in an unsustainable retail model
, no one bothered to inform Marla Aaron. 
The New York City-based jewelry designer has found success by building her eponymous jewelry brand completely outside of traditional jewelry industry norms.

Her predominant design concept—a fine jewelry version of a carabiner that allows for infinite styling variations when mixed and matched with other locks, charms and chains, and which has garnered a legion of devoted fans—is itself an entirely unconventional piece of jewelry, combining functionality and utility with luxury.


Ditto with Aaron's approach to selling. 

Since her 2012 launch, the designer has developed a solid roster of retail accounts (Ylang 23 in Texas and Meter in San Francisco, among others) with an emphasis on independent companies over department stores and larger retailers.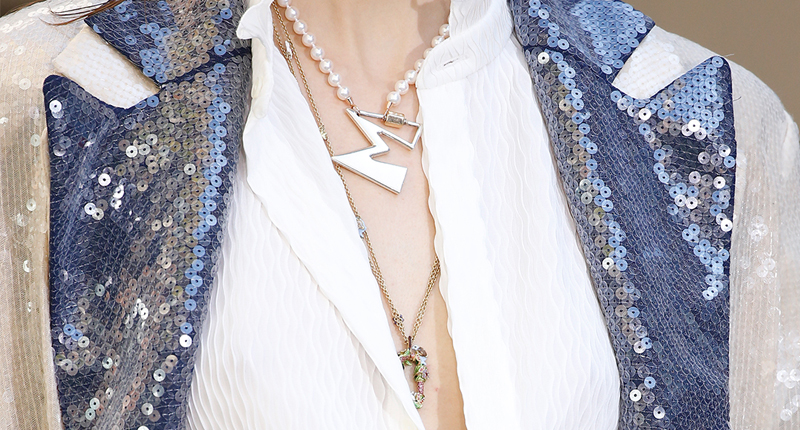 "We're so careful with the distribution," she told me when I recently visited her new Diamond District showroom (more on that later). "We're not sold in department stores. We want the stores that we're with to go deep in the collection."
She's also come up with entirely new jewelry retail concepts, like selling her wares in
a vending machine
set in various New York City locations.

Aaron has an uncanny ability to cultivate an authentic brand identity that continuously innovates and excites its customers while staying true to its essence, basically what every brand is trying to achieve in 2019.
This sense of who Aaron is as both person and company—she is irreverent and self-deprecating, yet substantive and classic—permeates the brand's every pore, down to the
staff photos on its website.
Portraits with favorite foods? Genius.

"I think [jewelry] is an industry that's struggling and you have to be willing to try new things," she said. "Everything we do is an experiment."

This fall, the designer unveiled a series of new projects and endeavors to entice her fan base, the most significant of which product-wise is the Alphabet Collection.

Marla Aaron locks, which have included different shapes over the years, from hearts to lightning bolts, have undergone their most serious makeover yet, now available in every letter of the alphabet.


Aaron was inspired by the 20th-century Bauhaus art movement "where beauty and industry came together," as well as the rise of androgynous style in fashion. She drew the typeface herself and perfected the 26 styles, which come in two sizes, over the summer.


Available this week, small locks are available in 14-karat gold for $1,675 and large versions are rendered in silver with a 14-karat gold closure for $1,200. Clients can have them entirely in 14- or 18-karat gold (or either size in platinum) by special order.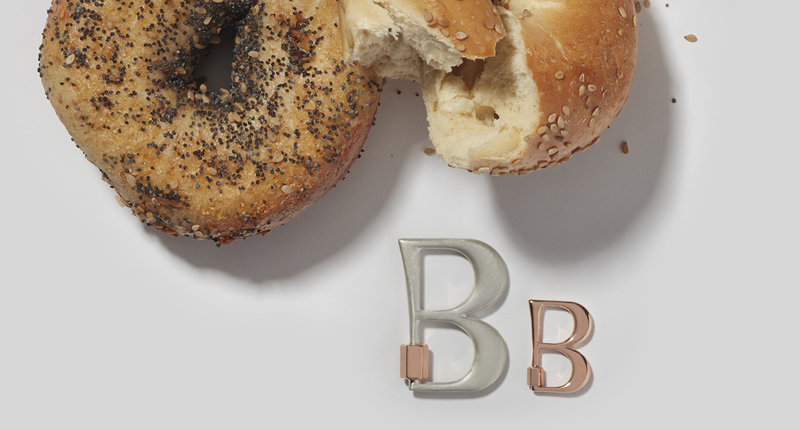 Aaron teased the arrival of the alphabet locks at London Fashion Week in September, where "R" and "M" locks floated down the runway on the necks of Roland Mouret models.
Aaron was still high off the experience when I met her just a couple of weeks later, wearing an intricately pleated white button-down shirt by the designer.

The relationship between the two began, as they tend to do these days, when Mouret slid into Aaron's DMs on Instagram. They had never met, but the fashion legend was a fan of Aaron's work.

In February this year they met in London and the beginning of a collaboration bloomed, with Mouret asking Aaron to participate in his spring/summer 2020 runway show.

"In the first meeting he said, 'I don't want you to do anything special. I just want you to do what you do and bring it to my show,'" Aaron recalled.

Mouret had come equipped with Instagram images of women wearing Aaron's designs, wanting to channel their same thrown-on, individual style.

"He wanted it to feel effortless and that they were carrying their emotions with the jewelry," she explained. 



The designers exchanged ideas, sketches and swatches in the months to come and Aaron was inspired to create new pieces.

"I can't tell you how amazed I am at the generosity of Roland because when someone like that comes into your universe, it forces you to try new things and invariably new things happen," she said.

Mouret loved Aaron's Fordite (a material created from the car paint found on automobile factory floors, like the Ford factory in Detroit) pieces, for example. She created "supersized" Fordite and jasper disk earrings to make a serious runway impact ($1,200 to $2,000).

Then, she began imagining them as charms that could be attached to her locks. So she created "The Working Dot" ($575 in 18-karat gold), a piece that converts all of the earrings in her collection into charms.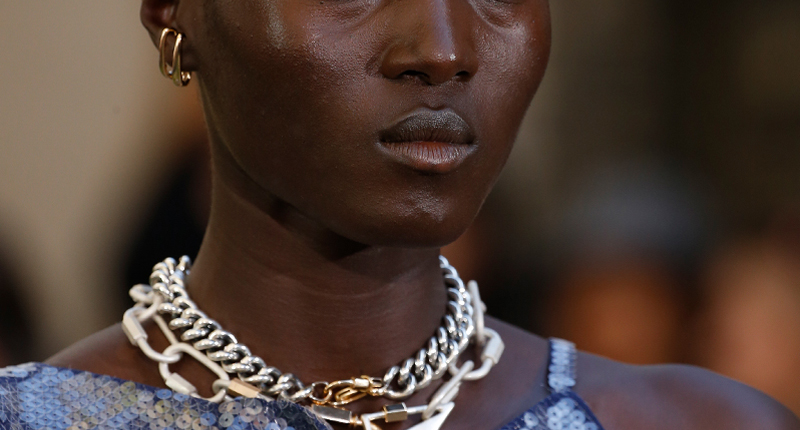 As the show approached, Mouret informed Aaron that not all of the models cast would have pierced ears. So Aaron dreamed up "The Pierce-less Earring," ($880 in 14-karat gold) a clip-on style sold individually that can be placed anywhere on the ear.

Aaron and a member of her team were on hand at the show and in the days leading up to it to assist with the styling efforts, led by 10 Magazine's Sophia Neophitou. The stylist piled on the jewels, combining various chains and locks with the new Fordite and jasper earring-cum-pendants courtesy of The Working Dot, plus The Pierce-less Earring.

On the home front, Aaron's also taken a baby step into retail.

Beginning this month, customers can make an appointment to visit the Marla Aaron New York City showroom to interact with the jewelry in person.

"I think it's a really ideal scenario for people to come play with our jewelry," she said, noting that customers were responding "really well" to the idea.


More on Editors
Editors
May 24, 2023