Marla and the Machine
Our editor-in-chief takes a (very short) road trip to the Brooklyn Museum to meet with jewelry designer Marla Aaron and see her much-talked-about vending machine.
If you had to guess, how long would you say vending machines have been around? Since the 1800s, or 1700s maybe?
According to a
history of a vending and coffee service
from NAMA, that is the National Automatic Merchandising Association, the ancient Egyptians had devices in their temples that dispensed holy water as early as 215 B.C.
In the United States, the government granted patents for coin-operated vending machines as early as 1886, and there were some dispensing gum on New York City subway platforms by 1888.
Fast-forward a few thousand years and vending machines are entering the conversation about the future of retail as they are being employed to dispense an ever-increasing variety of products.
Anyone who has passed through an airport in the past decade has seen the machines that sell electronics, like headphones and cell phone chargers, and cosmetics from brands like Benefit and Philosophy.
There are
beach-side machines that sell flip-flops
, and Japanese company Uniqlo started
selling its clothes
out of vending machines last year after plans to expand its physical footprint in the U.S. fell flat.
And now, inside a museum in what is inarguably New York's hippest borough, a jewelry designer named Marla Aaron has a vending machine that dispenses her signature locks. 
On a recent morning at the museum, I met with Aaron to see it and chat about why she sunk between $30,000 and $50,000 into a machine that dispenses jewelry with zero consultation. 
Reason No. 1 will be very familiar to both designers and retailers today: She was looking for more innovative and cost-effective ways of reaching customers, outside of the traditional store and online channels. 
"When you run a small business, you have to be open to a lot of new ideas. You can't afford to do things the same old way," Aaron told me as we stood in front of her machine, waiting for it to reboot. 
"If I had done all the stuff I am supposed to do in this jewelry industry"--meaning spend thousands of dollars to exhibit at trade shows and pour money into making jewelry that gets sent out on memo--"this brand would not exist. We would not have had the economic tolerance for what that entails," she said. 
"I think that's what leads you down this sort of path."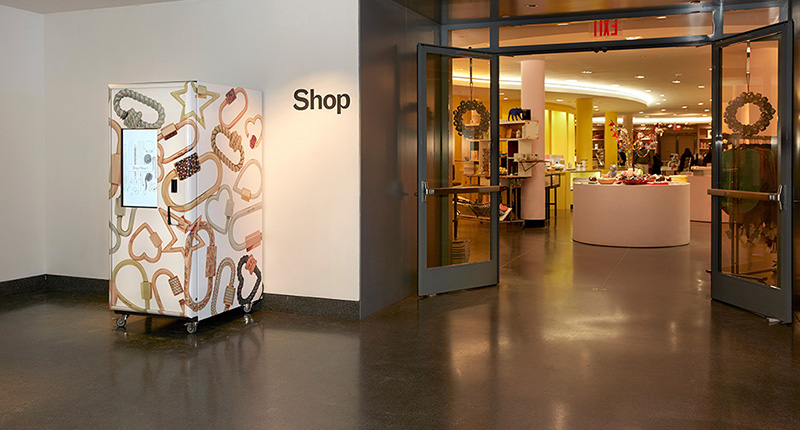 Aaron said she began the process of having the machine built two years ago. At first, she wasn't sure where it should go. A hotel? An airport? No, she decided in both cases, she wanted it to be more "for New York." 

She had a "yes" from several jewelers who were interested in housing it, but didn't want to put her first vending machine in a traditional store. 

She started down the on-a-street path but found that New York City real estate brokers don't know, or claim not to know, how to charge for a 10-square-foot plot of land (surprising in a city so skilled at renting extremely small spaces, no?). They kept pushing her to just open a store.

Eventually, Aaron ran the idea by her friend and customer Olivia Song, an interior designer who is co-chair of the Brooklyn Museum's board of advisors, "And it clicked," she said.

The vending machine would go in the Brooklyn Museum, right outside the door to the gift shop. 

Unlike many of the snack and soda variety, Aaron's machine is opaque, not glass front. 

A touch screen, which starts with a video of the designer talking about her jewelry, shows shoppers a picture and gives the price and description for each of the seven styles held within, which range in price from $100 to $1,472. 

They tap on the style they want, swipe their credit card, and retrieve their piece from a little door located below and to the right of the touch screen. Receipts, if requested, are emailed.

The machine is part experimental retail and part branding vessel and, like any venture, it has its challenges.


"There is not one moment you can't be thinking about how your customer feels about your brand." -- Marla Aaron 
The morning that I was there, Aaron and I were trying to run through a purchase so I could see exactly how the machine works, but it kept rejecting credit cards, both hers and mine.
While she messaged with her team to try to work it out (turns out, the machine just hadn't reconnected to Wi-Fi after being turned off overnight), we took a seat and chatted a bit about something I'm sure a lot of people have wondered: what do you do when something goes wrong with a machine like this, when a credit card doesn't work or a purchase gets stuck (which hasn't happened so far, she said)?
"It's not without its problems," Aaron allows.
But, she said, she prides her company on being a "very accessible brand."
She has, in the past, Skyped with customers who are having trouble opening her silver baby locks.
Customers also can find her
on Instagram
, where she'll answer direct messages.
She has email addresses
on her website
as well as phone numbers that ring through to live human beings who also can help. (Aaron said initially, she proposed putting her personal cell phone number on the vending machine, but her team vetoed that.)
In addition, each vending machine purchase comes with a small card that reads in part, "If you would like to return or exchange one of our pieces, please email us at
info@marlaaaron.com
," and then goes on to list the details of the company's return policy.
"There is not one moment you can't be thinking about how your customer feels about your brand," she said.
Aaron's vending machine made its museum debut on Dec. 8 and will be departing in a couple of weeks for destinations unknown, or unknown to us anyway. The designer said she has its next location picked out but isn't making that information public right now.
Wherever it goes, the machine will be getting a bit of a facelift. Aaron plans to change up the video, which is currently very Brooklyn-centric, and she can also change out the exterior wrap and the product selection within.
The
Brooklyn Museum
is located at 200 Eastern Parkway and is accessible by the 2/3 train; it sits on top of the Eastern Parkway/Brooklyn Museum stop on that line.
Museum hours are 11 a.m. to 6 p.m. Wednesday, Friday, Saturday and Sunday, and 11 a.m. to 10 p.m. Thursday. It is closed on Mondays and Tuesdays. You can view the various ticket prices
here
.
Editor's note: This article was updated post-publication to correct the date the vending machine arrived at the Brooklyn Museum--it was Dec. 8, not 19--and to remove an incorrect detail about the video that displays on the machine's touchscreen.

More on Editors