Le Vian Donates Aquaprase Specimens, Jewels to New York's AMNH
Two rough stones, three polished gems, and two jewels are in the museum's redesigned gem and mineral halls.
New York—Le Vian has donated a few special pieces to the American Museum of Natural History in time for the New York institution to reopen its renovated gem and mineral halls. 
The American family-owned jeweler's donation highlights a gemstone discovery of the 21st century: aquaprase. 
Veteran gem explorer Yianni Melas discovered the stone in 2013 in Africa while he was studying a deposit of blue-green chalcedony.
Recognizing there was something different—and special—about the gem, Melas submitted samples to various labs, which confirmed it was a new type of chalcedony. 
The material has a unique combination of green and blue hues that bring to mind waves crashing on the beach. 
Le Vian hand-selects high-quality aquaprase to cut into its trademarked classification "Peacock Aquaprase."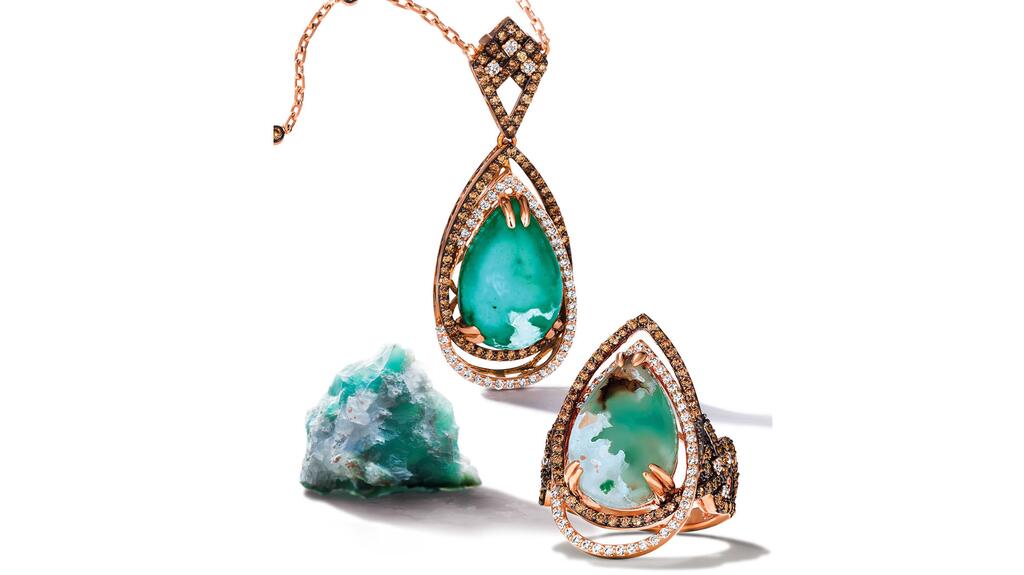 The jeweler donated several examples of the material in various forms for the public to see at the museum, including two rough gemstone specimens (weighing 414.34 carats and 888.98 carats) and three polished pieces (weighing 35.56 carats, 43.05 carats, and 81.84 carats). 
It also donated two Le Vian Couture jewels in 18-karat rose gold—the Kameha ring, centered on an 8 3/8-carat pear shaped Aquaprase cabochon center stone, and the Kailani necklace, featuring another 8 3/8-carat pear shaped Aquaprase cabochon. 
The renovation was one of a handful of projects initiated for the museum's 150th anniversary, which it marked in 2019.
Construction began in the fall of 2017, but COVID-19 delayed the reopening. 
In the new halls, the Le Vian Peacock Aquaprase pieces join a collection including the 563-carat Star of India sapphire, the 9-pound almandine Subway Garnet discovered under 35th Street in Manhattan in 1885, and the 632-carat Patricia emerald, among others. 


 Related stories will be right here … 
More on Sourcing