After 40 Years, TAG Heuer Is Bringing Back This Sailing Watch
The sporty Carrera Skipper is a sailor's best accessory.
La Chaux-de-Fonds, Switzerland—After 40 years, TAG Heuer is reviving a classic with rich sailing history. 

The Swiss watchmaker originally introduced the Skipper in 1968. 

At the time, TAG Heuer produced Abercrombie and Fitch watches for its New York stores.  

Thanks to Jack Heuer's friendship with A&F President Walter Haynes and the latter's sporting relationships, TAG Heuer became the first official timing partner for the United States' 12-meter "Intrepid" for the America's Cup.  

In 1967, the Intrepid set out to defend its trophy for the New York Yacht Club against the Royal Sydney Yacht Squadron's "Dame Pattie." 

TAG Heuer provided the Intrepid with a set of handheld yachting stopwatches and the crew with "Aquastar" wristwatches that featured a countdown timer with a red and white disc. 


 Related stories will be right here … 
In honor of the decisive win, the watchmaker unveiled the Skipper chronograph in 1968, which featured a 30-minute subdial for counting down the 15-minute regatta "pre-start" time in three, five-minute segments. 
Each of the segments was marked in a different color—orange to mark the last five minutes before the race, green to match the boat's rigging, and light teal to match the Intrepid's deck. 
Not produced in earnest since 1983, the new Carrera Skipper brings back several of these design features. 
Contrasting with the Carrera signature blue dial are colorful sub-dials. The 12-hour counter is rendered in "Intrepid Teal" and the 15-minute regatta counter has the same teal, green, and orange segments as the original 1968 model.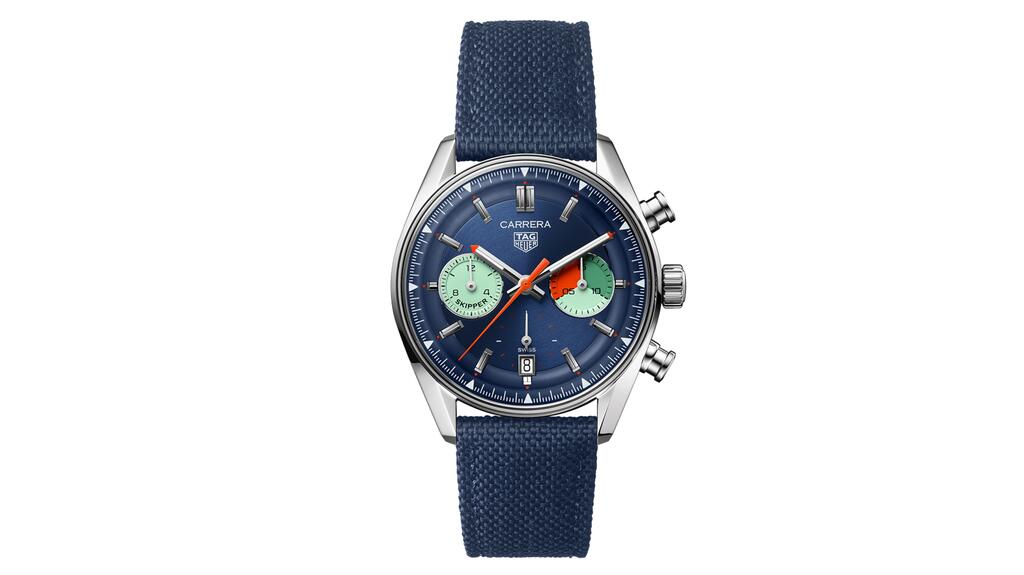 Triangle-shaped markers positioned at five-minute intervals on the outer curved flange and a bright orange central seconds hand also hearken back to the original. 
New Skipper watches utilize elements of modern Carrera timepieces too, specifically the
2023 Carrera Chronograph and 2023 Carrera Chronograph Tourbillion
with their "glassbox" effect, in which the sapphire crystal encapsulating the dial runs over the tachymeter scale for a seamless feel.  
The effect has a practical side as well, TAG noted, as it offers excellent legibility.  
The updated features don't stop there. The Skipper also boasts the Carrera's 39mm case, TH20-06 movement with bi-directional winding and 80-hour power reserve, and textile strap.  
Available this month, the Carrera Skipper sells for 6,600 Swiss Francs or approximately $7,600 per current exchange rates.  
More on Watches