Will's Notebook Opens a New Chapter and It's Vintage
Will Kahn, creator of Will's Notebook, and jewelry designer Jenna Blake have launched an e-commerce platform focused on vintage jewelry.
New York—It's Will's Notebook, but with a vintage feel.
In late May, longtime editor Will Kahn and designer Jenna Blake Grosfeld, creator of Jenna Blake Jewelry, announced the launch of a new e-commerce platform,
The Vintage Notebook
. 
The project was born out of the pair's shared passion for jewelry from the past, and their desire to educate a new generation about jewelry history so that, "the most amazing periods in jewelry design don't become lost arts of bygone eras," said Grosfeld. 
"There is so much great jewelry out there, but the average shopper doesn't know where to start and doesn't want to dig," Kahn said. 
"Jenna and I have hand-selected and curated pieces that we would tell our friends to buy." 
 Related stories will be right here … 
The Vintage Notebook takes inspiration from Kahn's popular Instagram
@willsnotebook
in which he uses an old medium—pencil and paper—to describe and share an even older art form—jewelry—in a modern way.
The site went live in late May with its first drop, 21 pieces of vintage jewelry Blake and Kahn selected and sourced from Blake's network of antique jewelry dealers worldwide, whom she's worked with for years.
Sorted by lot number, à la an auction house, the pieces on offer in the first drop range from $1,200 for a
necklace of coral beads
with an 18-karat gold and coral clasp, to $28,000 for an
18-karat gold bangle bracelet set with 17 carats of diamonds
.
Pictures on the site show how each piece can be styled, and some of the lots include commentary from Grosfeld and Kahn.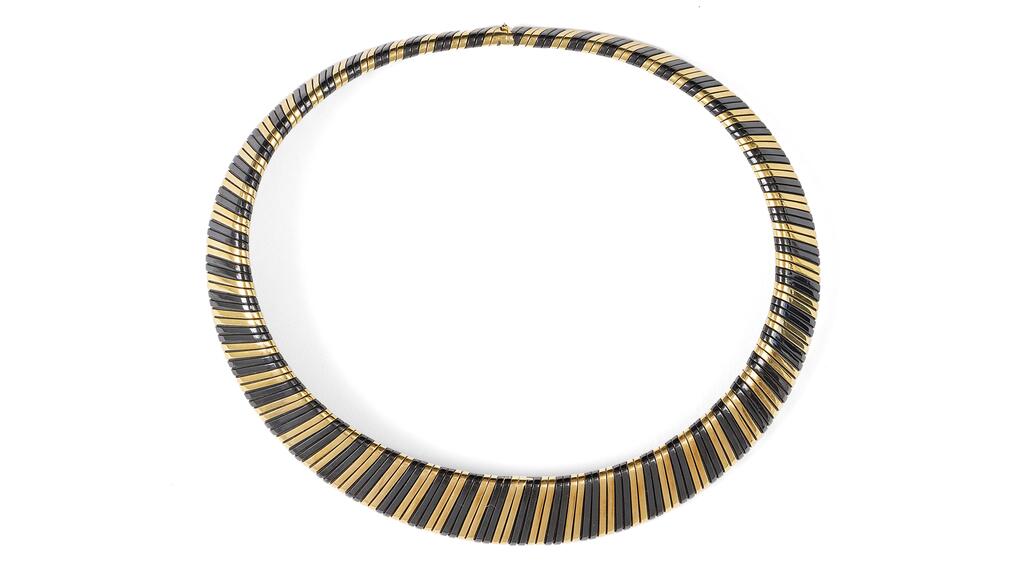 Kahn, for example, describes Lot #7, an 18-karat gold lapis lazuli and diamond cuff bracelet, as his "favorite piece in the drop because it is bold and graphic," while Grosfeld writes that Lot #1, an 18-karat gold and diamond cocktail ring, "begs for an ice-chilled martini glass."
New drops are scheduled to take place monthly.
The pieces Kahn and Grosfeld curate are sold exclusively on The Vintage Notebook website, though no take on Will's Notebook would be complete without an Instagram component.
The Vintage Notebook can be found and followed on Instagram at
@the.vintagenotebook
, which is intended to be the main source of traffic to the website. 
More on Collections