The Best Animal Jewelry I Saw in Vegas
From bugs to birds, these are Associate Editor Lenore Fedow's favorite animal jewels from jewelry market week.
As the retail reporter at National Jeweler, I spend a lot of time looking at facts,
figures
, and
filings
, so I jump at the chance to go see jewelry in person.
Well, when it rains, it pours. I spent jewelry market week in Las Vegas, or the "Jewelry Olympics" as I like to call it, looking at a ton of jewelry.
When I'm at a booth, I like to ask what a person's favorite piece is, a question that is almost always met with a serious, thoughtful look. For designers especially, I realize I am presenting them with an impossible question.
I've always been drawn to animal jewelry, whether it be bugs, birds, or wild cats, so this year I decided to answer my own question by compiling a list of my favorite animal jewels I saw at the shows.
As someone who rarely covers fashion and trends, my jewelry design vocabulary is limited, so a lot of what I'm showing you is just what I like and, really, just for fun.
From JCK to Couture to the antique show, these are my top picks for the best animal jewelry I saw in Vegas.
Lord Jewelry
Lord Jewelry is a Los Angeles-based brand, run by a father-daughter duo, Lena and Sinork Agdere.
Amid the hustle and bustle of Vegas planning, I did not have a chance to make an appointment to stop by their booth, but Lena saw me in the hallway and insisted I take five minutes to visit with them at Couture.
I would've stayed five hours if I had the time. The enamel work I saw here was nothing short of inspiring.
A favorite of mine is the moth ring, seen at the top of the article. I didn't know a moth could be this beautiful, with his plique-a-jour enamel wings and diamond-studded head.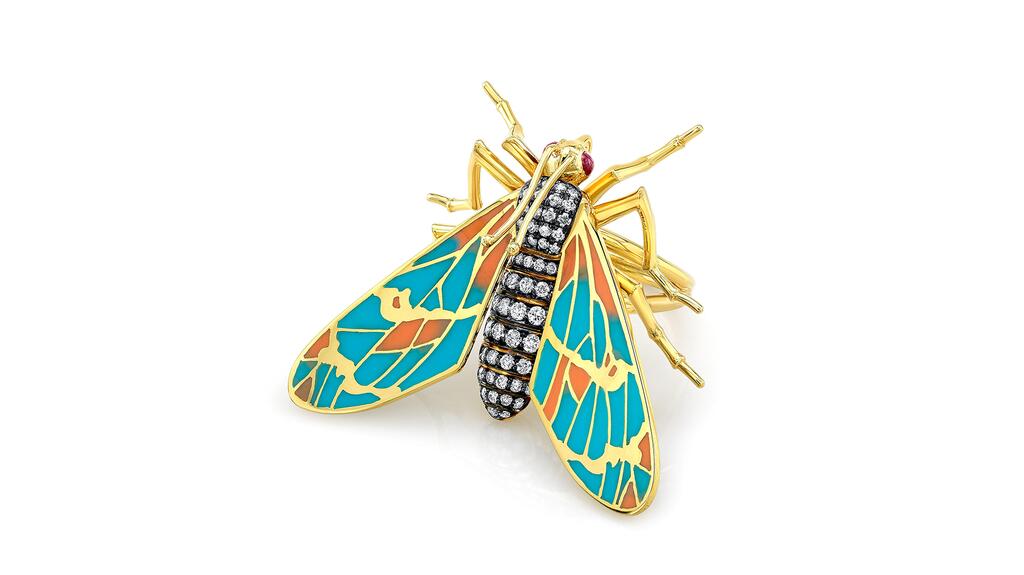 This butterfly's wings also got the plique-a-jour enamel treatment.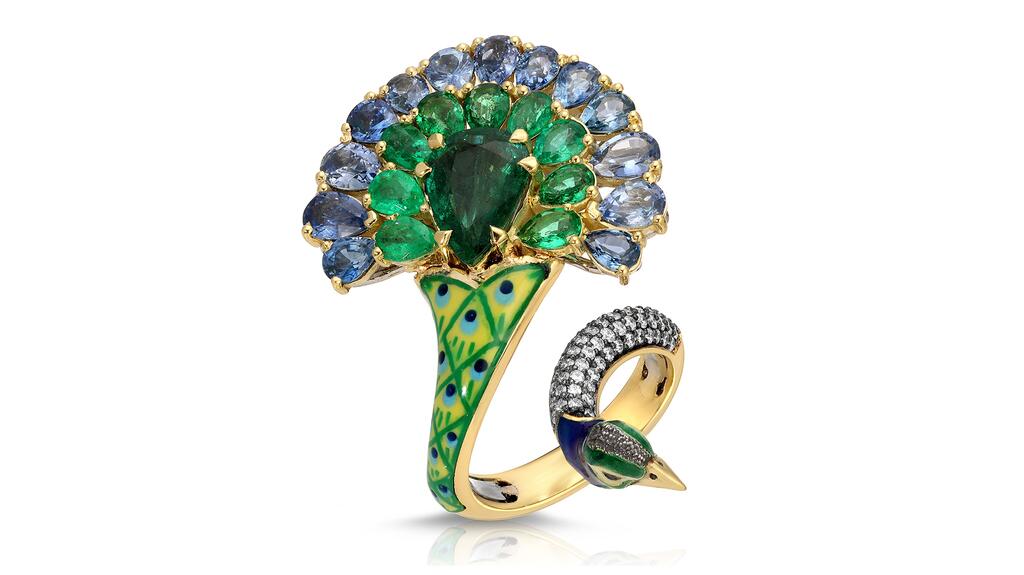 This peacock ring, one of several peacocks you'll see featured here, is a showstopper, set with emeralds, sapphires, and diamonds and topped with gorgeous enamel details.
Picchiotti
Picchiotti is one of many storied Italian jewelers.
Founded around 50 years ago in Valenza, Italy, the brand is one of my favorites, managing to find that delicate balance between heritage design and innovation.
I last saw the Picchiotti team on its home turf while attending Vicenzaoro in January, but I made sure to stop by in Vegas, and I'm glad I did.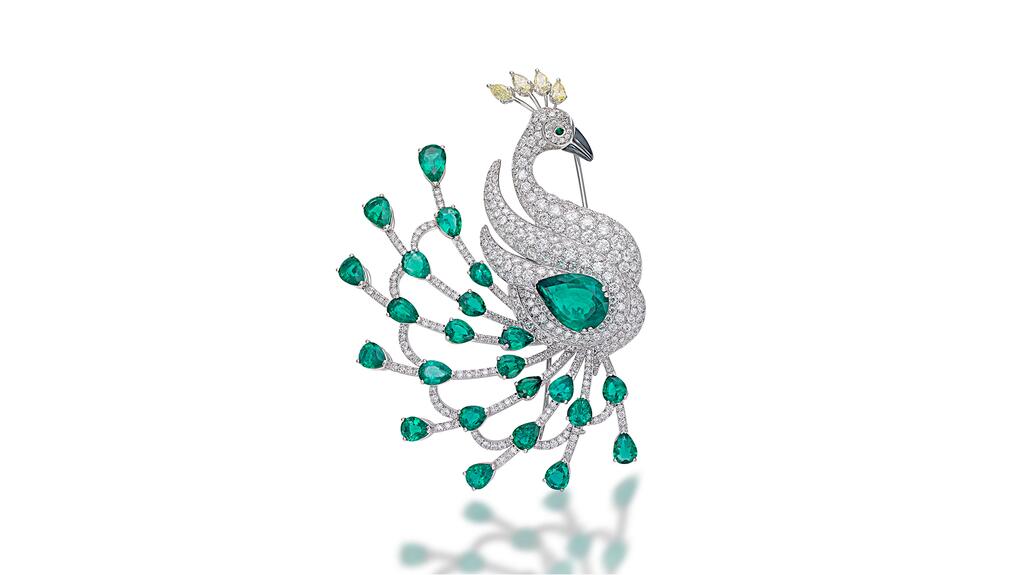 This peacock brooch made me want to become the type of person who wears a brooch. From his diamond head feathers to the emeralds scattered throughout his tail, he was a sight to see.
Swarovski

Swarovski is always a fun stop at the Las Vegas shows. In recent years, under the
creative direction of Giovanna Battaglia Engelbert
, it's been crafting more big and bold jewels.
In my years at National Jeweler, I've clocked a bit of snobbishness when it comes to jewelry that doesn't meet the definition of "fine jewelry," or God forbid, comes in silver.
But I love fashion jewelry, and silver jewelry for that matter, and you can't look at this turtle and tell me there's no place for him.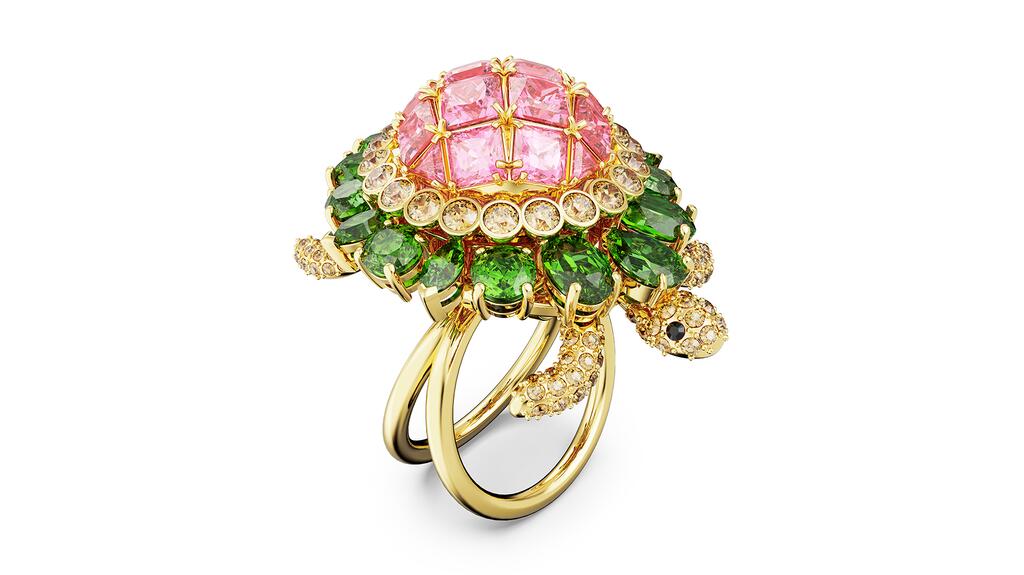 He reminded me that jewelry doesn't have to be so serious.
Bibi van der Velden
I had admired Bibi van der Velden's jewels from afar, until my recent appointment at Couture.
Her latest
"Waves" collection
is "mermaidcore" taken to the next level, but her signature alligator jewels were really something.
This alligator ring, with malachite scales going down its back and tsavorite eyes, was a stunner.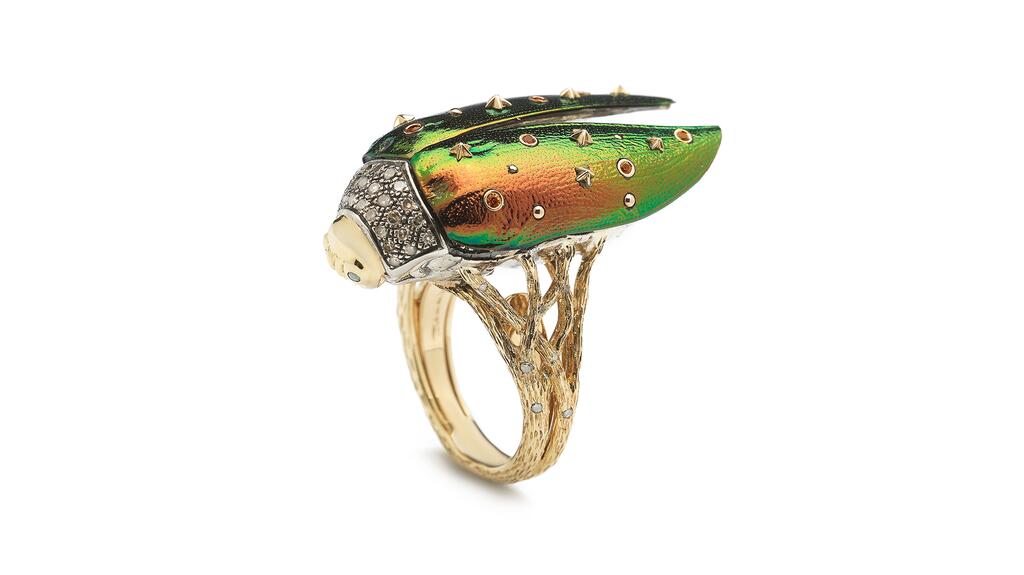 This scarab ring, featuring real scarab wings, is a testament to why these beetles have been commemorated in jewelry since ancient times. The ring is about the size of an actual scarab, which I thought was cool.
The iridescent color on the wings is a natural marvel, set with orange and yellow sapphires. It has white and brown diamonds by the head and green tsavorite eyes.
 Related stories will be right here … 
Simon G.
My visit with Simon G. was eye-opening. I was familiar with the name, but this was my first time getting to see these jewels in person.
Simon G. had something for everyone, from bridal jewels to statement pieces to men's jewelry to, of course, animal jewels.
I noticed bees have been getting a lot of love from jewelry designers, and rightfully so since they do so much for us!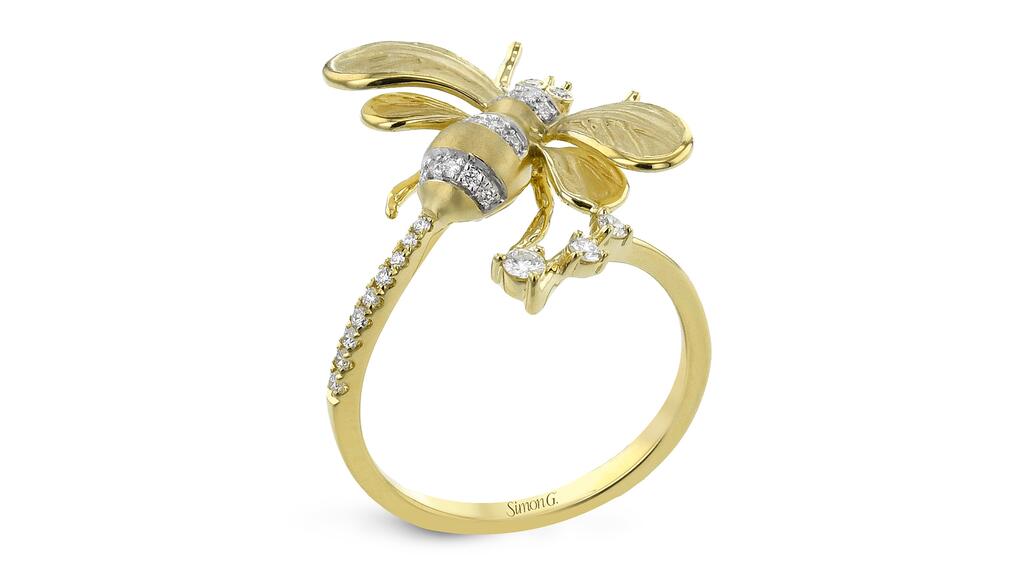 This 18-karat yellow gold bee ring is a cutie. He's got diamonds where his black stripes and eyes would be, with even more diamond accents down the band.
For a bold look, I'd pair him with these ear cuffs.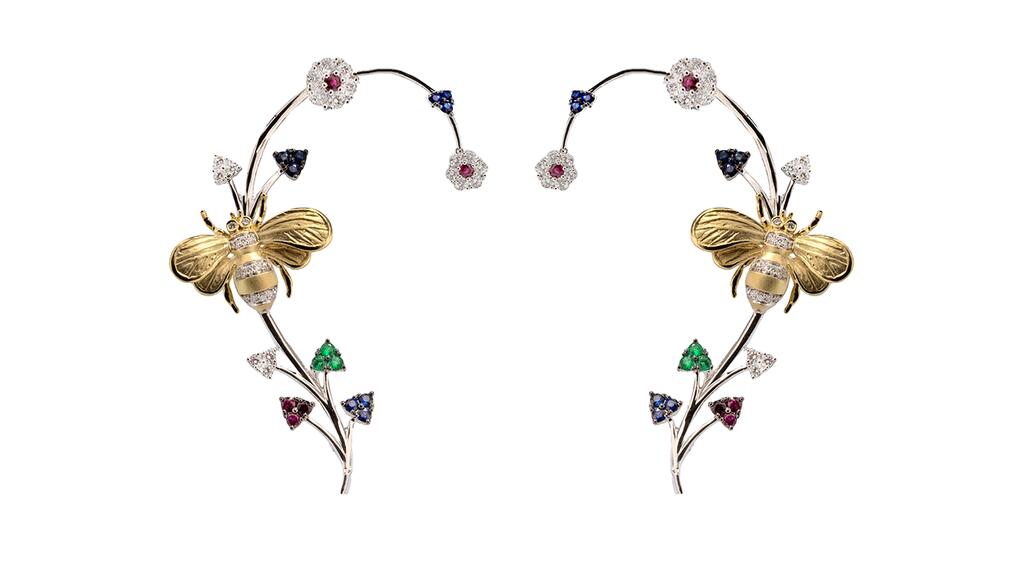 This one-of-a-kind set features our friend the bee again surrounded by flowers made of diamonds, rubies, sapphires and emeralds. It's also a fun take on the mixed metal looks that were
trending at the shows
.
To round out my selection of best bug jewels, there is this dragonfly pendant that caught my eye. He has brushed yellow and black gold wings, big sapphire eyes, and a diamond tail.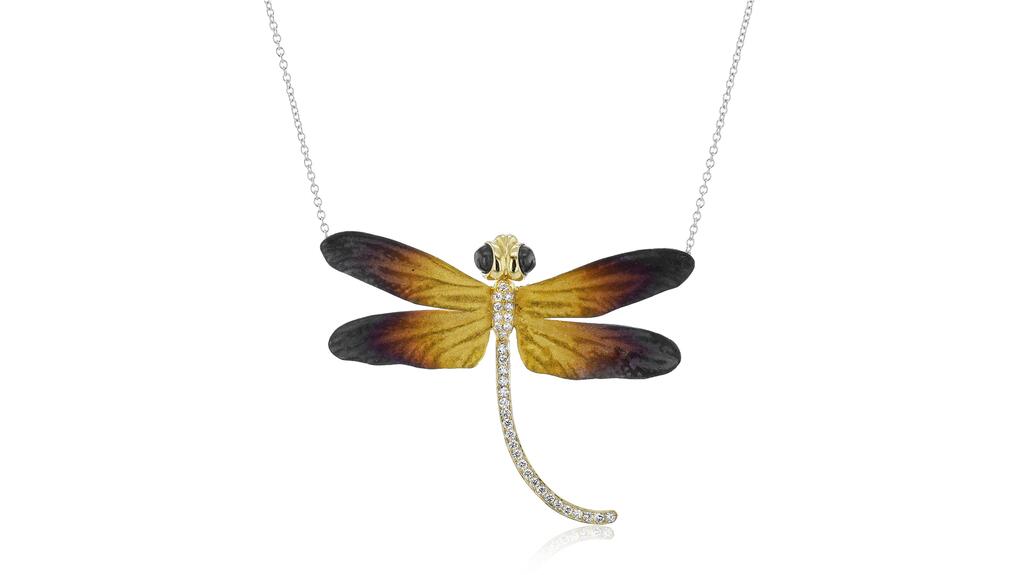 Alexis Pavlantos
I stopped by the Women's Jewelry Association's booth within JCK's Design Collective section to meet with the emerging designers showcasing there. The designers were a part of WJA's business development program known as the
Jewelry Loupe Project
.
Every designer in there was worth seeing, but if you're into animal jewelry, Alexis Pavlantos is a must-know.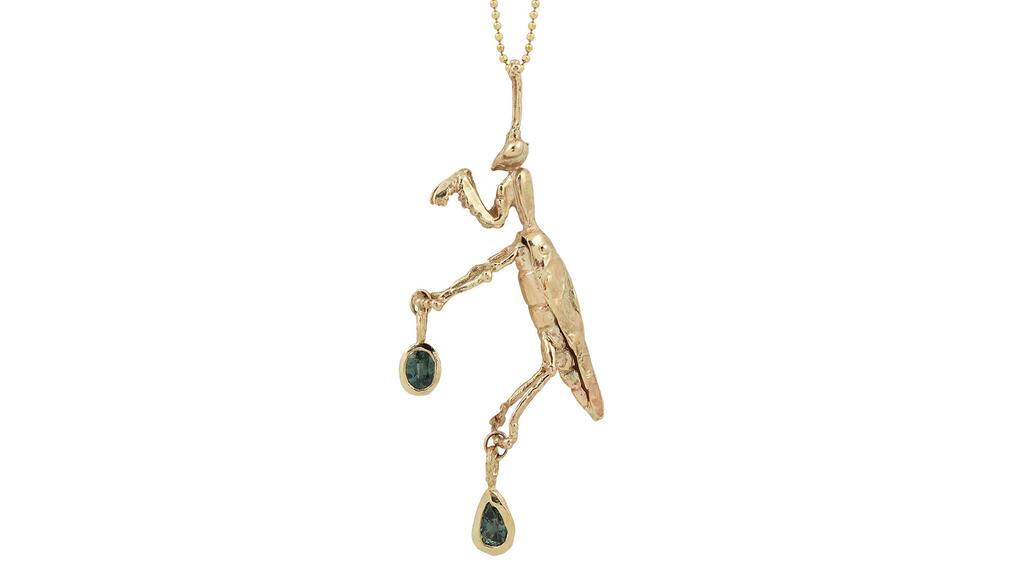 This praying mantis necklace was a jaw-dropper for me. Pavlantos created him by hand-carving each component from wax and then casting it in 14-karat yellow gold. (There is also a silver
version
.)
He has two sapphires hanging from his little feelers, one pear-shaped and one oval-shaped.
Windsor Jewelers
Animals have been incorporated into jewelry since ancient times, so there was no shortage of cool animal jewelry at the antique show.
Windsor Jewelers' booth had the goods, let me tell you.
For starters, look at this peacock ring from Boucheron.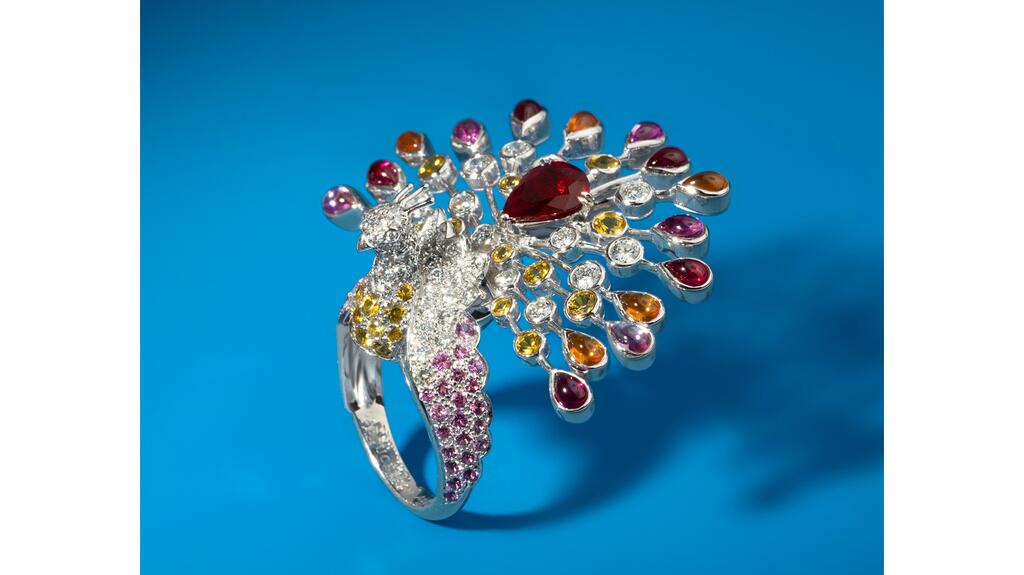 He's got an 18-karat white gold body with feathers decked out in diamonds, rubies, and pink and yellow sapphires.
I'm aware this is the third peacock jewel I'm featuring in this article, but I couldn't leave him out.
The pièce de résistance of the booth, and possibly of the animal jewels, had to be this bundled up penguin. He's so cute I can't stand him.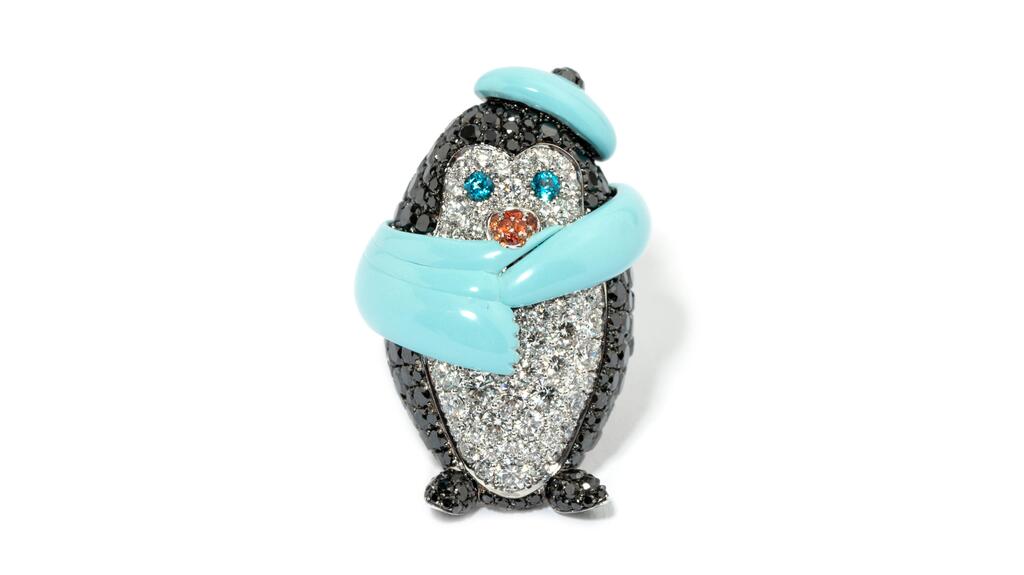 He's made of 18-karat white gold with white and black diamond feathers, blue topaz eyes, and a yellow-orange sapphire nose. His hat and scarf are made of blue ceramic.
I almost didn't include him in the piece for fear someone would buy him before I could sell my prized possessions and buy him myself.
Omi Privé
As much as I love the penguin brooch, I may have saved the best for last here.
Omi Privé is always a must-stop for me and a mainstay on my "if I won the lottery" list.
When I visit with the team there, I'm expecting to see gorgeous gemstones, and I'm never disappointed.
I was talking with Natalie, an employee at the booth, about the fun animal jewelry I'd been seeing when she said, "Well then, you have to meet Alexis."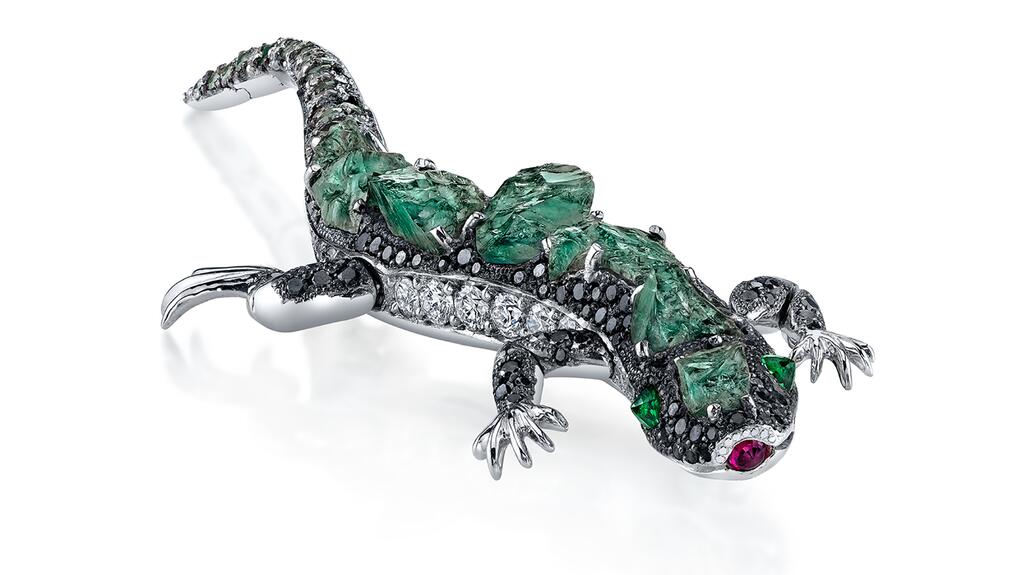 This is Alexis, an 18-karat white gold lizard brooch set with natural color-change rough alexandrite and diamonds. She has green tsavorite eyes and a ruby set culet-up to form a tongue that sticks out, with a movable tail and legs.
Her story began when Omi Privé President Niveet Nagpal purchased a parcel of rough alexandrite from the Lake Manyara region in Tanzania in 2008.
He envisioned a chameleon brooch, since alexandrite has color-change properties, but as the design process continued, the rough lended itself more to a lizard/gecko shape, he said.
It took about five to six years to finish the piece after acquiring the rough, though the design process was closer to seven or eight months.
"Some wax carving, many irritations occurred during the process and were scrapped until the right shape and movement could be achieved. As the tail and limbs are fully articulated, it is quite a design and engineering feat," said Nagpal.
"The biggest challenge was to create the piece with some delicacy, movement, and detail, while still making sure it is durable enough to be worn often and last generations."
Kudos to the team at Omi Privé because Alexis is a masterpiece.
When I look at these animal jewels, it reminds me of the intrinsic connection between jewelry and nature, how one couldn't be without the other. It's a beautiful and complicated thought that we take materials from the earth to celebrate and mirror its beauty and its creatures.
On a related note, this story would've been written much faster if my tuxedo cat Stormy had not taken a stroll across my keyboard many times during the writing process looking for pets, or I wasn't distracted by my sister sending photos of our pit bull Rock sunning himself on a gorgeous summer day.
When I think of how much joy animals add to my life, be it my pets or an animal in the wild, I can understand why we use Mother Nature's most precious materials to honor them.
So, here's to the bugs, the birds, the cats, the penguins, and the wild jewelers who celebrate them.
More on Editors
Editors
Jul 05, 2023