These Jewels Give Me the Creeps
Ahead of Halloween, Associate Editor Lenore Fedow went in search of the spookiest antique and vintage jewelry.
The allure of the macabre has always enchanted me.
Perhaps it was set in stone when, once upon a midnight dreary, my parents named me Lenore, a callback to the dearly departed love interest in Edgar Allan Poe's poem
"The Raven."
(I actually was named after my maternal grandmother, and I was born in the morning, but let me have this!)
It's my yearly tradition at National Jeweler to put together a fun, spooky Halloween story.
I've written about
gemstone legends
and
cursed jewels
, but, this year, I went (virtually) digging through some antique and vintage jewels.
I reached out to several antique jewelry experts and asked them to show me the creepiest jewels they had in their cases, and, wow, did they deliver.
Trademark Antiques
We're going to start off with those nightmare earrings in the header image.
I saw these scrolling through Instagram, and they stopped me in my tracks. The cold diamond eyes and that creepy head tilt? Horrifying!
I reached out to Jessica Sitko of
Trademark Antiques
to learn more about these earrings.
These mismatched vintage children earrings are solid 14-karat gold with diamond eyes and ruby buttons, circa 1980 to 1990.
Their arms and legs move, which only enhances the creep factor.
Someone better solder those limbs together before they jump out of your jewelry box at night and start wandering around unsupervised.
When I asked Sitko if she had anything else spooky, she most certainly did.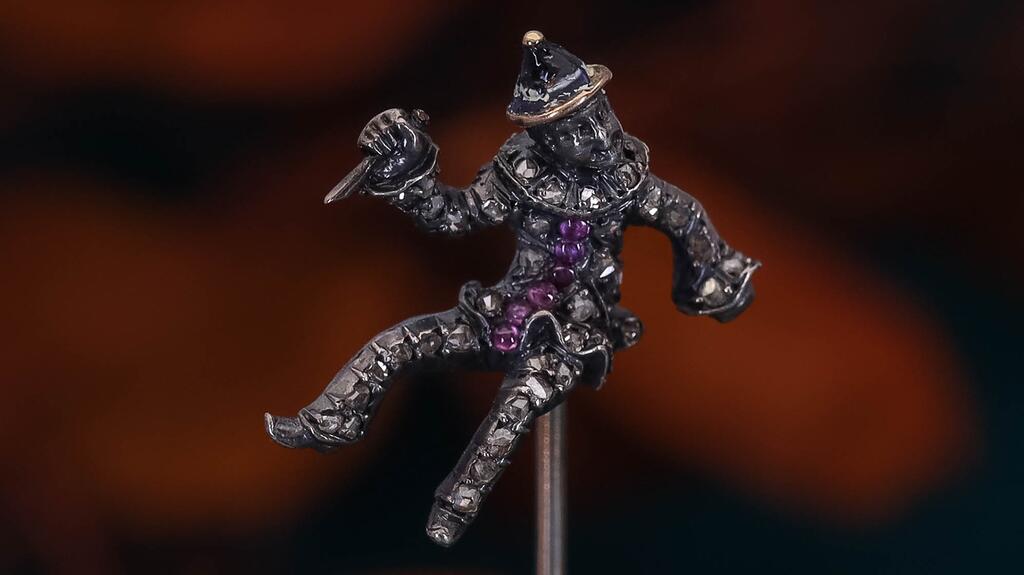 Take a look at this horror show!
It's an antique diamond and ruby clown in silver and 18-karat gold with French hallmarks, circa 1800 to 1830.
What's that in his hand, you ask? That's a dagger, my friend.
Anyone who knows me will tell you I do not like clowns. It's a common fear, I know, but I just can't stand to look at them.
I thought this was a fear that emerged in the public consciousness after Stephen King's "It," so I was surprised that a pin dating back to the 1800s would depict such a scary clown.
"I believe this clown to be a representation of Pierrot—a sad, dark pantomime who often wore a clown hat and ruffles," explained Sitko.
"In the early 1800s, Pierrot was played by [mime artist] Jean-Gaspard Deburau, and the character sometimes brandished a knife. In the mid-1800s, Deburau killed a boy with a blow from his cane after the boy taunted him and thus, the killer clown concept was born."
Whoever buys this nightmare pin should sleep with one eye open. And a baseball bat.
Windsor Jewelers
Dora Maddux of
Windsor Jewelers
also dug through her jewels to pick out something spooky.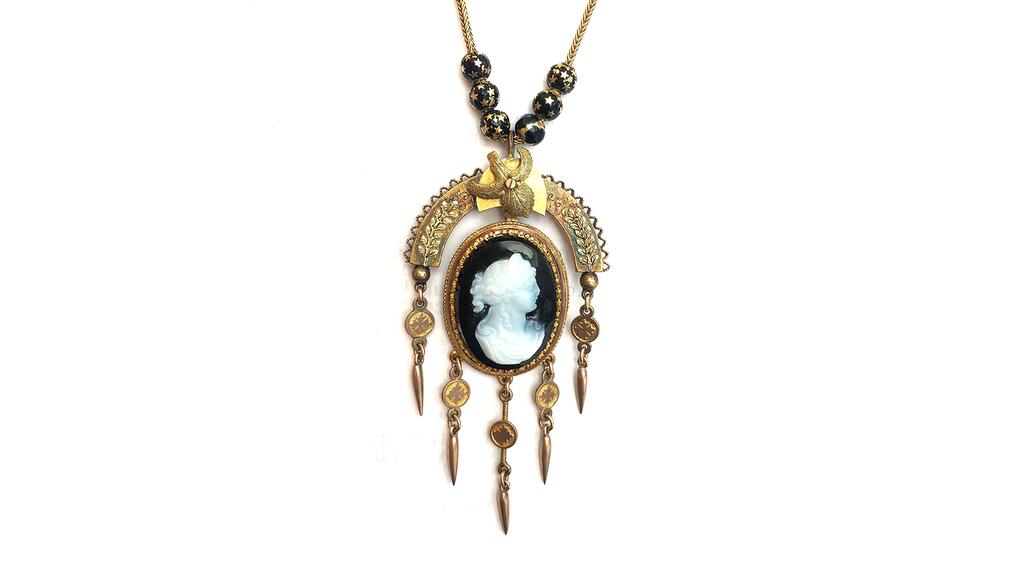 I love cameo jewelry. My first piece of antique jewelry was a cameo ring. But something about this piece did not sit right with me.
It may have to do with the ghostly glow of the cameo, an ethereal woman in white against a dark onyx backdrop.
It's a 14-karat gold necklace from the Victorian era, an inherently creepy time period that saw the rise of the ghost story.
I'm not an antique jewelry expert by any means, nor do I specialize in the Victorian era, but there seems to be so much going on with this necklace, from the starry beads to the dangling charms.
It strikes me as an amulet, and I both love it and hate it!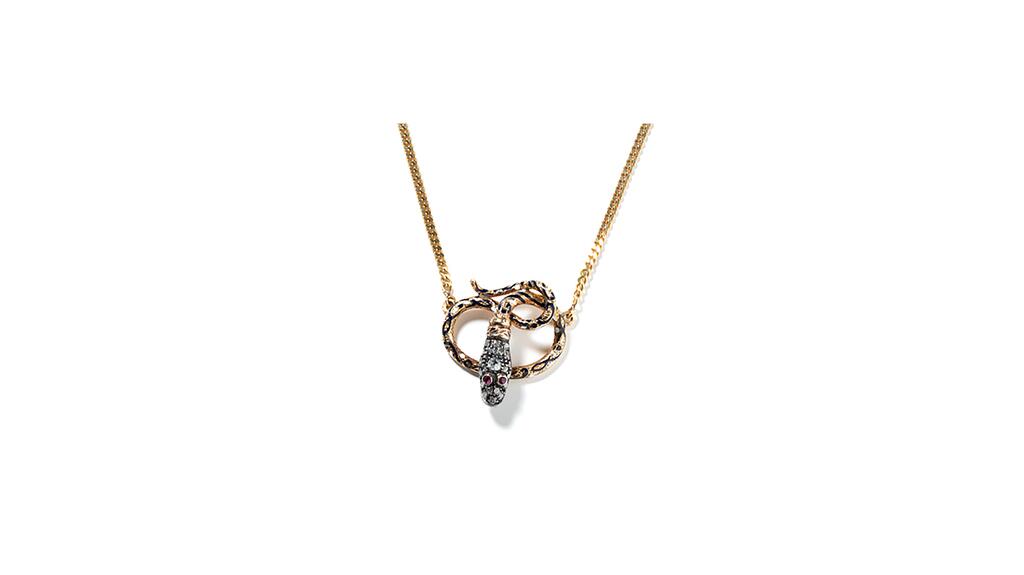 Maddux also showed off this serpent necklace, topped with glaring ruby eyes.
Circa the 1800s, this necklace is set in 18-karat yellow gold with diamonds, rubies, and black enamel.
Both of Maddux's picks take something I love, cameos and snake jewelry, and twist them into something fantastically scary.
Maybe it's just the masterful enamel work bringing life to the piece, but the snake almost looks as if he could slither right up your neck and choke you.
 Related stories will be right here … 
"Photographic jewelry and hairwork adornments that belonged to Black Victorians are rare and curating a substantial number of these precious antiques can be more complex," explained Ward in an Instagram post.

"I am honored and thankful to preserve and collect historically significant artifacts belonging to our Black ancestors. Each item, a treasured heirloom, has a sentimental story that deserves to be honored & remembered."

This is a mourning stickpin set with a photo of an unidentified Victorian era woman. She has a small smile spreading across her lips, uncommon for photos of the era.

I'm always torn when it comes to mourning jewelry. 

On the one hand, having lost my mother, I can understand a grief that grips you so tightly it needs to be expressed. It's touching to carry a photo of your lost loved one around with you, like on a stickpin.

But on the other hand, it just creeps me out. There's also the added spookiness of a Victorian era photo, frozen in time and sepia.


Ward also shared a set of Victorian era mourning jewelry, including a French jet bracelet and beaded necklace, and a Vauxhall glass brooch.
Vauxhall glass
was first created in the Vauxhall Glassworks in London and was used as a gemstone substitute.
The funny thing is that if I didn't know they were mourning jewelry, I might think they were fun fashion pieces.
But that mourning aspect sinks in the more you look at them, and there's something unsettling about all the grief embedded into these jewels.
K.I.L. NYC
Konstantinos Leoussis of
KIL N.Y.C.
is both a
jewelry designer
and an antiques collector, traveling the world to bring back the coolest pieces he can find.
I've looked through his jewelry treasures before at a trade show, so I knew he'd have something perfect for this story.
This is a late 1700s pendant in 10-karat gold, a great example of mourning jewelry.

Inside is a watercolor and sepia painted scene of a man and woman with a neoclassical urn made of enamel, gold wire, and pearls.

Behind them is a weeping willow and a cherub, and above that, a banner that reads, "Tho lost to sight to memory dear." It's a lovely sentiment.

But, can you see that dirt on the very bottom? It's made of human hair.

There is something about jewelry with hair that creeps me out immensely. Maybe it's not weird if it's the hair of someone you love, but the thought of donning a dead person's locks is too much for me.

Now, if there's one thing creepier than mourning jewelry, it's memento mori jewelry.

Mourning jewelry commemorates the life of an individual while memento mori jewelry, literally "remember death," is an ever present reminder that the Grim Reaper is coming for us.

It's slightly cheerier than mourning jewelry in that it serves as a reminder to live life to the fullest, but I prefer a "seize the day" greeting over "remember death."


This piece is a late 1600s Stuart era crystal slide with an enamel skull, crown, and cherubs, sitting atop a lock of woven hair.

Is it a wonder that this piece is still around 300-plus years later and intact? Of course it is. But that only makes it creepier!

You know what keeps something together that long? Black magic, I say!

These are both beautiful pieces that will, if they haven't already, find wonderful homes. But not my home.

Happy Halloween!

Fall is the best time of year and Halloween, hands down my favorite holiday, is the cherry on top.

I look forward to writing a spooky story for you every Halloween, and I've noticed that each story has a running theme throughout it.

Whether I'm writing about famous cursed jewels or spooky antique pieces, the thread that ties them together is the idea that jewelry can hold onto energy.

I'm a believer in the superstitious and the supernatural, but even if you're not, it makes sense that jewelry can hold emotion. 

We all have jewels that bring a smile to our face or pieces that tug at our heart, reminding us of a dearly departed loved one.

Some of the jewels I featured, like the child earrings, are aesthetically creepy, but most of the pieces are spooky for hard-to-pinpoint reasons. They just have a bad vibe, whether that's spooky or sad. 

What amazes me most is the longevity of these pieces. 

I joked that black magic kept these jewels intact for hundreds of years, but it's the longstanding love of jewelry that makes us treasure jewels, even the spooky ones, and pass them down from generation to generation.

That being said, if you look up and see that clown stickpin, RUN.


More on Editors