Lightbox Is Now Selling Engagement Rings, and Nobody Should Be Surprised
The clues have been there since at least 2021, like a little trail of diamond shavings sprinkled through the virtual woods.
It's impossible to remember everything that was opined, predicted and discussed about Lightbox when De Beers
launched the brand
in 2018, but I do remember this.
In an
opinion piece
published in July 2018, shortly after Lightbox was introduced as fashion jewelry for slightly less-special special occasions, longtime industry analyst Ben Janowski wrote: "It seems very unlikely that De Beers would be taking this direction, plunging into a product that has been attacked by many diamond people, just to pursue this very limited range of fashion jewelry." 
He continued, "Spending about $100 million to build a new factory in Oregon could not be justified to sell 'moments' jewelry. Nobody can reasonably think that is its short- or long-term objective ...  To believe that De Beers will not expand the range of this line to include rings and more expensive products is foolish."
Five years, a
$94 million factory
and one global pandemic later, Janowski's prediction has come to pass, sort of.
Last week, a colleague alerted me to the fact that Lightbox was now selling engagement rings, per the
homepage of the company's website
but with no formal announcement preceding the launch.
Lightbox is framing the move as just a test that is only being advertised to consumers in three key markets, Atlanta, Dallas and New York (though anyone in any U.S. state can buy a Lightbox engagement ring from the company's website).
The test is set to last three months, with the rings sold only on the Lightbox website, the company said.
As of press time, there were 16 diamond engagement rings
available on the site
retailing for $500 to $5,000.
Rings set with regular Lightbox lab-grown diamonds are priced at the brand's standard $800 per carat, plus $700 for the 14-karat gold setting. Rings with a halo setting are an additional $300.   
There also are a few 18-karat gold rings set with "Finest" lab-grown diamonds, the name Lightbox has given to its more expensive, higher clarity (VVS) and color (D, E or F) diamonds.
The company said it is maintaining its $1,500/carat pricing for Finest stones but has, "not held to a fixed setting price for this test," adding that it is, "using this period to better understand consumer reaction to different propositions."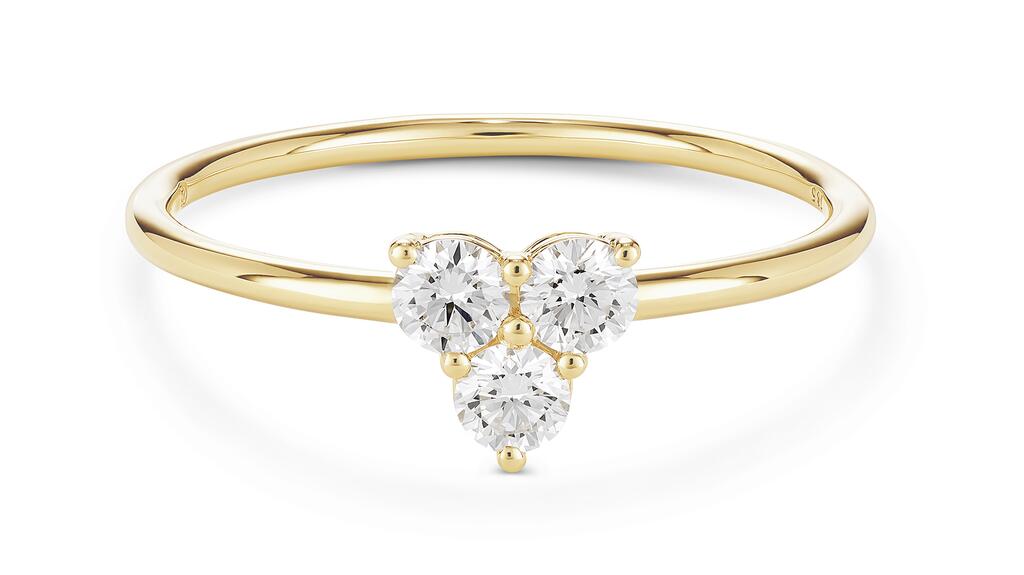 After I heard the news of Lightbox's light launch of engagement rings, I reached out to Janowski, who was impressed I had remembered his article from 2018 and unsurprised that Lightbox is selling, or at least testing the sale of, engagement rings.
When De Beers launched Lightbox, "I think they were concerned about panicking sightholders," he said, hence the "fun fashion" introduction.
But, he suspected, the long-range plan was to slowly build up to engagement rings because its other business—mining—isn't forever.
Currently, De Beers has mines in Botswana, Namibia, South Africa and Canada, with the lion's share of production (70 percent, according to its
year-end 2022 production report
) coming out of Botswana.
There are three active diamond mines in Botswana—Jwaneng, Orapa and Letlhakane—with their life expectancy ranging from 13 (Jwaneng, 2036) to 20 years (Letlhakane, 2043), barring the approval of any projects that could extend life-of-mine for these operations.
(There is a fourth diamond mine in Botswana, Damtshaa, but there's no mining taking place there at the moment.)
De Beers' current mining operation with the longest expected lifespan is Mining Area 1 in Namibia, which it anticipates will remain active for at least 19 more years, until 2042. Namibia as whole accounted for 6 percent of De Beers' overall production last year.
There are no more major mines coming online anytime in the near future and any new mines that do open will have their own unique set of challenges—host countries that, rightfully, will want more of a cut of their country's natural resources and increasingly unpredictable severe weather caused by climate change.
"De Beers never thinks short term, or they try not to," Janowski said Wednesday. "They see that they've got a volatile market, a key country partner in Botswana that's basically going to be taking over what's left of the diamond business there."
"Their mining days are literally fading away. So, what are they doing to do? What is their business going to be?"
The company needs to diversify, which is what it
tried to do
with diamond buybacks, and what it is doing with De Beers-branded stores and high jewelry collections, and Lightbox.
And if you're going to be in the business of growing diamonds and you have an efficient operation and are building, or at least attempting to build, a brand that consumers recognize, why would you
not
sell engagement rings? 
"I don't think you can avoid it," Janowski said. "If you are going to be in that business, why restrict yourself?"
 Related stories will be right here … 
Like Janowski, I wasn't surprised when a colleague texted me about Lightbox's new engagement rings last week, though it was the company's little moves that were the big tell for me.
As you might remember, when Lightbox started out, it was a lot of smaller (less than 1 carat) blue and pink diamonds in more fashion-forward settings. (I have an early Lightbox ring set with a fancy shape pink diamond; I still wear it regularly to this day and I get a lot of compliments on it.)
Over time, the company's production has gotten bigger, better and more targeted.
In August 2021, the factory started
pumping out 2-carat lab-grown diamonds
. That fall, it began selling
loose lab-grown diamonds
.
In September 2022, Lightbox expanded its selection of loose diamonds to include
more fancy shapes
, which are hot right now.
When Lightbox first began selling lab-grown loose round and princess-cut diamonds in fall 2021, it seemed the company was working overtime to distance the stones from engagement rings, essentially describing them as destined for custom pieces of fashion jewelry commissioned by female self-purchasers.
In a quote provided by the company, then-CEO Steve Coe used a lot of adjectives to describe Lightbox Loose without really saying anything, describing them as a "simple and accessible way to create fun and affordable, custom-designed lab-grown diamond fashion jewelry using our colorful array of stones."
Though the phrase "engagement ring" was not among the many words that passed Coe's lips, I wrote in December 2021 after a trip out West to see the finished Lightbox facility that these loose diamonds,
"seemed destined for engagement rings."
And now that's right where they are, for a three-month "test run," at least.  
More on Editors
Editors
Jul 05, 2023