'Estrela de Fura' Ruby, Purplish Pink Diamond Sell For $30M+ Each At Sotheby's
The "Estrela de Fura" is now the most expensive ruby ever sold at auction, while the purplish pink diamond set a couple records of its own.
New York—In a first for any auction house, Sotheby's sold two jewels for more than $30 million each on the same day—one of multiple records set at Thursday's Magnificent Jewels auction. 
The Mozambiquan ruby "Estrela de Fura 55.22" sold for $34.8 million ($630,288 per carat), a world record for a ruby and any colored gemstone at auction. It topped its pre-sale estimate
of $30 million
.
A private collector from the Middle East bought the gemstone.
The fancy purplish-pink diamond, "The Eternal Pink," also sold for $34.8 million ($3.3 million per carat).
Sotheby's said the 10.57-carat stone is the most vivid pink diamond to ever come to market.
The sale set a world auction record for a fancy purplish pink diamond and a new price-per-carat record for the color grade, though the stone didn't quite live up to
the pre-sale hype
. 
Both gemstones were sold at the Magnificent Jewels auction Thursday, where total sales added up to $95.9 million (estimate $87.9 – $99.1 million), setting yet another record as the highest ever total for any jewelry auction ever staged at Sotheby's in New York.
The previous record of $65.1 million was set in April 2015.
"We witnessed the historic sale of not one, but two of the most exquisite and important diamonds and gemstones to ever hit the auction block," Head of Sotheby's Jewelry, Americas Quig Bruning said.
Estrela de Fura 55.22
"It's difficult to express the range of emotions I felt when I first laid eyes on the 'Estrela de Fura 55.22', but to put it simply, I was entranced. With its unprecedented size, piercing color and rare degree of optical transparency and clarity, it truly deserved the record-breaking price today, as it now joins the ranks of the world's most legendary gemstones," Bruning said.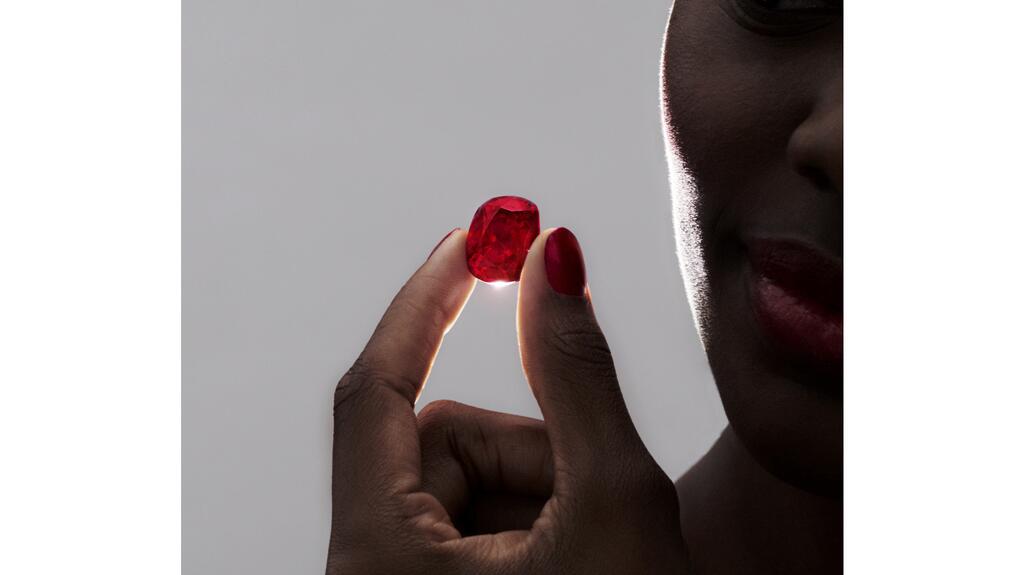 The 55-carat ruby began as a
101-carat rough
discovered at Fura Gems' ruby mine in Mozambique in July 2022, one of the largest ruby deposits in the world.
It had begun collecting accolades before the jewelry auction when named the largest gem-quality ruby to ever appear at auction.
Rubies of this importance and magnitude are exceedingly rare, the auction house said. Only two examples having ever surpassed $15 million at auction, making the gem's appearance itself a landmark event.
Fura Gems founder and CEO Dev Shetty called the achievement "a monumental milestone in FURA Gems incredible journey."
"In just five years, our company has experienced extraordinary growth, culminating in a historic moment where we proudly set a world record for any ruby or colored gemstone sold at auction."
The record previously was held by the 25.59-carat Burmese stone, the
"Sunrise Ruby,"
which garnered $30.3 million at Sotheby's Geneva in May 2015 but recently was sold again at auction
for much less
. 
In Sotheby's
"First Look"
for the gemstone prior to auction, it said even in its rough state, experts considered the Mozambiquan ruby to be, "an exceptional treasure of nature for its fluorescence, outstanding clarity and vivid red hue, known as 'pigeon's blood'—a color traditionally associated only with Burmese rubies."
While Shetty said the 55-carat ruby is a "once-in-a-generation discovery" and "the ultimate representation of Fura Mozambique rubies," he believes the sale could put Mozambique on the map as a significant source for the gemstone moving forward.
Its name means "Star of Fura" in Portuguese, a nod to one of the languages spoken in Mozambique.
"This ruby is a gift from Mother Earth, and its new owners will carry an enormous legacy for many years to come," Shetty said.
"Today's achievement not only validates our belief but also establishes a significant achievement for Fura Gems, and sets a precedent for Mozambique rubies, elevating them to the esteemed status of their Burmese counterparts."
Sotheby's
previously said
a portion of the proceeds from the sale of the Estrela de Fura will be allocated toward setting up the Fura Training Academy, with the goal of promoting access to education and technical training in the fields of mining, engineering, carpentry and agriculture.
The Eternal Pink
"It was equally an honor to have handled a diamond as breathtaking and extraordinary in nature as 'The Eternal Pink,' and its price today reaffirms that Sotheby's is the premier destination for the world's rarest diamond creations," Bruning said.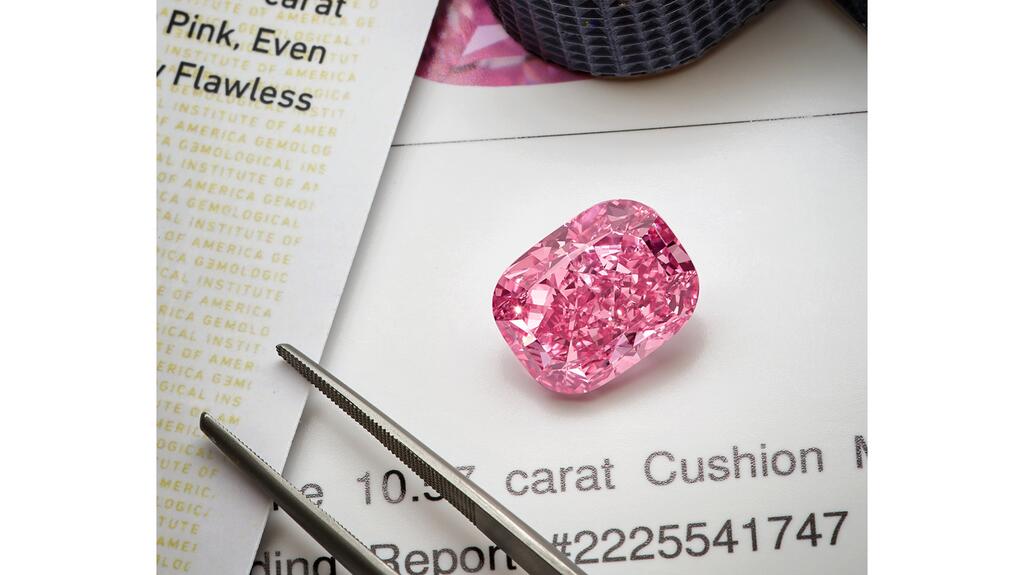 The internally flawless, fancy vivid purplish pink diamond's sale price of $34.8 million far surpasses the previous record for a diamond of this color grade, a
10.64-carat fancy vivid purplish pink diamond
sold for $19.9 million ($1.9 million per carat) at Sotheby's Hong Kong in 2019.
However, the price paid for The Eternal Pink fell just below its pre-sale estimate.
Previously, the auction house thought the diamond would challenge the price-per-carat record for any diamond or gemstone sold at auction that is currently held by the
Williamson Pink Star
(sold for $57.7 million/$5.2 million per carat), placing The Eternal Pink's pre-sale estimate at $35 million/$3.3 million per carat at the lowest.
De Beers, in partnership with the government of Botswana, unearthed the rough that became The Eternal Pink at the country's Damtshaa mine.
Over a period of six months, it was fashioned into a cushion cut by Diacore's team of artisans, who aimed to "maximize the diamond's electric 'bubblegum' color to full potential," the auction house said.
Bruning commented, "I proudly speak on behalf of the global Jewelry Department at Sotheby's when I say how truly privileged we are to have been a steward of these ultra-rare gems and today's results are further proof that there is continued demand for the finest diamonds and gemstones of the very highest order."
 Related stories will be right here … 
More Jewelry Auction News
Sotheby's found buyers for 91 percent of all lots at the auction, with more than two-third of sold lots achieving prices above their highest pre-sale estimates. Beyond the two jewels that surpassed the $30 million mark, an additional four pieces sold for more than $1 million.
Also up for sale at Sotheby's Thursday were the 11 pieces in the
collection of Constance Prosser Mellon and Constance Barber Mellon
, all of which sold, totaling $6.9 million in combined sales. It outdid its collective estimate of $3.9-$6.1 million.
Highlights include a prolonged five-minute battle between eight bidders for a Cartier sapphire and diamond ring from the collection of Constance Prosser Mellon, culminating in a final sale of $3.3 million (estimate: $1.5-$2.5 million).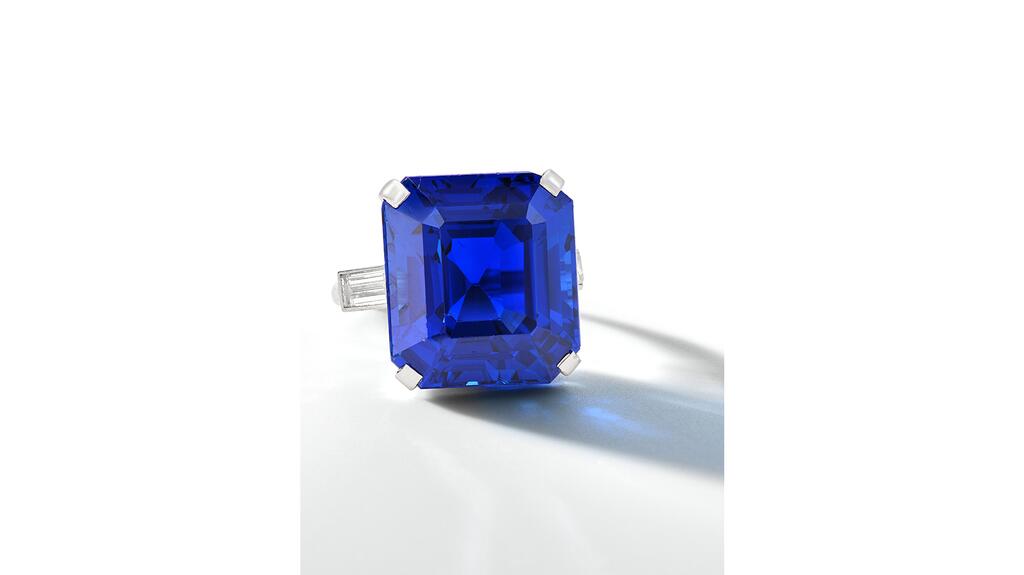 The 33.51-carat royal blue sapphire is of classic Burmese origin with no indication of heating.
Also from Constance Prosser's collection, a sapphire and diamond necklace created by Cartier in the 1950s, found a buyer for $2.8 million (estimate $2-$3 million).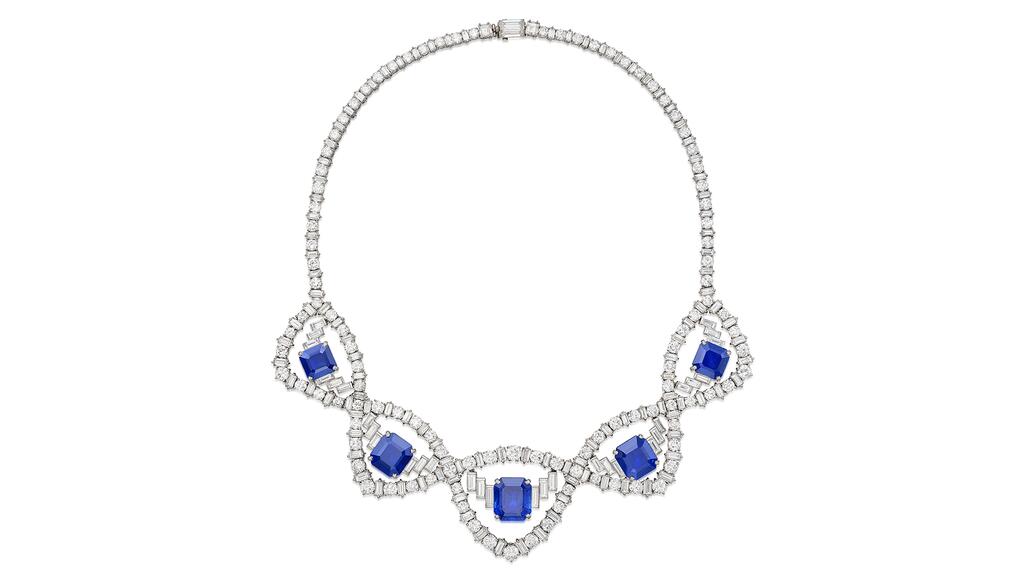 The necklace features five Kashmir sapphires, weighing a total of approximately 34.95 carats, and is further accented by round, baguette and square-cut diamonds.
"Epitomizing the bold visual language and finest quality of craftsmanship for which the prestigious house is so well-known, the necklace is also a fascinating embodiment of Cartier's design evolution in response to the fashion of the times, illustrated here with the shortened choker—a noted departure from the longer, draped necklaces of the Art Deco period," the auction house said.
Further property from the collections of Constance Prosser Mellon and Constance Barber Mellon will be sold in Sotheby's Fine Jewels sale on June 14.
The catalog is available
on Sotheby's website.
"Today's record-breaking result is a direct reflection and further confirmation of Sotheby's position as a market leader at the highest echelon of the global jewelry industry," said Sotheby's Head of Magnificent Jewels, New York Catharine Becket. 
"We are honored to have brought to auction this exceptional selection of jewels—anchored by several private collections with storied provenance—encompassing top-quality diamonds, superlative colored gemstones, and signed jewels from the most esteemed houses." 
More on Auctions