'Sunrise Ruby' lights up the auction world
The pigeon's blood red stone sold for $30.3 million, helping make Sotheby's May 12 sale the highest-grossing jewelry auction in history.
Geneva--A ring set with a 25.59-carat Burmese ruby set three world auction records Tuesday when it sold for $30.3 million to an anonymous buyer at Sotheby's Geneva.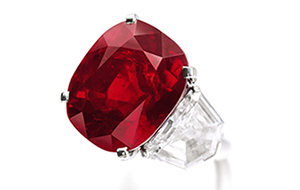 Called the "Sunrise Ruby," the untreated pigeon's blood ruby not only set a new world auction record for price paid for a ruby, but new records for price paid per carat for a ruby and price paid for a jewel by Cartier.
The high price of the gem contributed to Sotheby's May 12 sale of Magnificent and Noble Jewels achieving the highest-ever total for any jewelry auction at $160.9 million, dethroning Christie's November 2014 sale of Magnificent Jewels in Geneva,
which totaled $150.2 million
.
In addition to the Sunrise Ruby's records, an additional three world auction records were set on Tuesday for lots included in the sale's top 10.

Also performing well but not meeting pre-sale expectations was the "Historic Pink," an 8.72-carat fancy vivid pink diamond that sold for $15.9 million, below its pre-sale high estimate of $18 million.

The diamond, believed at one time to have been part of the collection of Princess Mathilde, the niece of Napoleon Bonaparte, is of VS2 clarity and is a non-modified cushion-cut diamond.

"(The) record result is the reflection of outstanding quality of the pieces in the sale across the board," said David Bennett, worldwide chairman of Sotheby's international jewelry division. 

"The galleries have been brimming with collectors during our worldwide exhibitions, and this translated into lively bidding throughout the sale … with truly global demand for the finest diamonds, gemstones and signed pieces of the very highest order."
A complete list of the auction's results can be found on
Sothebys.com
.
More on Auctions