First Part of Christie's Heidi Horten Jewelry Auction Garners $156M
The first-day total topped the 2011 Elizabeth Taylor auction despite controversy surrounding the sale and the top lots underperforming.
New York—Christie's held the first segment of the auction of late Austrian billionaire Heidi Horten's jewels in Geneva Wednesday, despite
the controversy
surrounding how her husband built his wealth.
As predicted by the auction house
, the sale beat the previous auction record set by the sale of Elizabeth Taylor's private jewelry collection in 2011 (total: $137.2 million), even with the most talked-about pieces underperforming.
In total, Wednesday's sale of pieces from Horten's jewelry collection garnered $156 million, said Christie's, more than the $139 million low-end estimate for the sale.
"There was significant global activity with bidders coming from all over the world, equally split between the Americas, Asia, Europe and the Middle East," said the auction house.
Around half of the lots, 46 in total, sold for more than $1 million.
Several of the pieces highlighted prior to the jewelry auction were up for sale this round, including the 90-carat "Briolette of India" diamond necklace and the "Sunrise Ruby" ring, though both sold for less than expected.
The "Sunrise Ruby" ring was the top lot.
The ring, which features a 25.59-carat pigeon's blood ruby with "exceptional purity," sold for $14.7 million, below its lowest pre-sale estimate of $15.7 million and
less than half
of what it went for when auctioned by Sotheby's Geneva in 2016.
The "Briolette of India" platinum and diamond necklace, set with a 90.36-carat briolette-cut diamond and surrounded by pear- and marquise-cut diamonds, was the second highest-grossing lot. It sold for $7.1 million, well below its estimate of $10.1 million to $15.7 million.
A Harry Winston three-strand natural pearl necklace, seen below, with an 11.15-carat cushion-shaped pink diamond clasp sold for $6.3 million, below its estimate of $7.2 million to $10.4 million.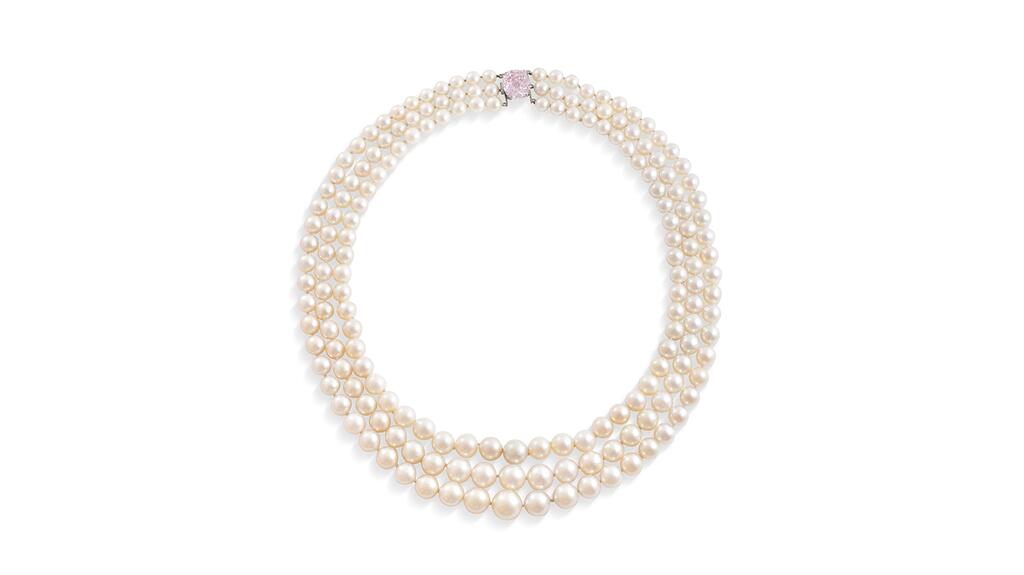 Related stories will be right here … 
Horten's collection of Bulgari jewels is especially noteworthy, said Max Fawcett, head of jewelry at Christie's Geneva, in an earlier statement about the auction, ranking it as one of the top five Bulgari collections ever assembled.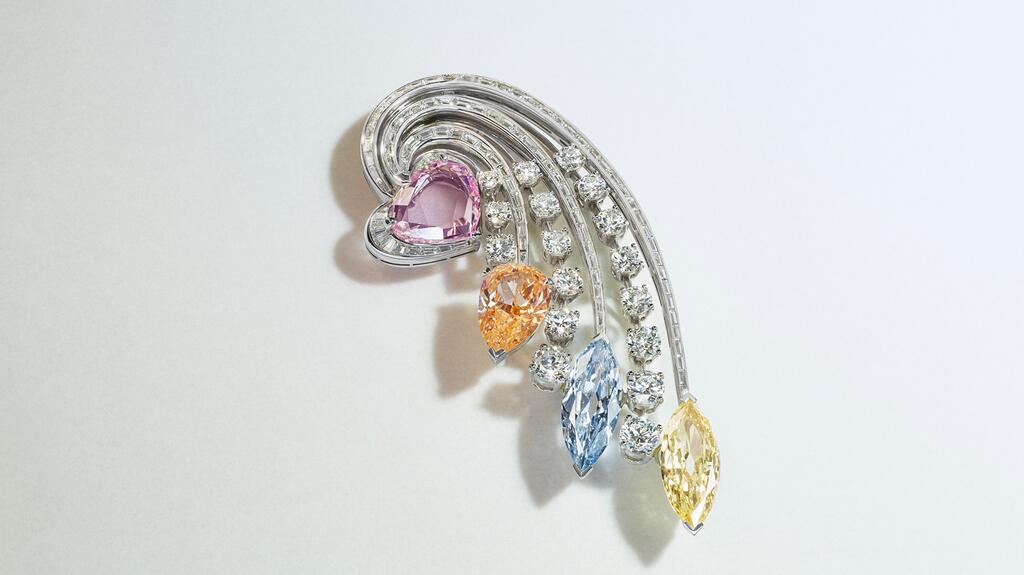 The Bulgari colored diamond brooch seen above features a 5.14-carat fancy intense orange pear-shaped brilliant-cut diamond, a 5-carat fancy intense purple-pink modified heart portrait-cut diamond, a 4.26-carat fancy blue marquise brilliant-cut diamond, and a 3.82-carat fancy intense yellow marquise brilliant-cut diamond.
It sold for $5.1 million, at the low end of its $5 million to $7.2 million estimate.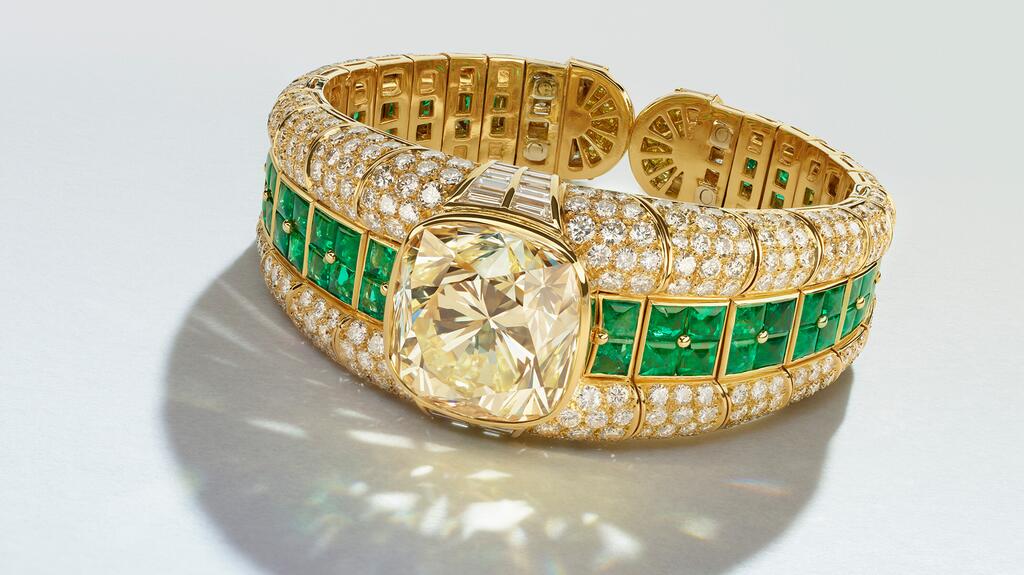 This Bulgari diamond and emerald bangle, seen above, set with a 32.32-carat fancy yellow cushion brilliant-cut diamond, sold for $481,000, within its $359,000 to $561,000 estimated range.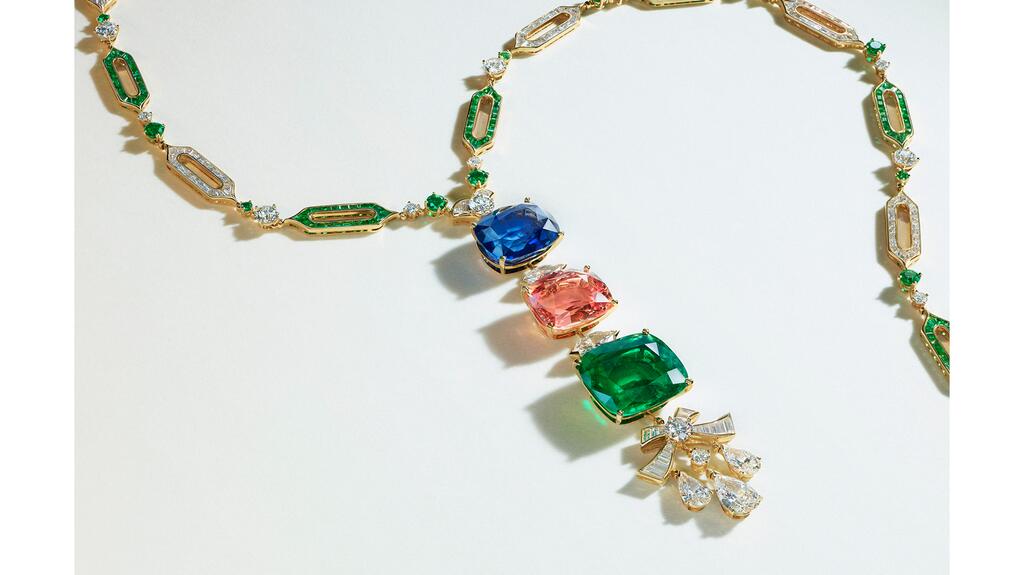 The colorful Bulgari pendant, seen above, set with a blue and padparadscha sapphires, emerald, and diamonds, sold for $2.9 million, well above its $1 million to $1.5 million estimate.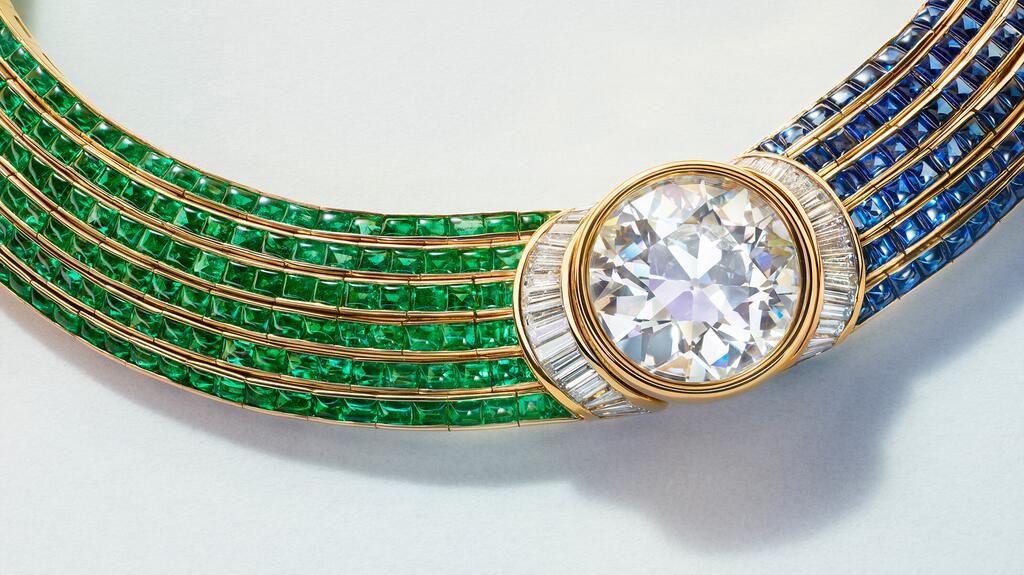 This Bulgari diamond, sapphire, and emerald necklace, seen above, set with a 46.56-carat Old European brilliant-cut diamond as well as baguette-cut diamonds and calibré buff-top sapphires and emeralds, also was up for sale.
A buyer paid $1.6 million for the piece, within its estimate of $1.2 million to $1.8 million.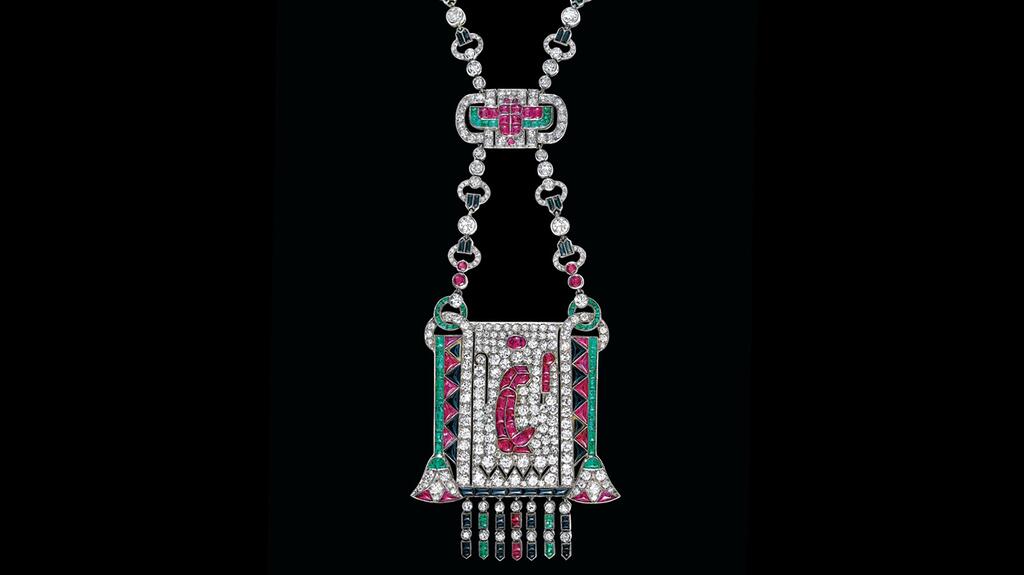 Another auction highlight was a diamond, ruby, emerald and onyx Van Cleef & Arpels Egyptian Revival sautoir, circa 1924, which Horten acquired from Christie's in Geneva in 2018.
It sold for around $3 million, within its estimate of $2.5 million to $3.6 million.
Another Van Cleef & Arpels piece, a ruby and diamond bird of paradise brooch, seen on the left below, sold for $509,000, well above its $202,000 to $314,000 estimate.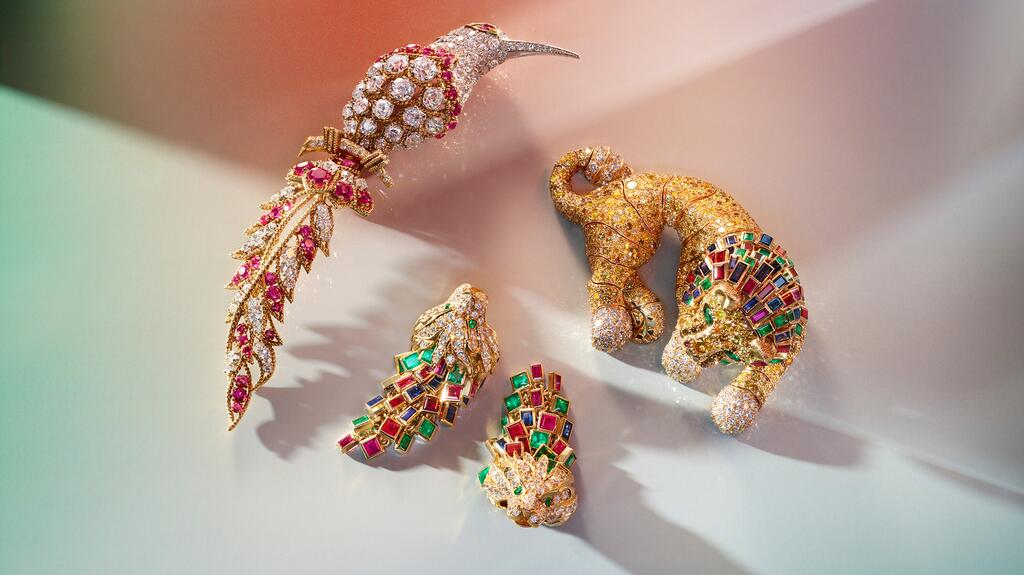 This lion brooch by René Boivin, seen on the right above, is set with rubies, sapphires, emeralds, and white, yellow, orange, and brown diamonds, and was sold alongside of a pair of "associated" earrings, set with rubies, sapphires, emeralds, and diamonds.
The set sold for $662,000, well above its estimate of $258,000 to $404,000.
Christie's went ahead with the Horten sale on Wednesday in spite of
calls from several organizations
to halt it after a New York Times report detailed how the late Helmut Horten profited when the Nazis forced Jewish people to sell their businesses at low prices.
The World Federation of Diamond Bourses, as well as Jewish organizations like the American Jewish Committee and the Simon Wiesenthal Center, called on Christie's to stop the auction or donate a greater portion of the proceeds to Holocaust education.
Following the backlash, the auction house said it will be donating a "significant" portion of the final sale proceeds to unspecified organizations that further Holocaust research and education.
The sale of Horten's jewels also will benefit The Heidi Horten Foundation, which supports her art museum—The Heidi Horten Collection in Vienna—and other causes.
The second live auction of Horten's jewelry is scheduled to take place Friday.  
There also will be two online sales, with one taking place now through May 15 and November dates to follow for the remaining jewels.
More on Auctions