See the Jewelry Collection Expected to Top Elizabeth Taylor's at Auction
Heidi Horten, wife of department store magnate Helmut Horten, collected jewelry from Bulgari, Cartier, Harry Winston and Van Cleef & Arpels.
Geneva—A private jewelry collection is heading to Christie's that has to be seen to be believed.
The collection of late Austrian billionaire Heidi Horten, spanning 700 lots, is the largest and most valuable private jewelry collection ever to come to auction, said Christie's.
The auction house estimates "The World of Heidi Horten" sale will fetch $150 million, surpassing the auction record set by the sale of renowned jewelry lover Elizabeth Taylor's private collection in 2011 (total: $137.2 million).
Christie's auction of Taylor's collection and its 2019
"Maharajas & Mughal Magnificence" auction
(total: $109.3 million) have been the only two jewelry collection sales to garner more than $100 million, it noted.
Prior to Taylor, Wallis Simpson, Duchess of Windsor, the wife of the former King Edward VIII, held the jewelry collection auction record when sales of her jewels surpassed $50 million at Sotheby's Geneva in April 1987.
Horten, a native of Vienna, Austria, was a notable collector of jewelry and modern and contemporary art, and an advocate for several causes, including social welfare and sports and medical research.
Her appreciation for art and jewelry began in childhood, as she was the daughter of an engraver.
That appreciation grew when she married her first husband, German billionaire Helmut Horten, the entrepreneur behind Horten's, a now-defunct chain of department stores in Germany.
The pair collected art and jewels together until Helmut's death in 1987.
For their wedding, Helmut gifted her the "Wittelsbach Blue," a 35.56-carat natural grayish-blue diamond that formerly has been part of both the Austrian and Bavarian crown jewels.
Christie's sold the diamond at auction in 2008 to another billionaire, diamantaire Laurence Graff. Graff recut it to 31.06 carats and renamed it the "Wittelsbach-Graff."
"Heidi was a sensitive and passionate collector with a deep appreciation for jewelry," said Max Fawcett, head of jewelry at Christie's Geneva. "She had a discerning eye and curated a sophisticated collection featuring some of the finest jewels ever to come to market."
"What makes this collection particularly remarkable is the breadth and quality of the gemstones represented," he added, noting collectors will find everything from costume jewelry to one-of-a-kind high jewelry pieces to historic jewels.
There are several auction highlights among her treasures, including a variety of jewels by Harry Winston and a selection of Bulgari jewels that give an overview of the Italian jewelry house's work from the 1970s to the present day.
The star of the show, however, is a ruby ring from Cartier
last seen at auction in 2015
.
The "Sunrise Ruby" and diamond ring features a 25.59-carat pigeon's blood ruby with "exceptional purity," said Christie's.
It is expected to sell for $15 million to $20 million, a seemingly low estimate considering it sold for a record-setting $30.3 million eight years ago.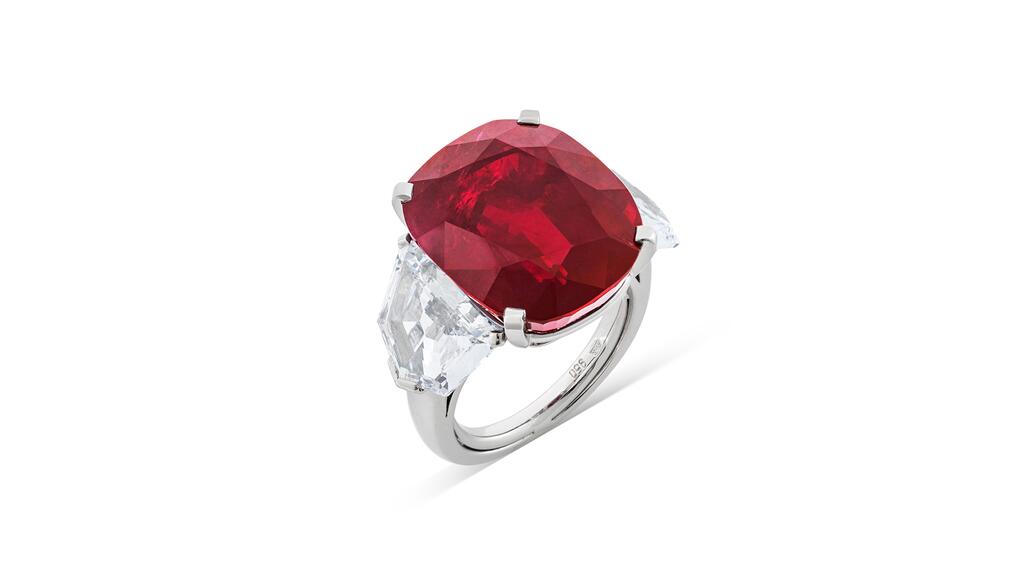 "Natural rubies of such quality and size are extremely rare," said Fawcett. "The depth of color, high clarity and brilliance make it one of the most sought-after rubies on Earth."
Another showstopper is the 90-carat "Briolette of India" diamond necklace, which has an interesting history.
Jewelry historian Hans Nadelhoffer told Christie's the stone was first cut in Paris, then sold to Cartier in the early 20th century. Cartier sold it in 1911, set in a brooch, to financier George Blumenthal.
Harry Winston acquired the piece in 1950, said Nadelhoffer, putting the diamond at the center of a marquise and pear-shaped diamond necklace. It was sold to Horten in 1971.
Christie's did not respond to a request for a pre-sale estimate on the necklace.
Another Harry Winston creation, a three strand natural pearl necklace with an 11.15-carat cushion-shaped pink diamond clasp, is expected to sell for $7 million to $10 million.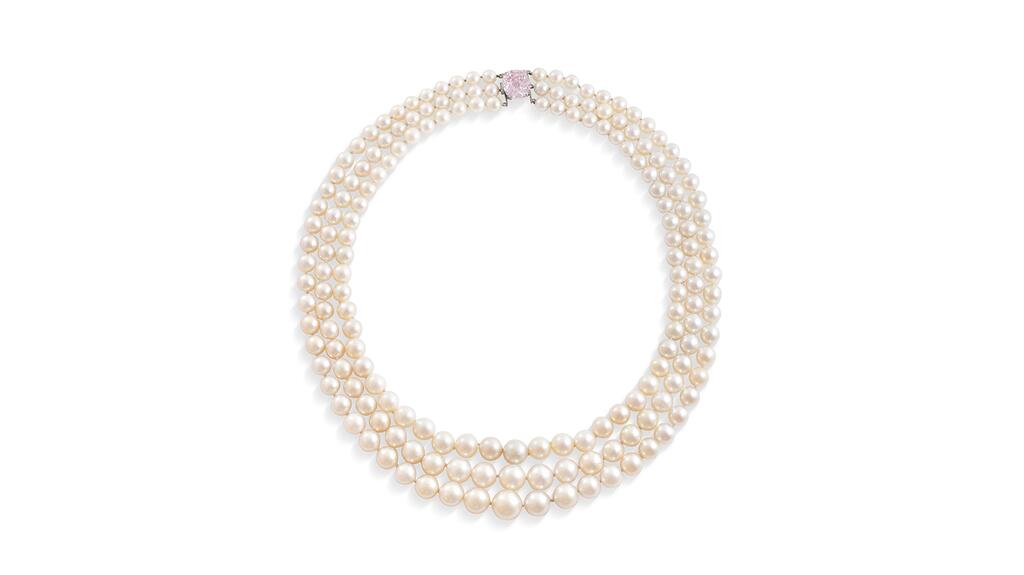 "The pearls are incredibly large and have a lovely pink color and an amazing luster," said Fawcett, calling it "one of the best pearl necklaces we have ever offered at Christie's."
A Harry Winston diamond bracelet is projected to sell for $5 million to $7 million.
The "Great Mughal Emerald" pendant necklace, seen at the top of the article and below, also by Harry Winston, set with a 362.5-carat carved emerald, could sell for $500,000 to $700,000.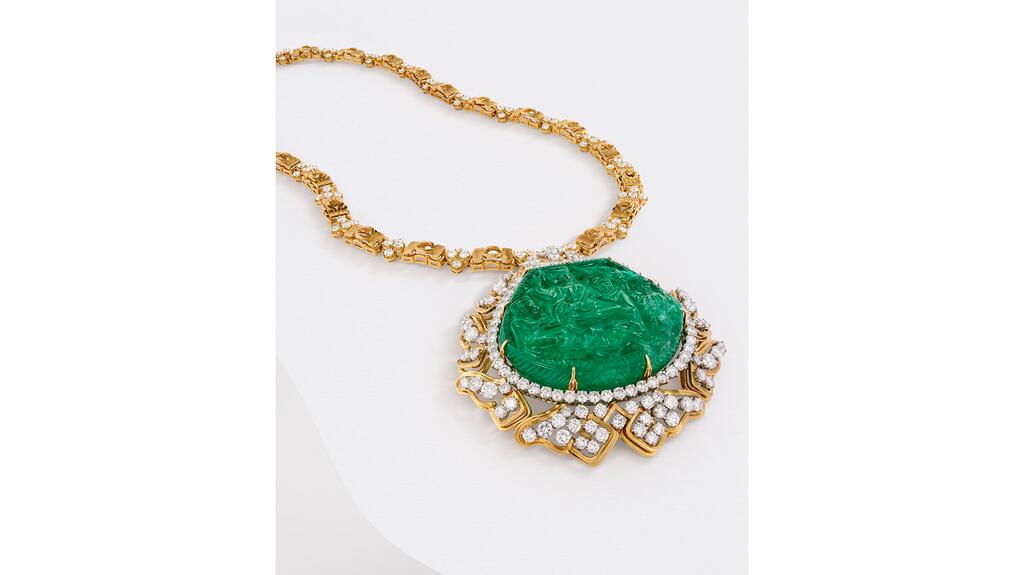 Horten's Bulgari collection is especially notable, said Fawcett, ranking it as one of the top five Bulgari collections ever assembled and noting that Bulgari pieces of this caliber command high prices at auction.
"They encapsulate the glamour and hedonism of 'la dolce vita.' Collectors are looking for vintage pieces in excellent condition that epitomize the style of the era, and these are the best of the best," he said.
A Bulgari highlight, seen in the first slide below, is a diamond, sapphire and emerald necklace, set with a 46.56-carat round brilliant-cut diamond.
The piece was first sold by Cartier in 1975 when it was set in a ring. Later acquired by Harry Winston, it was reimagined as a necklace, and purchased by Horten in 1994.
"The explosion of color makes it a real 'wow' piece," said Fawcett. "The geometric design, featuring baguette-cut diamonds and cabochon-cut sapphires and emeralds, is instantly recognizable as Bulgari."
Christie's did not respond by press time to a request for pre-sale estimates on the Bulgari jewels.
SEE: Heidi Horten's Bulgari Collection

"The World of Heidi Horten is the collection of a lifetime," said Rahul Kadakia, Christie's international head of jewelry.

"From Bulgari to Van Cleef & Arpels, from a small personal memory piece to the 'Briolette of India,' this is a collector's dream. Building from extraordinary early pieces she acquired in the 1970s and 1980s, Mrs. Horten continued to grow and curate her sophisticated collection, eloquently combining vintage and modern designs from the leading jewelry houses of the world that today represent some of the finest examples ever to come to market."


 Related stories will be right here … 
The auction also will feature a jade necklace with a jade and diamond clasp that Fawcett called "one of the most important jade necklaces ever offered at auction," due to the size, color, and translucency of the 25 jade beads.
"To find a collection in Europe with such important jade is extremely rare," he said, noting it's mainly popular with Asian collectors due to its cultural association with good luck.
Fawcett also highlighted a diamond, ruby, emerald and onyx Van Cleef & Arpels Egyptian Revival sautoir, circa 1924, which Horten acquired from Christie's in Geneva in 2018.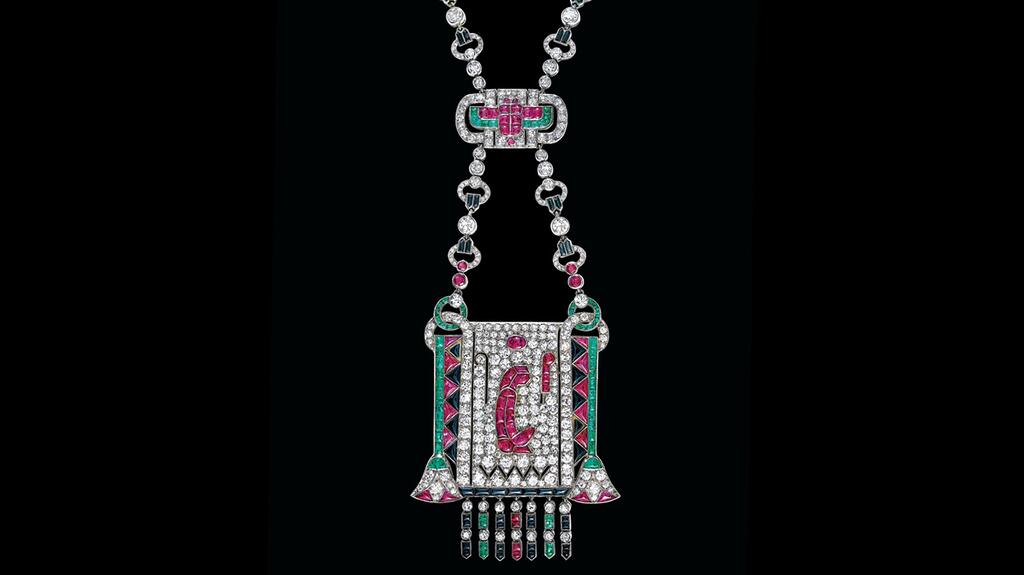 While it may not be the most valuable, he predicts its rarity and condition will make it a favorite among collectors.
"It's so rare to find Egyptian Revival jewels, and this one—depicting a winged scarab with, below it, the goddess Maat, representing truth and harmony—is of museum quality," he said, adding only two necklaces of this design are known to have been made, and the location of the other necklace is unknown.
Pre-sale estimates were not provided for the jade necklace or sautoir.
Christie's will present 400 of the 700 jewels via two live auctions at The Four Seasons Hotel des Bergues in Geneva during Luxury Week this spring.
A viewing will take place in Geneva May 7-12, with the first part of the auction scheduled for May 10, and the second for May 12.
There will also be two online sales. The first online sale will be held May 3-15, with November dates to follow for the remaining jewels.
The collection will be on tour throughout the month of April, stopping in Hong Kong, Shanghai, Vienna, New York, Taichung, Taipei, Dubai, London and Singapore, before heading to Geneva in May.
The sale of Horten's jewels will benefit The Heidi Horten Foundation, which supports her museum and other causes. Her sizable art collection has a permanent home at
The Heidi Horten Collection
, an art museum in Vienna.
"This is a historic moment for Christie's to have the privilege of offering one of the world's finest and most important jewelry collections originating from Europe," said Anthea Peers, president of Christie's EMEA. "Furthermore, to witness a philanthropic effort of this scale is as rare as it is remarkable."
For more information about the auction, visit Christie's
website
.
More on Auctions