Sotheby's to Auction Mellon Family Jewelry
Signature pieces from Cartier and David Webb will appear in the June jewelry auction.
New York—Sotheby's announced recently that jewelry belonging to two prominent women in the Mellon family, the influential Pittsburgh family that founded Mellon Bank, will appear at auction this summer.
The selection of 11 pieces comes from the
collections of Constance Prosser Mellon and her daughter Constance "Connie" Barber Mellon
and will be offered at the "Magnificent Jewels" auction in New York on June 8.
"Comprising exceptional colored stones and jewels from esteemed houses and designers such as Cartier and David Webb, the Mellon collections exemplify extraordinary quality and timeless elegance," Sotheby's said.
The sale takes place almost 10 years after Sotheby's auctions of "The Collection of Mrs. Paul ('Bunny') Mellon" in 2014, where a 9.75-carat fancy vivid blue diamond was the top lot, setting two world auction records.
"Like Bunny Mellon, Constance and Connie were staples in society with legacies to match. Considered to be ineffably glamorous, the mother-daughter duo were praised for being ahead of their time in the world of fashion and jewelry, and this is expertly demonstrated in their collection of bold, yet timeless, designs," said Catharine Becket, head of Sotheby's Magnificent Jewels auctions in New York. 
"It is a privilege not only to present these exquisite jewels from their personal collection to the world, but also to shine a spotlight on their philanthropic endeavors throughout their lifetime."
From the collection of Constance Prosser Mellon, a Cartier trio is up for sale.
The first offering is a 1950s Cartier necklace featuring five Kashmir sapphires, weighing a total of approximately 34.95 carats, and accented by round, baguette, and square-cut diamonds.
Sotheby's calls the design "a fascinating illustration of Cartier's design evolution in response to the fashion of the times … the shortened choker a noted departure from the longer, draped necklaces of the Art Deco period."
Popular in its era, Elizabeth Taylor owned a similar style necklace accented with rubies and diamonds.
The pre-sale estimate is $2.5 million to $3.5 million.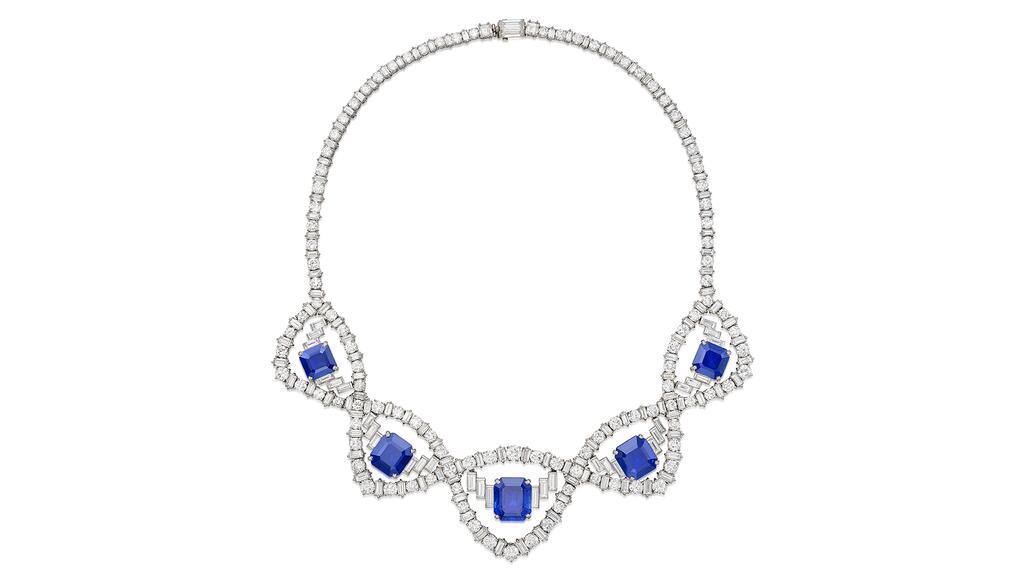 Following the necklace is a Cartier three-stone sapphire and diamond ring.
The piece is a family heirloom Sotheby's said was "adored and cherished by the matriarchs of the Mellon family for decades."
The center stone, flanked by two baguette diamonds, is an emerald-cut Burmese sapphire that is royal blue in color, weighs 33.51 carats and has no indication of heating, according to the auction house.
Its pre-sale estimate is $1.5 million to $2.5 million.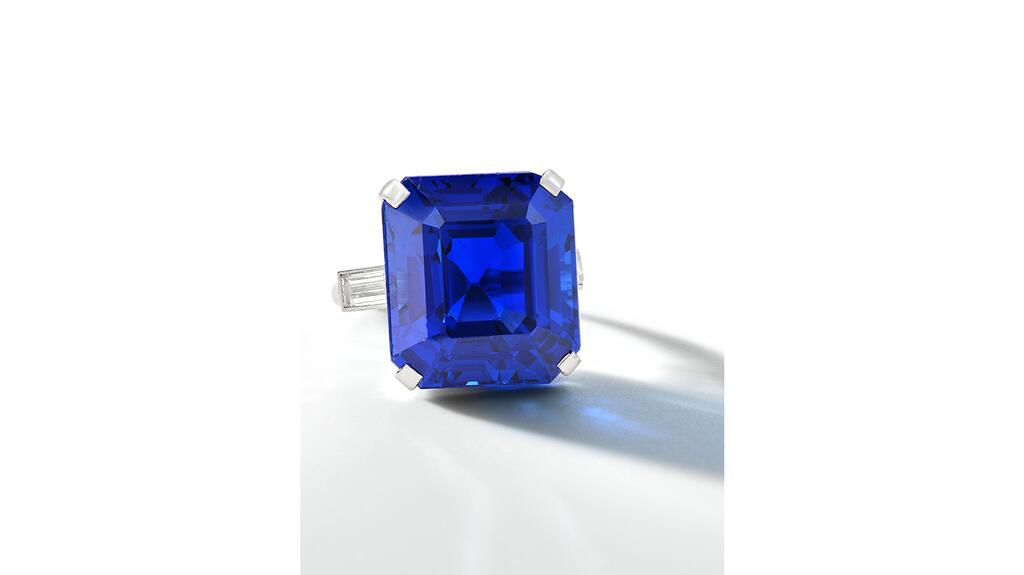 "Three-stone rings like this one are classic Cartier designs, heavily favored by jewelry collectors such as the illustrious Princess of Grace of Monaco, whose diamond engagement ring from 1956 was in a similar style," Sotheby's said.
The last ring in the trio is a 9.90-carat emerald-cut Colombian emerald and diamond ring. Sotheby's described the emerald as being of "exceptional clarity" and "relatively free of inclusions."
It is estimated to sell for $150,000 to $250,000.
Constance Prosser Mellon married Richard King Mellon in 1936.
Following the death of his father in 1933 and his uncle Andrew Mellon in 1937, Richard was entrusted with the future of the family businesses, Mellon Bank and Union Bank, which he consolidated into Mellon National Bank and Trust Co.
The same year he took over the family business, Richard founded the Richard King Mellon Foundation, naming his wife as its chair of the board of trustees. 
Influenced by the couple's love and dedication to Richard's hometown of Pittsburgh, as well as the outdoors, The Foundation was focused on regenerating Pittsburgh and the surrounding areas, as well as on conservation, donating "considerable sums" to the University of Pittsburgh, Carnegie Mellon and other higher education institutions in the area, and other projects such as hospitals and medical schools in Western Pennsylvania, social services and cultural activities. 
 Related stories will be right here … 

Richard and Constance Prosser Mellon raised four children together, including Constance "Connie" Barber Mellon.

According to Sotheby's, Connie is remembered as an active patron of the arts. Like her mother, she took an interest in horseback riding. 

As an adult, she lived in Washington, D.C., and New York, and supported organizations including the National Gallery of Art and the Whitney Museum of American Art.

From her collection, eight pieces of jewelry will be offered at auction, including a David Webb ruby necklace she was photographed in.


Though her style is described as being more fashion-forward than her mother's, one piece from Connie's collection is a classic attributed to Cartier—a sapphire brooch with a paisley design featuring an antique pear-shaped diamond accented with round and oval sapphires, and old European- and old mine-cut diamonds.
It's estimated to sell for $15,000 to $20,000.
The other pieces in her collection are bold as well, featuring vivid rubies and sapphires.

"In contrast to the stately, royal-like Cartier jewels of her mother, Connie was drawn to more fashion-oriented and whimsical design-led jewels of David Webb, the quintessential American jeweler of the 1960s and 1970s, which she treasured and wore on numerous occasions," Sotheby's said. 


David Webb was inspired by his weekly visits to the Metropolitan Museum of Art to incorporate motifs from around the world, including India.
Webb's global inspiration is reflected throughout Connie's collection, with many of her pieces featuring carved rubies, emeralds and sapphires in a Mughal style.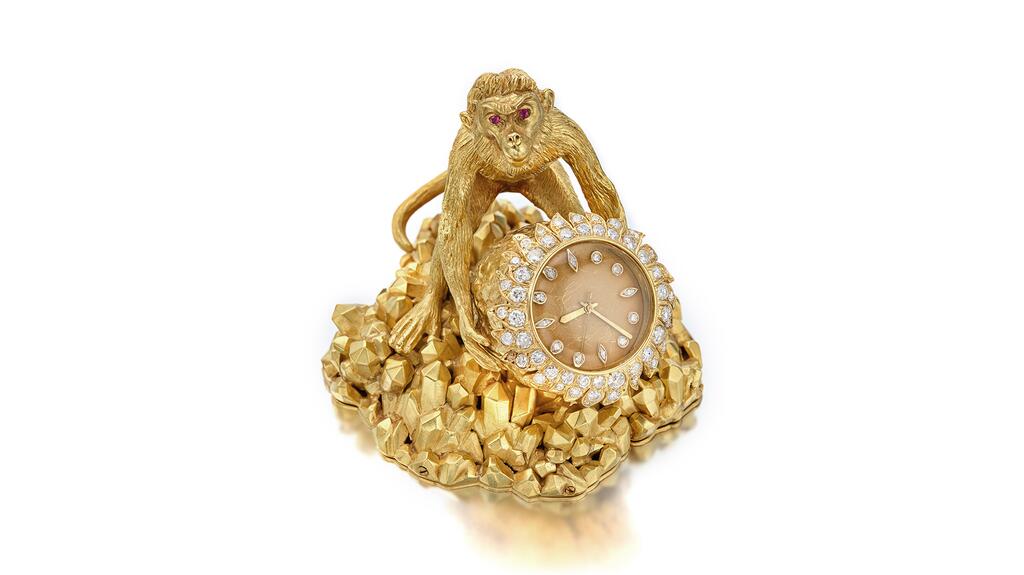 Also set to appear in Sotheby's June Magnificent Jewels auction is the headlining 10.57-carat internally flawless, fancy vivid purplish pink diamond known as
"The Eternal Pink,"
expected to sell for at least $35 million, and the 55.22-carat ruby
"Estrela de Fura"
expected to garner more than $30 million. 
More on Auctions