See 50+ Jewels Debuting at Couture in Las Vegas
The industry's most influential contemporary designers are showcasing their latest jewelry designs.
Las Vegas—It's all happening.
On Wednesday, Las Vegas jewelry market week 2023 had its soft opening, so to speak, with JCK Luxury beginning its two days of invite-only appointments preceding the main JCK show, and Couture offering a glimpse of its latest designs at its evening preview event.
Today, Couture kicks off in earnest.
With all eyes trained on Sin City, enjoy this highlight reel of the new pieces Couture designers are debuting at the jewelry trade show.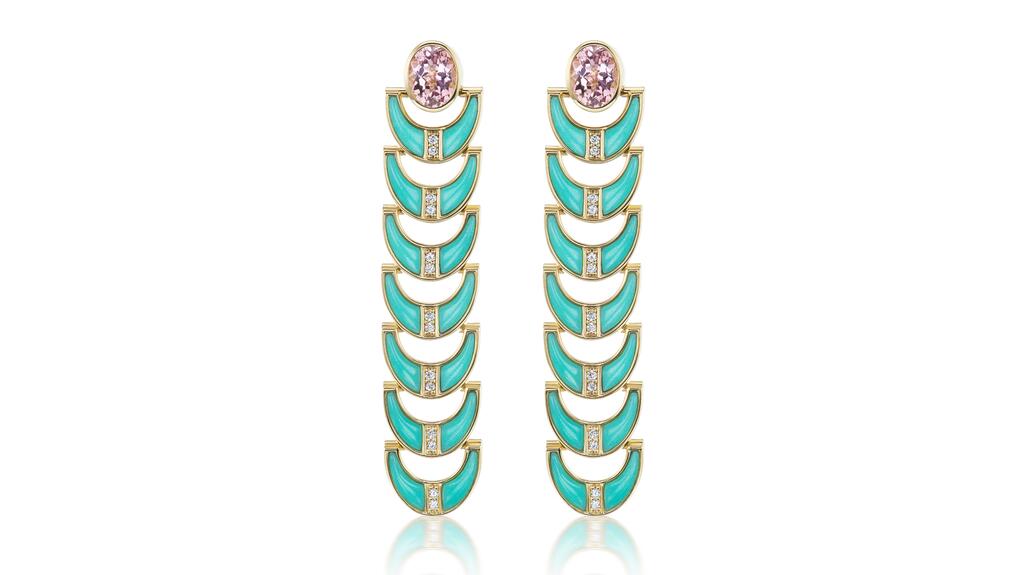 Every summer, the sisters behind
Sorellina
, Kim and Nicole Carosella, visit Capri. The influence of their ancestral homeland, Italy, is felt in new collection "Dieci," meaning "ten" in Italian, launched just ahead of Couture to mark 10 years in business.
The collection began to take shape after the Carosellas chanced upon a parcel of Sleeping Beauty turquoise they thought perfectly matched Capri's waters.
The Italian holiday theme extends to statement earrings, necklaces, and rings that reference sunsets, rocky beaches, and of course, the Amalfi coast's signature lemons by way of hand-carved yellow opals. 
See Sorellina's anniversary collection at booth 605.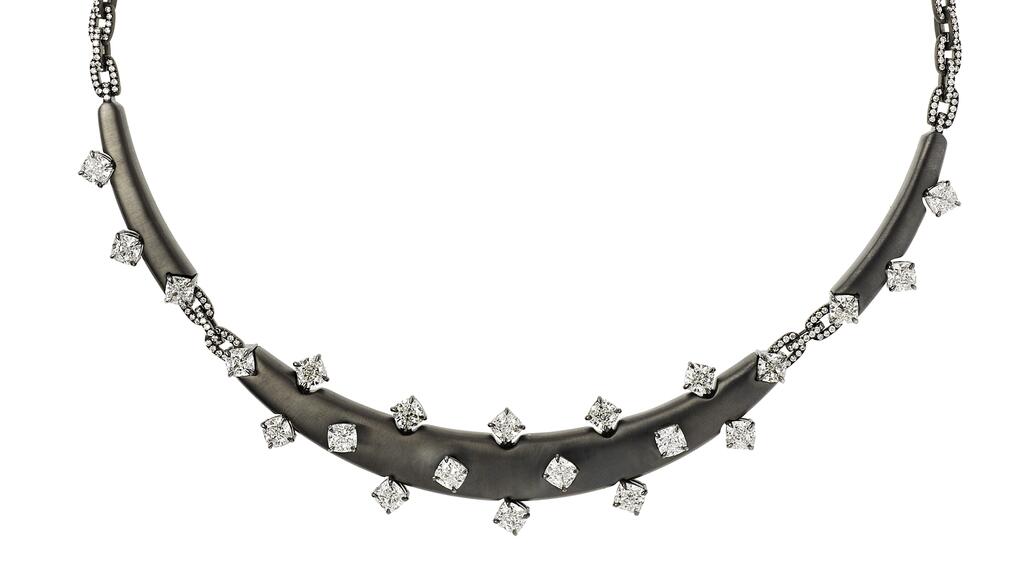 A stop at the Muse booth alone could easily occupy a day at Couture. Not be missed among the showroom's roster of talents is legendary Greek designer
Nikos Koulis
.
For Koulis' tradeshow newness, expect mixed metals and rhodium-plated gold that could make one momentarily forget yellow gold's current market dominance.
On the note of reviving materials that are out of favor, Koulis' scattered cushion-cut diamonds set on an angle are reminiscent of princess cuts. At Koulis' hand, the shape feels edgy and compelling.
See more of him at Muse, booth 412.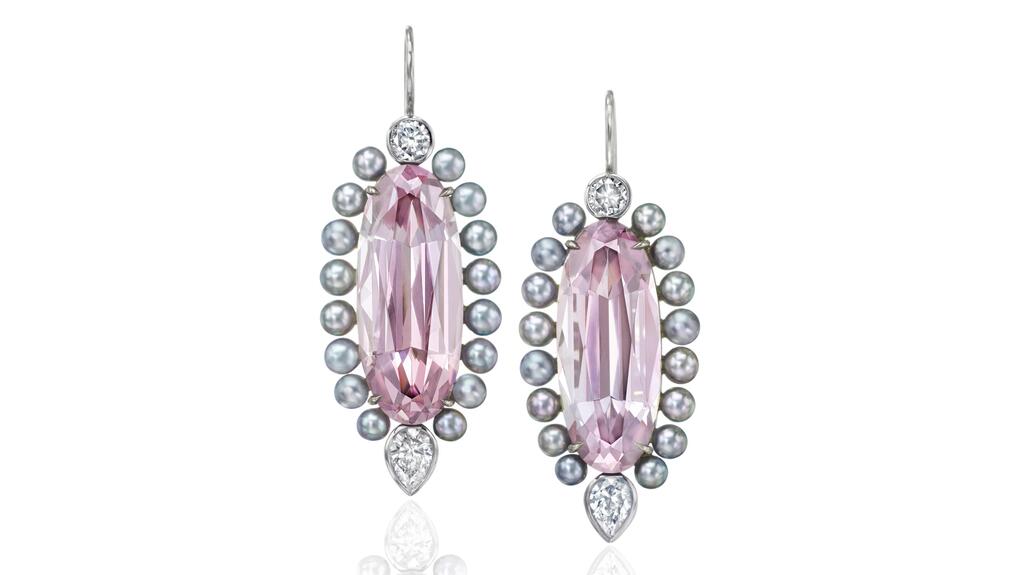 There's no limit to
Assael
's innovation of pearl jewelry designs, as evidenced by the above earrings featuring multicolor pastel baby Akoya pearls surrounding tourmaline.
They are part of "The Colors" collection that pairs pearls and coral with other gemstones.
A new capsule collection from the range will feature materials like agate, petrified wood, and jasper.
The popular "Bubble" collection by Sean Gilson also will debut new designs at the show.
See it all at booth 113.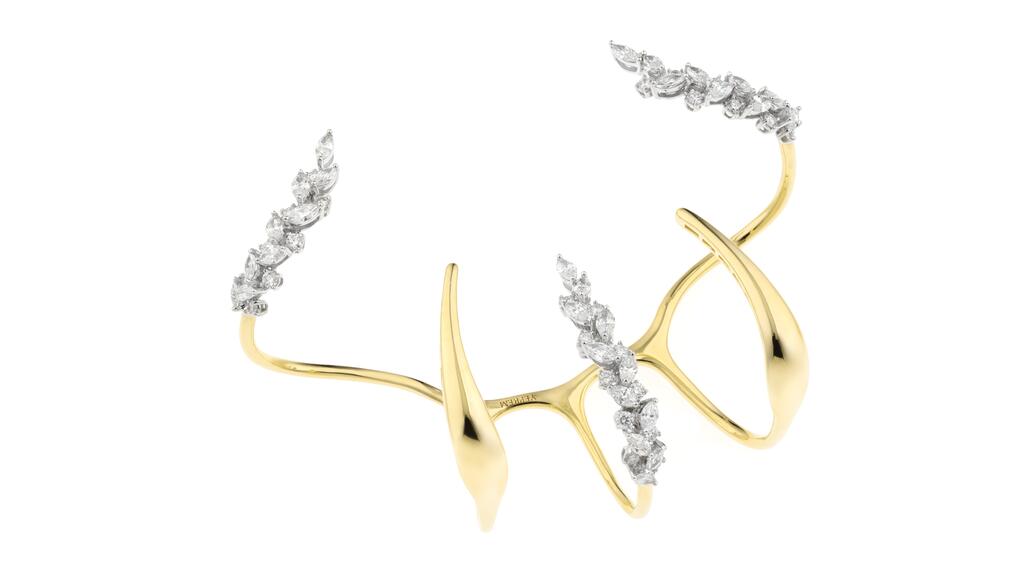 It's a big anniversary for a brand-defining design at
Yeprem
. This year, the "Claw" celebrates a decade.
The company calls it the first such hand piece in the fine jewelry industry, an innovative jewel that defies categorization as a bracelet or ring.
See new cuffs, earrings, ear cuffs, and necklaces in 18-karat yellow and white gold inspired by the Claw's long bejeweled tentacles.
The collection is on view at booth 618.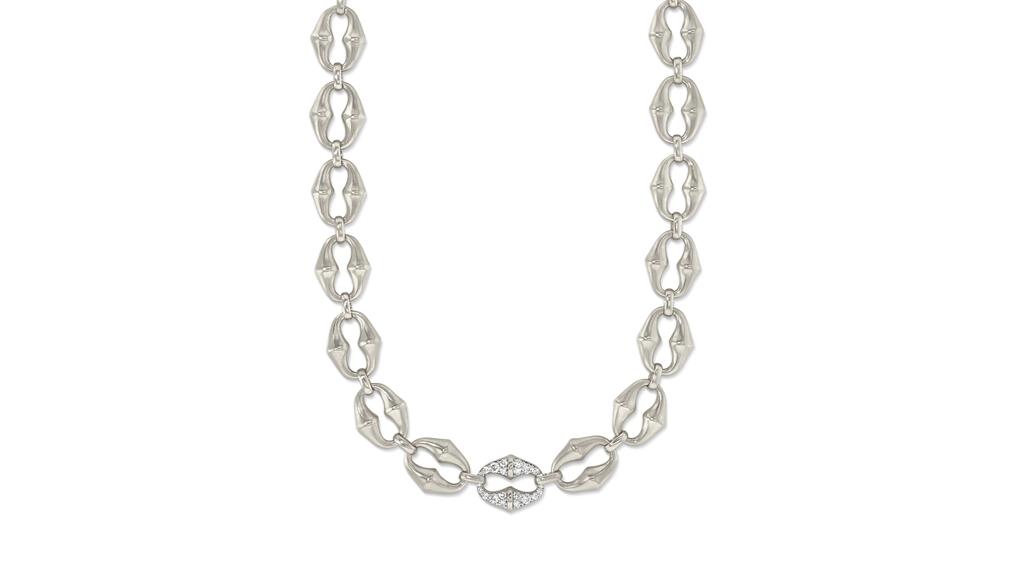 A pit stop at
Vram
during jewelry market week is a must to see the Los Angeles-based designer's latest one-of-a-kind pieces.
The most fanciful and elaborate designs are balanced by the more attainable, like necklaces comprised of Vram's signature "Chrona" link.
See all the latest designs at booth 308.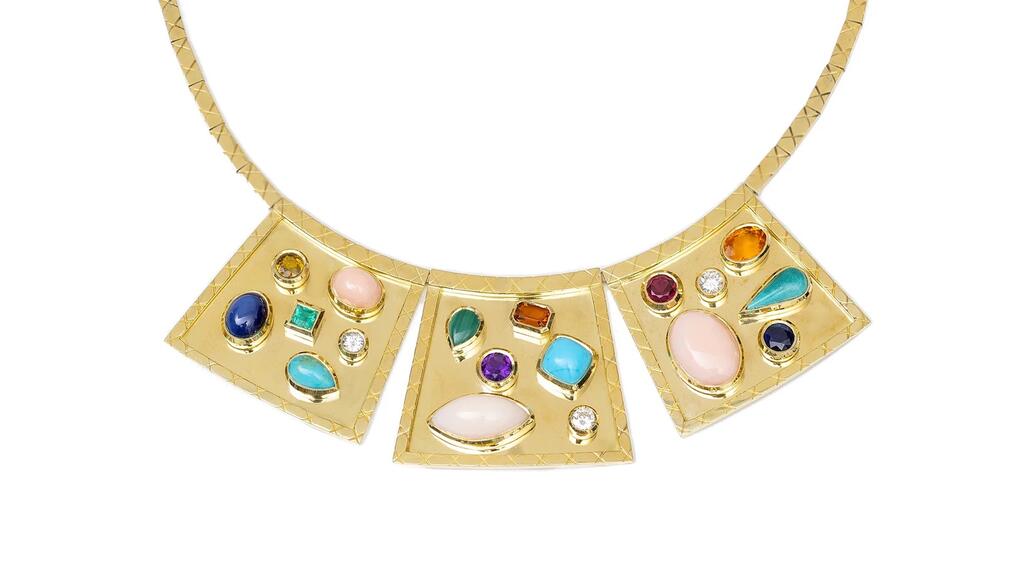 Haven't seen a bib necklace in a while? Leave it to
Jenna Blake
to make it covetable again, channeling the style's 1970s glamour in the new "Eyecon" collection.
The nod to icons of the decade will be full of Blake's signature colored gemstones like bright turquoise, emerald, and pink opal. Lapis lazuli and coral help exemplify the collection's midcentury mood.
Find Jenna Blake at booth 410.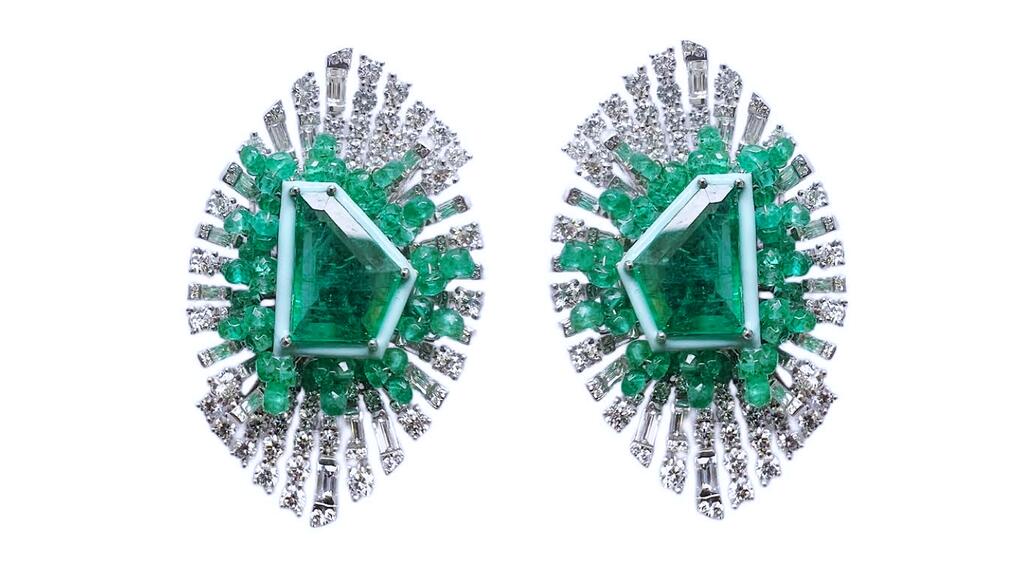 What sets
Kamyen
apart from other Indian master jewelers with a rich heritage is its modern approach to color.
Bright pops of enamel make materials like emeralds and diamonds feel totally new and unexpected.
See Kamyen in person at booth 313.
Thanks to events like the
Couture Design Awards
, many brands take the trade show as an invitation to unleash their wildest fantasy jewels.
In recent years,
Harwell Godfrey
has consistently risen to the occasion, applying her geometric designs to one-of-a-kind jewels depicting animals like owls and beetles.
For 2023, the designer turns her bold touch to flowers, debuting the "We Are Seeds" collection, which leans into flora's boldness rather than its vulnerability.
See it at For Future Reference, located at Villa 310.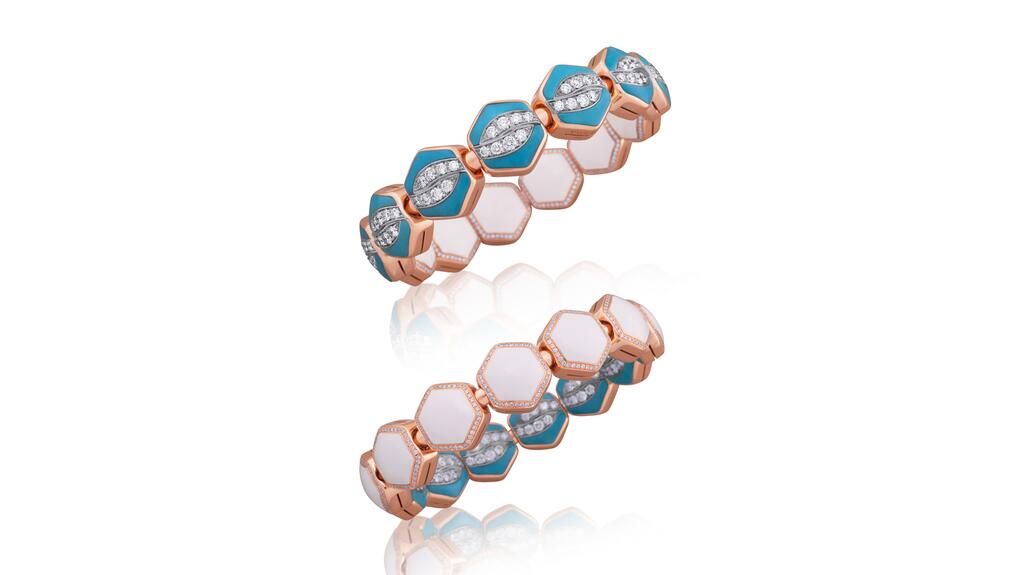 Picchiotti
's popular "Xpandable" collection of luxurious stretchy jewels continues in new colors of gemstones and ceramics.
In addition to those bestsellers, don't miss the Italian company's one-of-a-kind jewels, like a necklace with 82.75 carats of heart-shaped blue sapphires and 29.48 carats of heart-shaped diamonds that's priced at well over $1 million.
See it at booth 219.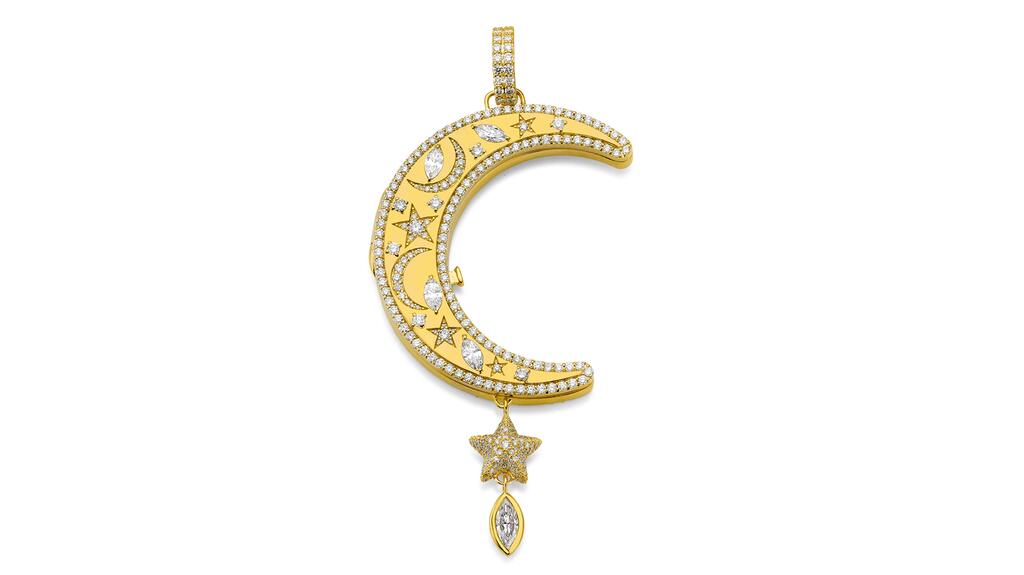 Buddha Mama
excels at interpreting a theme, extracting its symbols and colors to tell a complete story.
This year, jewelry inspired by the heavens is the mood for the Miami-based mother-daughter brand, in a follow-up to the "Celestial Love" collection. Meticulous details give new life to moons and stars.
There will also be updates to the company's popular enamel styles and go-to symbols like evil eyes.
See the collection at booth 422.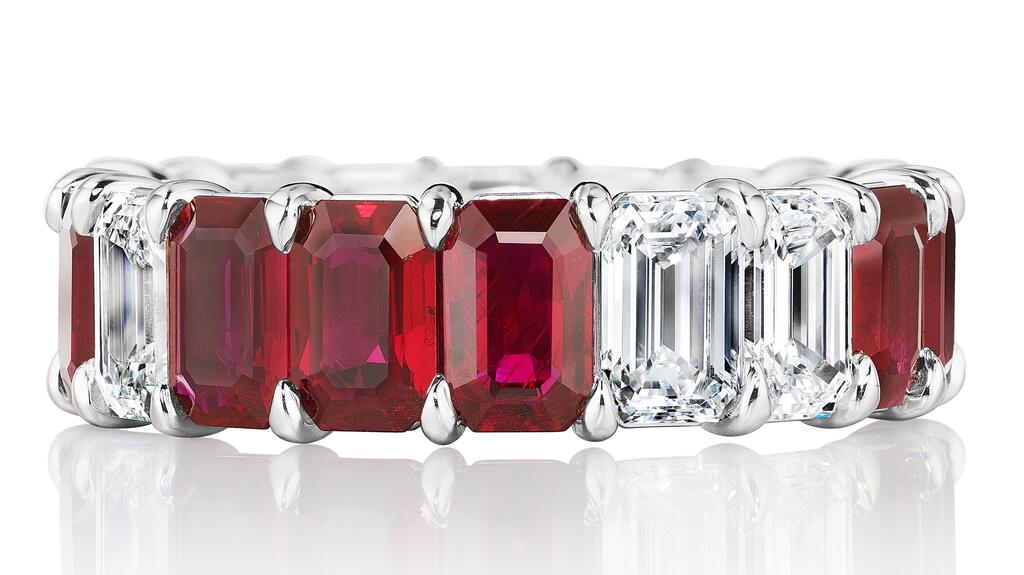 At booth 639, the classic eternity band gets an upgrade.
In honor of 25 years in business,
Arazi
is unveiling a line of customizable eternity bands called "Arazi Eternity."
Clients can choose gemstones and cuts to their liking, mixing diamonds with rubies, emeralds, and sapphires, in configurations of their choice.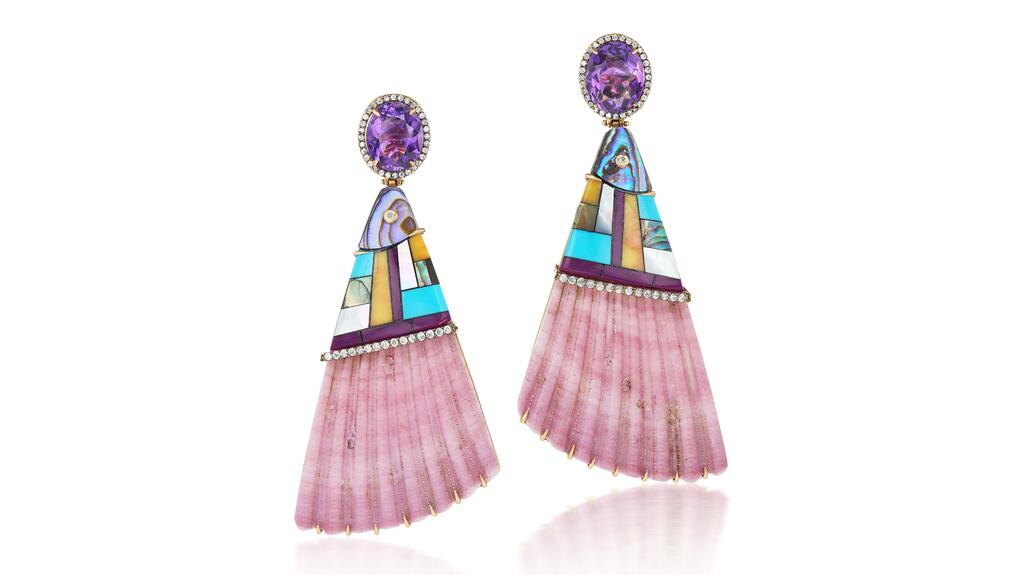 Boundary-pushing designer Silvia Furmanovich will add to her stable of unique, artisan-crafted jewels at Couture this year.
Look out for her signature wooden marquetry designs, stone micromosaics, and shells. 
The designer will exhibit at booth 415.
 Related stories will be right here …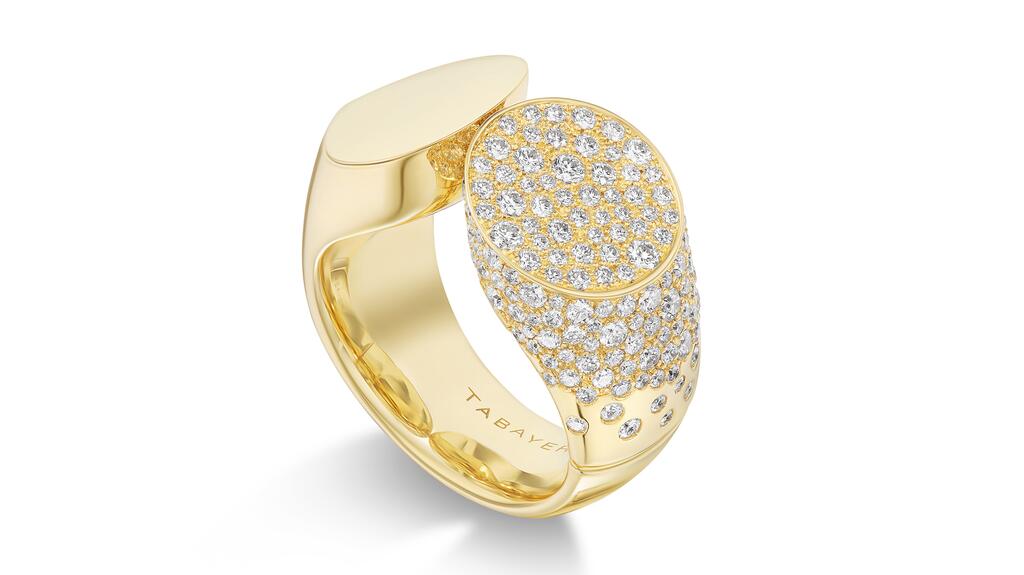 Tabayer
will continue to riff on its signature "Inanna's Knot" motif—a symbol of protection and fertility—expanding upon its winding, curving lines.
At Couture, the brand helmed by Nigora Tokhtabayeva will introduce its third collection, featuring pieces in a more dramatic scale than previous designs, produced entirely in 18-karat Fairmined gold and diamonds.
See it at booth 620.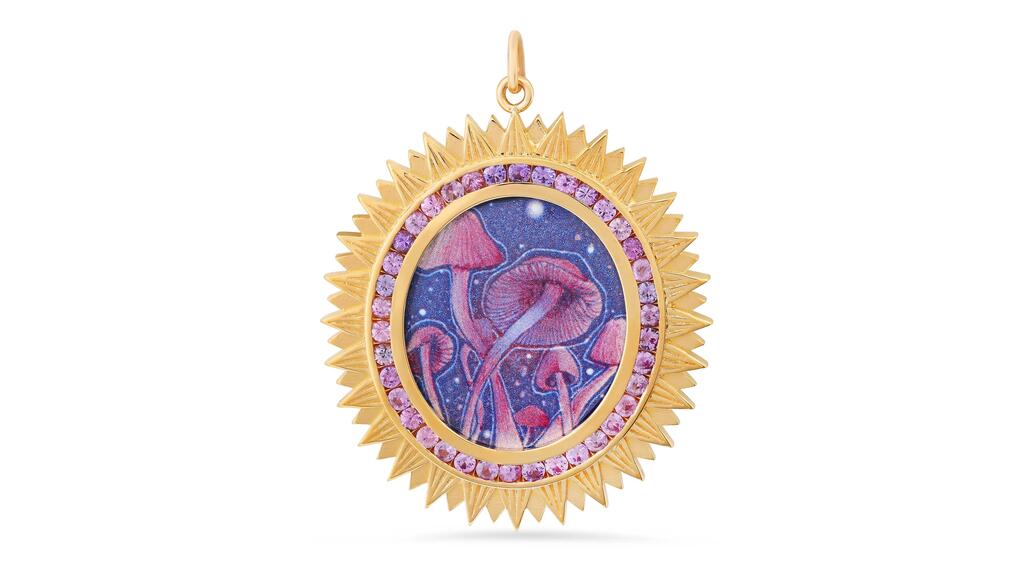 Colette
's "Santos y Cielos" jewelry featuring the designer's own religious sketches executed in enamel revamped classic crosses, medallions, and rosary-style necklaces to excellent effect.
Now, the designer will expand this new direction, debuting new symbols of love, fortune and protection.
Don't miss her miniature bejeweled paintings at booth 321.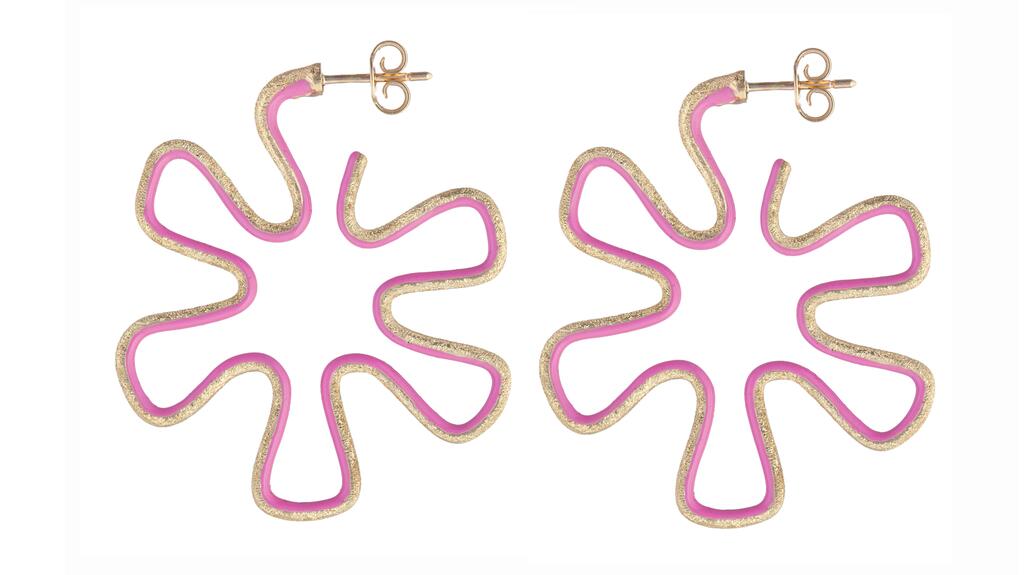 Count on
Bea Bongiasca
to bring the fun with her joyful enamel pieces.
She'll bring polka dots, stripes, new gold finishes, stacking rings, and even accessories like sunglasses to Las Vegas.
Join in on the designer's happy mood at the Muse booth, 412.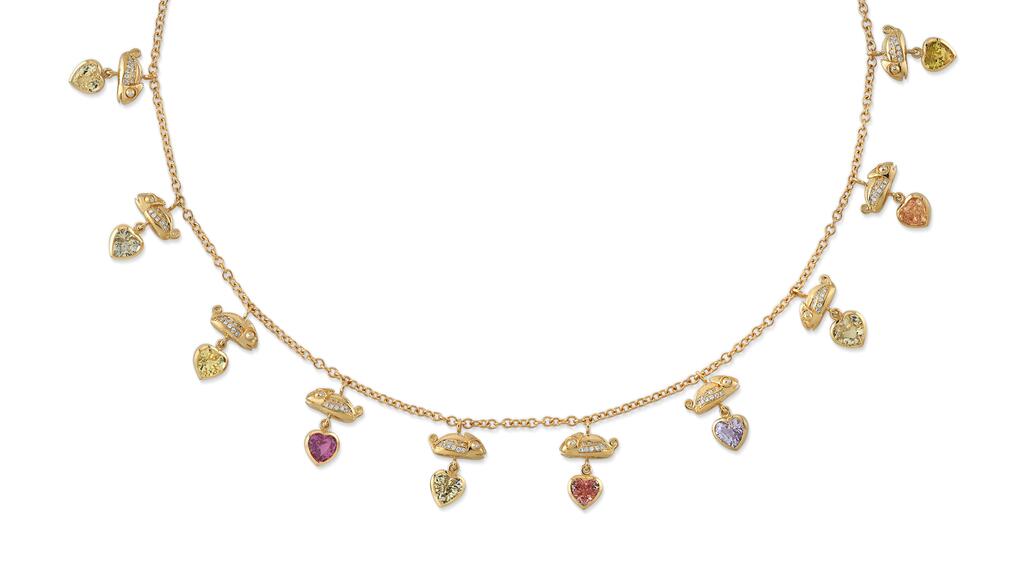 It's always a privilege to experience a
Daniela Villegas
jewel in person and though the designer doesn't exhibit at Couture, Muse will show a few of her pieces that are part of its charitable "Have a Heart" collection, which donates a portion of proceeds to a rotating mix of good causes.
Lots of jewels from the charitable multi-designer collaboration will be present for perusing at booth 412, from the likes of Fernando Jorge, Lorraine West, Anna Maccieri Rossi, Alina Abegg, and Luis Morais, among many others.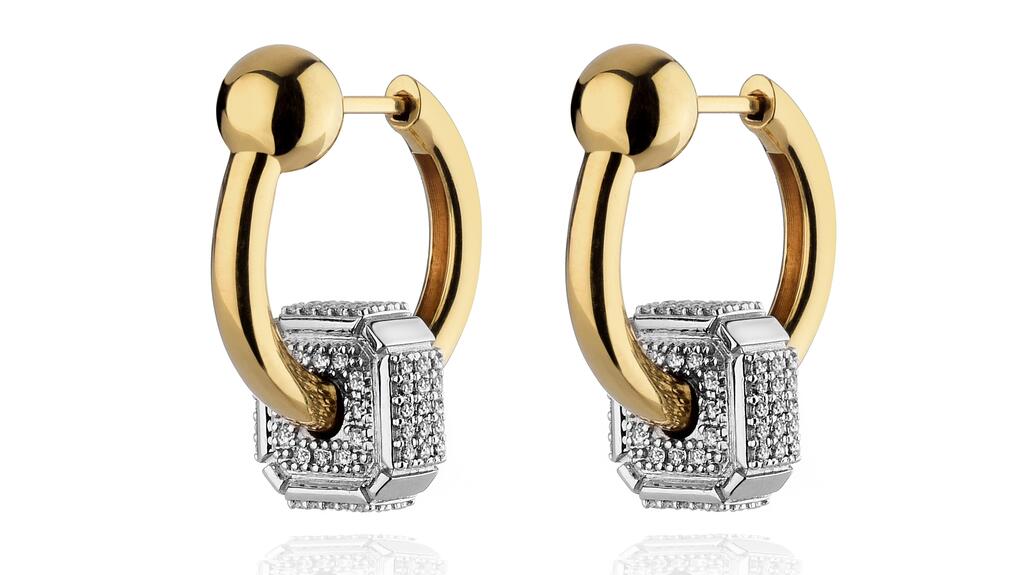 Edgy, on-trend styles will continue to populate
Eéra
's collection at Couture. The Italian brand is focused on the utilitarian, incorporating piercing jewelry elements like barbells and functional clips.
Mixed metals and unique rhodium colors set the brand apart from its contemporaries.
See the latest styles at booth 509.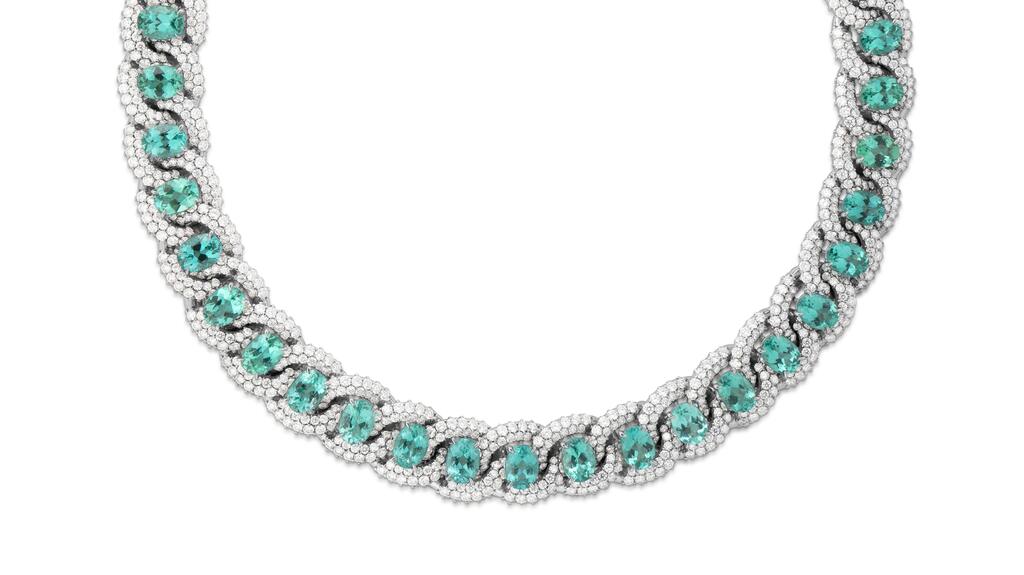 For
Cicada
, red-carpet ready high jewelry design is the name of the game.
At booth 222, pick through a treasure trove of one-of-a-kind designs, like the above Paraíba tourmaline and diamond collar.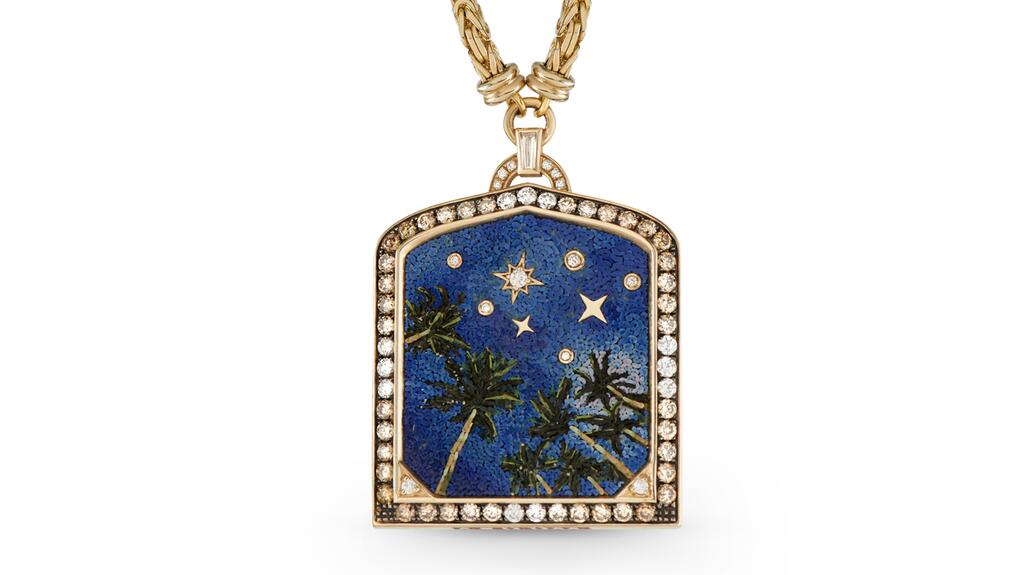 Micromosaics date to antiquity and experienced a surge of popularity as souvenirs for young European men conducting their continental "Grand Tours" from the 17th to early 19th centuries.
Today's well-heeled tourist might have a tropical destination in mind, per Greek brand
Venyx
's modern reinterpretation of the style depicting palm trees against a starry night.
Venyx designer Eugenie Niarchos has collaborated with Roman company Le Sibille, which has revived the micromosaic technique for the last 30 years, on the new style.
See it at booth 401.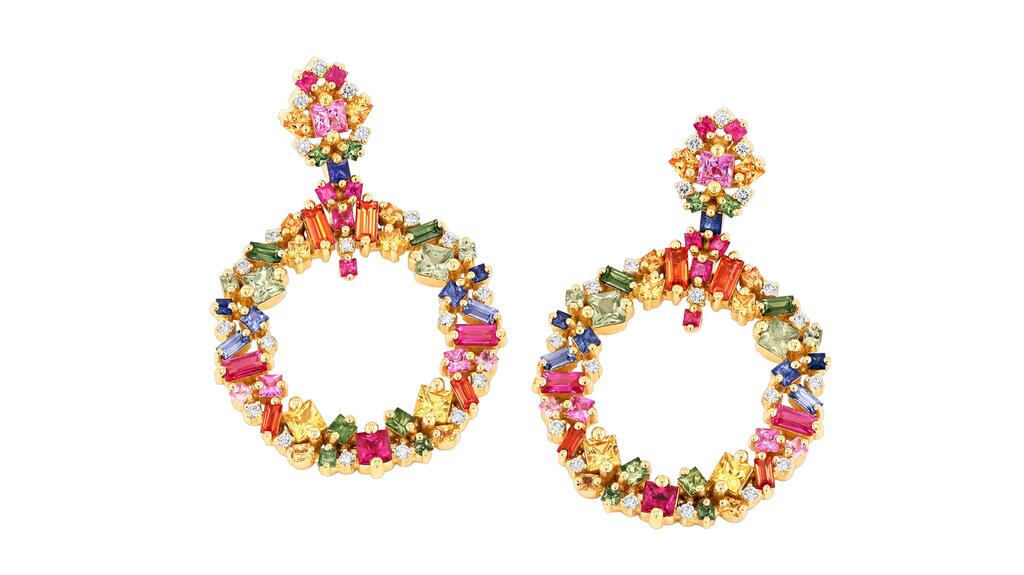 Inspired by seeing the world through her young granddaughter's eyes,
Suzanne Kalan
is launching a whimsical new collection at Couture called "La Fantaisie."
Filled with multicolor sapphires, it draws upon the designer's own childhood remembrances in Montreal.
Kalan will debut a vastly different new collection as well, called "Block Chain," inspired by baguette-cut stones and featuring single gemstones or small clusters.
See both of Suzanne Kalan's new looks at Villa 307.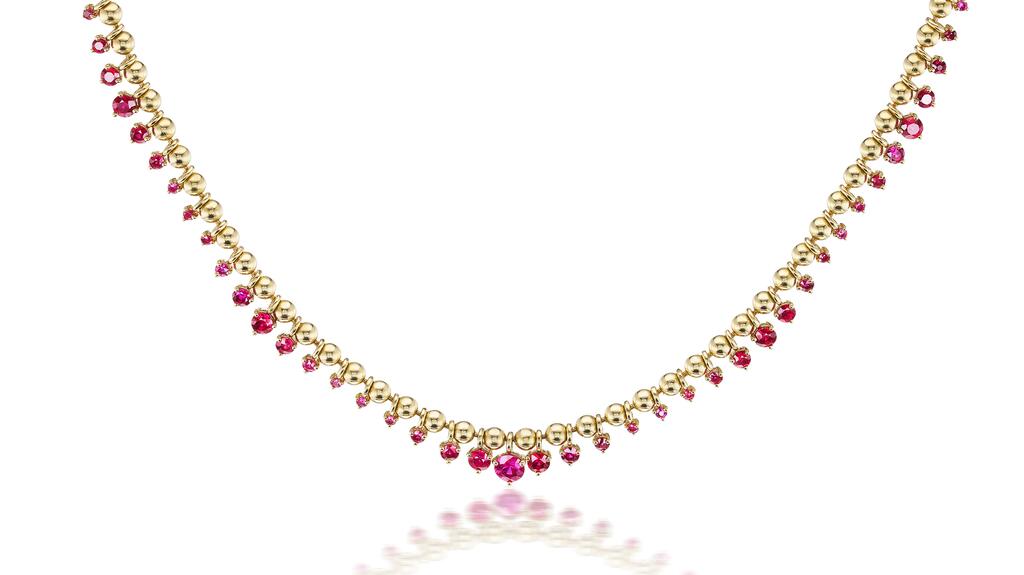 It's all about the not-so-basic jewelry basics at
Vice Versa
, represented by Muse showroom and exhibiting at its booth, 412.
Dangling diamond and colored gemstone ball chain necklaces make the perfect everyday necklace, while diamond-laden rings nest together to make a bold stack.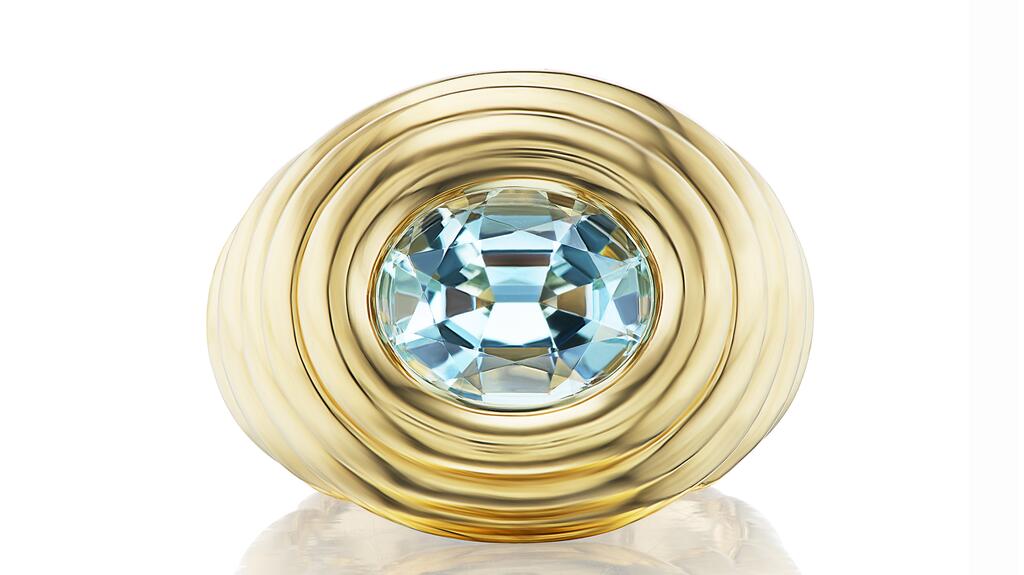 Also at Muse is
Beck
, the fine jewelry line from designer Rebecca Zeijdel-Paz, who got her start designing costume jewelry.
Zeijdel-Paz draws upon her childhood on the island of Curaçao when designing, referencing nautical elements and gems that mimic the Caribbean's blue waters.
See the designer at Muse, booth 412.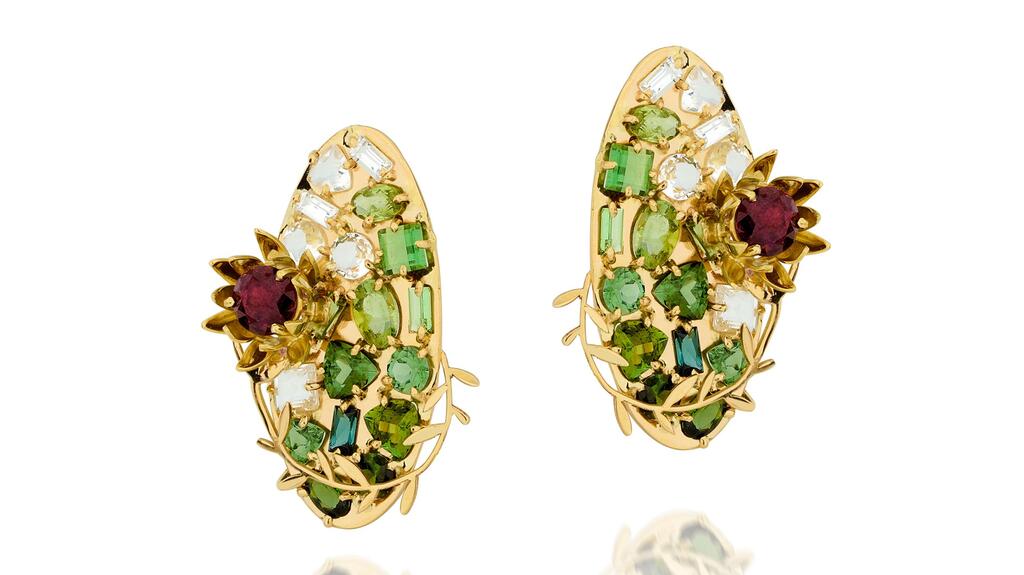 Designer
Carol Kauffman
will debut her "Secret Garden" collection in Vegas, inspired by painters like Claude Monet and Joan Mitchell who interpreted nature through an abstracted lens.
Kauffman applies this philosophy to gemstones, using them as mosaic-like pieces to create an overall picture. The collection features lots of tourmalines from the Cruzeiro mine in the designer's native Brazil.
See it at booth 601.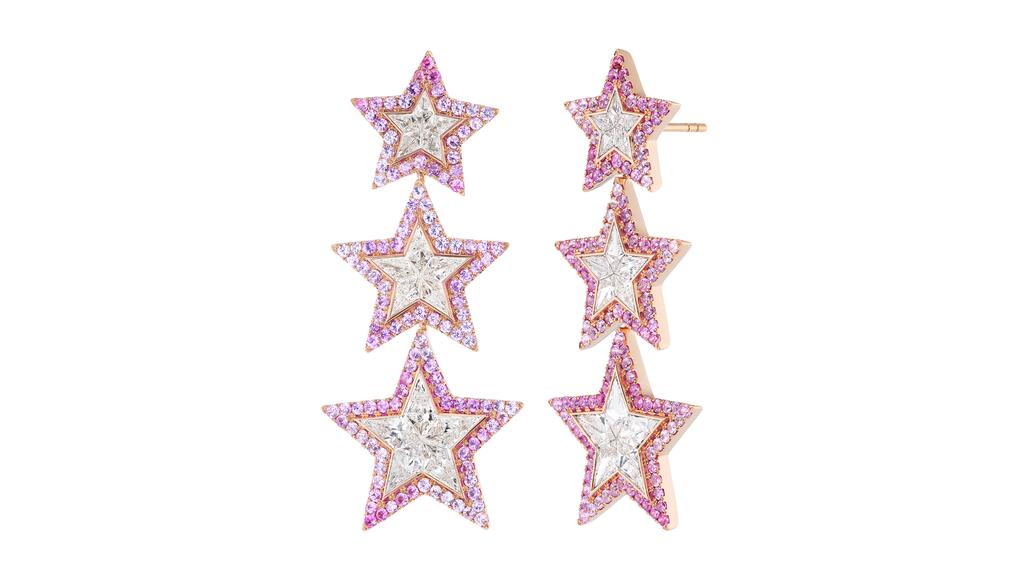 For her new "Rebels" collection,
Emily P. Wheeler
applies her whimsical hand to childhood influences from the 1990s and early 2000s, like Lisa Frank, Hot Topic, and pop culture icons such as Alanis Morissette and Drew Barrymore.
Shades like pink and green denote Wheeler's preppy New England beginnings, while dark velvet chokers are a nod to the punk rock concerts she frequented.
See Wheeler's darker side at booth 407.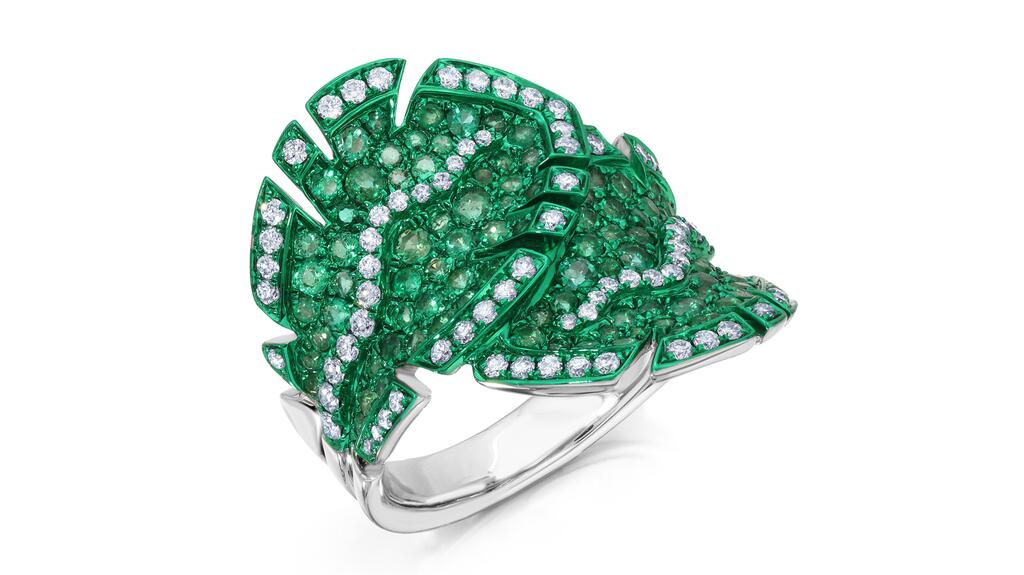 Graziela
turns to its namesake designer's Brazilian roots in the new "Amazonia collection," a love letter to the Amazon rainforest.
A portion of proceeds from the colorful collection will benefit the Rainforest Trust, an organization that works to preserve the rainforest and its ecosystems.
Graziela will exhibit at booth 514.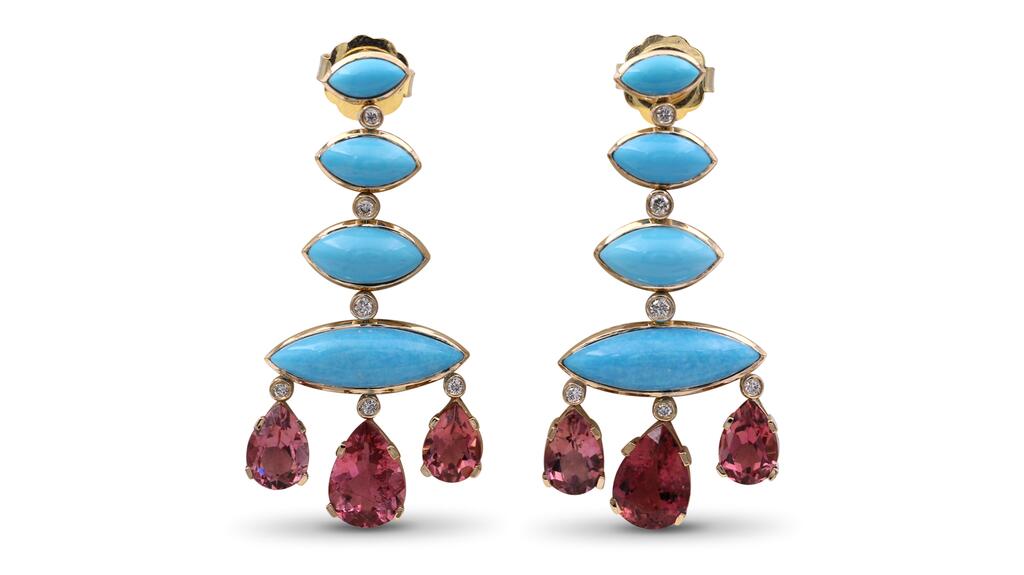 Exquisite colored gemstones that Stephen Dweck has sourced
over his 40 visits to the Tucson gem shows
are a major draw at the designer's booth.
Dweck's avant-garde gemstone arrangements recall abstract found art sculptures with their asymmetry and unique combinations.
See the designer's latest gem haul and resulting jewels at booth 316.
Antique diamond cuts and designs evocative of Old World luxury fill the
Sylva & Cie
treasure chest.
Alongside best-selling designs like the brand's "Ten Table" rings, experience meticulous tennis bracelet layouts and unique, one-of-a-kind jewels at booth 411.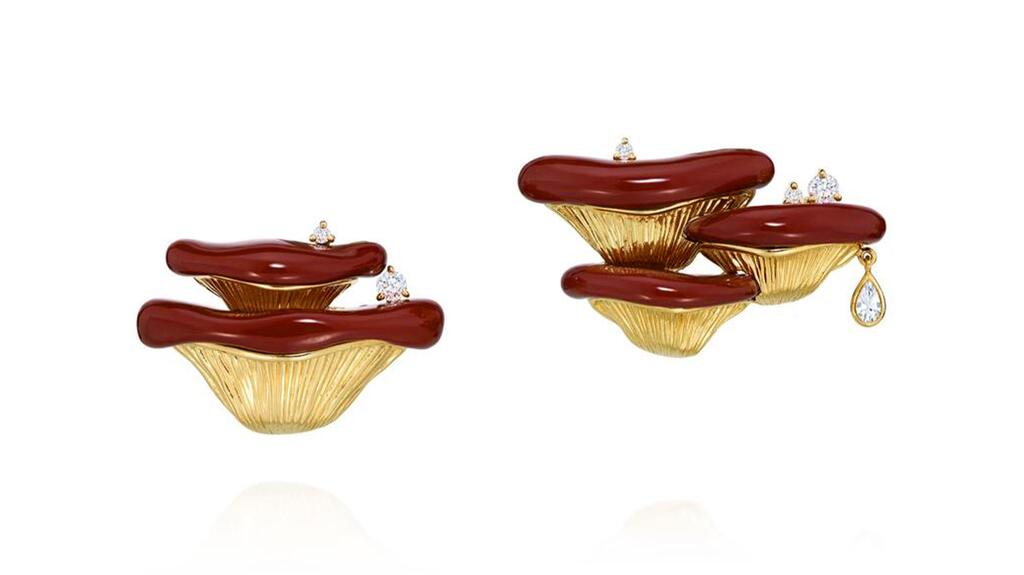 Cannabis-inspired jewelry is out, and mushroom jewelry is in, at least judging by Couture designers' newest pieces.
Sauer
will showcase its new "Fungus" collection at the show, a fun ode to the cultural and design hot topic, at booth 400.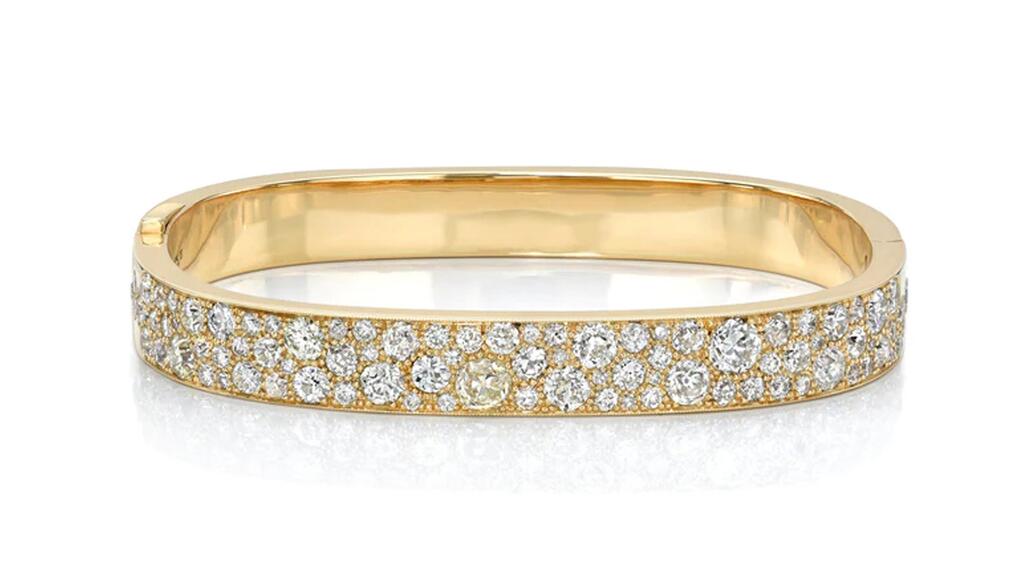 To see the best in bridal design, an appointment at
Single Stone
is a scheduling must in Vegas.
In addition to the company's metal-heavy styles featuring antique diamonds, there are lots of fashion fine jewels to drool over too, no marriage proposal required, like the new "Cobblestone Bangle" boasting more than 6 carats of diamonds.
See Single Stone at booth 505.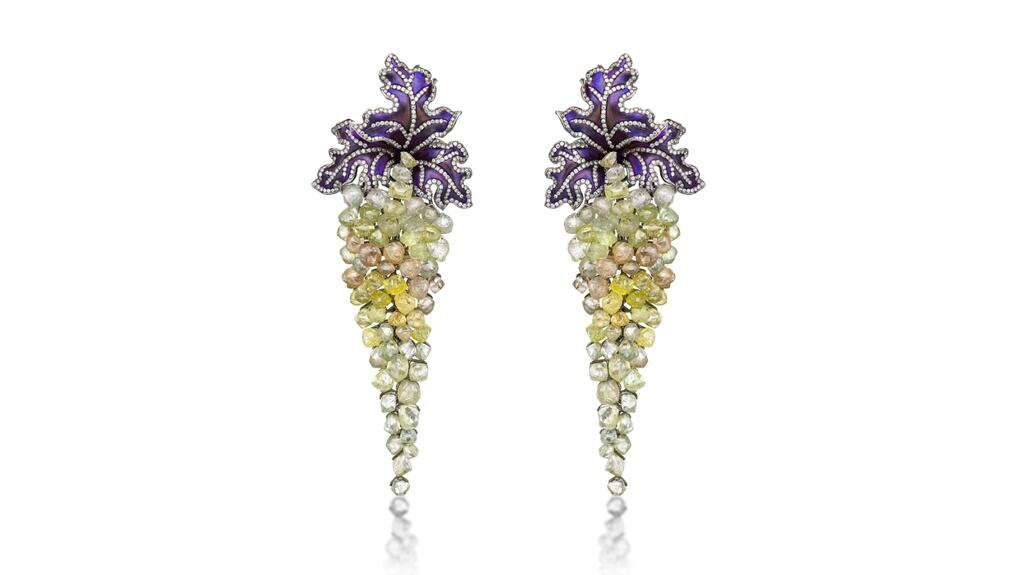 The Saboo family has a rich heritage in the gemstone world that, through the decades, has evolved into what is now
Saboo Fine Jewels
, a workshop of elaborate high-end custom creations.
Utilizing the highest quality gemstones, designs take inspiration from Hawaiian oleander flowers, Mughal architecture, and antique Indian royal jewelry. 
See the company's latest one-of-a-kind feats at booth 646.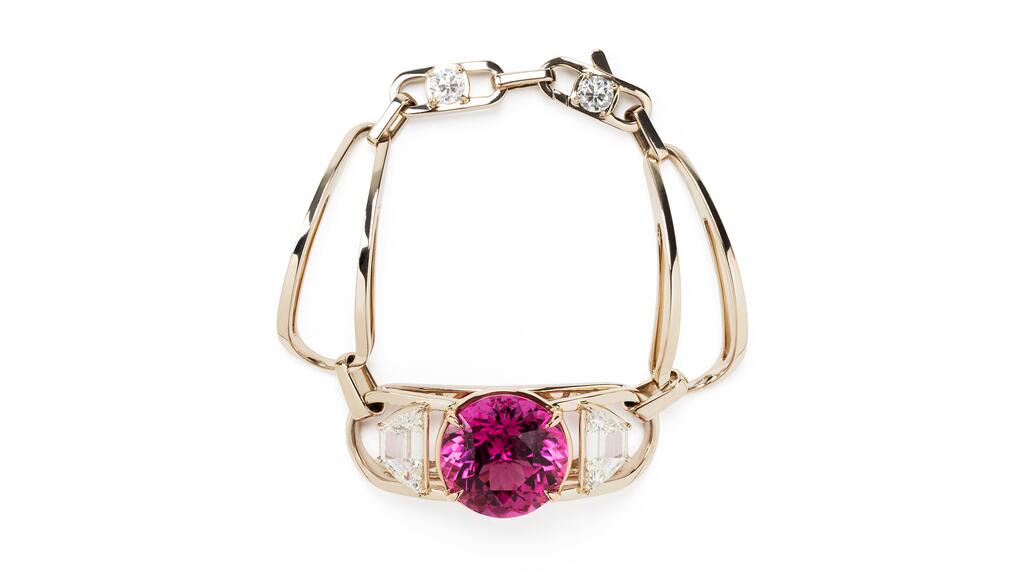 Ara Vartanian
is master of the modern-day cocktail jewel.
His signature? A pop of color courtesy of colored gemstone center stones like rubellite, emerald, sapphire or pearl, housed in elaborate, Art Deco-esque, diamond-laden settings.
Vartanian's freshest off-the-bench jewels will be on view at booth 315.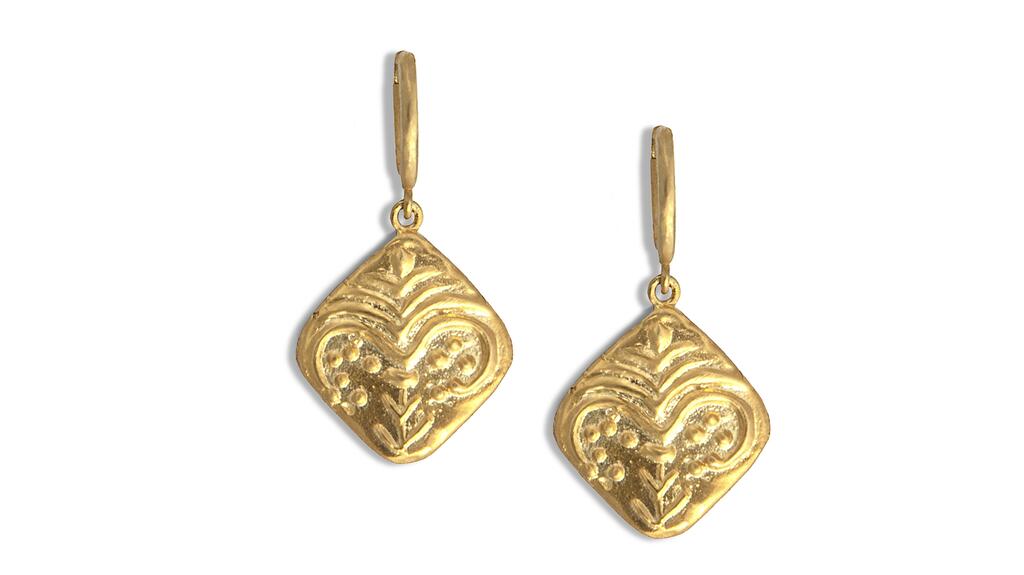 One can feel the Greek heritage in
Christina Alexiou
's tactile gold jewelry, which celebrates the sunniness of classic yellow gold.
Symbols range from the ancient—evil eyes and scarabs—to the more modern—lots and lots of bold gold hearts.
See Christina Alexiou's newest designs at Muse, booth 412.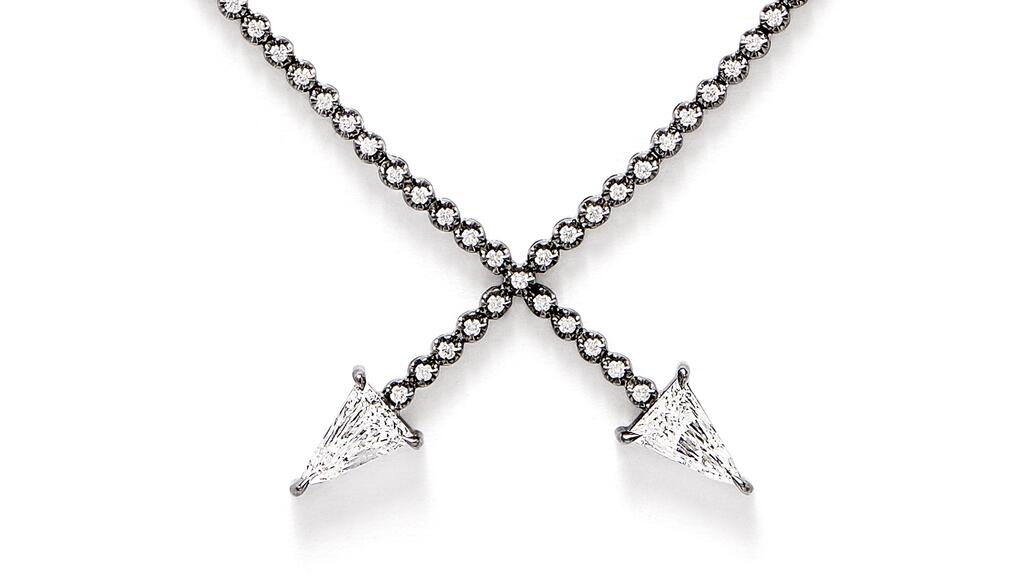 Eva Fehren
's fall 2023 collection is an expansion of "Boa," which explores curving shapes that mirror the lines of the human body.
It's full of pear-shaped diamonds, Fehren's signature rhodium-plated gold, and rose gold too. The romantic range will see its first fancy-cut eternity band unveiled at the trade show.
See Eva Fehren at booth 310.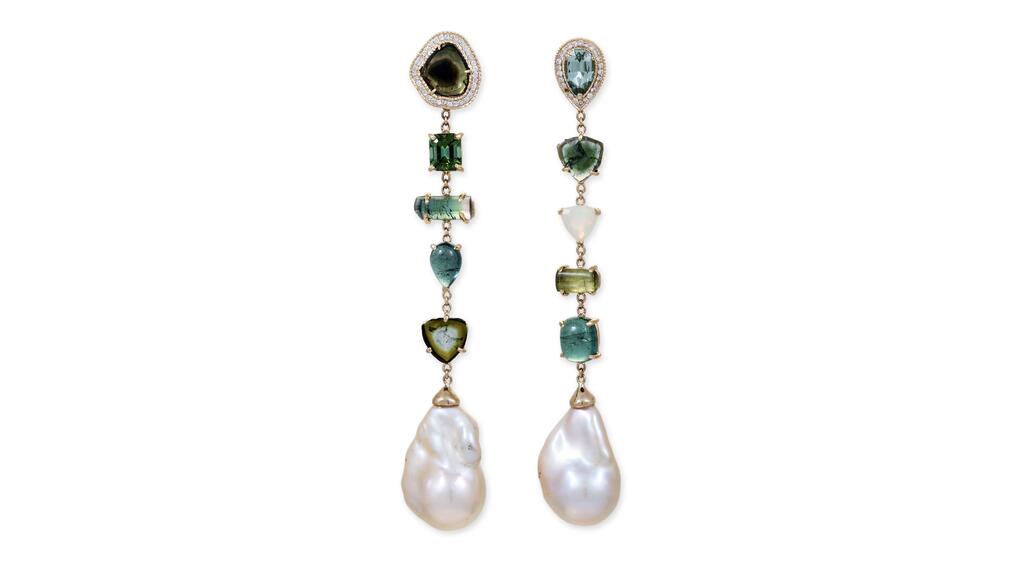 There are a lot of things
Jacquie Aiche
does right, which make a visit to see the designer's latest renditions always worthwhile. Think: literally any kind of body jewelry, jewels with movement, and complicated inlay.
Of particular current interest on the list of greatest hits are Aiche's colored gemstone jewels that spice up her classic shaker styles, lending an entirely new energy to best-selling styles.
In Vegas, she'll unveil a new love affair with gemstone slices.
See it at booth 511.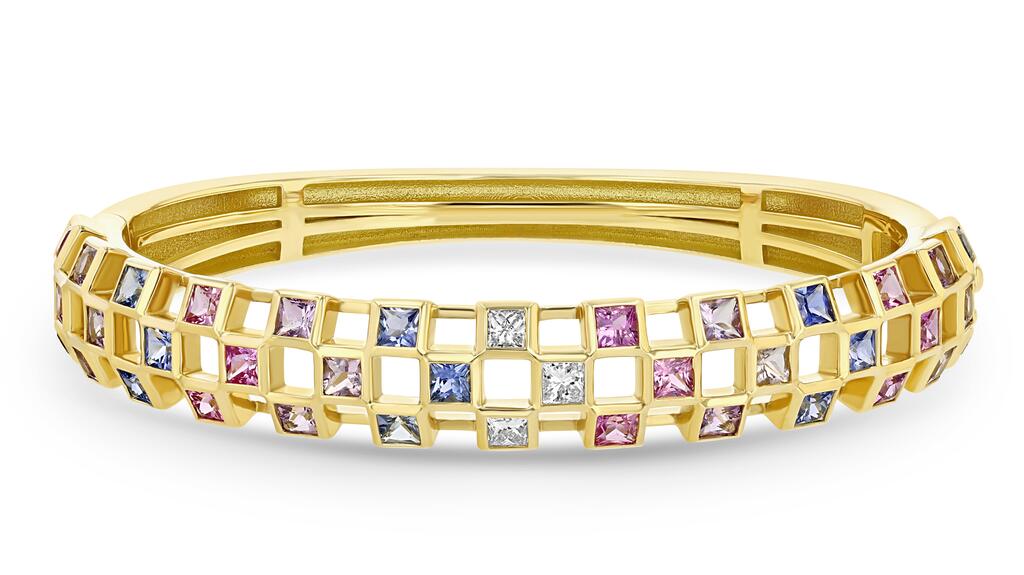 Future Fortune
designer Jessica Olds channeled the psychedelic era of the 1960s and 1970s when imagining the "Kaleidoscope" collection.
Like its name implies, Kaleidoscope explores repeating patterns rendered in diamonds and colored gemstones. The result is wearable, happy jewelry.
See Future Fortune at For Future Reference, Villa 310.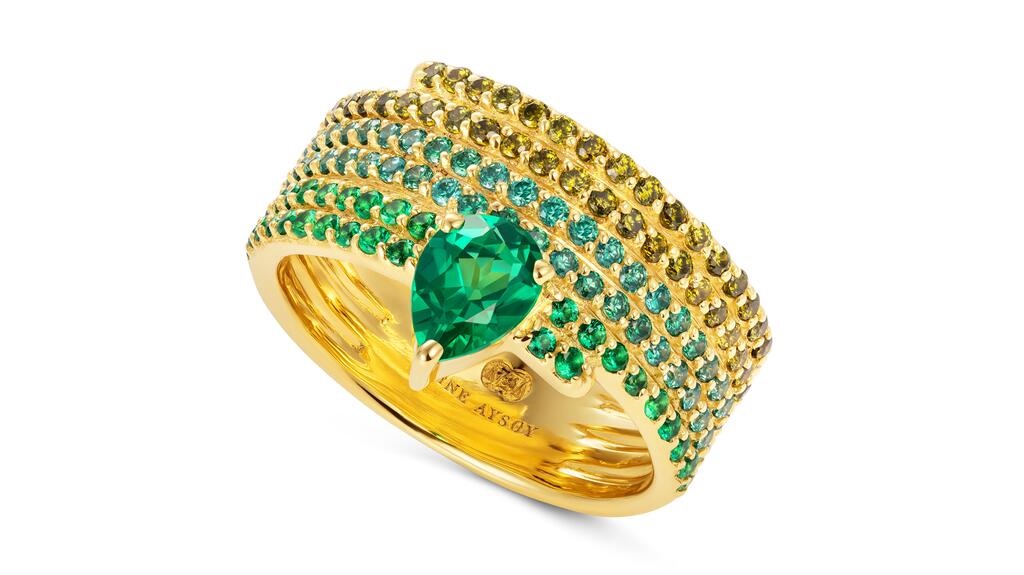 Nadine Aysoy
has graduated from the Design Atelier this year and landed in booth 712.
There, find expertly curated color stories spanning both colored gemstones and enamel that make the case for ditching one's daily diamond uniform.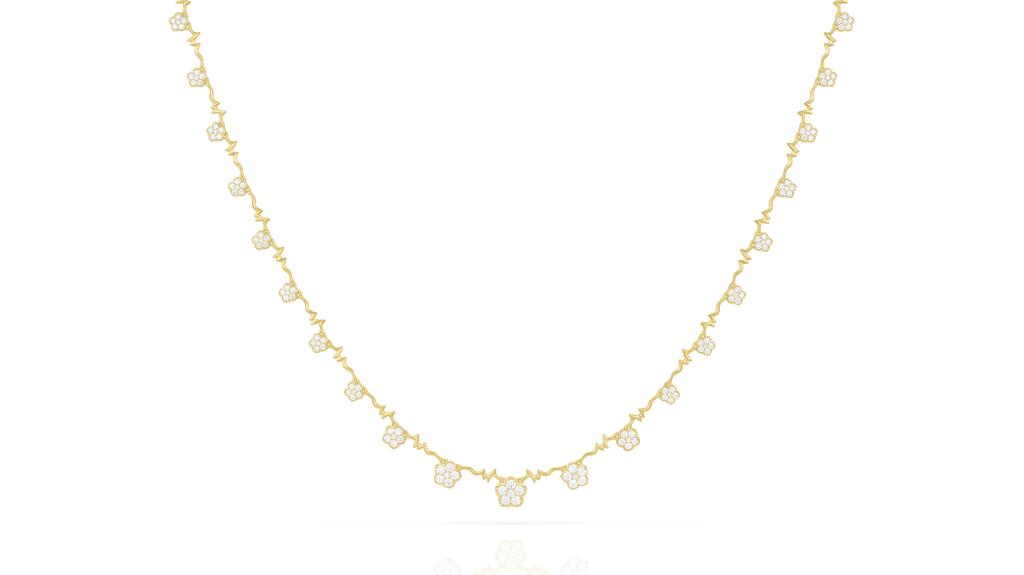 Paul Morelli
's popular "Wild Child" collection depicting colored gemstone flowers gets the diamond treatment in 2023.
At Couture, Morelli will showcase additions to the collection that play to white diamond-loving fans. 
See the full array of flowers that never die at booth 101.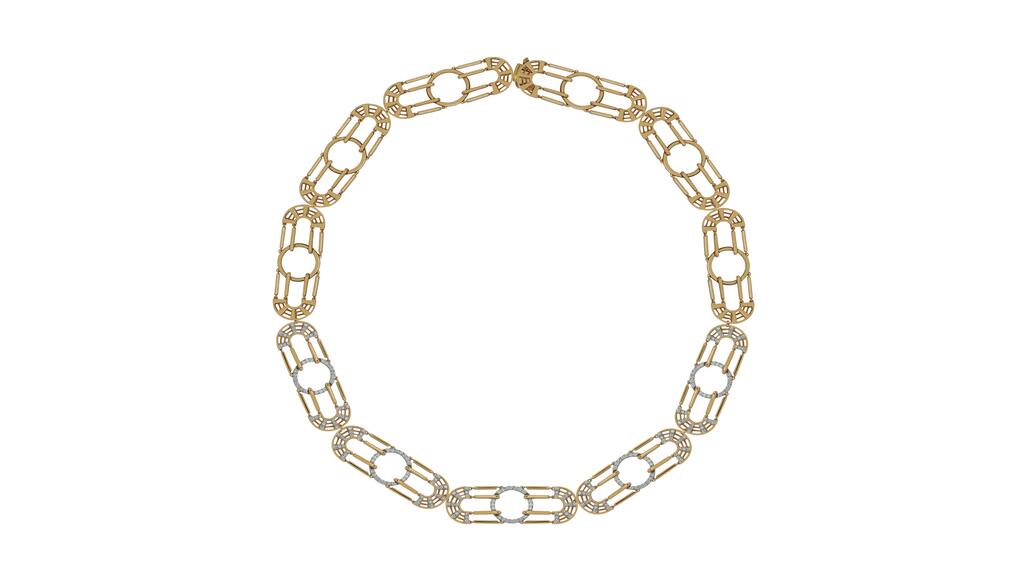 This year,
Kavant & Sharart
expand upon their "Twist" and "Twist Kaleidoscope" collections. 
The inspiration for these latest additions is the Swedish abstract artist Hilma Af Klint, considered to predate the most famed pioneers of abstract art, such as Kandinsky and Mondrian.
Kavant & Sharart's husband-and-wife designer duo said they channeled the "polarity" within Af Klint's work, in paintings such as "The Altarpiece" and "The Dove," lending their own mix of fun and severity to the starkly graphic-yet-playful designs.
See the newness in person at booth 512.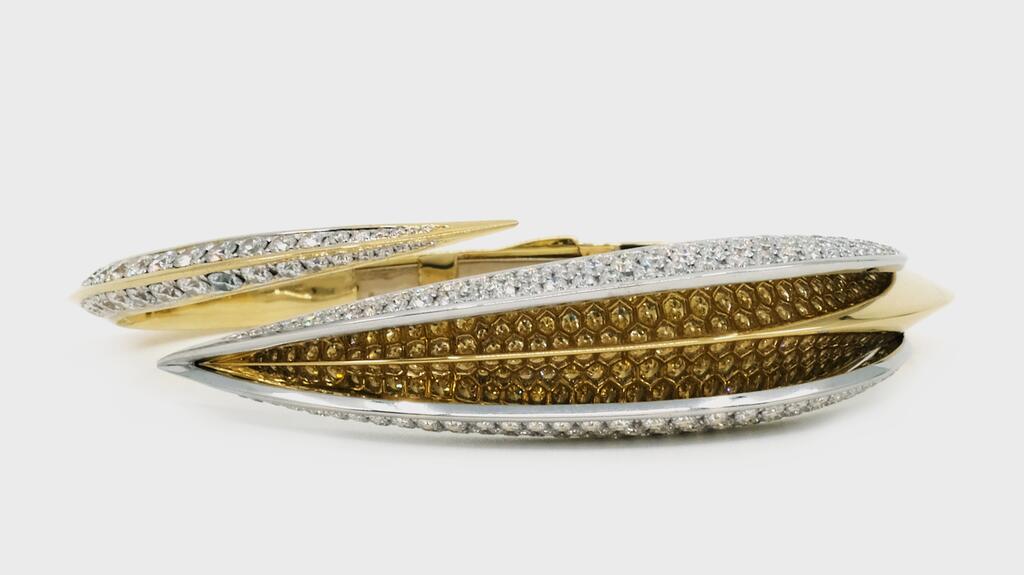 Studio Renn
will introduce the new "Seed Leaf" collection at Rock House, booth 521.
Seed Leaf explores concepts like fertility and abundance, commemorating a plant's life cycle from seed to blooms and back again.
Diamonds and Burmese rubies act as the seeds on 18-karat gold leaves in Studio Renn's thoughtful meditation on nature.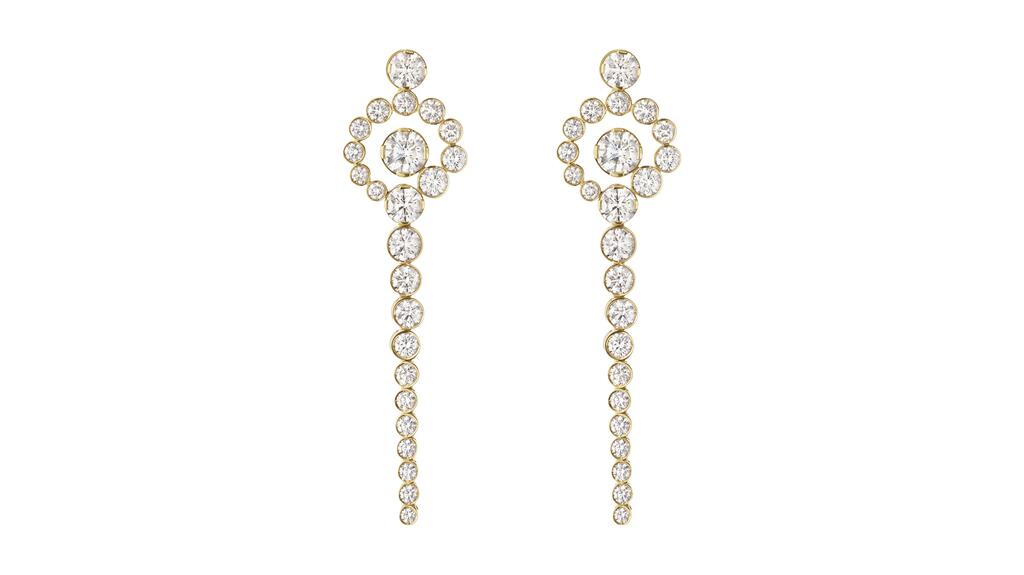 At Couture,
Sophie Bille Brahe
will show the autumn/winter 2023 collection launched last month, which is the designer's blingiest yet, boasting the biggest diamonds she's used in her career. 
The company will also showcase new diamond letters in white gold, a follow-up to her popular yellow gold versions.
Also check out the to-be-unveiled new range slated for spring 2024.
See all Sophie Bille Brahe has to offer at booth 408.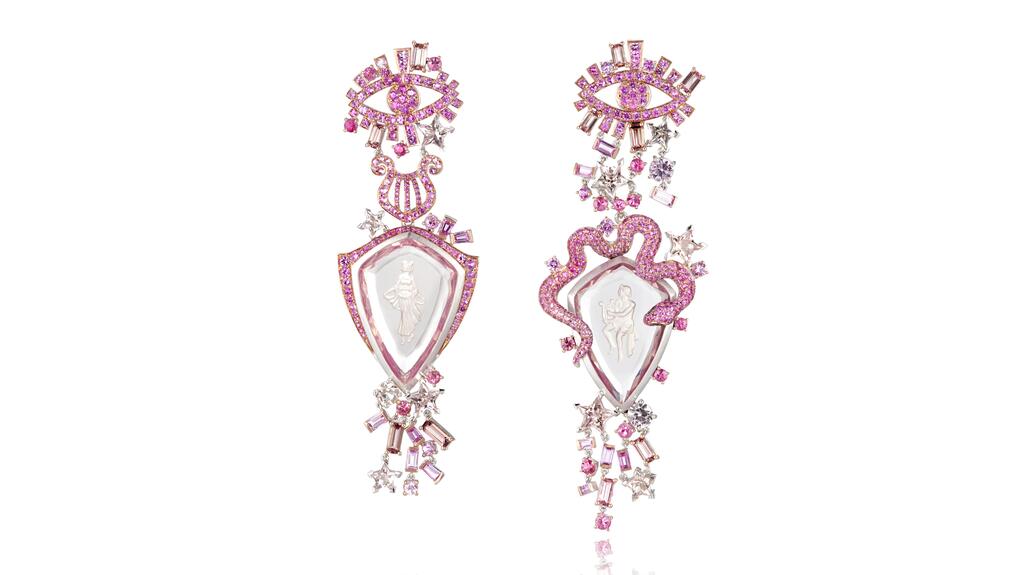 Lydia Courteille
is telling a "Love Story" in her latest collection, centered on famous lovers whether real historical figures or heroes of mythology.
Cleopatra and Mark Anthony, Orpheus and Eurydice, and Tristan and Isolde are some of the legendary couples carved into morganite and framed by a milieu of symbols and design elements dripping in pink sapphires.
Less Barbiecore and more Lydiacore, the romantic offerings are a maximalist's pink dream.
Experience Love Story at Lydia Courteille's booth, 724.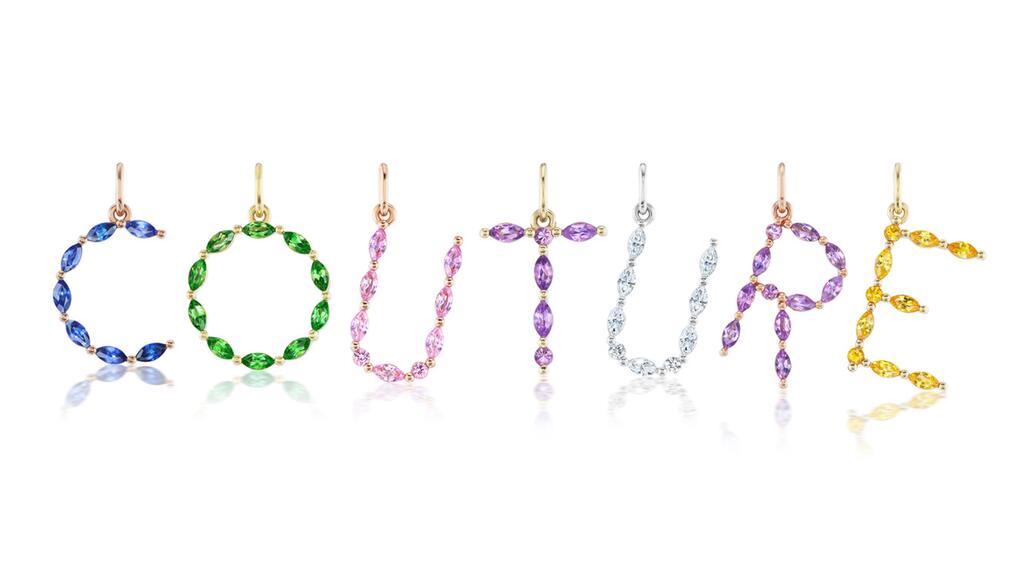 Fitting right in with
Jane Taylor
's sweet 1960s-reminscent floral jewelry styles are new letter pendants from the "Alphabet Soup" collection, crafted from marquise-shaped gemstones in several varieties the designer has been collecting for years.
The biggest news for Couture, however, is the collection launch of intricate numerology-inspired enamel pendants.
See them in person at booth 508.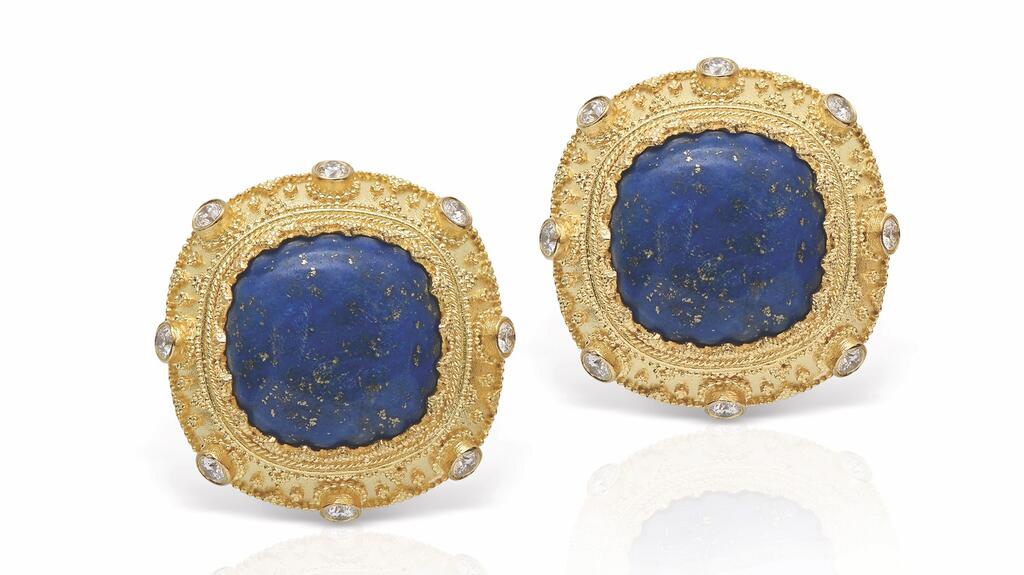 Lalaounis dips into its rich Greek heritage to deliver timeless jewels that feel as relevant today as they would have centuries ago.
Find bold gold, ancient symbols, and even the occasional diadem at booth 311.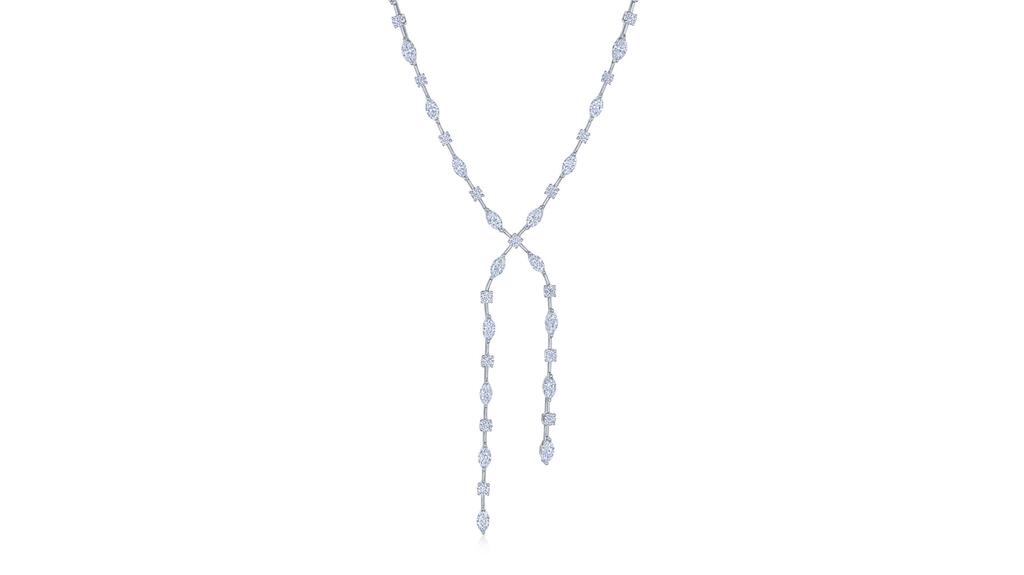 Kwiat
is right at home at The Wynn Las Vegas, considering it has a boutique there.
In time for Couture, the diamond jewelry brand has announced it is upping its proprietary cuts to seven: the Kwiat Tiara, Ashoka, Fred Leighton Round, Kwiat Cushion, Kwiat Emerald Cut, Kwiat Oval, and the Kwiat Radiant.
See all the bling at the company's boutique in The Wynn Esplanade.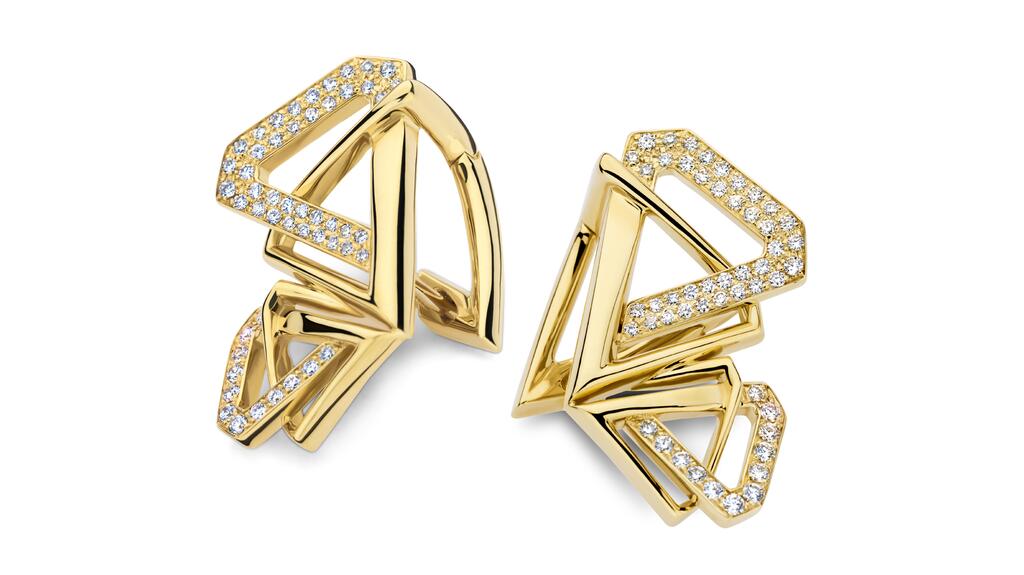 Among all the new and brand-staple designs
Dries Criel
has in store, the designer will showcase his first foray into emeralds.
Criel will show the fruits of his collaboration with Muzo, comprising six styles utilizing trillion-cut emeralds that speak to the designer's love of geometry and sharp lines.
Meet Criel at booth 905.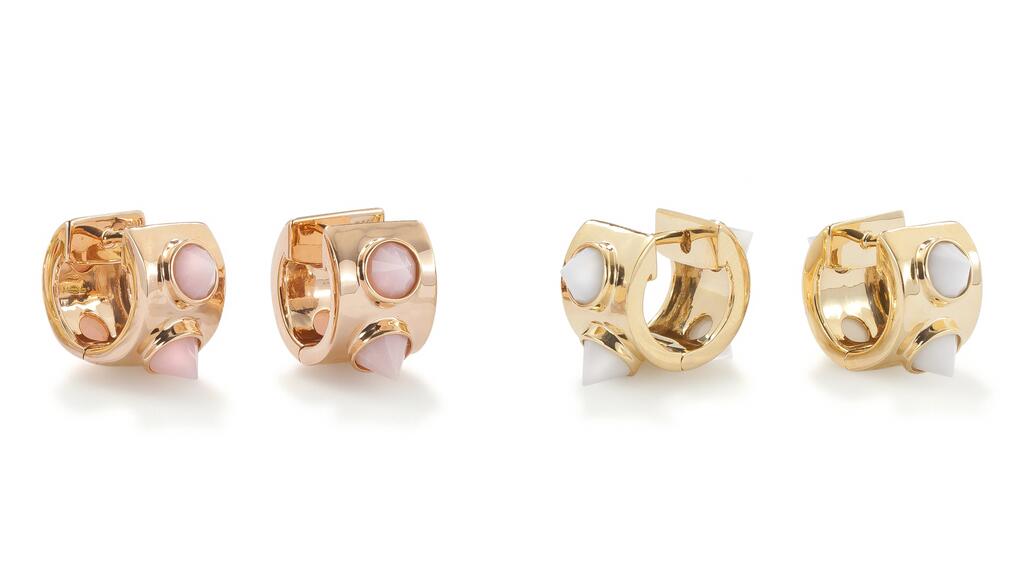 There will be lots of color at British brand
Robinson Pelham
's booth via gemmy, one-of-a-kind "Arena" cocktail rings, colorful "Ear Wish" charms to customize hoop earrings, and a rainbow's array of beaded necklaces.
Joining the happy milieu is a style with a bit of an edge—the new "Akida" hoop earring, a wide huggie hoop silhouette perfect for one's daily uniform, adorned with spiky pink opal, white onyx, turquoise, lapis lazuli, and malachite studs.
Find Robinson Pelham at booth 507.
One of the newest designer additions to the For Future Reference showroom roster,
Jade Ruzzo
holds her own with her classic fine jewelry styles.
Bold silhouettes, clean lines, and lots of cabochon-cut gemstones are brand hallmarks. The designer will launch an entirely new collection called "Percussion" at Couture.
Visit Ruzzo at For Future Reference, Villa 310.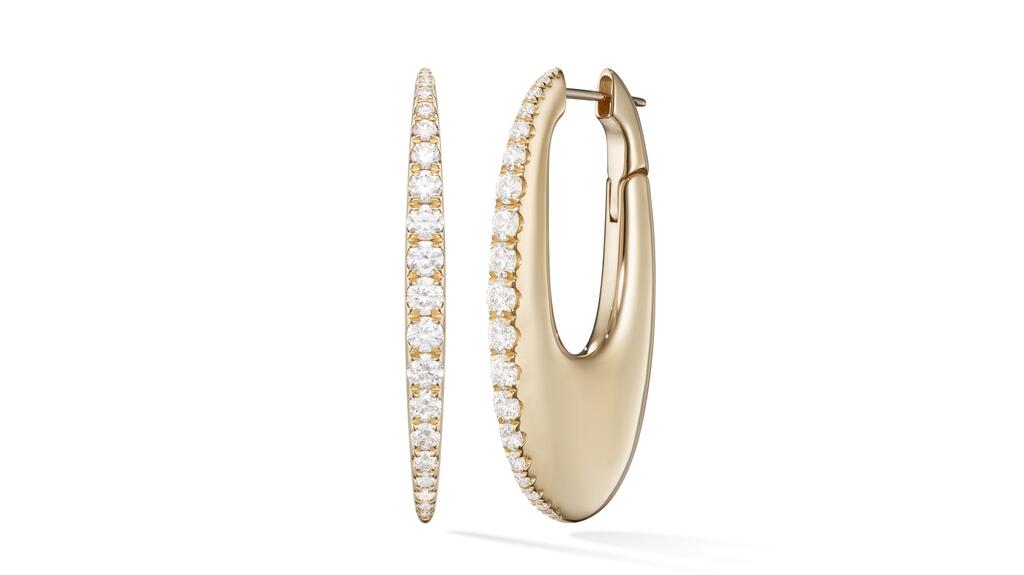 Melissa Kaye
may have received lots of attention for her inventive approach to enamel color, but she's no one-trick pony.
The designer will expand upon her first love—her core diamond and gold collection—with new styles dubbed "Lulu," "Maya," "Ashley," and "Hannah."
Also look out for new one-of-a-kind additions to the "Lenox" range launched at Couture 2022, the designer's biggest jump into colored gemstones thus far.
Visit Melissa Kaye at booth 405.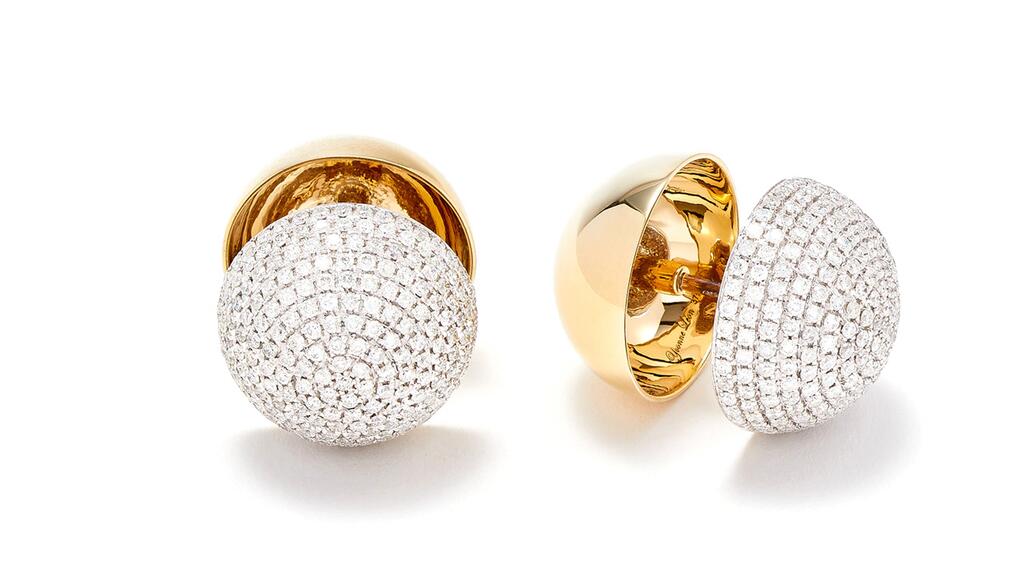 French brand
Yvonne Léon
's designs can best be described as vintage-inspired classic with a spin. Think: sweet inlay signet rings (the company's signature) and mixed metal diamond jewelry juxtaposed with rainbow enamel or animal motifs, like crabs. 
Look out for new jewels that feature more and bigger diamonds.
Yvonne Léon will exhibit at booth 805.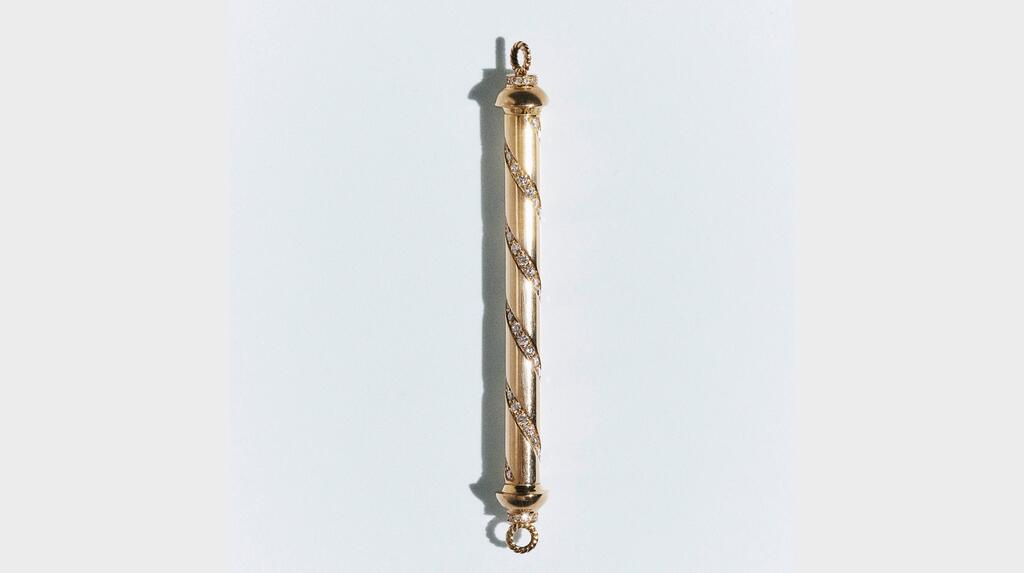 Marie Lichtenberg
is an expert at mastering signature, niche styles, like her unique locket. (She'll showcase her
most elaborate one yet
at the show this year.)
In addition to new variations of her go-to styles, Lichtenberg will showcase other players in the collection, like the above "Candy Cane" pendant, so devotees can continue to build their ML neck stacks.
Don't miss the designer at booth 623.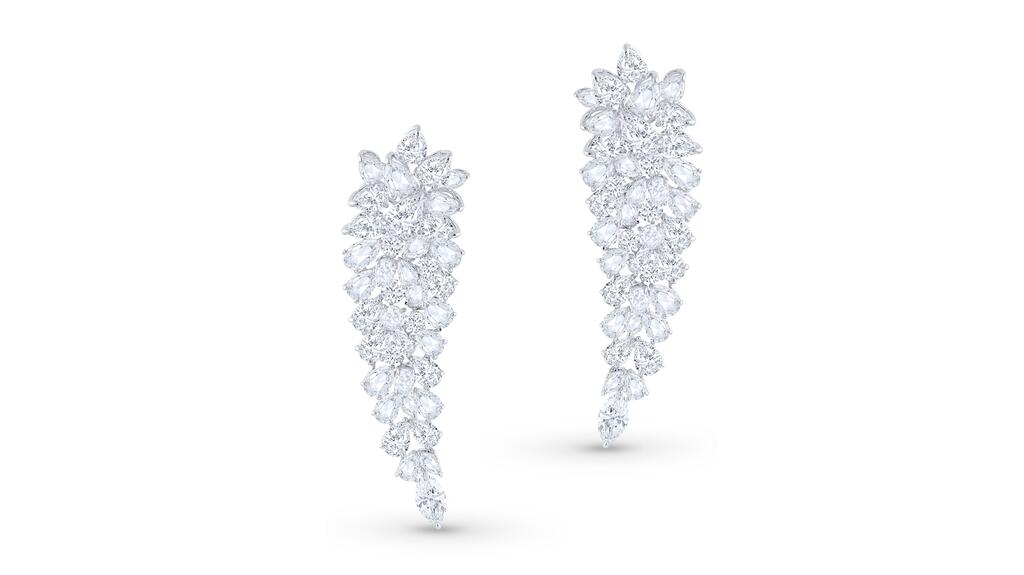 A visit to
Harakh
will include plenty of exquisite, high jewels like the "Cascade" diamond earrings above, but also some more attainable fare.
In Vegas this year, the brand will launch the "Drops of Joy" collection featuring 18-karat gold and diamond amulets with talismans signifying concepts like protection, strength, and wisdom.
See it at booth 634.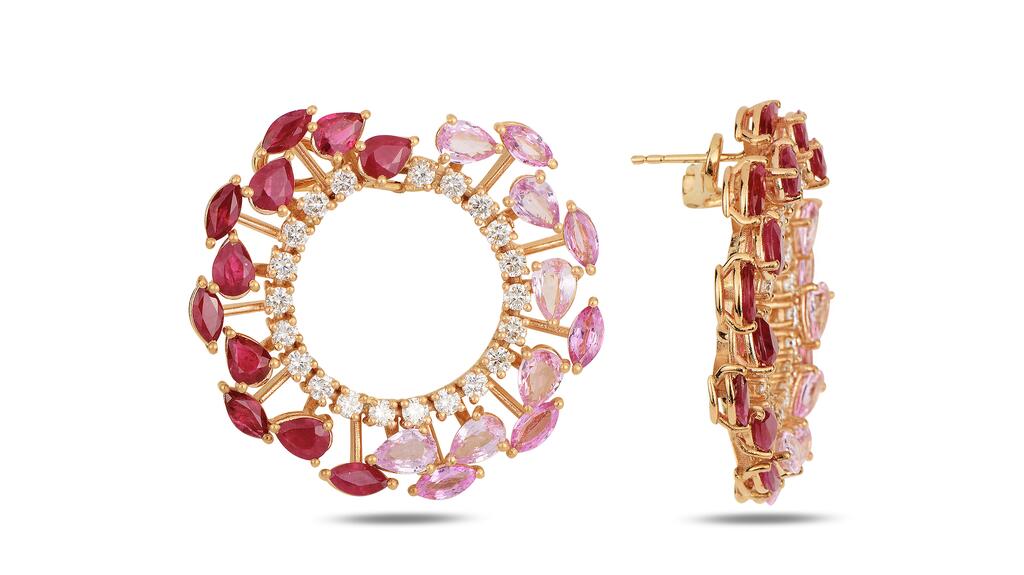 At
Terzihan
, bold is always the mood.
At booth 736, see eye-catching inlay, bypass rings and hoops, and diamond stunners that recently graced the Cannes red carpet.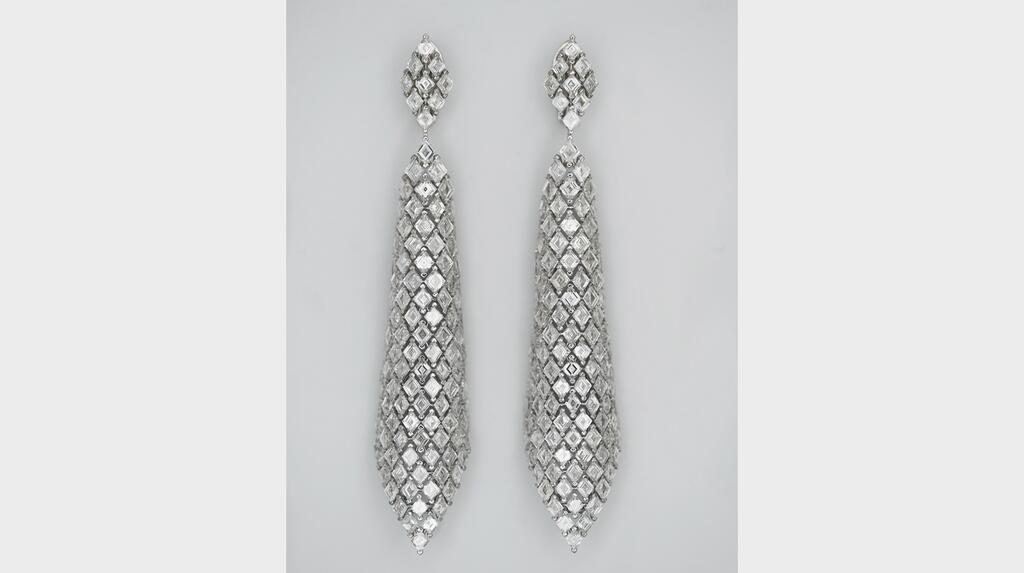 After a short hiatus,
Arunashi
is back at Couture, showcasing its elaborate and meticulously crafted collection, each jewel more stunning than the last. 
This year, designer Arun Bohra was inspired by unique gem and diamond cuts uncommon in the market.
One resulting piece is the above pair of kite-shaped diamond earrings inspired by India's Kite Festival. In Bohra's design the 238 diamonds fold like fabric, exuding a lightness belying the jewel's scale. 
See the earrings and more Arunashi treasures at booth 319.
More on Trends