Here's a Sneak Peek of New Jewelry to Check Out at JCK
Luxury kicks off today, with the full show in swing on Friday.
Las Vegas—Today, JCK 2023 kicks off with
Luxury
at The Venetian. 
Tomorrow, Gems and JCK Talks begin, while the show's full roster of more than 2,000 exhibitors will be open for business beginning Friday. 
It's enough to overwhelm even the most seasoned visitor. Below, find a breakdown of 23 essential stops to add to the schedule. 
Tzuri
dedicates itself to perfecting specific design concepts that are often years in the making, like its "Expression Collection," featuring solid gold renditions of pencils turned into bracelets, rings, and necklaces that are a luxe interpretation of the saying, "The pen is mightier than the sword."
For JCK, the Beverly Hills-based brand will unveil the "Ethos Collection Bracelet." Executed in 18-karat yellow, white, or rose gold, the bracelet features rotating spheres.
See it at Luxury, booth 1100A.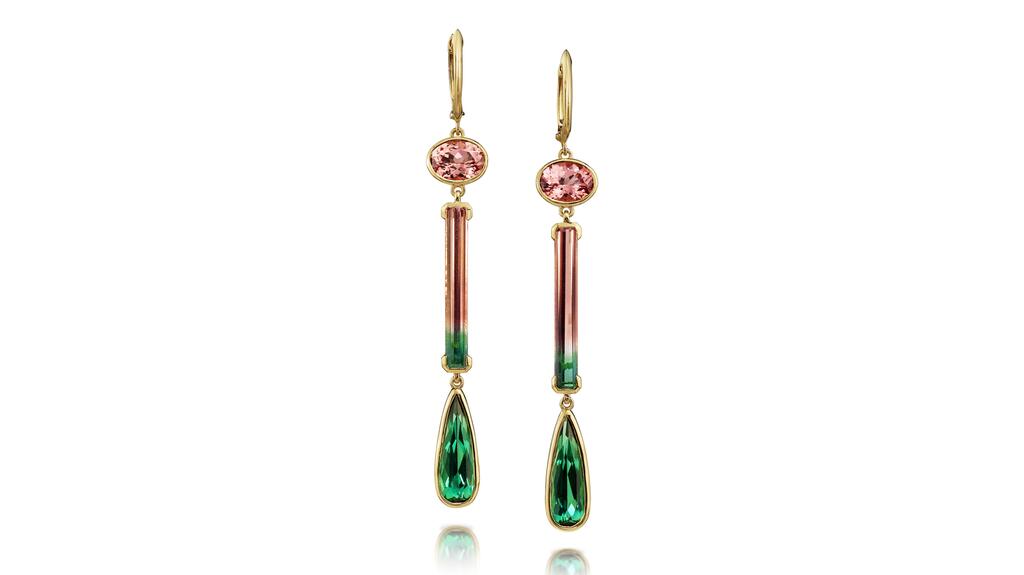 Parlé
will introduce watermelon tourmaline to its oeuvre of colored gemstone designs, all of which are rendered in recycled gold and crafted in the United States.
The exact tourmaline specimens the brand has incorporated into its collection are from an "impeccably preserved" stash that was squirreled away for 40 years.
See the magic Parlé has created with it at Luxury, booth 730.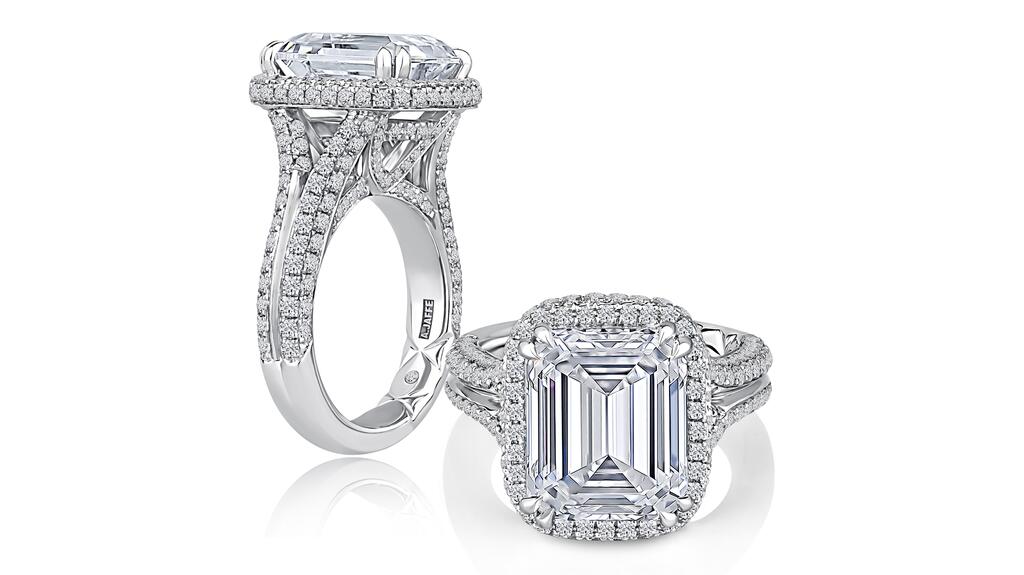 A. Jaffe
has plenty to satisfy the bridal itch and beyond.
There are new engagement ring settings and men's wedding bands, including styles from the "Morse Code" line that uses a combination of baguette-cut and round diamonds to spell out hidden messages.
From the non-bridal jewelry selection look out for designs inspired by the intricate patterns found in American quilts, plus an entire collection dedicated to diamond classics like studs and tennis bracelets.
A. Jaffe is exhibiting at Luxury, booth 1026, and in The Plumb Club Pavilion, booth 830.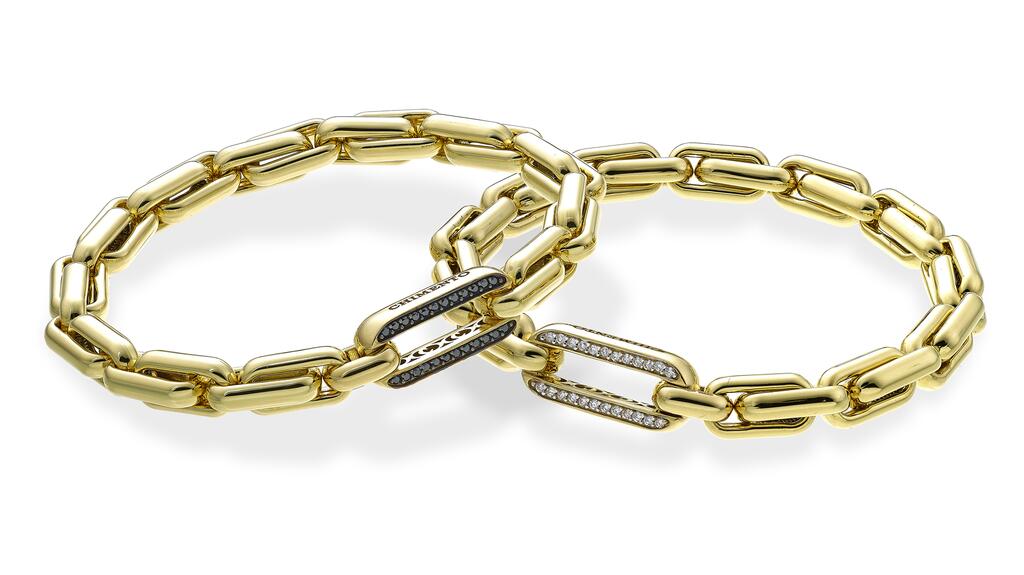 At Italian fine jewelry brand
Chimento
, new "X-Tend" bracelets with reversible diamond links join the roster of stretchy 18-karat gold jewelry.
For color lovers, the "Forever Star" collection of pave-set sapphire rings interspersed with white diamonds will delight the eye.
Find Chimento at booth 11123.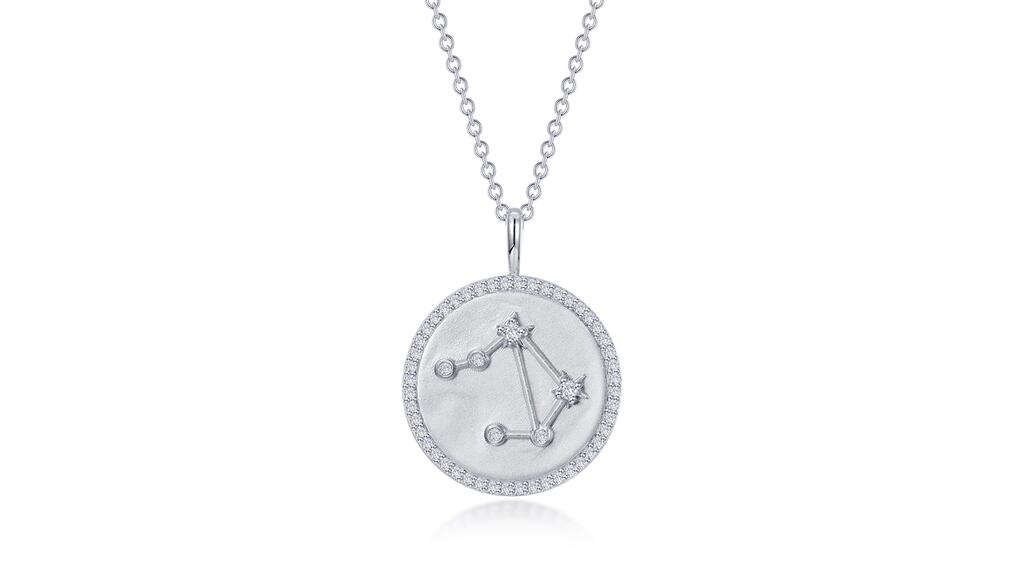 Lafonn
is leaning into an astronomy theme at JCK 2023 with new necklaces depicting constellations.
For the more astrology- and mysticism-inclined, there will be free, personalized tarot readings available at the company's booth.
Also look out for additions to the range of fancy lab-grown sapphire jewelry introduced last year, plus expansions of birthstone and core offerings.
Lafonn is exhibiting at booth 13123 in The Bridge area of JCK.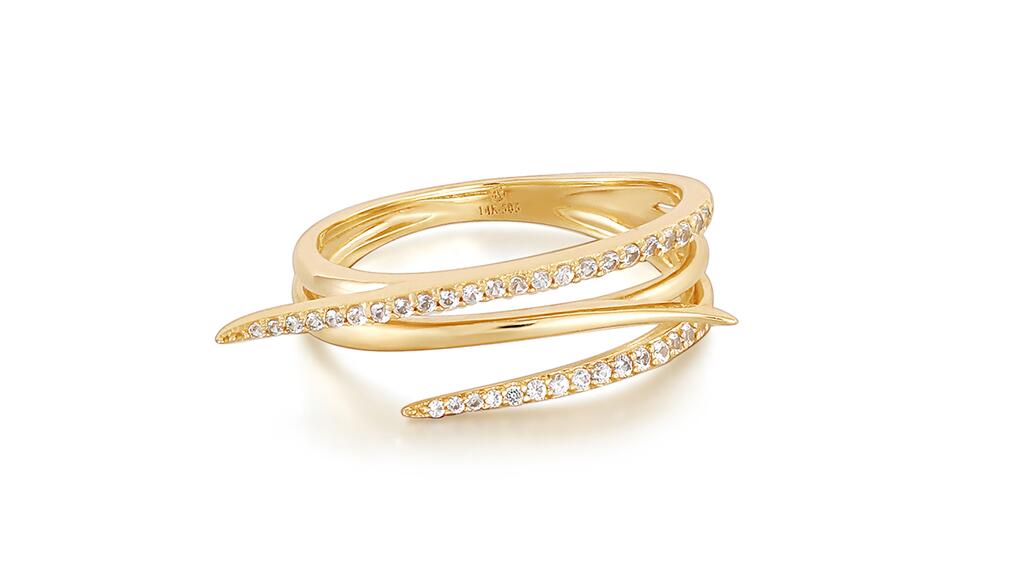 Delicate gold jewelry basics will get a sinuous edge at
Aurelie Gi
, with new stud earrings, huggie hoops, and pendant bracelets and necklaces featuring shapes inspired by winding thorns. 
There are also new charms in its permanent bracelet collection.
See Aurelie Gi in The Plumb Club Pavilion, booth 420. 
 Related stories will be right here …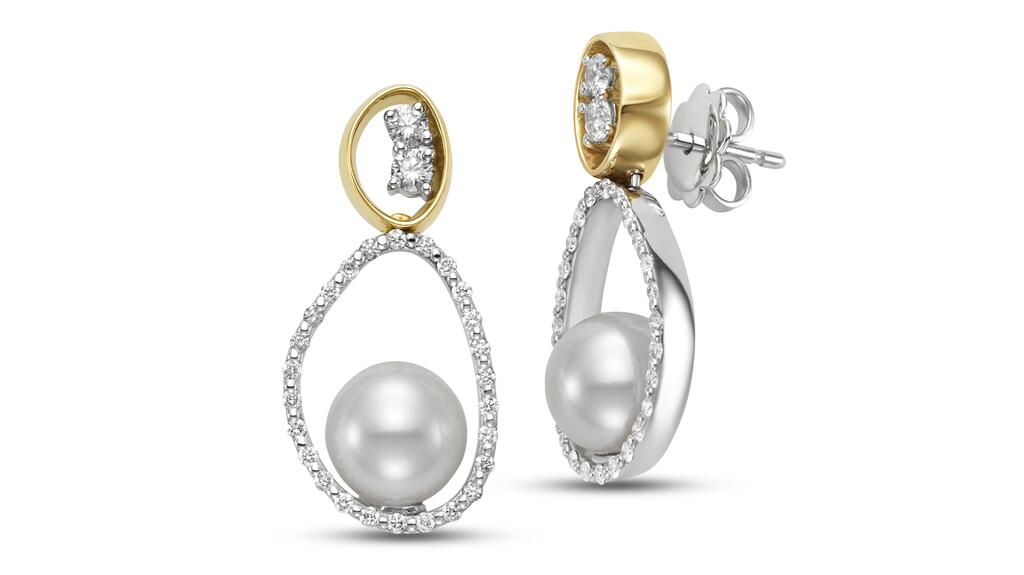 The new "Asttrata" collection at pearl jewelry brand
Mastoloni
is all about abstract shapes and negative space, as interpreted via yellow gold, white cultured pearls, and white diamonds.
See it at The Plumb Club Pavilion, booth 400.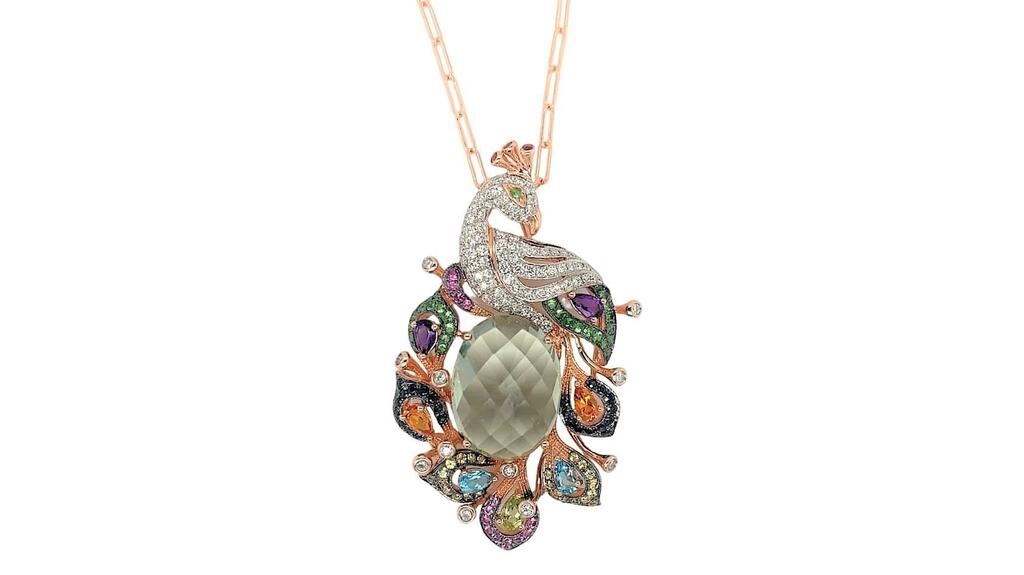 Prepare for color in the fittingly named "Peacock" collection at
Lali Jewels
.
The company has incorporated a color variation of blue topaz it says is similar in hue to Paraiba tourmaline into its collection for JCK 2023.
New designs also combine multicolor sapphires and Ethiopian opals, though there will be plenty of the big three—emerald, ruby, and blue sapphire—on display.
Also check out the new men's collection at booth 240 in The Plumb Club Pavilion.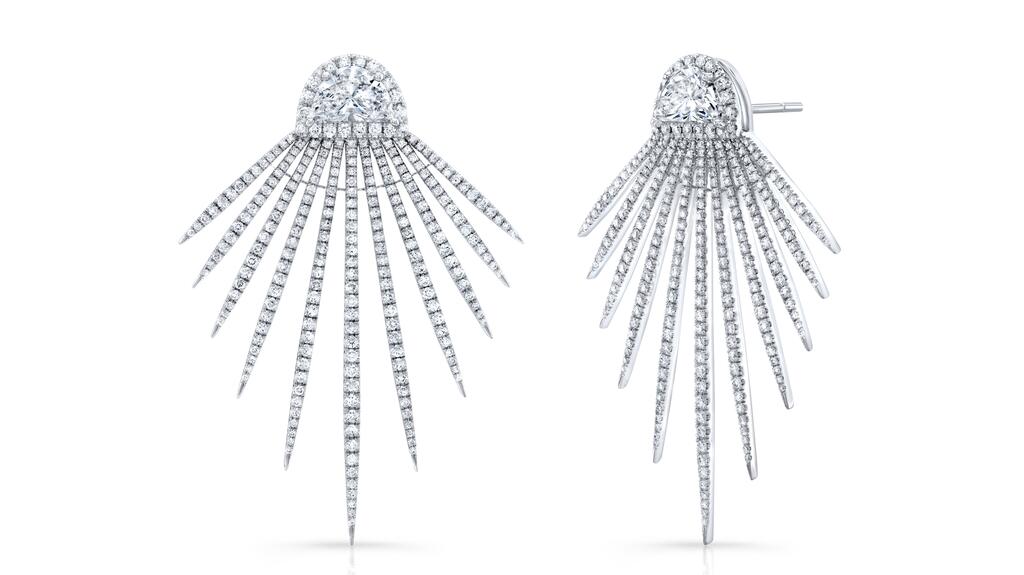 Diamonds are the lens through which
Rahaminov Diamonds
interprets the natural world. New collections presented at JCK find their inspiration in blooming flowers, awe-inspiring landscapes, and animals, as seen in the "Jellyfish Earrings" above.
There will also be plenty of vintage inspired pieces at Luxury booth 622.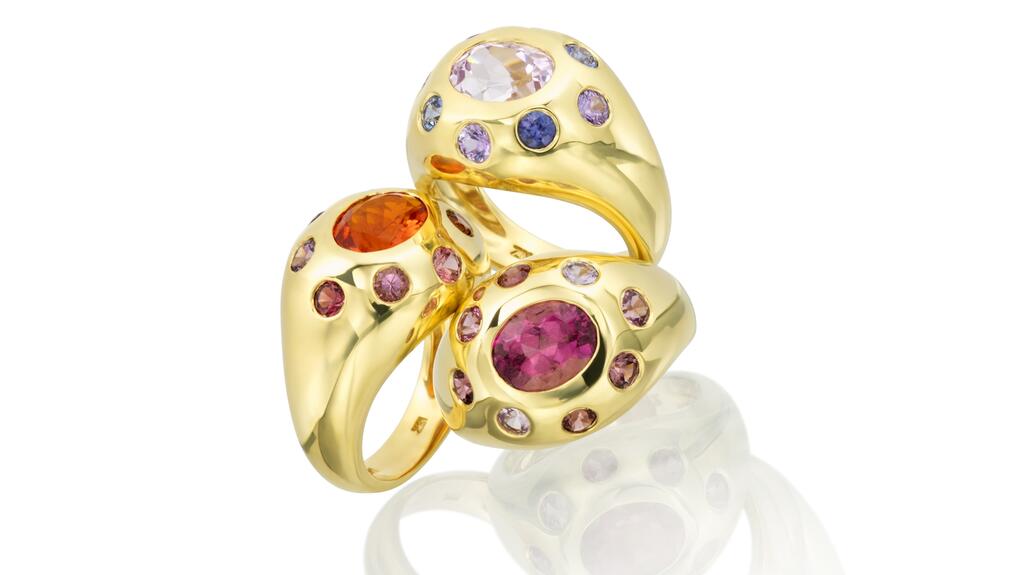 Last year,
Lauren K
added to its collection of one-of-a-kind pieces with hand-selected gemstones with the "Gypsy" collection of rings with flush-set stones in chunky gold.
There's more of that style, with new "Aura" rings featuring gems like spinel, kunzite, multicolor sapphires and fire opal.
See all the newness at Luxury, booth 601.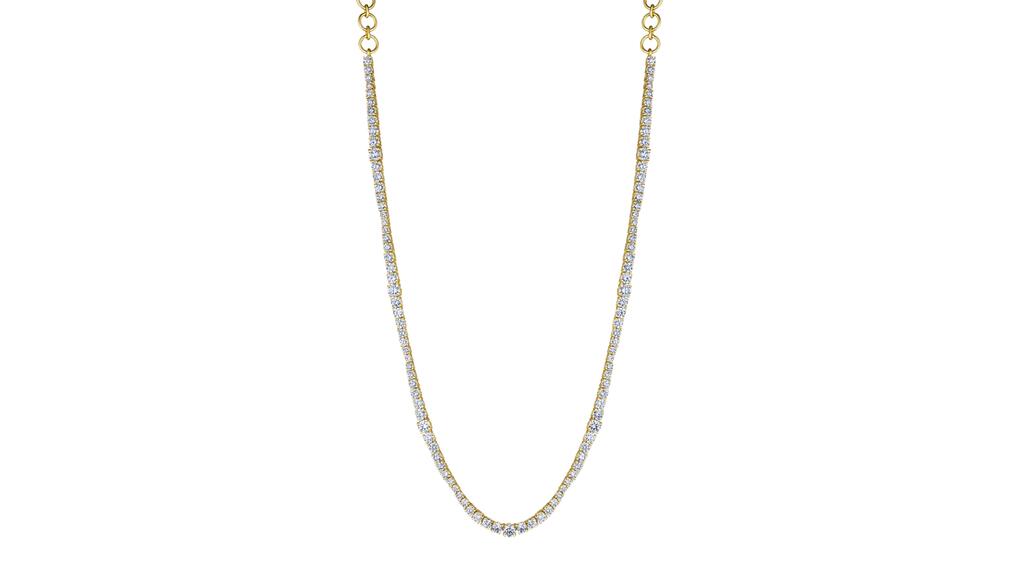 Penny Preville
first exhibited at JCK about two decades ago. The brand returned last year after a lengthy hiatus and is back for more in 2023.
Showcasing its fall/winter offerings, the "Wave" collection features diamond basics like chokers and bangles in graduated diamond lines reminiscent of waves in the ocean. There will also be updated to the designer's popular "Deco" collection with its diamond mosaic jewels.
Penny Preville will exhibit at Luxury, booth 917.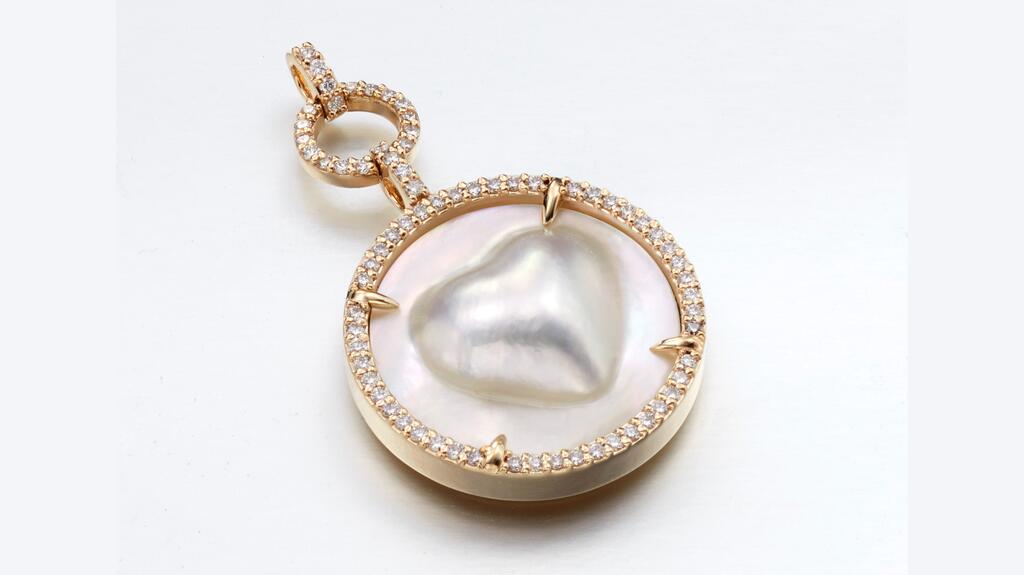 Lex Fine Jewelry
will make its JCK debut this year in the Design Collective, booth D124A.
The New York-based brands uses diamonds, pearls and colored gemstones in its designs. Debuting at the show is a collection of new jewels featuring Mabe blister pearls, each celebrated for its uniqueness with diamond and gold accents.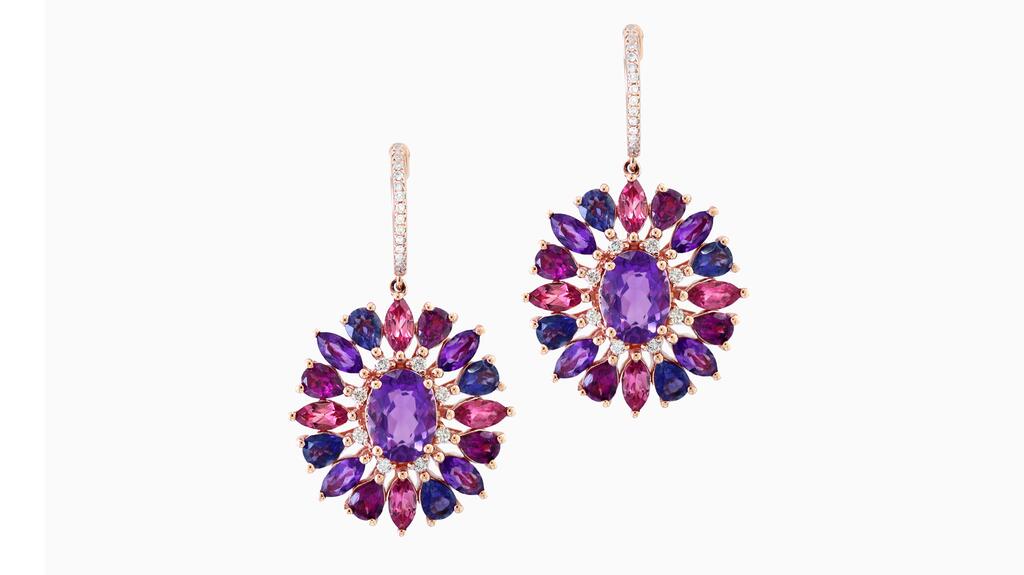 One could spend the entire JCK show planted at
Effy
viewing its over 30 collections that range from diamond to colored gemstones to men's pieces to special "Couture" jewels. 
Look out for the new "Primose" collection featuring kunzite, and the "Juneau" range featuring green onyx. 
Effy will exhibit at booth 15101.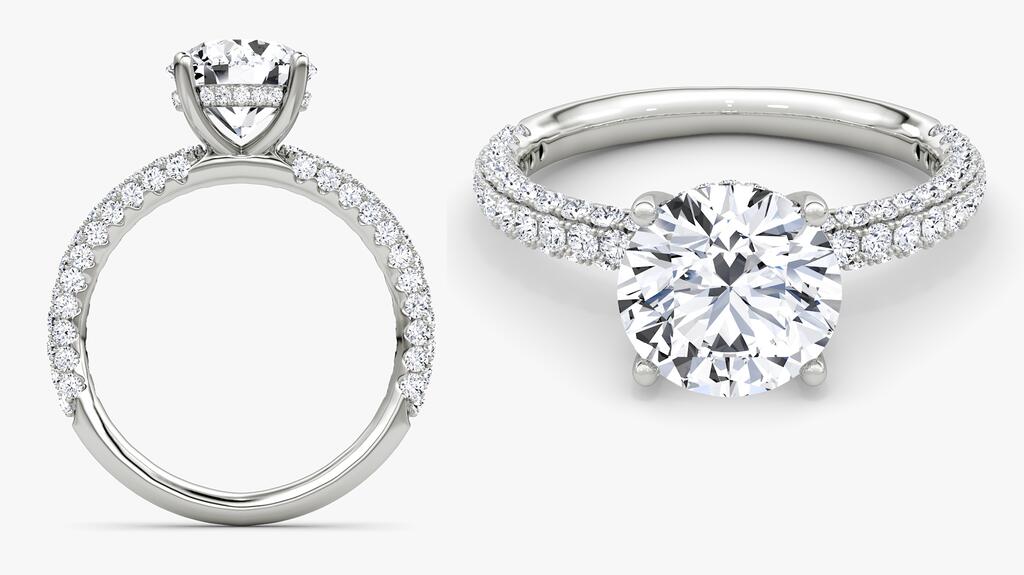 For JCK 2023,
Imagine Bridal
is focusing on the details, debuting a new collection of "hidden" halo engagement rings.
From a logistics standpoint, the company also has news, unveiling its streamlined two- to three-week turnaround time on all special orders at the show.
Find out more at Luxury, booth 1117.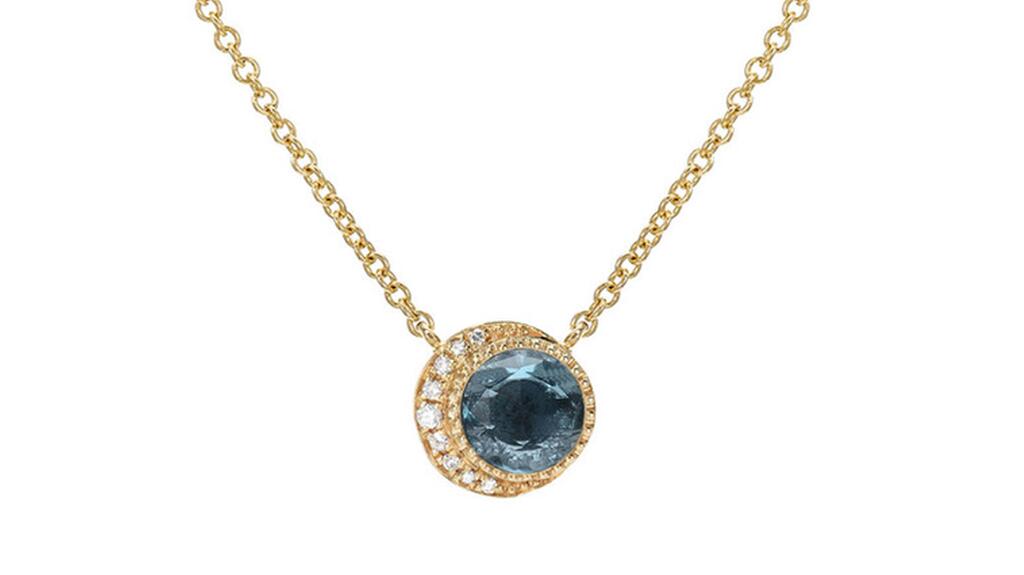 At
Liven Co.
, there are new additions in novel colors to the "Celestial" collection slated to make their JCK debut.
Earrings and necklaces depicting phases of the moon are now available in London blue topaz and rainbow moonstone in addition to other gems.
See the collection in the Design Center, booth 13030.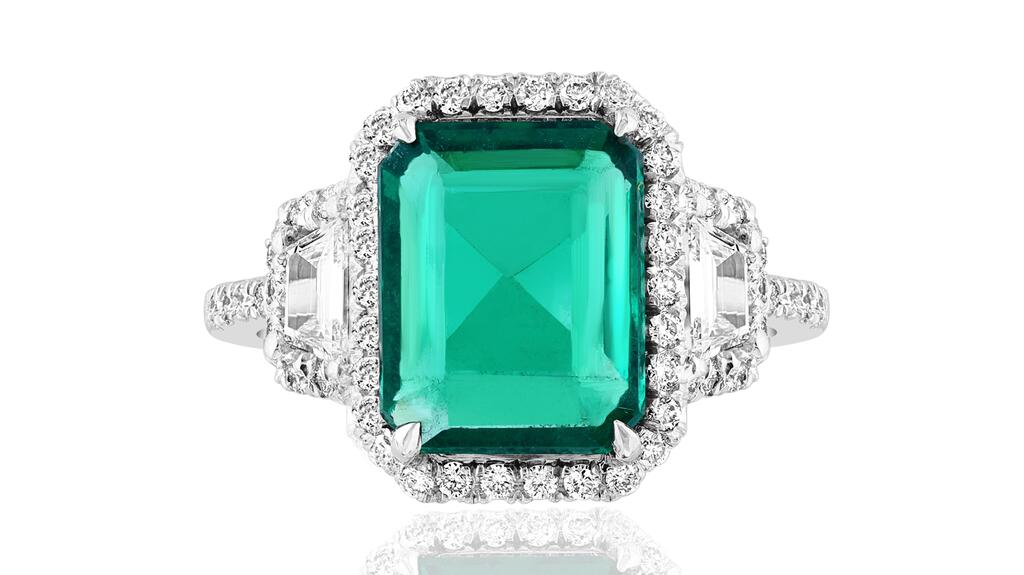 A visit to
Jewels by Jacob
is an experience in world-class gemstones set into one-of-a-kind designs.
Peer through the newest treasures, like the above Zambian emerald ring, at Luxury, booth 1105.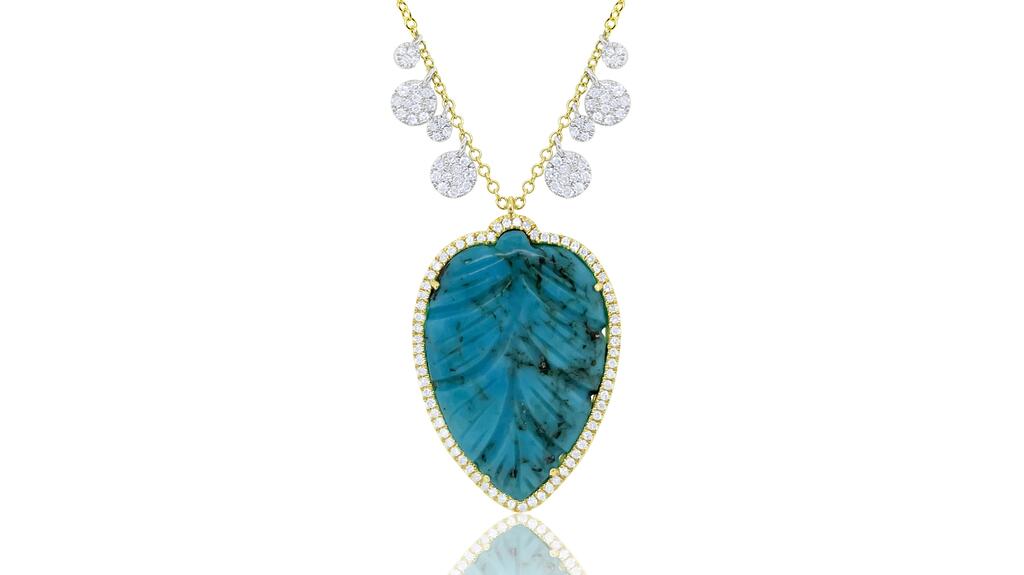 Symbols play a large part in the
Meira T
design story. At this year's JCK, expect to find leaves, moons, stars, and evil eyes, among the popular totems.
There will be a focus on colored gemstone pieces among the newness. See the brand at Luxury, booth 731.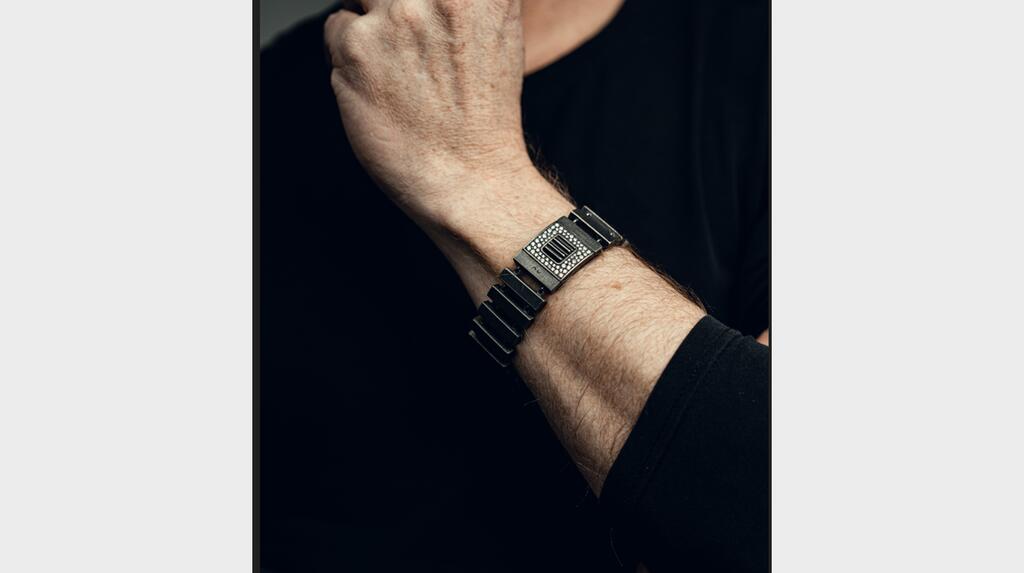 Marco Dal Maso
will unveil a new chapter in Vegas with a capsule collection it says will expand over the coming months and years.
It features vegan "bio leather," which, according to the company, uses 95 percent less greenhouse gases, 93 percent less water, and 72 percent less energy than traditional leather.
Designs feature recycled silver and gold and lab-grown diamonds sourced from a facility that operates on solar and wind power.
Check it out at Luxury, booth 632.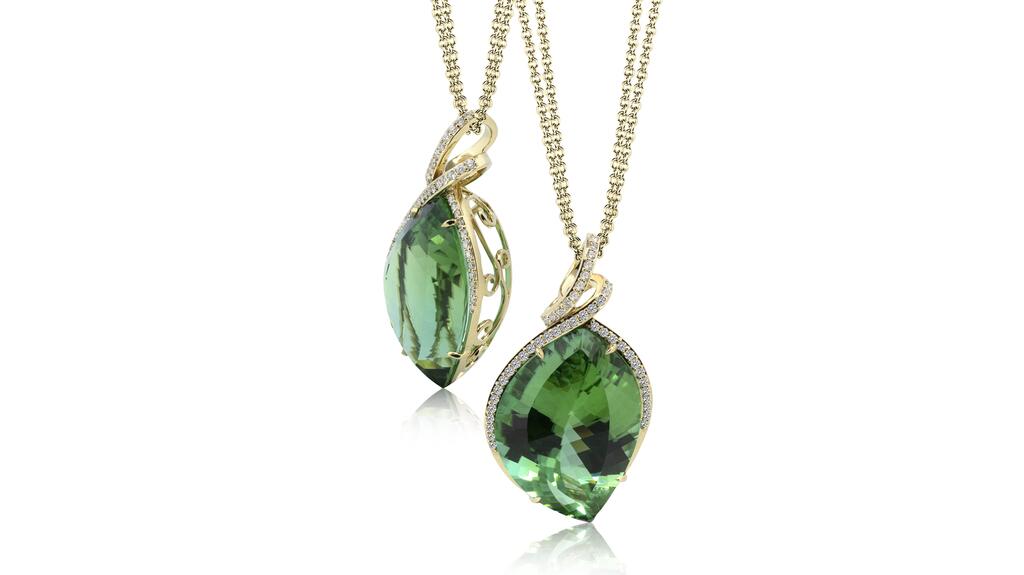 There are three main collections of note at this year's JCK for
Simon G Jewelry
.
The first is inspired by silhouettes found in nature, like petals and leaves; the second is inspired by technology and boasts clean lines and a futuristic feel; and the third is inspired by traditional craftsmanship, with a focus on classic techniques and artistry.
See it all at Luxury, booth 423.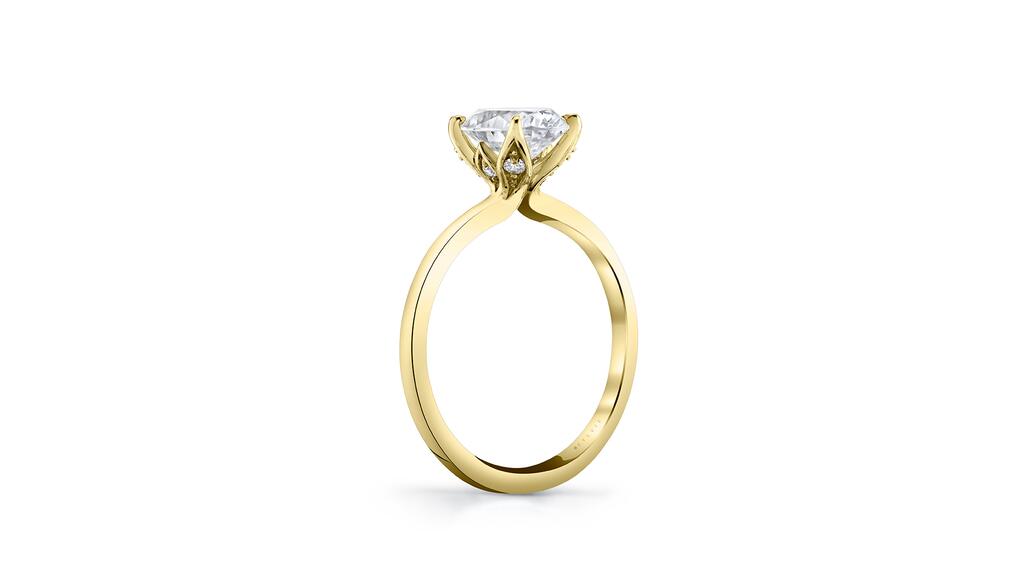 Among the newness at
Sylvie
this year is a range of tulip-inspired engagement rings.
Prongs become climbing leaves surrounding diamond center stones in the line.
See it at Luxury, booth 903.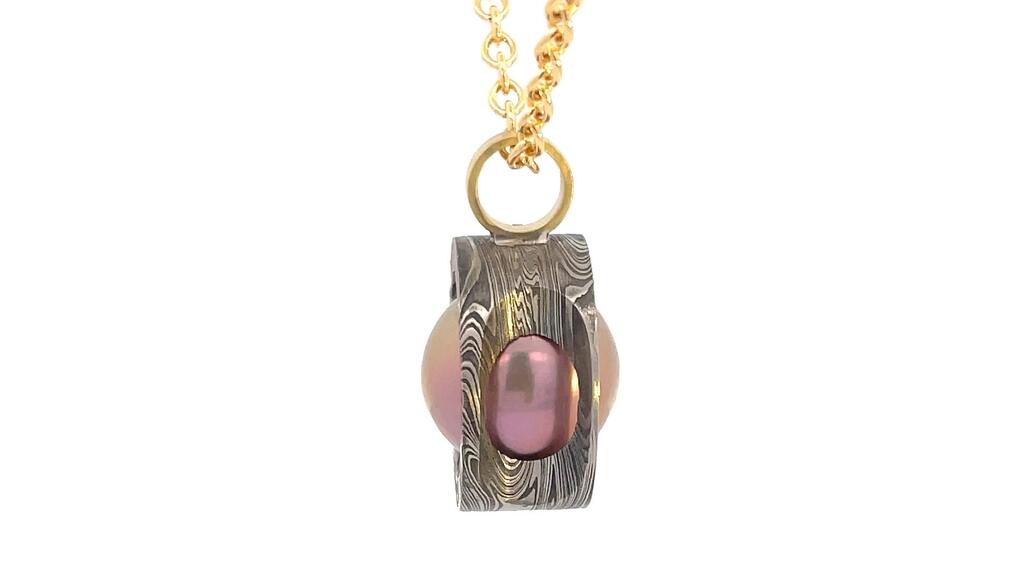 Catch
Chris Ploof
in the Design Collective at JCK, booth 14025, where the designer will unveil two significant new projects.
One is a collection of new medical ID pendants in the brand's signature hand-forged Damascus steel, and the other is a new range of pearl designs.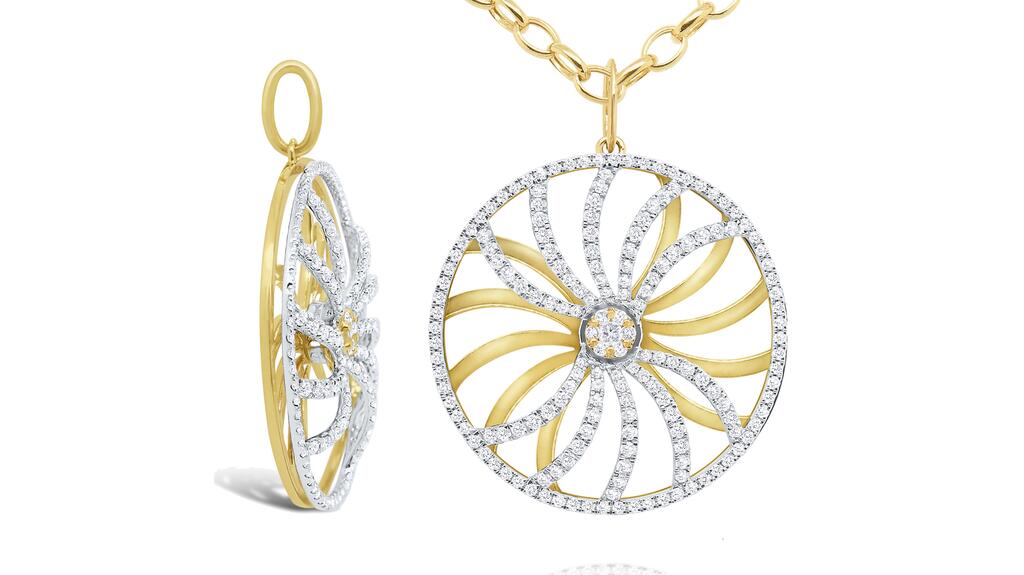 Everyday diamond jewelry gets a little bolder this year at
KC Designs
.
Case in point is the above "Spinner Pendant," that features two layers—one stationary and one that moves.
See more of the latest from KC Designs at Luxury, booth 537.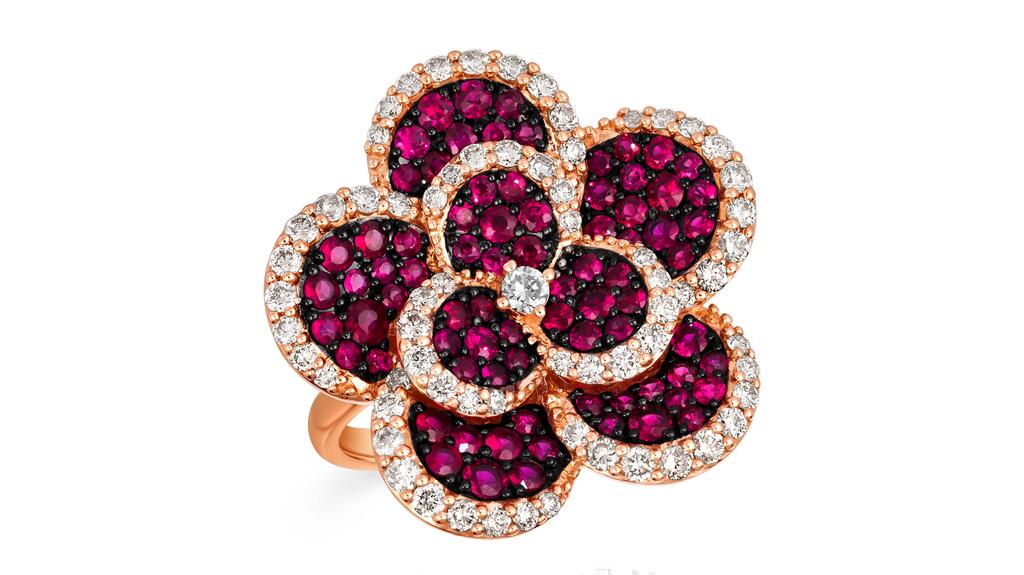 Le Vian
is channeling the concepts "passion" and "rebirth" in its newest offerings at JCK. 
Natural elements like bees, butterflies, and flowers represent the latter, while bold, saturated colored gemstones express the former. 
See these themes in action in the Veronese Ballroom, where Le Vian is exhibiting. 
More on Trends