State of Design: The Jewelry Design Trends to Know Now
National Jeweler's senior editor covering fashion, trends, and design highlights the latest looks in the market.
Editor's Note: This story first appeared in the print edition of the 2023 State of the Majors. Click
here
to see the full issue.
For a designer, a trend is a blessing or a curse, depending on how they look at it.


Trends may feel like commercial limitations on creativity and uniqueness for some, while for others they may be a helpful guide in translating their vision for the end consumer.


The most successful trend adopters pick a trend or two they like and disregard what doesn't feel on-brand. Most importantly, they always interpret what's in vogue through their own lens, leaving their aesthetic signature on any trending style. 


The designs pictured throughout this story are examples of jewelry that incorporates some aspect of a trend into a collection while retaining the maker's identity, with trends serving as a guiding inspiration, rather than a hindrance. 


Inlay


Designers' current love affair with color is a macro trend in itself. It's apparent in the prolific use of colored gemstone inlay among brands like Mason & Books, Sorellina, Jacquie Aiche, and Retrouvai. 
For designers who have long counted inlay a brand signature, we're used to seeing plenty of lapis lazuli, turquoise, and malachite. 
Today, these materials are just the jumping-off point for so many more unique gemstone options. Think: pink opal, moss agate, chrysoprase, and chalcedony—the more distinctive or uncommon, the better. 
What's interesting about inlay is its practical element. Using large chunks of colored gems, and often the less expensive varieties, is an economical alternative to gold or lots of faceted, more expensive stones. 
The trend doesn't read as prudent, however. Instead, it exudes a joyful, maximalist, gem-my look.
Mason & Books uses all kinds of inlay in its jewelry collections, which are built around sweet, childlike motifs such as a ladybug, a bow, and a heart. While styles remain the same, each piece is inherently one-of-a-kind depending on designer Jamie Books' stone sourcing. 
Mason & Books is a great example of mixing faceted stones with gemstone inlay, providing the best of both styles.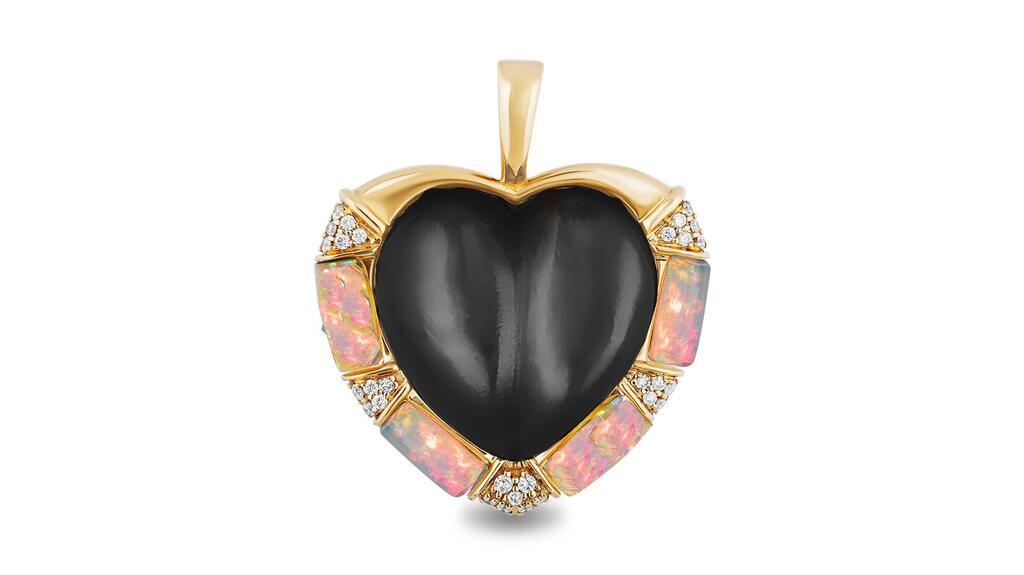 This trend also has been a signature for designer Kirsty Stone's brand, Retrouvai, which has always utilized inlay in its collection. The "Lollipop" range, specifically, houses a faceted gemstone within an inlay "halo." The look is bold and ripe for interesting color combinations.
Sorellina, the brand helmed by sisters Nicole and Kim Carosella, has made the signet ring its own—not an easy feat—through use of inlay that it tops with diamond and gold letters and symbols. The style is so successful it's available in a pendant version, too. 
Jacquie Aiche, meanwhile, makes inlay feel on-brand with its hippie mosaic styles that equate to elevated flower-child jewelry. 
Keep an eye on multi-inlay designs that utilize layers of inlay, à la Orly Marcel, and tiger's eye, which is making a comeback after not being a hot commodity in recent years. 
Enamel


A few years ago, enamel as a trend reached its peak, with nearly every new collection from an independent designer seeming to debut an enamel element in their lines. 
Now, the trend has settled into a healthy hum, with lots of brands utilizing the materials' colorful possibilities if it makes sense for their vision, rather than out of pressure to jump on the bandwagon. 
Like inlay, enamel is one way to experiment with lots of color without breaking the bank. Plus, while gemstones must be sourced, designers can create their own custom enamel shades to fulfill the visions of their artistic universe.
Melissa Kaye has undoubtedly been the trend's leader, debuting colors that just weren't seen in the fine jewelry marketplace, like hot pink and glowing yellow. 
After showcasing neon shades, she moved on to pastels. Buyers, and customers, have responded to all of it, proving that no creative should be limited to the tried-and-true out of fear new designs won't sell. 
Designer Selim Mouzannar expertly demonstrates how to do a trend one's own way. 
If Melissa Kaye is modern, Mouzannar's eponymous brand is an ode to heritage and antique techniques. 
Its take on enamel is custom shades paired with different gems or highlighting an engraved guilloche pattern. Accordingly, the feel is totally different. 
The Cocktail Jewel


A bold diamond or gemstone set into a chunky gold setting is hardly anything new, right? 


And yet, designers are having a blast with the cocktail ring, experimenting with settings and gem selection to give the style, which dates back to the Prohibition era, their own spin. The mood is bright and buoyant, very post-pandemic and celebratory, conjuring up drinks by the pool in Palm Springs. 


The style is a replacement for what we used to dub the "right-hand ring." With self-purchasing the new consumer mood in jewelry, rather than jewelry only for engagements and anniversaries, there's no need to delineate styles of rings. 


The look is so popular it's spawned a cousin, the cocktail pendant.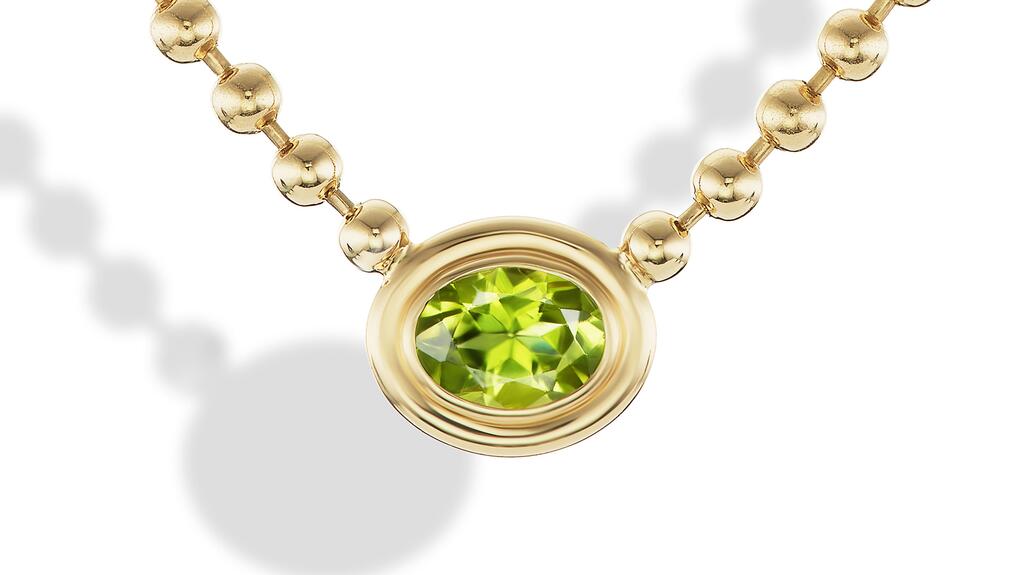 Gemella produces luscious gemstone pendants in a thick gold setting on its signature heavy ball chain while Retrouvaí's new "Loop" rings are the brand's latest innovation that make a simple gemstone ring feel utterly unique. 


Arielle Ratner's "Power Pinky" is undeniably classic and elegant, and like the rest of these jewels, super-bold but intended for daily wear, not just special occasions.


Taking a step back from color to include diamonds and metals in the conversation, there's been a big shift in shapes recently. Graphic, geometric designs are giving way to more organic, wavy looks. 


The trend is a good exercise in affirming one's brand identity. For a company that's heavily influenced by Art Deco, it's a perfect one to skip. For designers who resonate with curving lines, the trend is a great one to embrace. 


Today's waves in jewelry are mirroring a trend that's taken home décor by storm in recent years, with product design inspired by the curving and not-so-serious shapes of movements like the 1980s Memphis Group. 


With softer angles prevailing in furniture and home design—like the resurgence of Italian architect Ettore Sottsass' curving mirror—it was only a matter of time until certain designers rendered their own jewelry interpretations.


Emerging brand Ondyn's entire line is based on swirling, sensual shapes. With nearly every piece articulated and moving along with the wearer, Ondyn is perfectly suited to wave-like designs.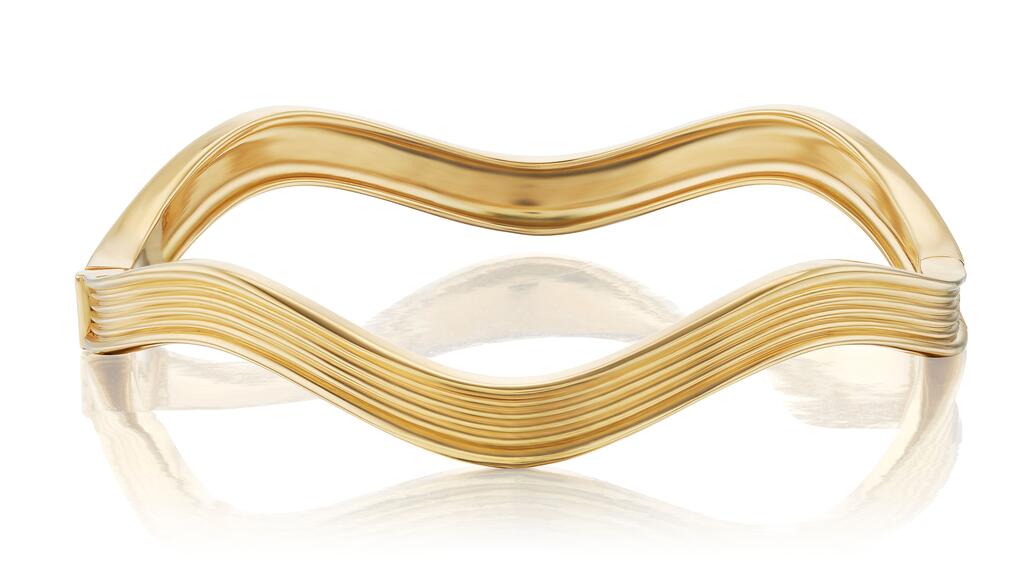 Aurelia Demark's "Ric Rac" collection is an elegant and sculptural take on wavy shapes with its textured wavy bangles and rings that feel like instant heirloom pieces. 


For its 15th anniversary collection, Jemma Wynne transformed simple bands and cuffs into a wavy motif accented with diamonds and colored gemstones.


Heavy Metal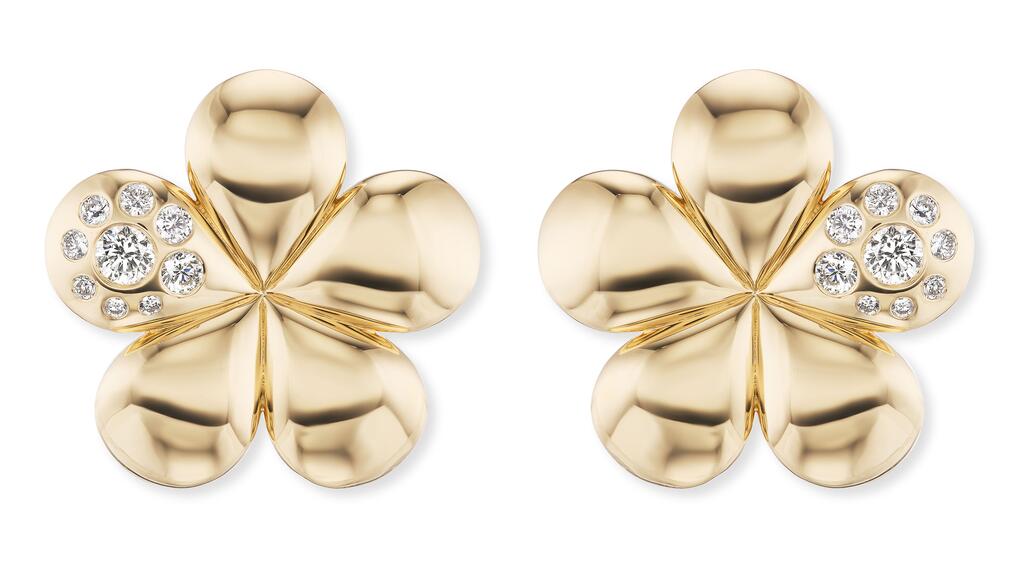 Chunky gold cocktail jewels are the perfect segue into the next trend, the current infatuation with metal-heavy designs. 


A brand at the forefront of this aesthetic is Brent Neale, with its rich interpretations of the antique "gypsy-style" ring, in which stones are almost flush-set. 


Like most trends, the style itself isn't brand new, as there are only so many ways to make and wear jewelry. Trend-starters are known as such because they've revived a style that isn't currently commonplace or created something unique about it. 


Brent Neale's love of gold has developed into many more chunky gold settings, like juicy, rounded bezels, or the fan-favorite "Petal" ring setting, all in which the metal and stone are equally important in the design.  


Bespoke jewelry designer Jonne Amaya uses the word "metal-prominent" to describe her work, which is the antithesis of a classic prong-set diamond ring—a fitting term to encapsulate the trend. 


Lindsey Scoggins creates distinctive settings for stones that are trend-defiant in many ways but utilize lots of metal. 


Two Stone Rings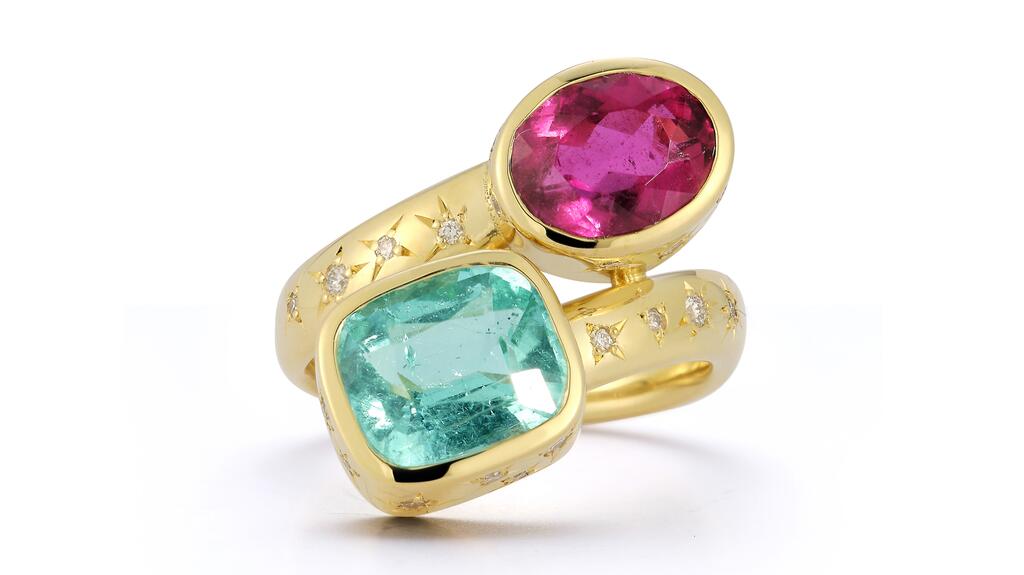 A heavy gold setting is applicable to all jewelry categories, including commitment jewelry like engagement rings. Similarly, a two-stone ring is a big trend for rings, bridal specifically. 


This trend is likely a trickle-down look from the likes of Ariana Grande and Megan Fox, who debuted two-stone engagement rings in 2021 and 2022, respectively. 


As the style entered the cultural zeitgeist, lots of couples decided they wanted their own toi et moi ring. 


A wonderful aspect of the two-stone ring trend is it is easily adaptable to any company's brand aesthetic and doesn't require reinventing the wheel. A diamond solitaire can easily become a two-diamond ring. 


Two-stone rings have long been a foundational piece of Jemma Wynne's oeuvre, often in designers Jenny Klatt and Stephanie Wynne Lalin's signature combination of white diamond and emerald (and many other variations since). Some of the brand's latest two-stone rings have been more of a bypass style.
Darius, creator of antiquity-inspired jewels, incorporates unique and rare stones into its two-stone rings and even hoop earrings. 


Uniform Object, meanwhile, is the perfect example of making a two-stone ring its own. In its designs, the two focal point stones often don't even sit on the same plane, with one embedded in the ring's side and several small pavé-set stones spread throughout the piece. 


Briony Raymond's two-stone style, perfect for daily wear, incorporates an extra-chunky gold bezel setting with the toi et moi fervor.


Millennial designers are ultra-nostalgic for their childhoods and often mine the 1980s, 1990s, and 2000s for inspiration. 


While the result is playful, it also strikes a sentimental chord because of the connotations. The trend can be interpreted on-the-nose or in a more abstract way.


Brand Boochier, for example, reimagines the classic Slinky toy as an elevated, chic spin on hoop earrings, bangles, rings, and necklaces. In diamonds and gold, and sometimes colored rhodium, the inspiration isn't exactly apparent, taking on its own life as an abstract motif. 


Aisha Baker's "First Love" collection mixes multicolor gemstones a sweet enamel-covered symbols like flowers, hearts, four-leaf clovers, and fish. The colors and shapes are undeniably youthful.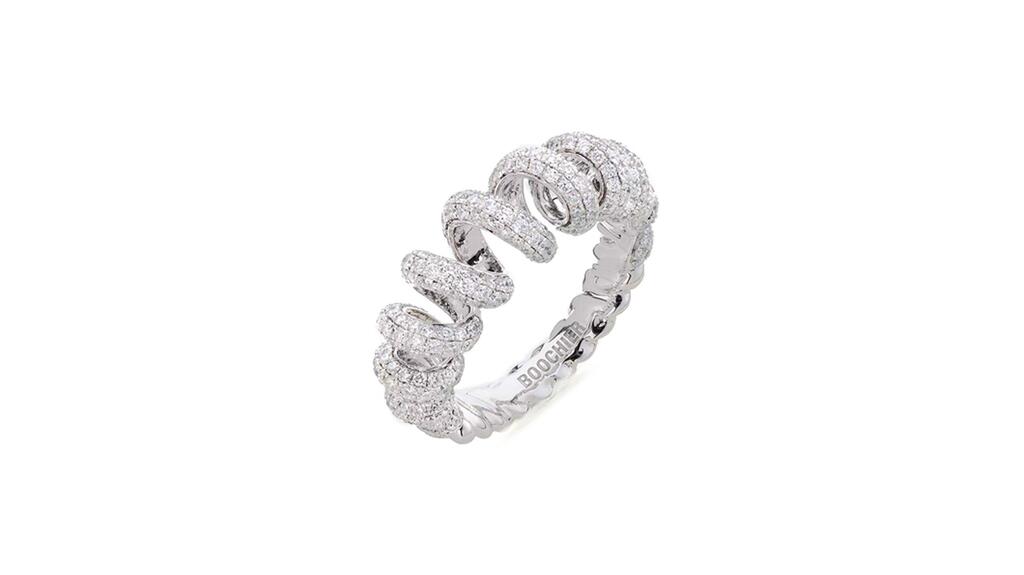 Even Alina Abegg's take on the future, her "Alien" ring, is rooted in a childlike depiction of otherworldly visitors that earlier generations will recognize as a midcentury interpretation. 


Overall, the trend is rooted in fun, mirroring fashion's ethos that luxury doesn't have to be serious.


Unisex


On the men's jewelry front, the biggest trend is more of a dismantling of barriers than a new style. 


Inspired by professional athletes and style icons-in-the-making like Harry Styles and Timothée Chalamet, men—particularly in the Gen Z cohort—are wearing styles that have been associated with women in recent decades, such as a classic strand of pearls.


When a customer can visualize the look—say, seeing a professional baseball player wearing a pearl necklace during the World Series—they can imagine it on themselves and shop accordingly.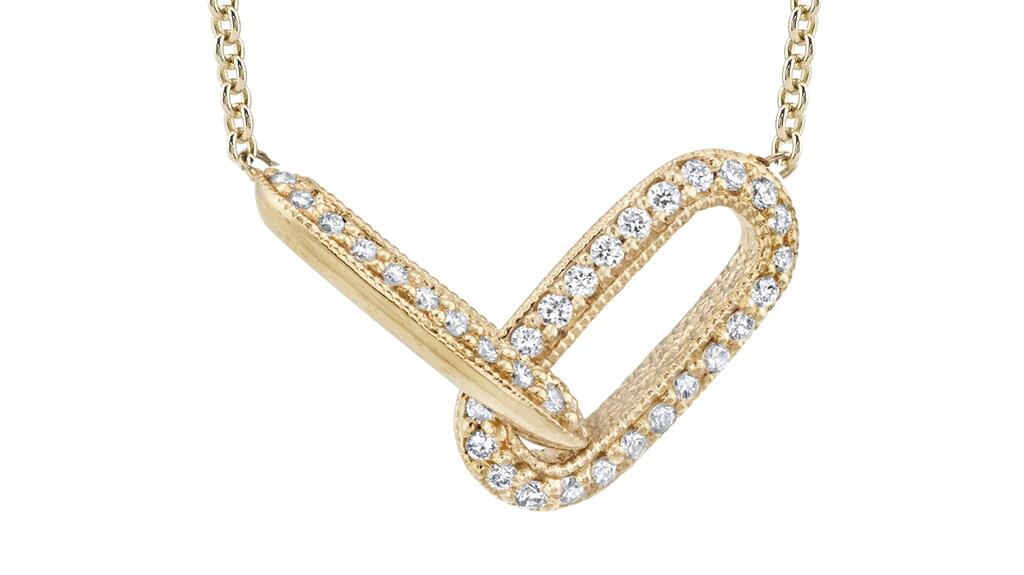 Brands have taken note. Many feel all or most of their offerings have always been unisex but traditionally have been purchased by women. So, they're reframing their work. 


Once you see State Property's luxurious chains, alluring signet rings, and inventive pearl jewelry on a man, the jewelry's genderless appeal is a no-brainer. 


So, rather than launch a collection specified as "men's," the brand, which is designed by the co-ed team of Lin Ruiyin and Afzal Imram, debuted a campaign in 2022 showing their jewelry on male models. 


Brands like Lizzie Mandler now incorporate men and women in their campaigns and the classic pinky rings and sumptuous gold pendants created by brand The One I Love are must-haves for all genders.  


 Related stories will be right here … 
More on Trends
Trends
Dec 04, 2023
Trends
Nov 22, 2023