This New Rolex Day-Date Tells Time … and Affirmations
A new word appears on the dial each day of the week.
The latest version of the Rolex Oyster Perpetual Day-Date 36 will tell you the time, plus provide a word of affirmation and a cheery emoji in lieu of the day of the week and day of the month.
There's a lot of 2023 Rolex newness to share from Watches & Wonders Geneva, happening now, but this timepiece is of particular interest, in this editor's opinion.
It shows how truly mainstream the practice of reciting positive affirmations has become, alongside mindfulness practices, meditation, and/or using crystals to set energetic intentions.
There are seven words that appear in place of the day of the week at the 12 o'clock aperture: Happy, Eternity, Gratitude, Peace, Faith, Love, and Hope.
Instead of the month's date, the 3 o'clock window showcases one of 31 emojis, like a heart.
It would be easy to discard the new Day-Date 36 as a novelty, with its eye-catching champlevé enamel dial depicting brightly colored puzzle pieces in shades like fuchsia and turquoise, and it very well may be intended as the latest fun collector's item, with its baguette-cut multicolor sapphires for hour markers.
But the word "eternity," popping up once a week, sticks with me.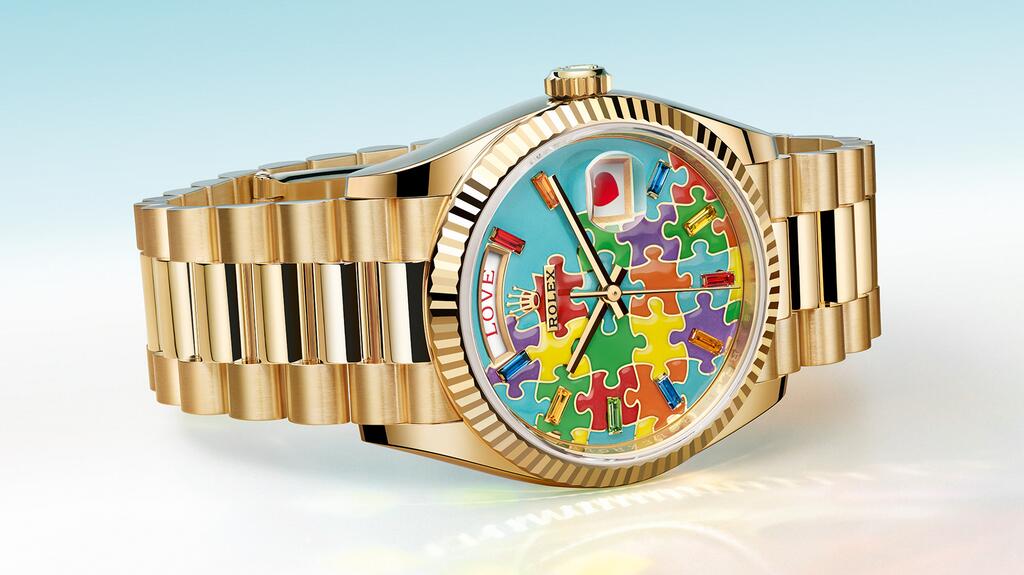 Timepieces are focused on the concrete, the mechanical, the logical, but humans always have questioned time not only in the practical sense, but in the metaphysical and the spiritual, pontificating on lives after earthly lives, or prior lives on this planet. 
One of the most interesting interpretations of time I've encountered was in Kurt Vonnegut's rebellious and captivating "Slaughterhouse-Five."
He introduces the idea of time moving in a lateral manner, rather than linear.
"All moments, past, present and future, always have existed, always will exist," he writes in the seminal novel. 
Reading that, several years ago, I interpreted it as akin to philosopher Friedrich Nietzsche's eternal recurrence concept, that each moment, good and bad, happens infinitely. 
It's a prospect that can be terrifying but also incredibly optimistic; the precious moments of one's life unending. 
It's a lot to gather from a Rolex timepiece and a very Sagittarius read on the subject, as others born in late November/most of December who strongly identify with the sign of the Philosopher can attest, but interesting to see the company play with nontraditional complications nonetheless.
May I suggest astrology-centric timepieces for Rolex's next venture outside the watch box? Just as with the affirmation crowd, I can guarantee there's an audience. 
 Related stories will be right here …
More on Editors