I'm Enchanted With Parmigiani Fleurier's Perfect Travel Watch
At Watches & Wonders, the Swiss brand unveiled a follow-up to last year's Tonda PF GMT Rattrapante.
For a newbie to the world of watches, an abundance of complications can seem rather, well, overcomplicated. A timepiece's many bells and whistles may be technically impressive yet superfluous to the user looking for simplicity.
Reporting live from my first Watches & Wonders Geneva (what a place to dip one's bangled wrist for a horology beginner!). I've already come across a timepiece with an elegant functionality that is more convenient than a glance at my iPhone.
It's the Tonda PF GMT Rattrapante by Parmigiani Fluerier, the Swiss watch brand that is a mere 27 years old founded by Michele Parmigiani, an architect-turned-timepiece restorer and watchmaker.
Rattrapante is a French term essentially meaning "to catch up." A complication that's been around since the 19th century, rattrapante is a chronograph movement, a.k.a. a stopwatch function, with an additional seconds hand that allows for measuring multiple time intervals.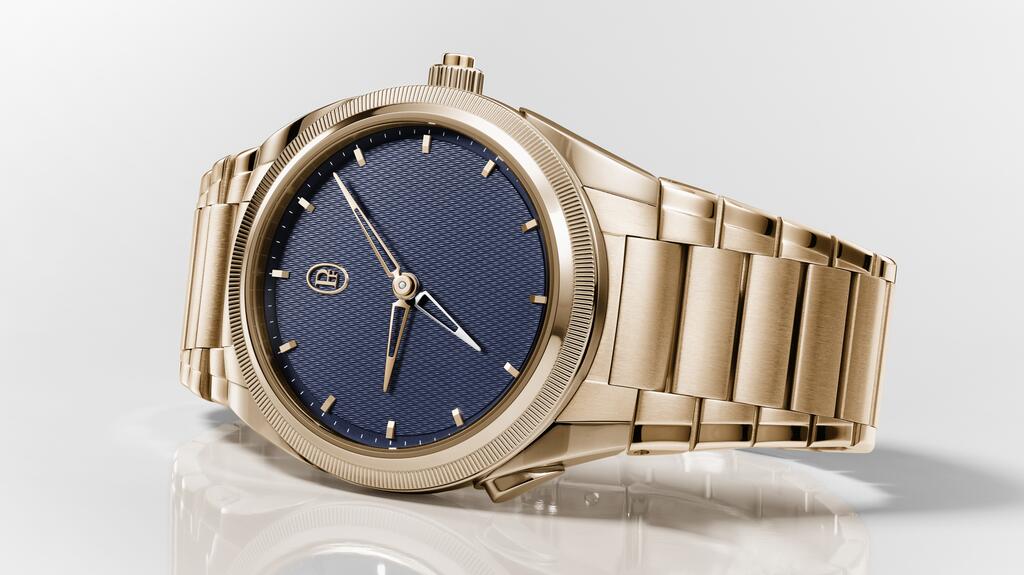 Parmigiani Fluerier's Tonda PF GMT Rattrapante, launched in 2022, made the complication a bit more practical. Rather than recording, say, the time of two races, as the rattrapante was originally intended, the Tonda PF GMT Rattrapante is equipped with two hour hands superimposed one over the other.
Typically, the hour hands move as one unit. It's only when the user sets one hour hand to their home time and the other to their time zone during travel that two are revealed.
This year's addition to the Tonda PF GMT Rattrapante is an 18-karat rose gold version compared to 2022's steel. Its rose gold case, bracelet, and hour markers are accented with a navy blue hand guilloché patterned dial Parmigiani Fleurier calls its "Milano blue" shade.
The rose gold hour and minute hands indicate travel time, while the rhodium-plated gold hour hand shows the home time.
The mixed metal hands make for an easy time check, both locally and at home, at a glance, via the most simple display possible. It's far more legible than many watches that display multiple time zones, or traditional GMT watches with their busy bezels, and even easier than referencing the Clock app on my iPhone, because yes, I'm undeniably new school when it comes to my rather poor timekeeping skills.
Those well-versed in the world of Parmigiani Fleurier may be less interested in the new rose gold edition of the Tonda PF GMT Rattrapante and more excited about the new Tonda PF Minute Rattrapante.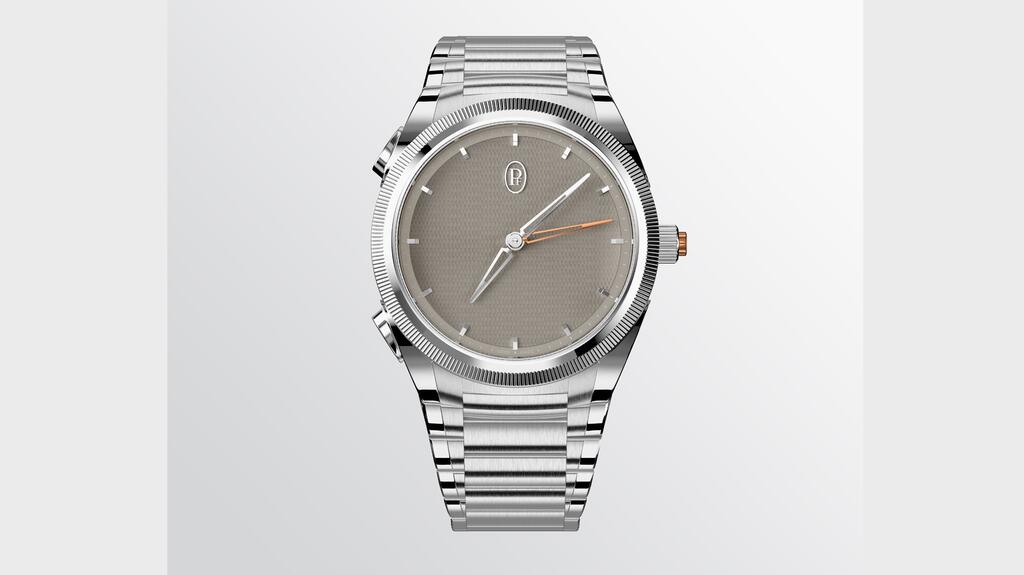 In this edition, the complication activates two minute hands—rather than two hour hands—allowing the user to set a timer for cooking or a presentation, etc. The pusher at 8 o'clock moves the hand by five-minute intervals, while the pusher at 10 o'clock moves it by one minute.
The third pusher on the crown returns the hand to its hidden position behind the other minute hand.
It features the same "grain d'orge" hand-guillochéd pattern as the Tonda PF GMT Rattrapante, but in stainless steel. The polished and satin-finished stainlees steel bracelet and case are accented with a platinum bezel. 
Like the new Tonda PF GMT Rattrapante, the Tonda PF Minute Rattrapante measures 40mm in case diameter. A sapphire case back reveals the movement within.
This year, the Tonda PF Split Seconds Chronograph, or Tonda PF Chronograph Rattrapante, is available in rose gold case and bracelet with a platinum dial.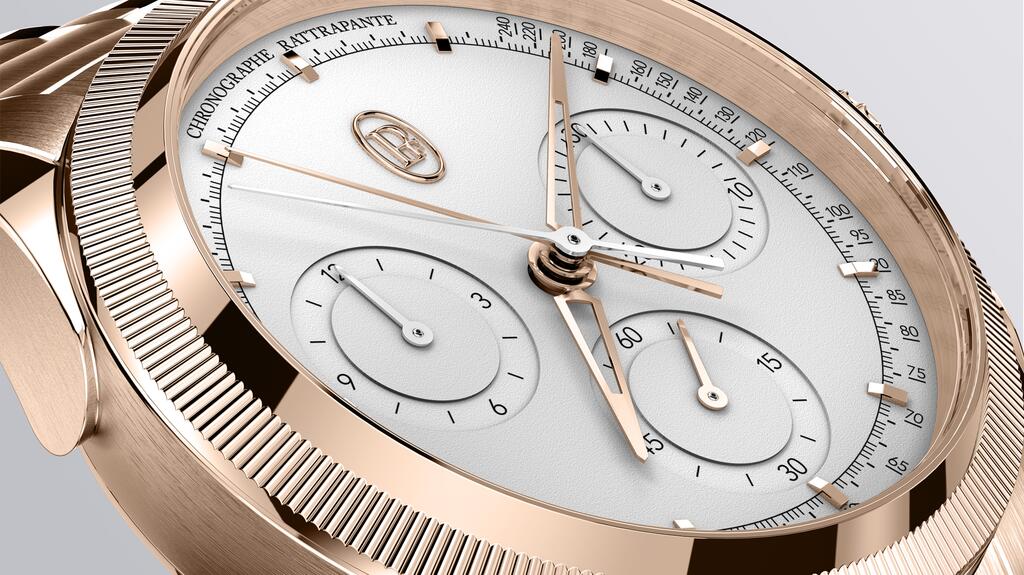 The 42mm timepiece uses the rattrapante feature to time seconds to tenth-of-a-second precision, the brand said. In addition to the chronograph feature, the dial shows tachymeter and pulsometer scales.
In addition to the rose gold bracelet, the Tonda PF Split Seconds Chronograph comes with an interchangeable brown alligator strap.
Parmigiani Fleurier also introduced its edition of three "Cultural Calendars Trilogy Sets," containing three platinum timepieces with three different calendars: Gregorian, Islamic, and Chinese.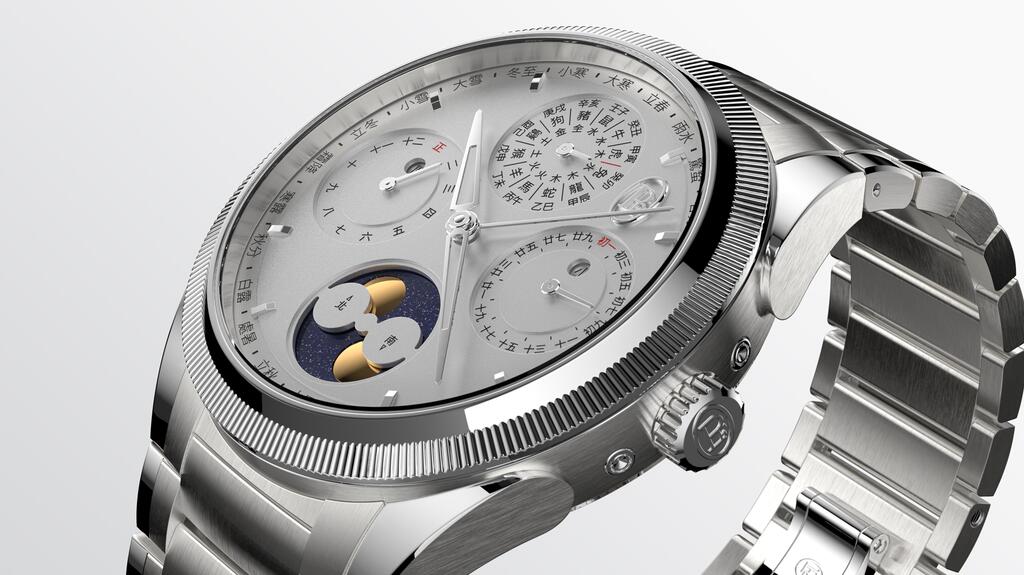 CEO Guido Terreni explained, "Calendars are the mirrors of civilizations. They represent for Parmigiani a mark of multicultural respect, insofar as we want to translate the particularities of a society by creating a watch that integrates all the information allowing us to understand its organization and its history."
Finally, the brand expressed its signature love for platinum with new editions of the Tonda PF Micro-Rotor and Tonda PF Tourbillion executed in the metal.
The Tonda PF Micro-Rotor ($92,800) has a seamless, monochromatic look with its platinum sandblasted dial and polished and satin-finished platinum case and bracelet. It is powered by a thin 3mm self-winding movement with platinum micro-rotor, the Calibre PF703.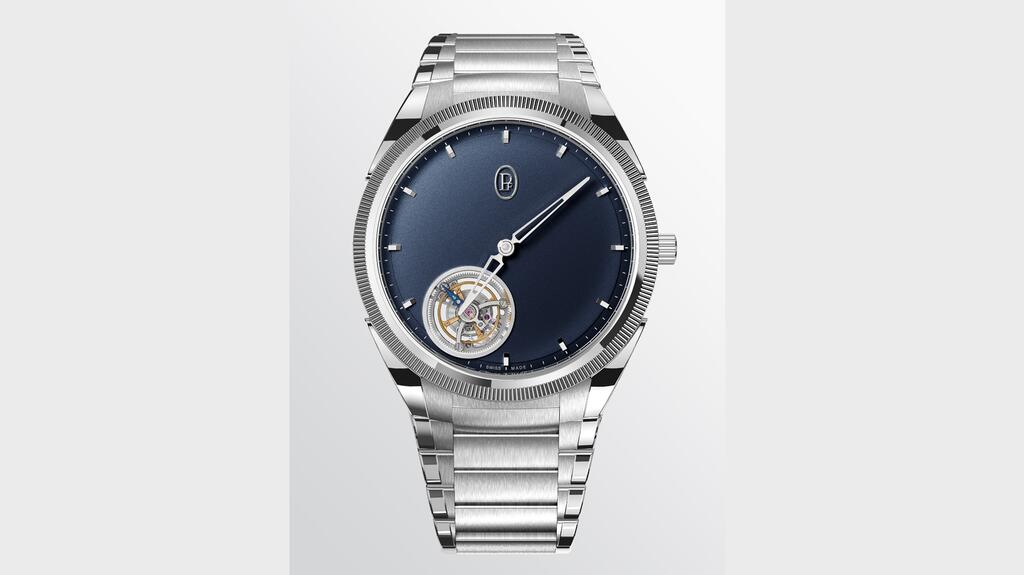 The Tonda PF Tourbillon differs with its Milano blue dial. It is powered by the PF517 automatic winding manufacture movement with flying tourbillon and platinum micro-rotor. 
 Related stories will be right here … 
More on Editors