The Best of Betty White's Jewelry Sold at Auction
Michelle Graff recaps the cats, fortune cookies, and charm bracelets that caught her eye while covering the late actress' estate sale.
While the late, great Betty White might not have had a jewelry collection on par with Elizabeth Taylor's, that doesn't make her jewelry any less interesting or personal.
My two favorite pieces from Julien's Auctions' recent white-glove sale of White's estate were, in fact, extremely personal: they are the bracelets she wore on the day she married Allen Ludden, her third husband and the self-professed love of her life.
Pictured above, the gorgeous vintage pair are 18-karat gold.
One is set with sapphires, perhaps White's nod to "something blue" or just a gemstone preference.
Although she was not a
September baby
(White was born in January), there were quite a few pieces in the sale of her estate set with sapphires, and who can blame her? They are beautiful.
The other bracelet is set with diamonds. Engraved on the side is "June 14, 1963 From This Day On," referencing the date she married Ludden at the Las Vegas Convention Center.
The bracelets are signed "E. Pearl," which Julien's attributes to "Edwin Pearl" but more likely were crafted by
Erwin Pearl
, who designed fine jewelry before getting into fashion. (I did not receive a reply from Julien's by press time regarding the discrepancy.) 
The bracelets sold for $10,240 each, more than five times their highest individual estimates.
 Related stories will be right here …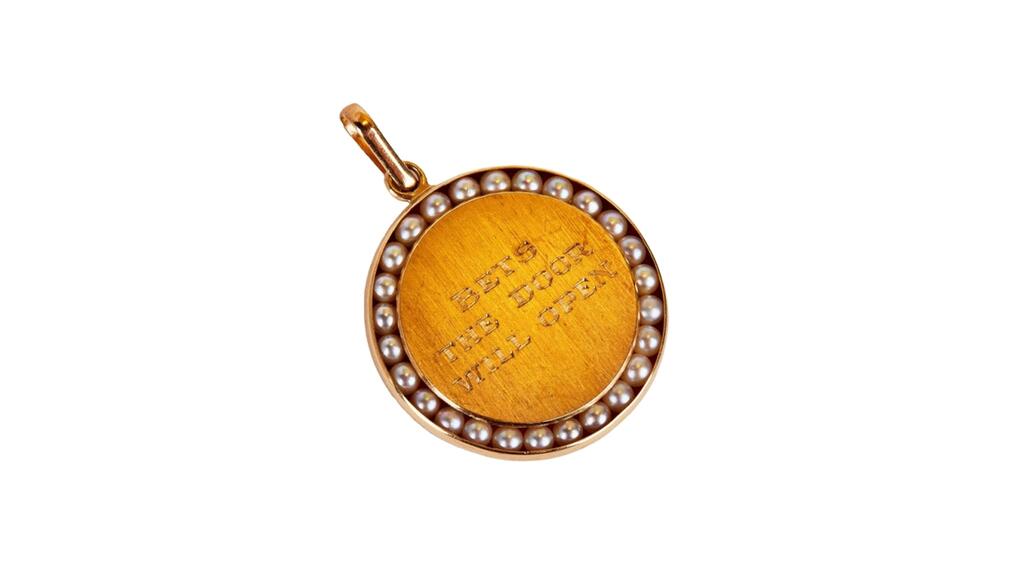 Medallions are timeless ways of expressing oneself through words, symbols, or some combination thereof. The talismanic energy they bring never goes out of style. 
I love this one belonging to White that's engraved with the encouraging words, "Bets The Door Will Open." It reminds me of another medallion with an empowering message that's been on my wish list forever, Monica Rich Kosann's
"Dorothy" medallion
, which reads, "You had the power all along, my dear."
No word from Julien's on when or from whom White might have received this 14-karat gold pendant with a halo of cultured pearls, though it really could have come at any point over the course of her long career, which spanned the 1940s to present day.
While White was much celebrated in her later years, it's safe to assume her career had its ups and downs and, like anyone else, she needed encouragement at times.
A buyer paid $4,480 for the piece, well above its highest estimate of $600.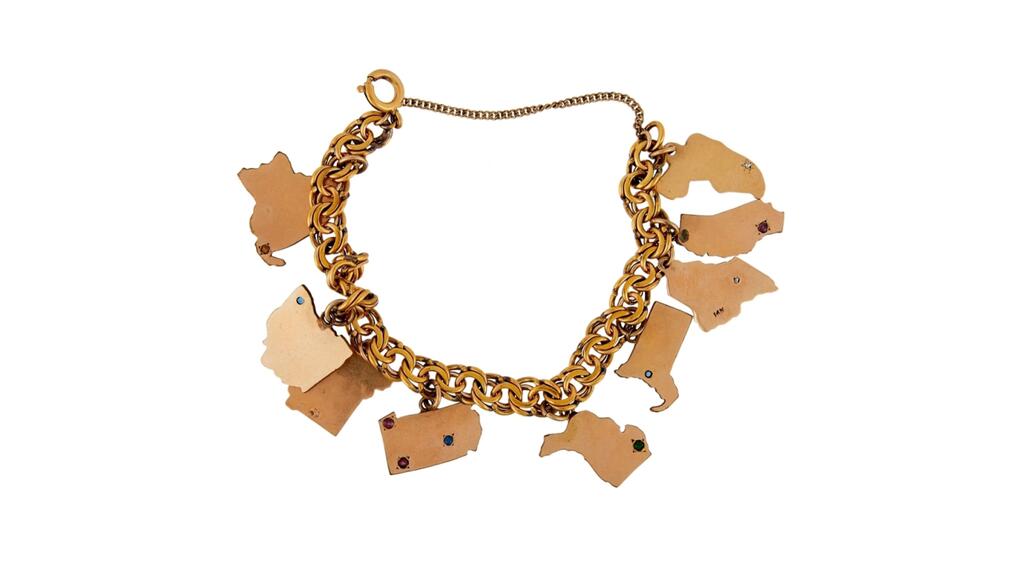 There were more than half a dozen charm bracelets included in the sale of White's estate, which makes sense given the style's long history and the resurgence it enjoyed in the 1940s and 1950s, when White was in her 20s and 30s. 
There was a collection of silver charm bracelets from her childhood (sold for $2,560), a vintage charm bracelet featuring military charms (White served in the American Women's Voluntary Services during World War II), and a bracelet with enamel charms from The Robbins Company that look like they belong in a showcase at the Couture show today (sold for $1,152). (Bonus: The backs of the enamel charms spell out the phrase, "Damn, but you're a doll.") 
But my personal favorite is this 12-karat state charm bracelet featuring the outlines of nine U.S. states.  
It reminds me of a bracelet that belonged to my late grandmother, who was around White's age. My grandma had silhouette charms made to mark the birth of each of her eight grandchildren, with our names and exact birth dates engraved on the back. That bracelet was fabulous. 
It also makes me wonder, did White get these on visits to each state, and was her goal at some point to have outlines of all 50 states on different charm bracelets?
And, what do the gems signify? At first, I thought it was state capitols, but there are three gems in Pennsylvania and the Ohio gem is set where Cleveland is, not Columbus. So, perhaps it's cities she visited in those states? 
We'll never know, but I certainly hope the person who paid $1,600 for the piece—a bargain if you ask me—enjoys it.
When I first wrote about
White's jewelry style
earlier this year, I noted jewelry is a way to communicate one's passions and beliefs. 
In White's case, she used her jewels to express her love and compassion for animals, from the big cats I highlighted back in January to the irresistible collection of small cats above.
My favorites—the "gold tone" and black enamel cats with CZ collars sitting side by side at top and their black enamel friend licking his paw to the left. Fun note: the kitty at right in the middle is 18-karat gold with a round diamond and is signed "Tiffany Germany." 
A buyer paid $2,560 for this set of feline pins and pendants, surpassing its $400-$600 pre-sale estimate. 
Also, who can resist the adorable otter brooch above? Cast in 18-karat gold, this little guy has a round diamond on his belly and a ruby eye. The otter pin sold for $5,760, against an estimate of $600-$800. 
Like the charm bracelet, there's an air of mystery surrounding this Ruser fortune cookie pin.
The fortune, as you can see above, reads, "And he'll be short, gray, and then some."
Was this a phrase White created for her fortune in reference to love of her life Ludden, who was certainly gray by the time they started dating and, at a reported 5-foot-9, not all that tall? 
Did a friend gift it to White as a joke? Was it just a random inscription that came in the cookie she picked?
We may never know, but there is one more interesting note about the piece.
Ruser, I learned while chatting with jewelry historian Marion Fasel of
The Adventurine
earlier this week, was at one time "the name to have in Hollywood," she said. Formerly located in Van Cleef & Arpels' current space on Rodeo Drive, the company was helmed by William Ruser, whom everyone called Billy.
Despite being a signed and seemingly unique Ruser piece, the fortune cookie brooch was one of the few items in White's estate sale that did not blow away its pre-sale estimates, perhaps because it lacked the screen caché of some of White's other possessions, like the sapphire pendant that was the
top jewelry lot of the sale
. 
Julien's estimated the brooch would sell for $4,000-$6,000, and the hammer price was $5,760. 
More on Editors
Editors
Jul 05, 2023