Tiffany & Co. Celebrates 'Lock' Collection with Immersive Exhibit
The interactive pop-in showcases the unique mechanics of its new bangle.
The installation is located within The Tiffany Flagship Next Door, the company's temporary retail homebase while its iconic flagship gets an overhaul.
The jeweler worked with artist Francesco Vullo to create the interactive pop-in, showcasing the mechanism behind the new bangle.
Vullo revamped a traditional metal padlock sculpture, creating a "metamorphosis of two facing profiles connected through a unifying lock-inspired arch, which represents a symbol of unity and interconnectedness," said Tiffany.
On the store windows' TV screens, Tiffany Lock bangles rotate in midair, locking into place in unison.
Walking inside, guests are greeted by an LED-lit wall, reminiscent of a starry night sky, with a silhouette of a face on either side. A hidden door then opens to let them into the installation.
Once inside, guests are greeted by an innovative kinetic sculpture of a padlock, crafted by Breakfast Studio, a Brooklyn-based robotic art studio.
"The house has a longstanding history of partnering with artists to create one-of-a-kind displays that invite clients into the world of Tiffany & Co., uplifting its iconic collections and experiences," said Tiffany.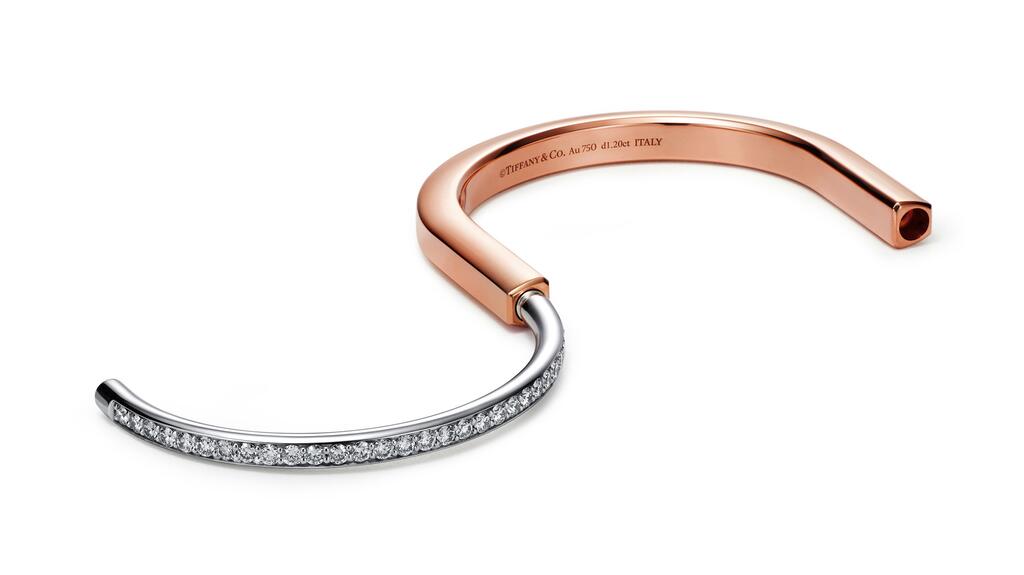 Guests can try on the new bangles, with client advisors there to share tips on creating a layered look. Personalization via hand engraving is also available.
Introduced last month, the bangles are available in 18-karat white, yellow or rose gold, with or without diamonds.
Tiffany described the bangles as "a bold visual statement about the personal bonds with yourself and others, and how these bonds inform who we are."
Other Tiffany stores will promote the new collection via eye-catching window displays and custom jewelry cases that highlight the bangle's silhouette. 
The New York City flagship installation will be open from now until Nov. 1.
 Related stories will be right here … 
More on Majors
Majors
Sep 28, 2023