Beyoncé Once Again Fronts Tiffany & Co. Campaign
Hailed as "an exploration of fearless creativity," the campaign features jewelry from its most iconic collections and famous designers.
New York—Beyoncé is once again the face of Tiffany & Co.'s latest campaign as the pair continue their partnership.
"Lose Yourself in Love" is described as a celebration of individuality, love, and universal connection.
The campaign is "an exploration of fearless creativity," said Alexandre Arnault, executive vice president of product and communications at Tiffany.
"'Lose Yourself in Love' embodies the beauty of self-love and empowered elegance. Beyoncé is an inspiration to so many because she embodies these qualities. We are honored to continue our partnership for the second year in a row and usher in an exciting new era of love," he said.
Previously, Beyoncé and her husband Jay-Z were
the faces of the jeweler's "About Love" campaign
.
"I am honored to continue the partnership with Tiffany & Co. and to explore even deeper how beautiful our connections are when we truly celebrate the relationship and importance of love that we have for ourselves as individuals," said Beyoncé.
In the campaign, Beyoncé, who holds the record of most-nominated female artist in Grammy history, wears jewels from several of the jeweler's most iconic collections, including "Tiffany T," "Tiffany HardWear," "Tiffany Knot," and the new "Tiffany Lock," which
may be the company's answer to Cartier's "Love" bracelet
.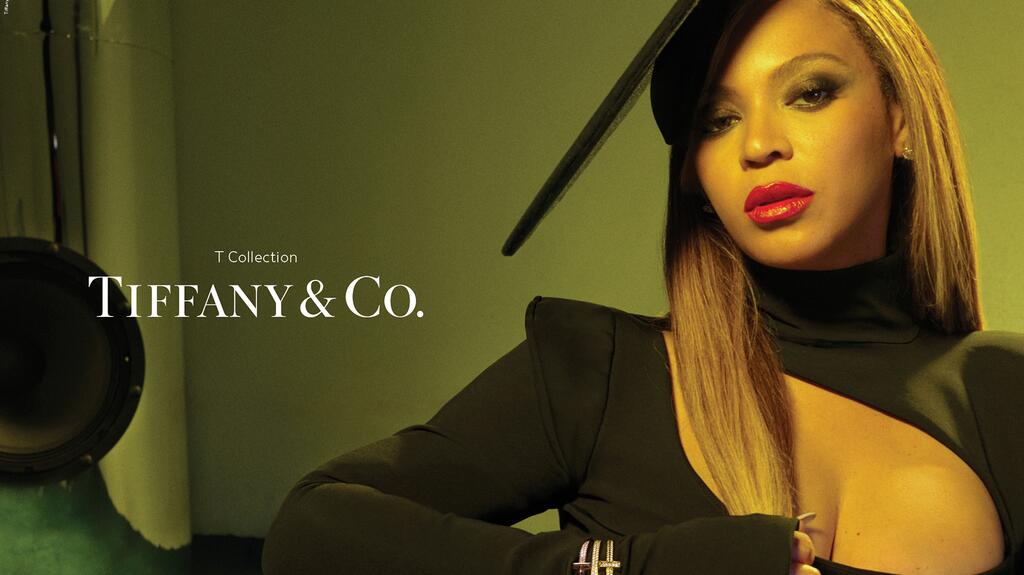 Pieces from house designers Jean Schlumberger and Elsa Peretti also are featured throughout the campaign.
The two designers, like Beyoncé, were "pillars of fearless self-expression during their time," said Tiffany.
A custom Tiffany HardWear necklace, seen above, was created especially for the campaign by Tiffany's Jewelry Design and Innovation Workshop in New York City.

The piece, worn by Beyonce in the campaign, took more than 40 hours to assemble and polish by hand. 

The 18-karat gold links are three times the scale of the standard Tiffany HardWear graduated link necklace.

A limited number of these large-scale necklaces will be available for purchase.

Tiffany will also release a campaign film this fall, inspired by Beyoncé's song, "Summer Renaissance." 

The video was created by Grammy Award-winning music video director Mark Romanek, who took inspiration from New York's Studio 54-era. Emmy- nominated director and dancer Fatima Robinson served as choreographer.

Mason Poole at Hangar Studios in Los Angeles shot the print campaign, with video by Dikayl Rimmasch, and styling from Marni Senofonte and Patti Wilson.

Set designer Thomas Petherick played with scale, depicting giant speakers in wide landscape shots beside tight jewelry portraits set in a smaller scale.


 Related stories will be right here … 
"Inclusivity serves as a common theme throughout the campaign, nodding to the overarching call to come together in celebration not only in the film but also worldwide," said Tiffany.
Tiffany launched a social impact platform, Tiffany Atrium, in July, aiming to foster opportunities for those in historically underrepresented communities.
The education arm of the platform supports the long-term growth and development of students and institutions, the company said.
It includes the company's ongoing partnership with Beyoncé and Jay-Z, also known as the Carters,
through the Tiffany & Co. About Love Scholarship Program
, in collaboration with
BeyGOOD
and
the Shawn Carter Foundation
.
In 2021, Tiffany pledged $2 million in scholarship funding for students in the arts and creative fields at Historically Black Colleges and Universities through 2024.
A total of 60 students have received these scholarships, with beneficiaries for the 2022-2023 academic year set to be announced in the coming weeks.
The new campaign launched globally in print and digital on Sept. 2 with additional media activations beginning today.
The film will debut in October on the
Tiffany website
.
More on Majors