Reinhold Jewelers Is Now the Exclusive US Retailer of Studio Renn
The Mumbai-based design house, helmed by Roshni and Rahul Jhaveri, is known for its innovative and imaginative jewelry.
San Juan, Puerto Rico—Reinhold Jewelers has become the exclusive U.S. retailer for one of the most innovative brands in jewelry today, Mumbai-based Studio Renn.
Spouses Roshni and Rahul Jhaveri, both natives of India who met while studying at Carnegie Mellon University in Pittsburgh in the early aughts, started
Studio Renn
in Mumbai in 2018.
Roshni oversees the jewelry design studio and its business operations, including partnerships and marketing.
Rahul, whose family owns a diamond manufacturing business, is Studio Renn's creative director, combining his gemstone knowledge and skills with his love of contemporary art and design.
Studio Renn uses common fine jewelry materials such as gold, diamonds and rubies, as well as some less common materials and techniques, like concrete and reverse-set gems, to explore themes such as the subjective nature of value and beauty, loss and destruction.
The name Studio Renn is derivative of the Latin renovatio, meaning a renewal (and the root of the English word "renovation.")
The brand made its Couture debut this year and immediately made an impact, with its gold, diamond and concrete ring taking a coveted
Couture Design Award
in the "Best in Innovative" category.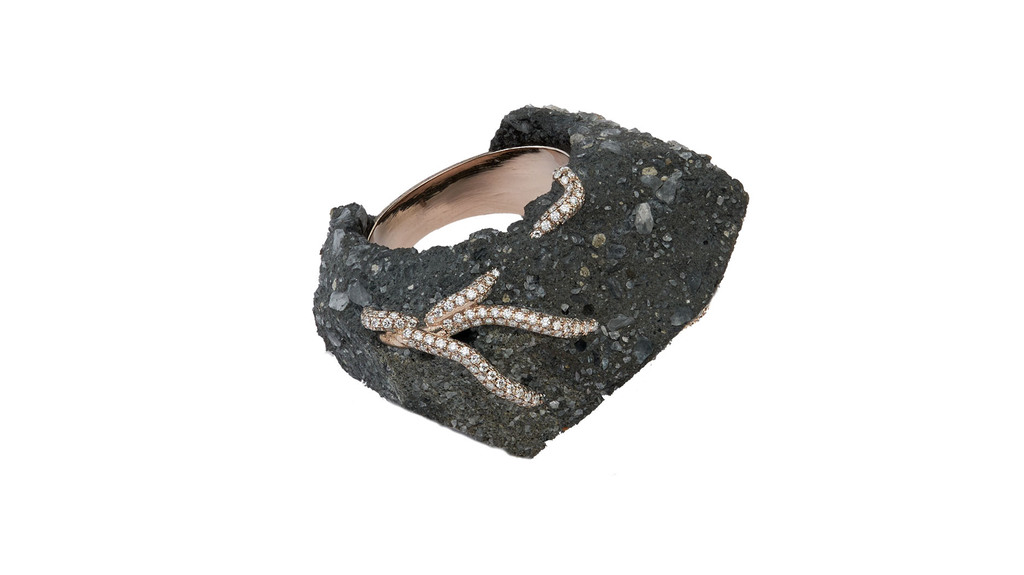 The brand's partnership with Reinhold Jewelers seems like a natural marriage.
Studio Renn walks the fine and, some would argue,
dissipating
line between fine and art jewelry.
Marie Helene Reinhold, president of Grupo Reinhold, is known for her love of art and support of artists and designers, as well as for her eye for innovative jewelry design.
Studio Renn is being sold at Reinhold Jewelers' Plaza Las Americas store as well as
on its website
.
 Related stories will be right here … 
More on Independents