6 Important Developments in the Gem Market This Year
Supply chain developments, gemstone trends and movements from the biggest players shaped the colored gemstone sector in 2017.
The colored gemstone sector can change so quickly, and a year can bring many new developments that alter the landscape of the market.

This year seemed to bring even more stories about shifts in the supply side, whether that be a focus on ethical sourcing, or new sources or companies entering the game.

Here are some of the most notable developments that impacted the colored gemstone market in 2017.

1. Responsible sourcing.
This has carried over from 2016, but I think responsible and sustainable sourcing remains one of the biggest, and most complicated, stories for the gemstone sector right now.

With today's socially conscious consumer, it's a conversation the industry has to be a part of, and is something many already have been practicing. But the colored stone sector is vast and largely artisanal, meaning there are a lot of players and that no one solution can be applied across the board.

Still, the industry seems to be moving in the right direction, as many more conversations are being had and more action is being taken. It's one I think everyone should keep track of and will be really interesting as it develops.

2. The Gemfields takeover.
The takeover of Gemfields by its largest investor, Pallinghurst, took months to unfold but was interesting to watch.

The initial offer from the company was unsolicited, and throughout, Gemfields was telling its shareholders not to take action and then, at one point, advised them to approve a takeover bid from a second player that had entered the bidding game.

Pallinghurst ultimately reached the required amount of approvals from shareholders and, once the integration was complete, began immediately to take action, cutting staff and closing offices in order to reduce the company's debt and increase revenue. I think it'll be interesting to see where one of the market's largest players takes its business. I, for one, can't wait to see what comes of its Ethiopian emerald project.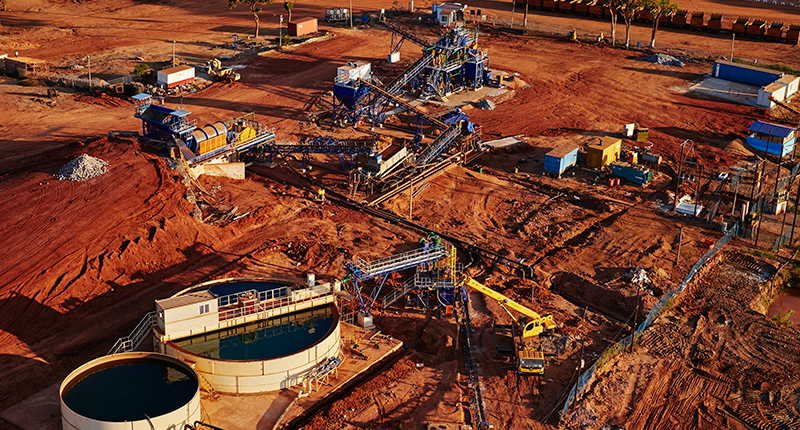 The processing plant at Gemfields's Montepuez ruby mine in Mozambique 
3. A return to American gems.
This year seemed to include a lot more conversation around American-sourced gemstones; supply and demand are both up, though from a smaller base.

The gems are perfectly positioned in the market, offering the socially conscious consumer mine-to-market tracing and an American product, and for younger couples they offer both a lower price point and a unique stone for an engagement ring.

In
the conversations about gemstones mined in the United States, sapphires seem to be generating the most excitement. There's a new owner of the
V
ortex Yogo sapphire mine
in Montana, who wants to increase production and make more stones available to the market, and more focus also is being put on the supply of Montana Rock Creek sapphires and all the various colors they come in at an affordable price point.
I'm excited to see where the market for these stones heads in 2018.
4.
Supply chain developments.
The colored stone market is constantly in flux in one area: supply. Writing stories about what's happening on the ground at gem sources are among my favorite as I find it fascinating, and 2017 provided a number of interesting developments in that area.
Fura Gems (formerly Fura Emeralds) came on strong, announcing it had purchased the well-known
Coscuez emerald mine
in Colombia, with plans to modernize the extraction process and gradually increase production. Not long after came news that the company also had completed its acquisition of
four ruby mining licenses
in Montepuez in Mozambique.
Then there was Mustang Resources, whose Mozambican rubies
hit the market for the first time
at auction in Port Louis, Mauritius. (It is worth noting, however, that the company called those results "disappointing," and said it would use market research to increase the quantities of rubies most in demand for the next auction).
This year also saw the first
rubies from Greenland
, a project long in development, finally come to market. Though there isn't a ton available yet and their value and pricing still are being figured out, it's always interesting when a new source comes online.
And though
Ethiopian emeralds
really first really started producing in late 2016, the material started showing up more and more throughout 2017, providing a new source of the popular green beryl.
Meanwhile, while Gemfields initially had planned to get into Colombian emeralds and Sri Lankan sapphires, which would've marked its first foray into the corundum, the colored gemstone miner
pulled out of both
, opting instead to focus on its African projects.
5.
The launch of new labs.
One interesting thing I noticed this year was more news about new gem laboratories.
Early in the year, we reported that the Gübelin Gem Lab was opening its
first location in New York
.
Then in June, the
Federated International GemLab
launched in association with the International Colored Gemstone Association in Bangkok. There also was the
launch of Danat
in Bahrain.
When I talked to ICA Executive Director Gary Roskin about the opening of FIG this summer, he said that rather than trying to compete with the existing labs, they aimed to aid a market in which reports were in high demand. He said: "With the number of treatments that are possible and the detection of them no longer a simple desk gemology test, we need professional gem laboratories."
I think his point is valid, especially in an industry that is fighting for a positive consumer sentiment and in which disclosure is a hot topic.
But I also think it points to a reliance on lab reports, just as GemWorld International's Richard Drucker brought up
during a seminar
in Tucson this year, and the concerns that come with that: nomenclature and origin.
In regards to the first, issues arise for some in the colored stone market when it comes to a lack of consistency and codification in naming standards from lab to lab.
With the latter, the reliance on an identification of place of origin is having a big effect on prices. And as so many new sources pop up, there are risks of inconsistencies.
6.
Museums and their increasing importance.
Another development I noticed this year, and one that I hope to examine further in the New Year, is that the amount of conversations about our country's gem museums is increasing.
The American Museum of Natural History announced a
two-year renovation
that will see a complete redesign of its gem and mineral halls, and the Arizona Mining and Mineral Museum, shuttered in 2011, will reopen after getting funding from the state. It will be under the University of Arizona's ownership.
I've been so excited by a lot of this news, and I think the story told by one of the speakers, Alexander Schauss, CEO at the scientific and regulatory consulting company, AIBMR Life Sciences, and collector of thumbnail-sized minerals, at this year's Yale Mineral and Gem Symposium helps explain why this is happening. (Of note: The event was held in the Peabody Museum's new David Friend Hall of Gems, which opened in fall 2016 and was funded by a donation from an alumnus.)
Before the speaker got into his presentation, he talked about growing up in New York City's Upper West Side, which, at that time, was nothing like it is today. He found his way to the AMNH and, somehow, met the curator of the mineral and gem halls, returning again and again as it provided a safe place to hang out and kicking off a lifetime friendship and love for collecting and studying minerals and gems. 
Now, while it won't always be a story like that, I think it's so important that kids across the U.S. have the chance to be exposed to the fascinating materials that make our industry go round and to find their passions. It's important for the future of our industry, and all of these recent museum renovations and developments designed to expose more to them can only help.
More on Editors
Editors
May 24, 2023