Tiffany Is Now Telling Consumers the Origin of Its Diamonds
Next year, the jeweler will start sharing information on where stones were cut and polished.
New York—If you walked into a Tiffany & Co. store shortly after the new year, you might have noticed something different in the cases where the jeweler displays its engagement rings. 

There's now a map inside with 10 pins dropped on countries from Canada to Australia above a plaque that reads: "In keeping with our commitment to responsible sourcing, we now provide provenance information for every newly sourced, individually registered diamond we set, a significant step for diamond transparency." 

The plaque and the map—both with touches of Tiffany blue, of course—are part of what the jeweler is calling the "Diamond Source Initiative," which it rolled out worldwide last month.

Now when customers come into any of Tiffany's 300-plus stores, salespeople will be able to tell them the country of origin for most "individually registered" diamonds—diamonds that are 0.18 carats or larger and have been laser-engraved with "T&Co." and a unique serial number. 

There are, of course, a couple exceptions. 

Diamonds sourced from De Beers, which does not segregate production from its various mines in southern Africa and Canada, will be labeled "Botswana sort." Most of the stones, Tiffany said, were mined in Botswana, with some originating from mines in Namibia, South Africa and Canada. 

For diamonds that pre-date the program's rollout, Tiffany said it will provide confirmation to consumers that the diamond was sourced responsibly.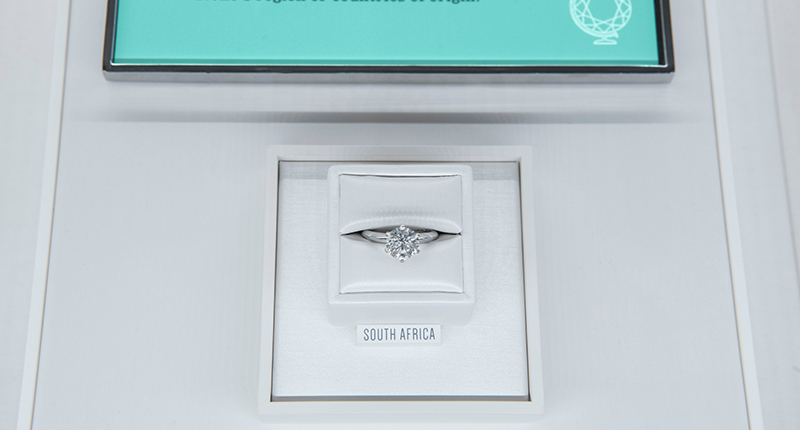 Tiffany started sharing diamond origin in its stores on Jan. 9, though it could have begun doing so years ago.
Andy Hart, Tiffany's senior vice president of diamond jewelry and supply, said former Chairman and CEO Michael Kowalski started Tiffany down the path of charting diamond origin in the late '90s.  
In 2002, Tiffany established Laurelton Diamonds, the jeweler's rough sourcing arm that is a De Beers sightholder, and a client of Alrosa and Canadian miner Dominion Diamond. 
In 2003, it began laser-inscribing its diamonds with unique serial numbers that are recorded in a database that contains information about each stone's journey from mine to market.
So, why wait until now to start sharing source information with consumers? 
"For a long time, we felt we were doing it because it was the right thing to do, and  it was good for the company and it was good for the industry," Hart said. "I think our customers deserve to know what is going on behind the scenes." 
 The initiative is being implemented at a time when Tiffany is trying to
appeal to younger consumers
, who want to know the origin of everything from their lettuce to their leggings, though Hart rejected the idea that it is a response to the growing availability and visibility of lab-grown diamonds, which are often marketed as the more socially and environmentally responsible choice.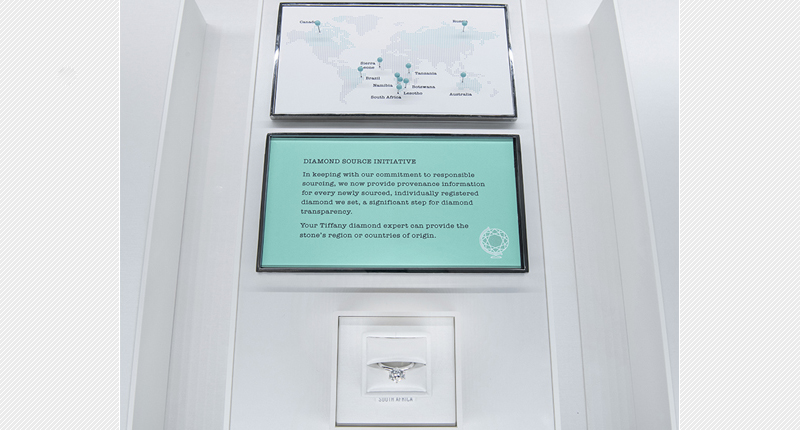 "We just felt like now was the right moment in Tiffany's history to disclose the origin to our customers," he said. "We really believe in the rarity and the incredible nature of diamonds. Diamonds grown in the lab have important uses in particular contexts and are going to perhaps have a greater use in the in the jewelry industry."  
But, Hart said, Tiffany won't be using the stones in its jewelry. 
"Natural diamonds create opportunity for people in countries where diamonds are a natural resource, such as Botswana. We believe in the opportunity to make, and we are making, a positive impact in those local communities."
More on Majors