Power-Cut Burglary Crew Moves North
The Jewelers' Security Alliance said the group cut power to stores in New Jersey and Connecticut.
New York—The Jewelers' Security Alliance said the burglary crew that's been cutting power to gain access to jewelry stores in the West, Midwest and South has struck again, this time in the Northeast.

In an alert issued late Thursday, JSA detailed three incidents in New Jersey and another three in Connecticut.

According to JSA, two males and one female cut power to stores in Sparta and Bedminster, New Jersey on Saturday, July 26, but left without trying to get into the store.

On Sunday, July 27, at 6:45 p.m., the same crew allegedly cut power to another New Jersey jewelry store, this one in Morris Plains. In that incident they also left without trying to get into the store.

(JSA notes that the power-cut crews often target stores on weekends or nights preceding days the store is closed; holidays are also high-risk times.)

On Aug. 8, suspects turned the power off to a jewelry store in downtown Darien, Connecticut via an outside electrical box, JSA said.

The power interruption tripped the burglar alarm, and the suspects waited to see what the police response would be.

Two days later, on Saturday, Aug. 10, they returned at 6:20 p.m., turned off the power and again waited for police response. JSA said they also waited for the back-up battery to run out of power but never entered the store.

The following day, Aug. 11, a jeweler in nearby Fairfield, Connecticut received a call from his alarm company that power was out at the store. He arrived to find the electrical meter cover had been pried off the box. The police came but no suspects were spotted, JSA said.

Power-line cutting has always existed as an m.o. for jewelry store burglaries but was seldom used, until this year.

JSA President John J. Kennedy described the problem as "rampant" in a July interview with National Jeweler. At that time, JSA had counted more than 50 reported cases of power-line cuts in 2019; there is no year-over-year statistic to compared this to, as it wasn't even a crime JSA was tracking last year.

The cuts are being perpetrated by Chilean burglary crews based in California and Florida who travel all over the country, JSA said.

The power-cut crimes have sparked a wave of response from the industry.

They have been the subject of numerous articles in National Jeweler as well as JCK and InStore magazine.

On
July 30, Southern Jewelry News published a "Retailer Roundtable" detailing what jewelers are doing to
make their stores more secure
. Kennedy shared the "excellent" article via Twitter.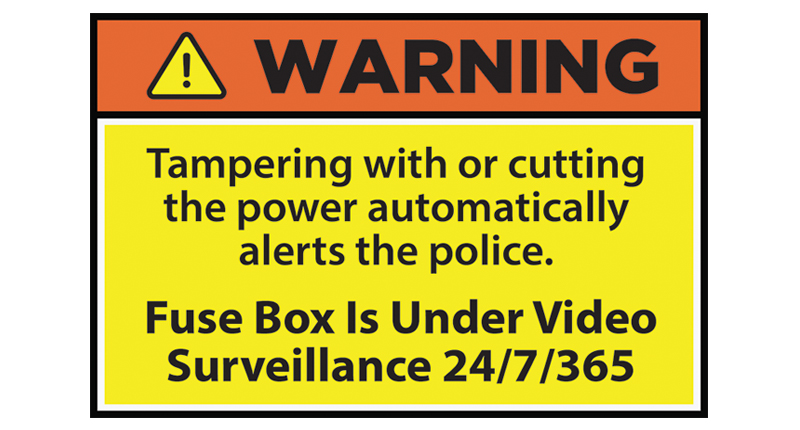 And Maury Kauffman, a private jeweler based in Tucson, Arizona, has been printing and mailing out stickers (seen above) for jewelers to affix to their fuse boxes.
He is sending them out for free. Jewelers who want to receive one should send a self-addressed stamped #10 envelope to:
Maury Kauffman
MKPJ
5215 N. Sabino Canyon Road
Tucson, AZ 85750-6435
He told National Jeweler on Friday that he has sent out about 700 of the stickers to date.
JSA also has a long list of recommendations for jewelers. They include the following.
1.
Jewelers must respond to all case of power interruptions at their stores. They should be accompanied by police when responding, as the burglars could be near the store watching.
2.
Jewelers need to make sure that their call list with their alarm company includes the owner and enough employees so that someone is available to respond, even on weekends and holidays.
3.
Jewelers can place secure locks on outside fuse boxes but should contact their local fire department first, as regulations on locking up electrical boxes vary by jurisdiction.
4.
Jewelers need to inspect their electrical boxes on a regular basis and should secure them with a colored zip tie so they can tell if it has been tampered with. The power-cutting suspects have been known to place their own locks back on the box after removing the original lock and cutting the power. Colored zip ties are more difficult to match, making it easier to tell if someone has tampered with the box.
5.
Jewelers must have alarm protection for their stores that covers all means of entry, including the roof and sidewalls. The interior and exterior of the premises should also be checked, including the roof.
In addition to contacting local police, JSA is asking retailers to reach out at 212-687-0328 or
jsa2@jewelerssecurity.org
if they experience power interruptions at their stores. The organization is actively working with law enforcement on the wave of power-cut burglaries, or attempted burglaries, taking place nationwide.
More on Crime