Product Pulse: How Are Your Pearl Sales?
The jewelers who took our latest poll indicated they are not on the rise, due in part to the new generation's lack of interest in pearl jewelry.
New York--
National Jeweler
/Jewelers of America's latest category-specific survey showed that pearl jewelry sales continue to slip, despite the industry's efforts to make more modern-looking pearl pieces.
The Product Pulse survey on pearl jewelry was conducted online in late June/early July. Approximately 144 jewelers responded.
Of those, 84 percent reported that their pearl jewelry sales have declined as a percentage of overall sales in the past three years (43 percent) or stayed about the same (41 percent).
Only 16 percent reported an increase in pearl jewelry sales.
When asked what prevented them from making more pearl sales, many respondents said it's a matter of perception.
Younger people view pearls are being too old-fashioned or too formal for their casual tastes. This comes despite many companies' efforts to
recreate pearls for a new generation
.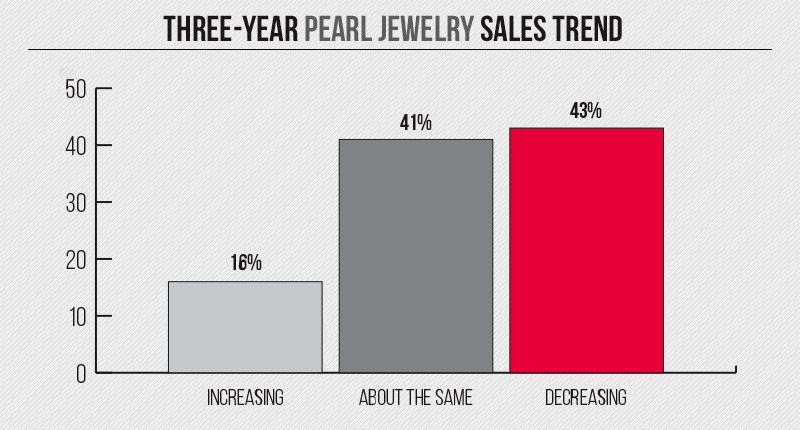 "We find that traditional pearl necklaces are not on the radar of anyone under the age of 40- something," one survey-taker wrote. "Pearl studs sell to most all ages, as does decorative silver with small mabe pearls as earrings or pendants."
Other responses included, "The perception is it (the pearl) is for older ladies. Not really current or fast fashion," and "Younger people don't seem to want pearls … not trendy and they think it is for old people." Another noted simply that, "classics are out."
The lack of education among consumers--i.e., getting them to understand why the fine jewelry store's Japanese akoyas costs more than the strand of freshwater pearls they saw at a chain department store--also was mentioned.
Pearl sellers, however, fear not: Some do have hope for the pearl, which once was the most desired gemstone in the world.
One survey-taker said, "I believe the pearl trend will come back into favor, but for now this generation does not seem to align themselves with pearls."
"People think they are old-fashioned," another respondent wrote. "(But) when we show them how funky they can be, our customers love them!!"
Best-Selling Brands
Imperial Pearl, Mastoloni and Honora were among the most-mentioned companies on the survey's list of best-selling brands.
Mikimoto, ASBA, Galatea and Baggins also were cited by multiple survey respondents.
As in past Product Pulse polls, a number of jewelers said the best-selling brand in their store was their own, custom jewelry they create in-house.
One respondent wrote, "I string most of our designs. I like to keep abreast of pearl fashion as they are my particular favorite."
Merry Month
Also included in the latest Product Pulse poll was a question asking jewelers to compare their sales with the same time period last year, and the results were fairly merry this month.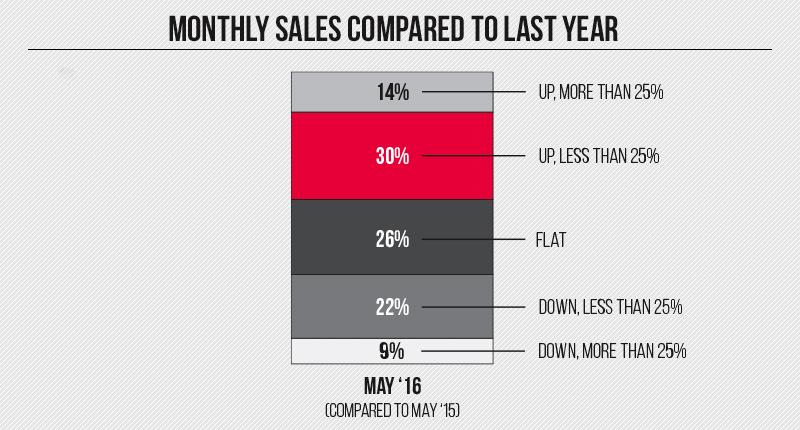 Seventy percent of respondents reported that business was the same in May 2016 as compared with May 2015, with the greatest percentage of those, 30 percent, reporting a 25 percent year-over-year increase in sales.
Of the survey-takers who reported a decline in sales, only 9 percent said the drop was greater than 25 percent.
National Jeweler
/Jewelers of America's monthly Product Pulse survey was conducted between June 27 and July 5 in conjunction with its Business Pulse survey, which asked jewelers about their methods of counting foot traffic.
The results of survey ran earlier this week on
NationalJeweler.com
.
More on Surveys