These Jewels Will Haunt You
For her annual Halloween story, Associate Editor Lenore Fedow asked antique and vintage jewelers to dig up their creepiest pieces.
I love fun holiday traditions, especially this time of year. Whether it's carving pumpkins or putting up Halloween decorations, I'm all in.
Here at National Jeweler, we have our own Halloween traditions. Style File extraordinaire Amanda Gizzi gives us a festive jewelry round-up (my favorite of the year) and I write about something spooky.
I've written about
cursed jewels
,
"bad luck" gemstones
, and,
last year
, creepy antique and vintage jewelry.
I had so much fun with last year's story that I decided to write a second part.
I reached out to several antique and vintage jewelry experts and asked them to dig up the creepiest jewels they had in their inventory, and they happily obliged.
Trademark Antiques
Trademark Antiques
, featured in last year's story, set the bar high. In part one of this series, it submitted a haunting pair of child earrings and a pin featuring a dagger-wielding clown.
How does one top that, you ask? Well, let's take a look.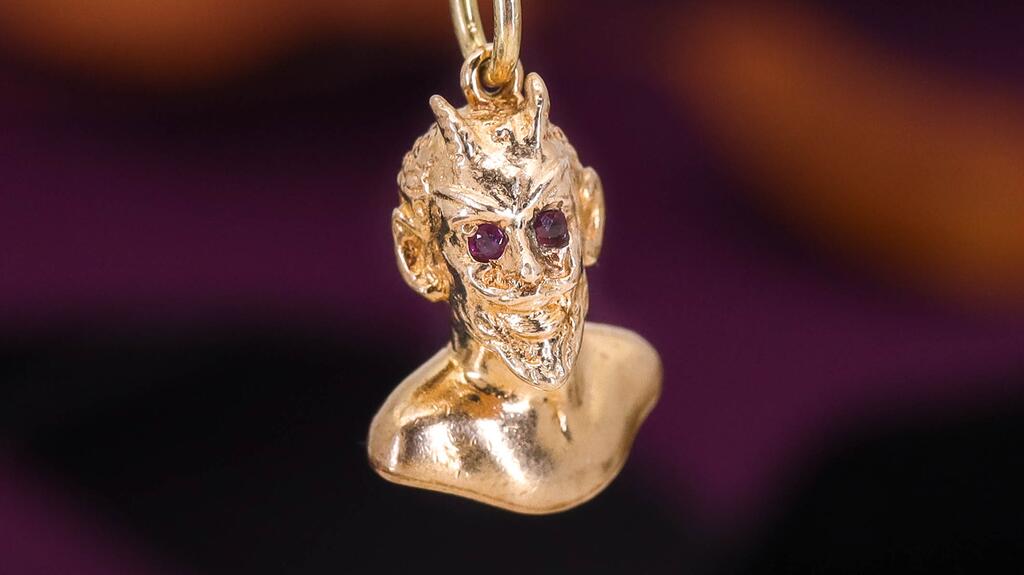 It doesn't get much spookier than Satan himself!
This devil charm is made of 14-karat gold and has natural ruby eyes. He's from around 1970 to 1980.
The mischievous expression on his face makes dabbling in the dark arts seem kind of fun, no?
Next up, we have this pair of "Green Man" earrings in 14-karat gold with citrine surmounts, seen at the top of the article.
These were cast and reproduced from an antique Art Nouveau ear pendant from around 1890 to 1910.
The Green Man, as this motif is often called, is not inherently spooky. I've seen this almost friendly face before in works of art and architecture, usually set within a tree or surrounded by foliage.
He's
described
as a forest god and emblematic of the cycle of life. In olden days, he was worshiped to ensure a good harvest.
What I did not know is that he's believed to "guard the metaphysical gate between the material and immaterial worlds."
Perhaps this is why he feels less like the kindly Grandma Willow in Disney's "Pocahontas" and more like the apple-throwing tree from The Wizard of Oz.
Alexa Rosen Antiques

In preparation for this story, I was scrolling through Instagram looking for antique jewelers who might have something creepy to share.
In the process, I found
Alexa Rosen Antiques
, who kindly shared something truly terrifying.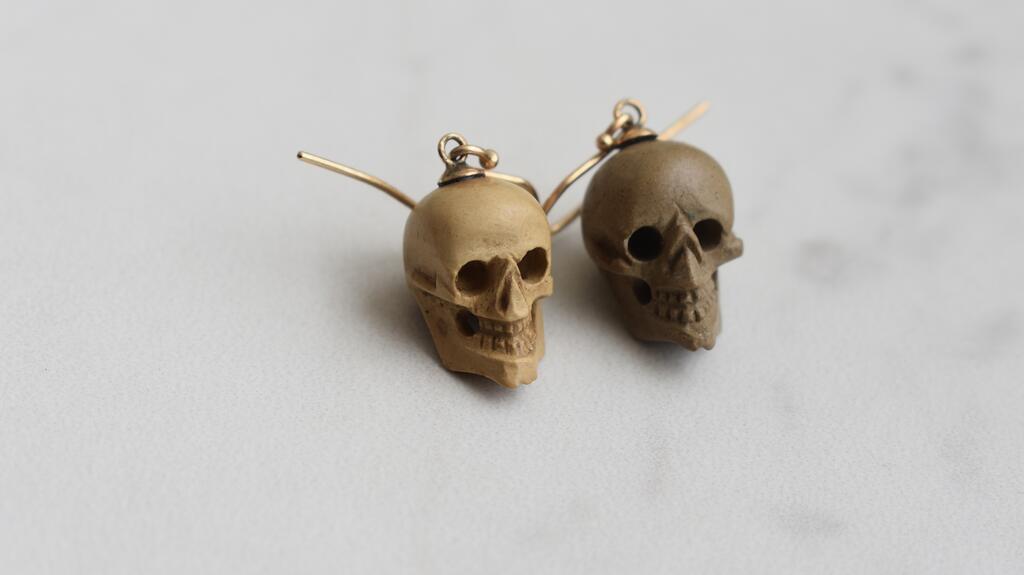 These haunting skull earrings are made even more horrifying when you know what they're made from.
These are carved lava earrings, created from the ruins of the cities of Pompeii. Dating back to the early-to-mid-19th century, the ear wires were added later, said owner Kristie Rosen.
For those unfamiliar, in 79 AD, the cities of Herculaneum and Stabiae in Pompeii, Italy were decimated when Mt. Vesuvius erupted, covering them and their people in lava, volcanic dust, and ash.
These buried cities were uncovered in 1748. And what better way to honor the memories of these poor lost souls than to make tourist trinkets out of that lava rock?
Lang Antiques
has an interesting post about the public's morbid interest in mementos from these ruins.
I am a firm believer that jewelry can be haunted or cursed, and this is certainly one way to make that happen.
Imagine you were one of those people in Pompeii. Not only were you killed in a tragic freak accident, but then we come to your impromptu grave and carve knick-knacks out of your murderer.
Talk about insult to injury! I'd haunt you big time.
 Related stories will be right here … 
 
This period within the era started with Prince Albert's death. It was customary at the time to wear black for a minimum of two years as a sign of mourning, said Ward. 

Heartbroken Queen Victoria wore black for the rest of her life.

Mourning jewelry, from this era and in general, isn't scary or creepy as much as it is unsettling.

There's something about all the grief it carries that makes me want to look away. Unfortunately, that can be hard to do when the pieces are so beautifully made.

In the lower left corner, there's a jet cameo brooch. 

Jet, a type of fossilized wood used as a gemstone, was popular for use in mourning jewelry. 

This French jet brooch was created in Attleboro, Massachusetts, said Ward.

"The beautiful etching is designed in what appears to be gold-plated brass and the lady on the piece was a rather common symbol and figure that represented mourning jewelry of the Victorian Era," she said.

There's something really striking about this brooch, how the figure looks almost trapped, a recognizable feeling for some as we grieve.


In this photo is a sterling silver pendant from the Edwardian era (1901-1915). Whose initials are those? What was their life like? Who did they leave it to?
Those are all questions that Ward, armed with enough info, could likely answer, but the mystery of it is tantalizing.
"Sentimental antique jewelry is a significant object that assists with researching and preserving archive files," she said on her website, adding that ancestral heirlooms double as primary sources when researching history.
Ward said she is in the process of curating more Black Victorian memento mourning pieces, but they are "more difficult and rarer to find."
Lisa Kramer Vintage

When I asked Lisa Kramer of
Lisa Kramer Vintage
if she had anything spooky for my Halloween story, she said she had a piece of jewelry "made of literal creepy-crawlies."
Being who I am, I had to see this.
This ruff-style collar is made of beetle wings, mounted in 18-karat gold and accented with diamonds and pearls.
If you're the matchy-matchy type when it comes to bug jewelry, there's also a matching pair of earrings.
As gross as it sounds to have a necklace made of bugs, the vibrant color and iridescence of those beetle wings is actually really beautiful.
Could I get over the fact that I'm wearing that many bug wings around my neck? I don't think so.
Happy Halloween!
I'm not one to skip holidays, particularly my favorite one, Halloween, but I'd like to close with a little Thanksgiving spirit.
I love getting to write a spooky story for you each fall. It's my favorite assignment of the year.
What I thought would be a niche, one-off story about cursed jewelry has turned into an annual ongoing Halloween series.
I get to keep writing these weird stories because you keep reading them, and that means a lot. It also means you're probably a little strange too, but all the best people are, as the Mad Hatter says.
I wish you and yours a fun and spooky season. Until next year!
More on Editors